You Have Questions! We Have Answers About Chicagoland Limo Service
Posted On: 02/18/2019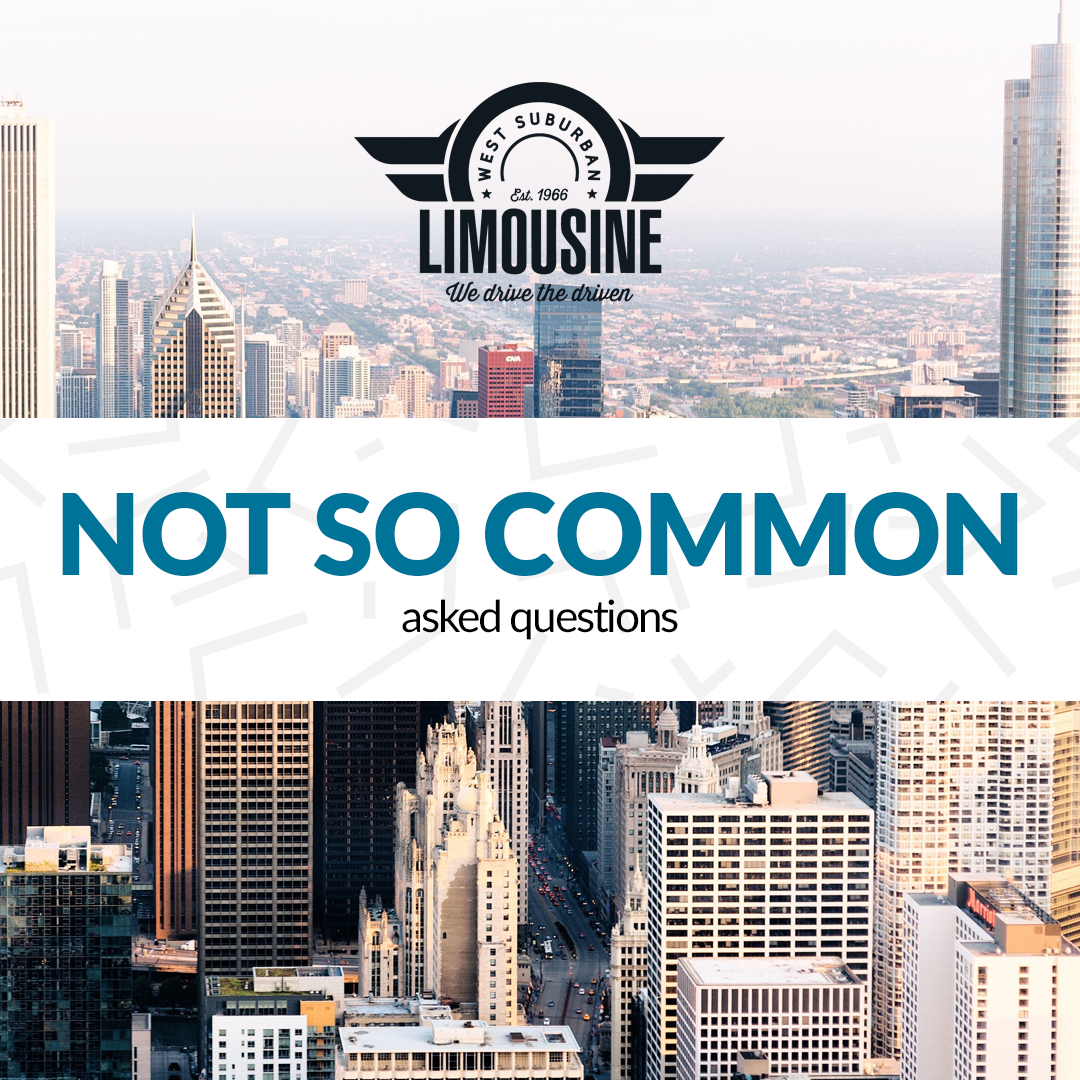 WSL is on the road every day, transporting passengers all around the city and suburbs. During our Chicagoland limo service trips, WSL's drivers get lots of questions. Some subjects come up on a regular basis and are addressed on the Frequently Asked Questions page on our website.
Other questions fall in a few less frequently asked categories:
1. Life Happens, and WSL Understands
"I forget my laptop at work, can we make a side trip to pick it up?"

"I have a caffeine headache; can we stop for coffee on the way to the airport?"

"Oh no, I left my phone at home. Can we turn around?'
We get it. Sometimes leaving the house for a work trip can be a mad dash. WSL will do everything we can to accommodate your special requests. Many times, our ability to add extra time or miles to your ride depends on your professional driver's next scheduled pick-up. In some cases, additional charges may be added to account for the extra services.
2. I Know What I Want
"I recently hurt my knee. Can I reserve a sedan instead of an SUV so I can get in and out more easily?"

"I love my driver. Can I get him every time I ride with WSL?"
We want you to be happy with your Chicagoland limo service from WSL. Just let us know your preferences when you make a reservation and we'll do everything we can to provide the type of vehicle you want from our luxury fleet or assign your preferred chauffeur if he's available.
3. Help, The Airline Changed My Flight
"My flight was changed from 5 p.m. to 7 p.m. What happens now?"

"I'm stuck at the airport because my flight was canceled. Can you come get me?"
WSL is on your side. Let us know as soon as you can about changes to your travel plans and we'll do everything we can to get you where you need to go. We understand that bad weather can paralyze O'Hare and Midway with little notice to passengers. Let us know what you need, and we'll provide realistic wait times and options for shared rides, so you're not stranded at the airport indefinitely.
4. I Have An Idea.
"I want to surprise my girlfriend with a special night out. Can I bring champagne for the limo ride? Can I play my special playlist on the sound system?"

"My buddies and I want to go to a concert at Soldier Field then hit a few hot spots on the way home. Can we reserve a car for the evening?"
WSL loves special occasions and group outings! So much so that we have a special events coordinator on staff to help you plan private transportation. Call Sheryl on Monday through Thursday from 8 a.m. to 2 p.m. at 630-668-9600, ext. 246.
Ready To Escape? | Chicago Suburbs Limo Service for Spring Break
Posted On: 02/11/2019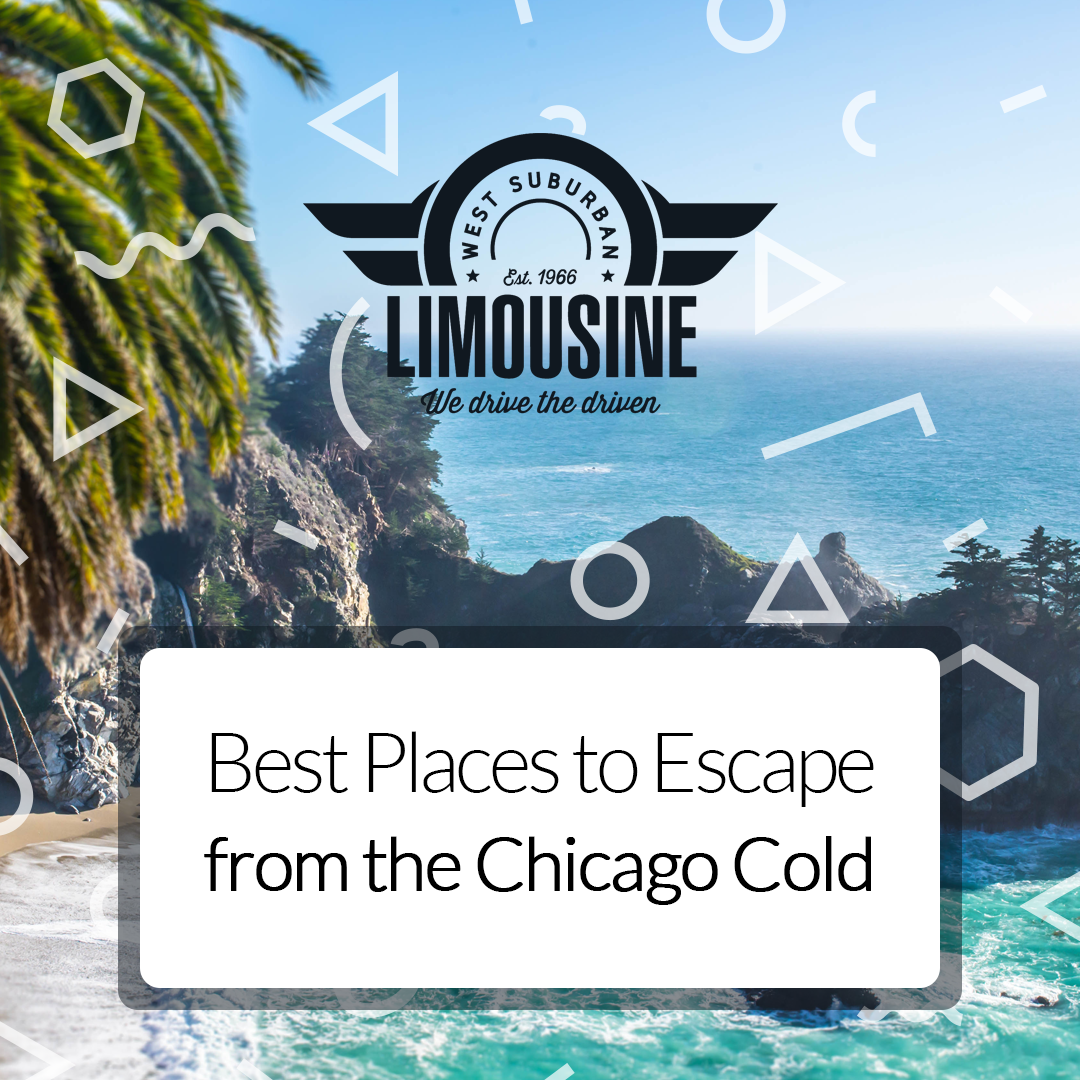 After recently experiencing some of the coldest weather Chicago has encountered in quite a while, our thoughts turned to possibilities for Spring Break. We spent our time trapped inside Googling ideas for vacations at all-inclusive resorts where you don't need to worry about the cost of drinks and food because it's all built into one price.
Here's some of the really cool options we found that would be a great escape from Chicago in March.
The resort's website promises a "perfect balance between the luxuries of a modern-day resort and the magic of one steep in Bahamian culture." Included in the all-inclusive packages are drinks, dining, entertainment, beaches, golf and all gratuities, taxes and service charges. That means no surprises on your invoice at the end of the trip.
Nestled in the heart of Santa Barbara wine country is the Alisal Guest Ranch * Resort that features western-themed accommodations. What a fun place for the entire family. You can ride horses on 50 miles of trails, enjoy the 100-acre spring-fed lake, play golf and tennis, swim and indulge at the spa. The Round-Up Vacation Package includes accommodations, breakfast and dinner, golf and tennis court fees, fishing supplies, horseback trail rides and complimentary wine tastings at nearby wineries…something for everyone.
Cancun is a popular destination with lot of all-inclusive resorts. Check out Haven Riviera, Cancun's newest resort that just a 15-minute drive from the airport. The entire property features sleek furnishings and muted earth tones. More than 80 guest rooms feature swim-outs directly to a pool. You can also upgrade your experience by booking a Serenity Club ocean front rooms that feature butler service.
Looking for an adults-only getaway? Consider the Sanctuary Cap Cana in Punta Cana, Dominican Republic. Relax in comfort and choose from five restaurants, six bars, unlimited drinks, 24-hour room service, private beach, stocked mini-bar, daily activities and nightly entertainment. Plus, the resort is home to Punta Espanda Golf Club, one of the best in the Caribbean.
Want to leave Chicago as far behind as possible while still staying in the United States, Maui in Hawaii is a great option. But, all-inclusives in Hawaii are different from what you find in the Caribbean. The Travaasa Hana offers a program that includes all meals, snacks, non-alcoholic drinks, activities at the facility. The resort is located in a less populated part of Maui on the eastern tip. You can explore a variety of packages including culinary, culture, fitness and adventures.
Book Private Car Transportation Now
March is always the busiest month for WSL with our usual mix of corporate and private reservations combined with the addition of Spring Break transportation. That's why we recommend booking early to make sure you get the right Chicago suburbs limo service for your needs at the time you want.
Plus, if you're taking a big clan on the getaway, take advantage of WSL's Mercedes-Benz Sprinter Bus promotion. Book now and take advantage of special pricing: get the Sprinter Bus for the cost of a stretch limo – a 20 percent discount, for parties of up to10 people. Availability is limited, so you need to book soon to take advantage of the offer.
Contact Sheryl, WSL's special events coordinator now to book the Mercedes-Benz Sprinter Bus as the discounted rate. She is available Monday through Thursday from 8 a.m. to 2 p.m. at 630-668-9600, ext.246.
For best service, WSL prefers bookings at least 48 hours in advance.
Offer is Valid until March 31, 2019
*$36 Chicago city tax added to the return trip if the party is picked up from O'Hare or Midway. Some other fees may be added for event parking or venue fees if applicable. The Special Events coordinator will outline the details when booking the rides.
Online Portal for Corporate Clients | Sedan & Stretch Limo Services
Posted On: 02/04/2019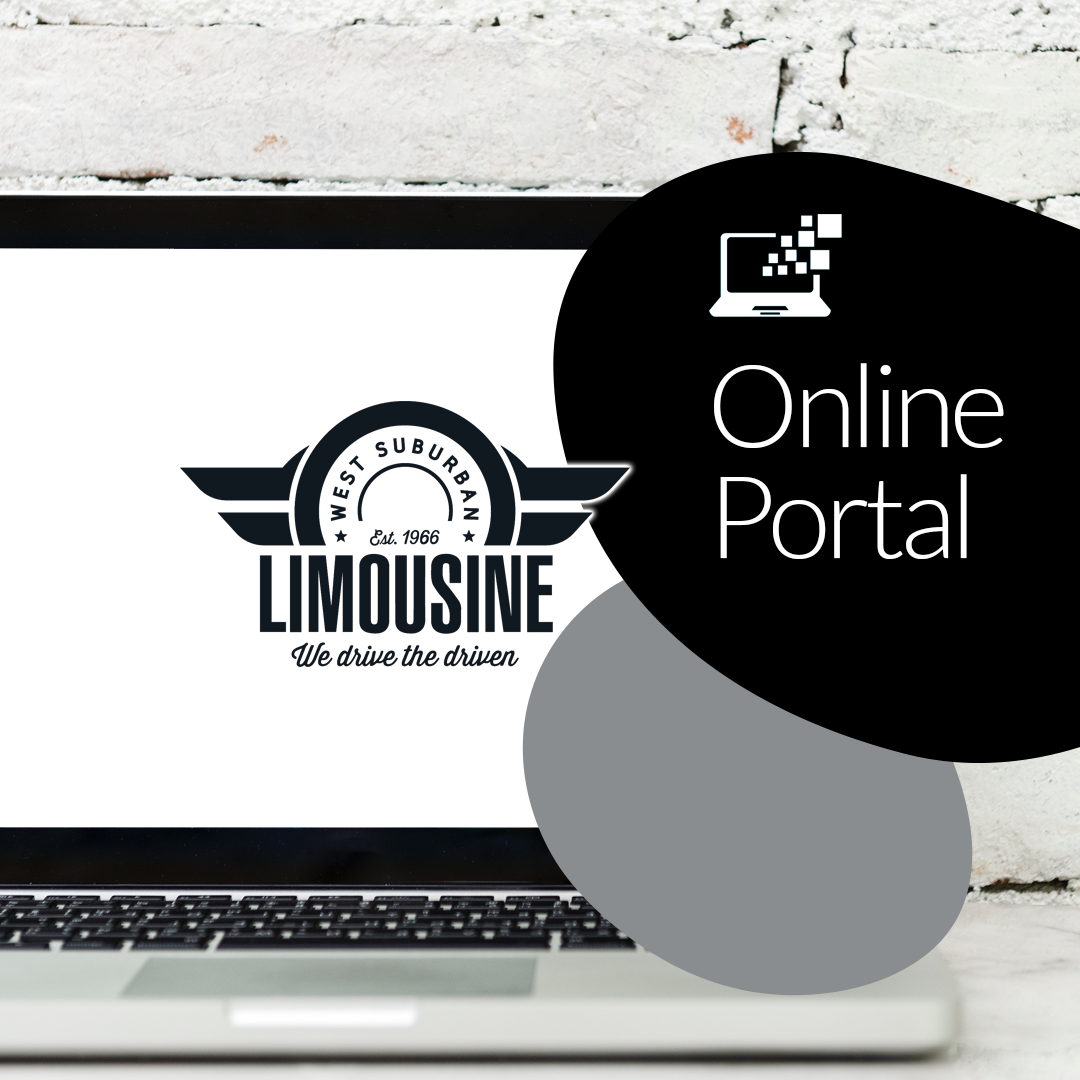 For corporate travel managers, keeping tabs on expenses can be one of the most challenging parts of the job. Business travelers are a busy bunch and the submission of expense reports often isn't their first priority after returning from a trip.
That's why WSL offers an online portal for corporate clients to make management of private transportation services a bit easier. We already have many clients taking advantage of the service. Does it make sense for your business?
Here's what the WSL online portal includes:
Online Branded Portal – simply log-in to the WSL online portal that is customized with your company's brand.
Easy Access to Bookings – from a dashboard, you're able to take a look at current and past reservations to get quick insights into who is traveling soon or an historical overview.
Cost by Employee – drill down into expenses by employee to better understand how private transportation services are being used and how costs are split out by cost centers.
Self-Service Reservations with Pre-Set Limitations – make it easy for your company's travelers to book their own rides without losing controls. Say you have a salesperson who likes stretch limo service, but really only needs a sedan for a trip to O'Hare. Pre-set limitations by person, role in the company and/or number of riders regulate what vehicles are offered, number of trips per a specific time period, or any other parameter you want to place on booking options.
Appreciation of Transparency
Our clients tell us they appreciate the transparency the portal provides into their private transportation costs. They can easily see how many trips were for travel to and from O'Hare and Midway, or for other business purposes. Rates for trips are already determined, so there is no worry about surge pricing imposed by ride sharing services. Plus, overall costs are easy to audit and compare against employees' travel logs.
For more information about how to set-up a WSL online portal for your company, contact Jennifer at (630) 668-9600 ext. .
Top 5 Tips to Cut Business Travel Costs | Car Service To/From O'Hare
Posted On: 02/01/2019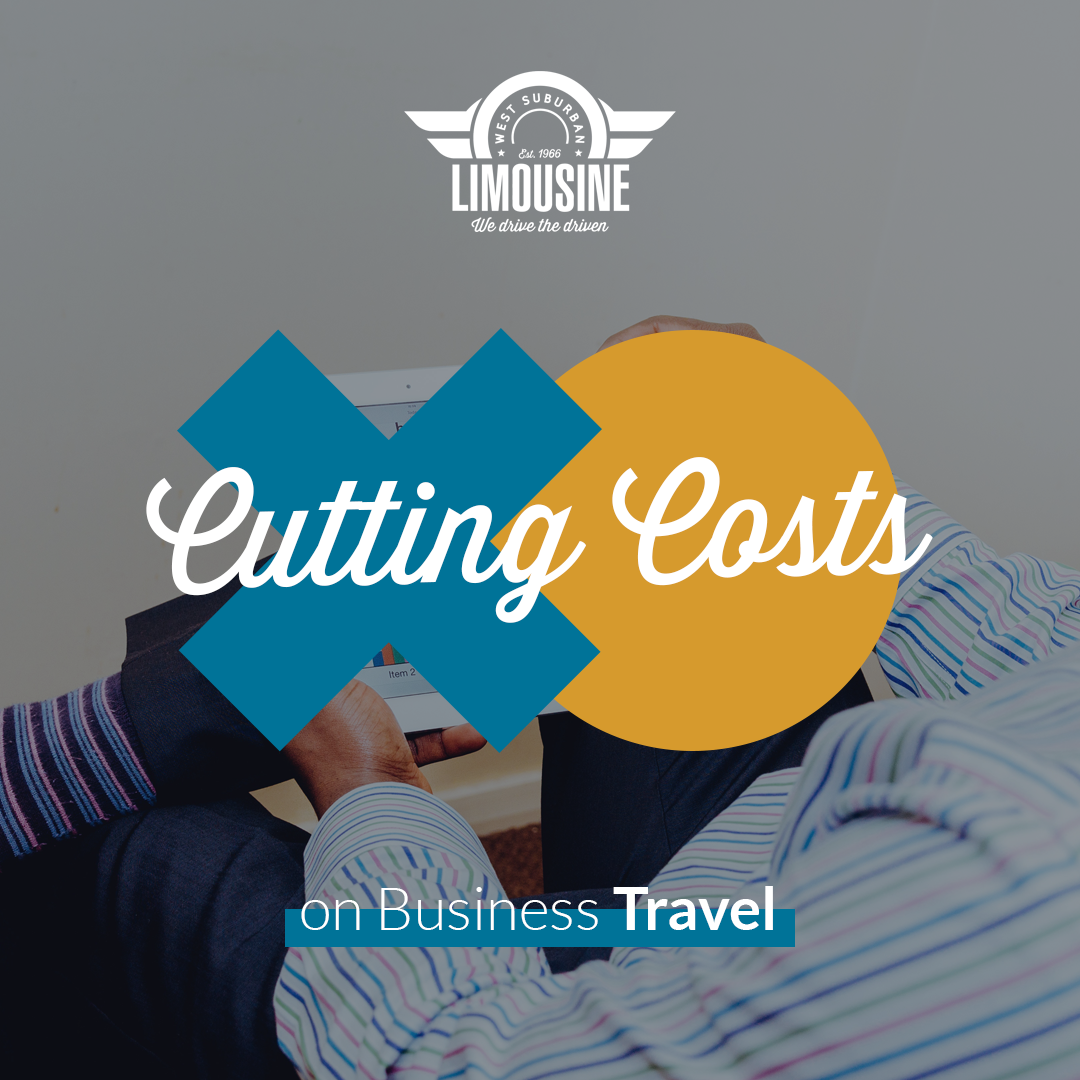 According to the Chicago Department of Aviation, every month about 5 million people pass through O'Hare. Midway accommodates about 1.5 million travelers every month. While some of those folks are headed out on personal travel, we know that most flyers are focused on getting business done as efficiently as possible.
Travel can be expensive, but there are ways for business road warriors to keep costs under control. Check out these five tips to help your business travelers get where they need to go while getting the most out of your company's travel and expense budget.
Book in Advance
When reserving car service to O'Hare or booking flights, early birds really to get the worm. Try to arrange private car service and air travel at least two weeks in advance. That way you have the best choice from options for vehicles and flight times at the best rates.
Sign-Up for Rewards Programs
Most travel-related services offer rewards programs. Is your company taking advantage? As your employees enroll, make sure you incorporate their rewards accounts at hotels and airlines into your booking systems and procedures so you can take advantage of discounts, free nights and other deals.
Refresh the Corporate Travel Policy
Did you know Uber and Starbucks are the vendors that appear most often on travel expense reports in North America? Make sure your company's corporate travel policies are up to date so employees know how much they are permitted to spend on ride sharing services, meals and other daily expenses. There is likely a good opportunity to point travelers to ways to save by making smarter choices about where they make purchases, limits on per diem and options for other service providers (see #4 below).
Contract with Service Providers for Better Rates
When your employees need car service from O'Hare after a trip, have you provided direction on the best, most cost-effective way to get home? For example, at WSL, we have contracts with a number of leading companies in the suburbs. We work with the folks that manage travel expenses to provide set prices for rides as well as offer an online portal through which trips can be booked and expenses reviewed. Unlike ride sharing services, WSL does not require surge pricing during busy times or bad weather. Your employees will always get the set price and be driven home by a professional driver in a late model luxury vehicle.
Reward Employees Who Reduce Costs
Reward programs work well as incentives for employees, too. Create a program that motivates travelers to looks for ways to reduce costs. You can either reward individual employees or business unit teams that maintain the lowest travel expenses per trip with gift cards, corporate swag or other in-demand items.
Ultimately, making it easier for employees to reduce business travel costs comes down to setting expectations, taking advantage of discounts available from service providers and offering them incentives.
Meet Mike Sullivan: WSL's Middle of the Night Miracle Worker
Posted On: 01/28/2019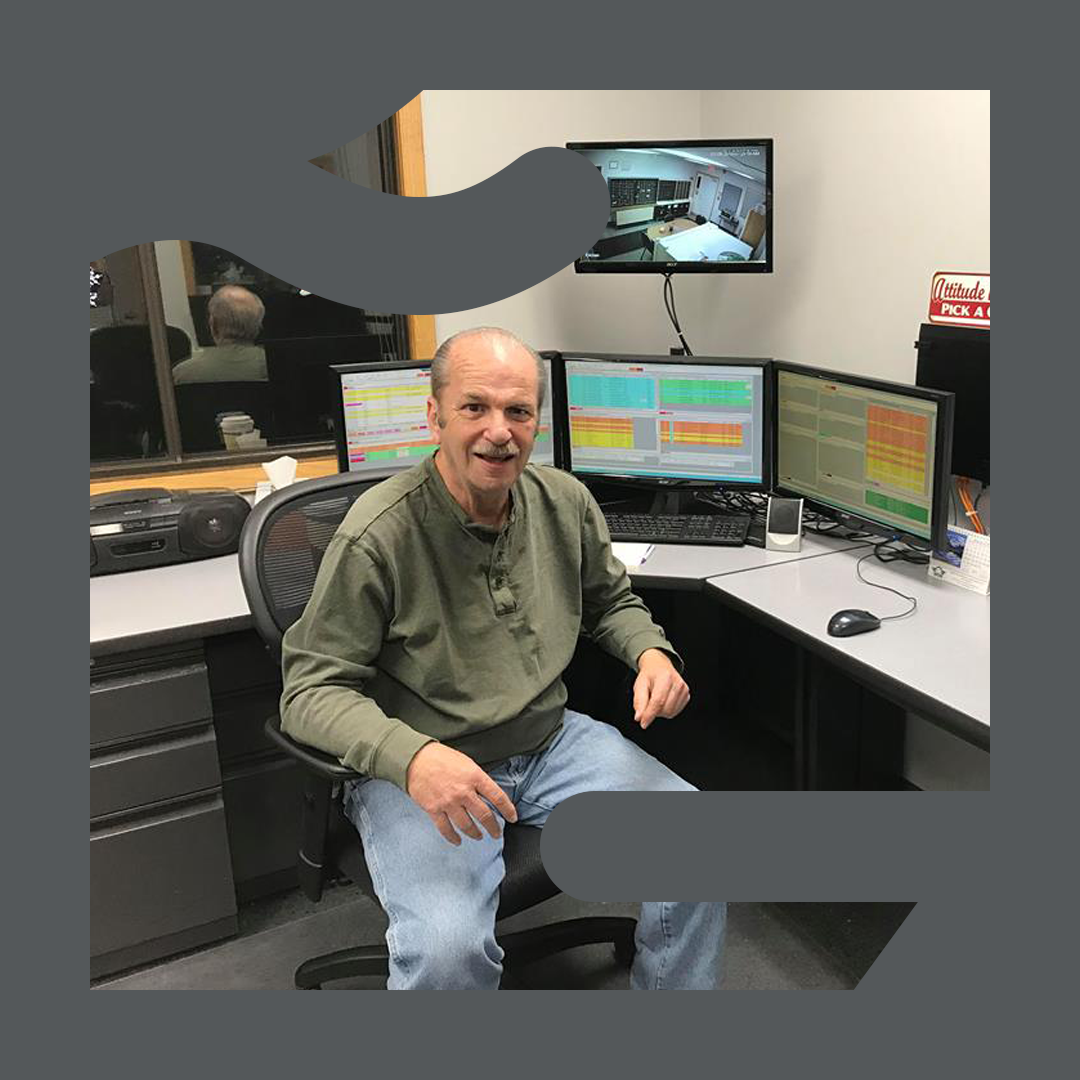 Getting up in the middle of the night to catch an early morning flight can be a drag. The last thing you want to worry about it whether your ride to the airport will show up on time. That's why WSL, a Chicago area limo service, has our very own Superman of the morning shift to make sure our professional drivers are waiting outside your door while the sun is still sleeping.
His name is Mike Sullivan and he's definitely a morning person. Mike arrives at WSL every day at 2:30 am. when most people are fast asleep. He says waking up in the middle of the night is a "piece of cake."
His first order of business is to check the schedule of rides and assigned drivers for early morning pick-ups. Drivers are required to check-in with Mike one hour prior to their first drive. It's part of WSL's best practices to ensure customers are get great service from pick-up to drop-off.
Occasionally, a driver misses the check-in. Then Mike jumps in to action and contacts the driver to make sure he or she is ready to go. He jokingly calls it "Mike's babysitting service," but you can be sure the drivers appreciate the extra effort. Mike is relentless and will call the driver's spouse or other family member if he can't reach the driver on his or her mobile phone.
Thirty Plus Years of Service
Many of WSL's employees have been with the company for more than a quarter century. Mike started at WSL in 1985 as a driver for six years before adding dispatch duties to his role. One of Mike's most memorable drives was in the 80's when he picked up Lionel Richie on Thanksgiving. They got along so well that Mike ended up sharing Thanksgiving dinner with the singer and his entire family.
When the early morning dispatch shift opened up, Mike jumped at the chance to trade in the driver's seat for a permanent spot at the dispatch desk.
Mike's long-term tenure comes in handy. Before the days of GPS, Mike spent a lot of time helping drivers figure out how to get to customers' residences. The introduction of GPS changed how drivers navigate their routes, but it's not a sure-fire technology. Mike's extensive knowledge of the western suburbs comes in handy when GPS is wrong, especially in unincorporated areas. Some customers even have notes in their profiles to not follow GPS directions.
Mike can't imagine working anywhere else.
"WSL has a genuine family atmosphere," says Mike. "Everyone is really comfortable working together and our management team makes sure it a good place to work."
In fact, when Mike takes vacation it is often members of the management team who take over his duties so as not to alter the schedules of the rest of the dispatch team.
Gone Fishin'
When he's not burning the midnight oil at WSL, you're likely to find Mike at his favorite fishing hole about two blocks from his home. He often fishes in the afternoon and takes his grandson along, although Mike says the six-year-old is currently more interested in climbing trees.
Mike also has a group of close-knit friends who have hung out together for more than 30 years. They have a fishing club, like to golf and play darts together every week.
On his days off, Mike says he sleeps in until about 4:30 am. Fortunately, his wife Carol is a sound sleeper and is not disturbed by Mike's early morning schedule.
"I could bang a pot next to her head and she wouldn't wake up," said Mike.
Mike is also a music lover and is well known around the office for winning radio call-in contests.
Advances in Customer Service
During Mike's 30+ years in the Chicago area limo industry, he's seen quite a few changes. He reports that WSL's new app is a great addition to the dispatch team's toolkit.
"It's great, with just one click we can send info to a customer with the driver's name, plate number and where to meet the car," said Mike. "Customers really appreciate the convenience and certainty of knowing WSL is taking care of them."
Looking Forward to Improved Customer Service
Posted On: 01/21/2019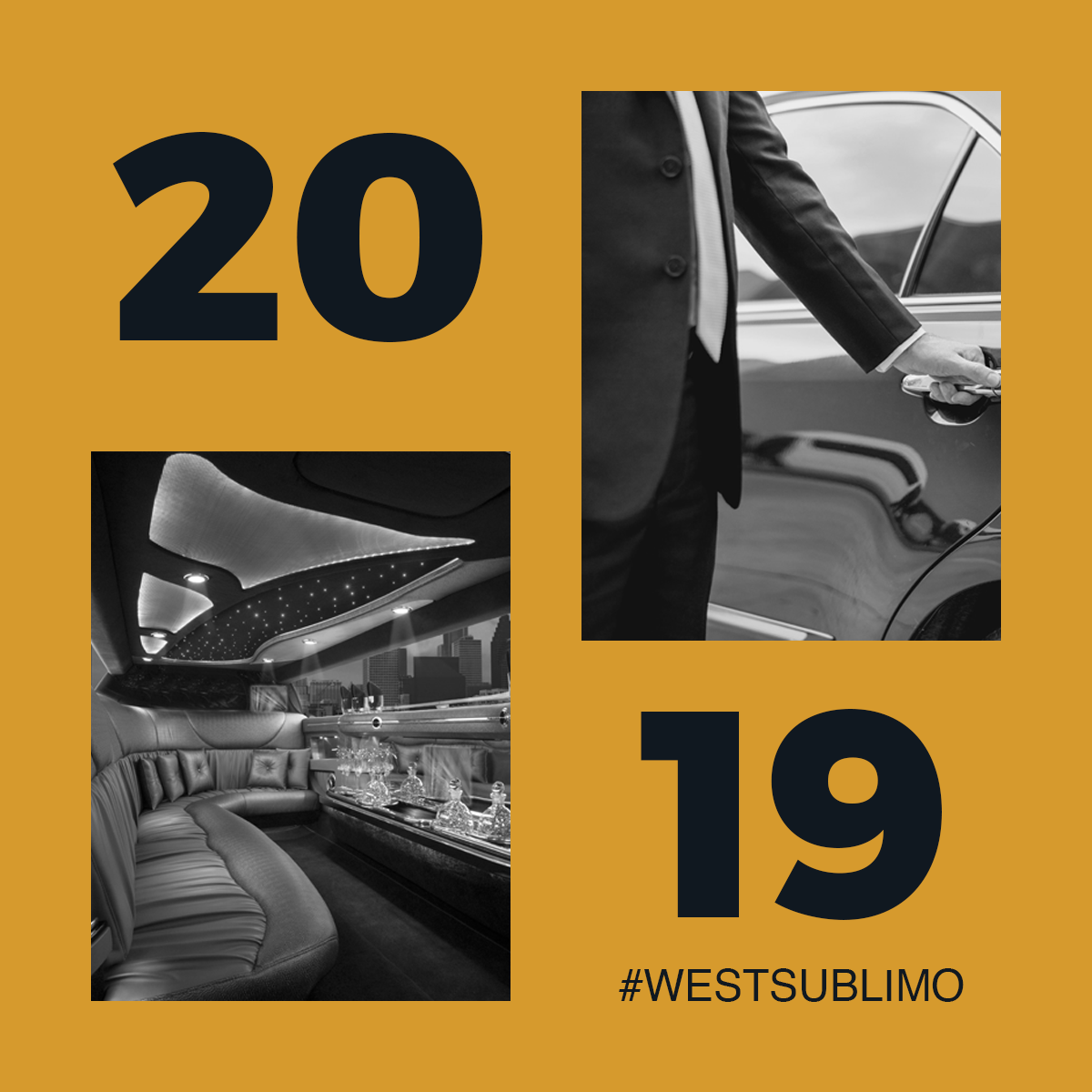 The dawning of the new year has us thinking about all the plans we're working on to continue to provide customer service. It's part of our strategic planning process to continuously improve how we deliver Chicago airport car service, private car service, corporate/executive transportation and special event limo service.
Here's a sneak peek at what we're thinking about for the next two years.
Mobile App Improvements
We launched the WSL mobile app in 2018 on both the Android and Apple platforms. It's got a lot of great features such as the ability to book pre-arranged trips, control payment information and even track the location of your driver. We're exploring ways to make the app even more useful, possibly with driver profile photos and automated communication. The goal is to provide as much information as possible to ensure customers know their private transportation needs are under control.
Enhanced Safety, Training and Insurance
There are a lot of government regulations for private transportation services (but oddly not as much oversight for ride sharing services), and for good reason. The safety of customers is everything! At WSL, we are stringent about meeting all regulations, but that's just a starting point. We view regulations as the bare minimum and will continue to perform scheduled and spot vehicle inspections and evaluate what else we can do to ensure our vehicle fleet is well cared for. We also continue to provide standardized training for all our drivers as well as one-on-one feedback sessions based on input from customer responses to Rate My Ride questionnaires and other feedback. Plus, we maintain high insurance liability and evaluate coverage annually to make sure it meets our customers' needs.
Improving User Experience with Online Booking
Our online reservation option is a popular method for customers to book private transportation. Watch for updates over the next two years at westsublimo.com for new features such as rate quotes and other options.
Growing Social Media Presence
For more than a year, we've been boosting our social media presence on Facebook, Twitter and our own blog. We really enjoy the instant feedback from customers that we otherwise might now have received. We plan to expand how we use social media to make sure our customers know about offers, new additions to our fleet of luxury vehicles, community events and contests. Expect more live videos with special announcements and news about what's happening in the western suburbs. Staff monitor our social media outlets and can answer questions and help you book rides.
As always, if you have suggestions for ways WSL can serve you better, please let us know on Facebook, Twitter or directly at 630-668-9600.
Now's the Time to Try Out the Mercedes-Benz Sprinter Bus
Posted On: 01/14/2019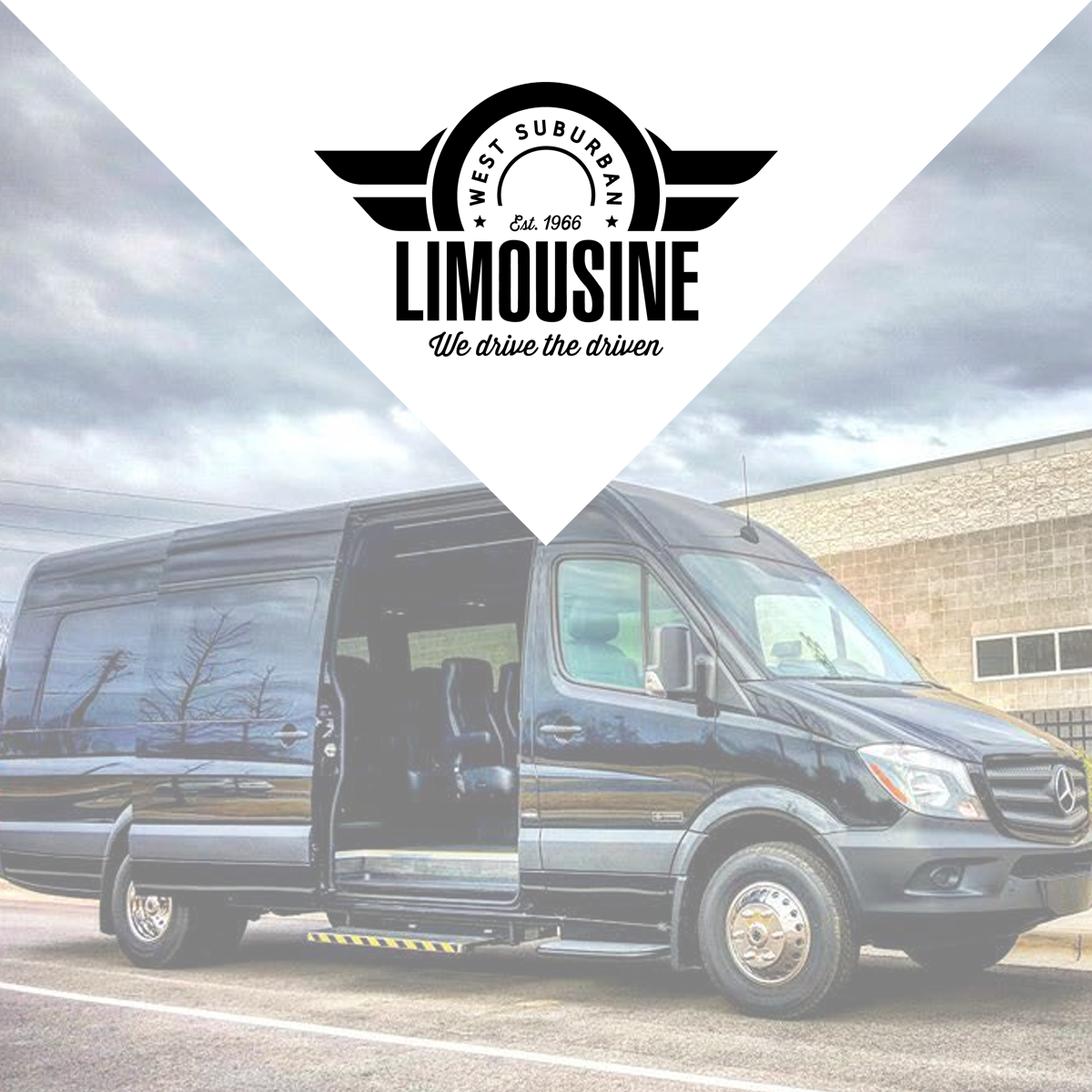 Have a big group of people you need to get from point A to point B? There's never been a better time to do it in style in the WSL Mercedes-Benz Sprinter Bus. Book now and take advantage of special pricing: get the Sprinter Bus for the cost of a stretch limo – a 20 percent discount, fo parties of 10 or less* But, you need to book soon to take advantage of the offer because availability is limited.
The Mercedes-Benz Sprinter Bus is a high-end Chicago limo bus with luxurious high-back captain's chair seating for up to 14 people. The chairs are placed in five rows of stadium seating with a generous aisle for easy in an out. Of course, there's lot of amenities. Every row features blue backlit dual USB ports for easily accessible access to power to charge laptops, tablets and mobile devices on the road. Every seat has its own individual LED reading light and passenger-controlled heating/cooling options.
The possibilities are endless for reasons to get on the Chicago limo bus for fun or business. Here's a few ideas:
Corporate – Transport executives in style to the airport, meetings, dinner and events.
Holiday Parties – Add safe transportation to your list of must-haves for your next company gathering.
Game Day – Focus on the fun to and from the Cubs, White Sox, Bears, Bulls, Blackhawks and WSL's favorite – the Kane County Cougars.
Concerts – Eliminate the hassle of navigating to and parking at big concert venues and put the Sprinter bus's excellent sound system to work.
Meeting on Wheels – Combine business with fun by hosting your meeting on the bus. Check out how the Winfield Lions Club used this luxury sprinter van rental and rewarded members with a meeting on the road that added a bit of merrymaking to the agenda.
Brewery/Winery Tour – New breweries are popping up all over the Chicago area. And, you don't need to travel to Napa Valley to do a wine tour (check out the top 10 wineries in the Chicago area). Focus on the tastings and leave the driving to WSL.
Birthday Parties – Why should kids have all the fun? Pull together your friends and plan a special outing for your birthday. You'll celebrate from beginning to end on the Mercedes-Benz Sprinter bus.
Contact Sheryl, WSL's special events coordinator now to book the Mercedes-Benz Sprinter Bus as the discounted rate. She is available Monday through Thursday from 8 a.m. to 2 p.m. at 630-668-9600, ext.246.
For best service, WSL prefers bookings at least 48 hours in advance.
Offer is Valid until March 31, 2019
*$36 Chicago city tax added to the return trip if the party is picked up from O'Hare or Midway. Some other fees may be added for event parking or venue fees if applicable. The Special Events coordinator will outline the details when booking the rides.
Safety, Reliability and Service Emerge as the Winners in the SUV Preference Survey
Posted On: 01/07/2019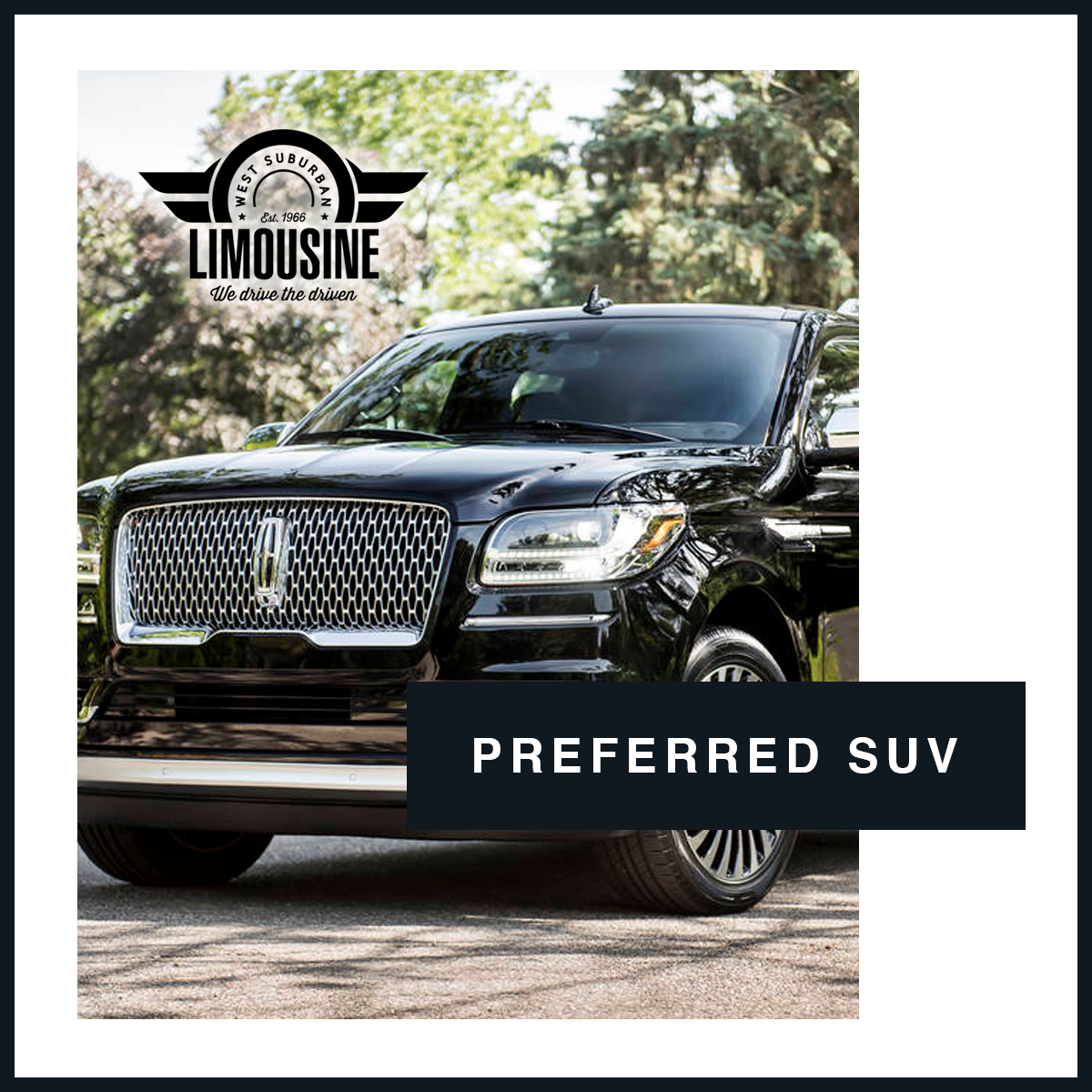 Last month, WSL asked for your input on what type of SUVs we should consider as we update our SUV Chicago limo fleet of luxury vehicles in 2019. We want to know what is important to you when travelling via Chicago SUV car service. Is it the brand? Perhaps you like a specific crossover style? Are you interested in the ease of getting in and out of the vehicle?
In November, we sent out a survey through our monthly e-mail newsletter and on Facebook. In both platforms, we asked for your thoughts on three SUVs: Lincoln Navigator, Cadillac Escalade and Chevy Suburban.
No clear winner emerged. This response accurately represents the feeling of most survey takers:
"I don't care what type of vehicle is used as long as it's big enough for the number of passengers and bags and it is clean."
You also told us it's important for you to be able to easily get in and out of the SUV and you want plenty of room for your luggage.
"I really don't care what brand of car picks me up, as long as it is clean and up to date on safety features, with good tires, etc. I'm good with it!"
We also heard loud and clear that you mostly value on-time service, safe driving and courteous chauffeurs.
"Honestly, it really doesn't matter which of the three models you chose - I would be happy with any of them as long as the ride is on time and safe."
We were pleasantly surprised that people also used to survey to provide feedback not related to the choice of SUVs. The vast majority of people included nice comments about the professionalism of our drivers, our reliable service and great safety record.
A few customers also provided some ideas about areas where we have some room for improvement which we welcome and take very seriously. In fact, we have a number of ways you provide feedback after a ride in our Chicago SUV car service or any of our luxury vehicles.
How to Provide Feedback to WSL
Rate My Ride – At the end of each trip, we ask riders to complete a short survey that takes less than a minute. Clients give us reviews for their private transport service in five categories that tell us about the driver, the vehicle, quality of service, whether they would recommend us and an open-ended field to tell us anything.
Facebook – You can always leave a note for WSL on our Facebook page, which we regularly monitor and respond to comments. We currently have a 4.8/5 rating.
Twitter – You can reach us on Twitter at @WestSubLimo. You can also follow us to stay up-to-date on special offers.
Google – Write a review on Google so others can learn about your experience with WSL.
Yelp – Let us know what you think on our Yelp page and rate our service.
As always, we thank-you for your feedback. We care about what our customers think and use your input to guide our decisions.
9 Great Places to Watch the Bears in the Playoffs in the Western Suburbs
Posted On: 01/01/2019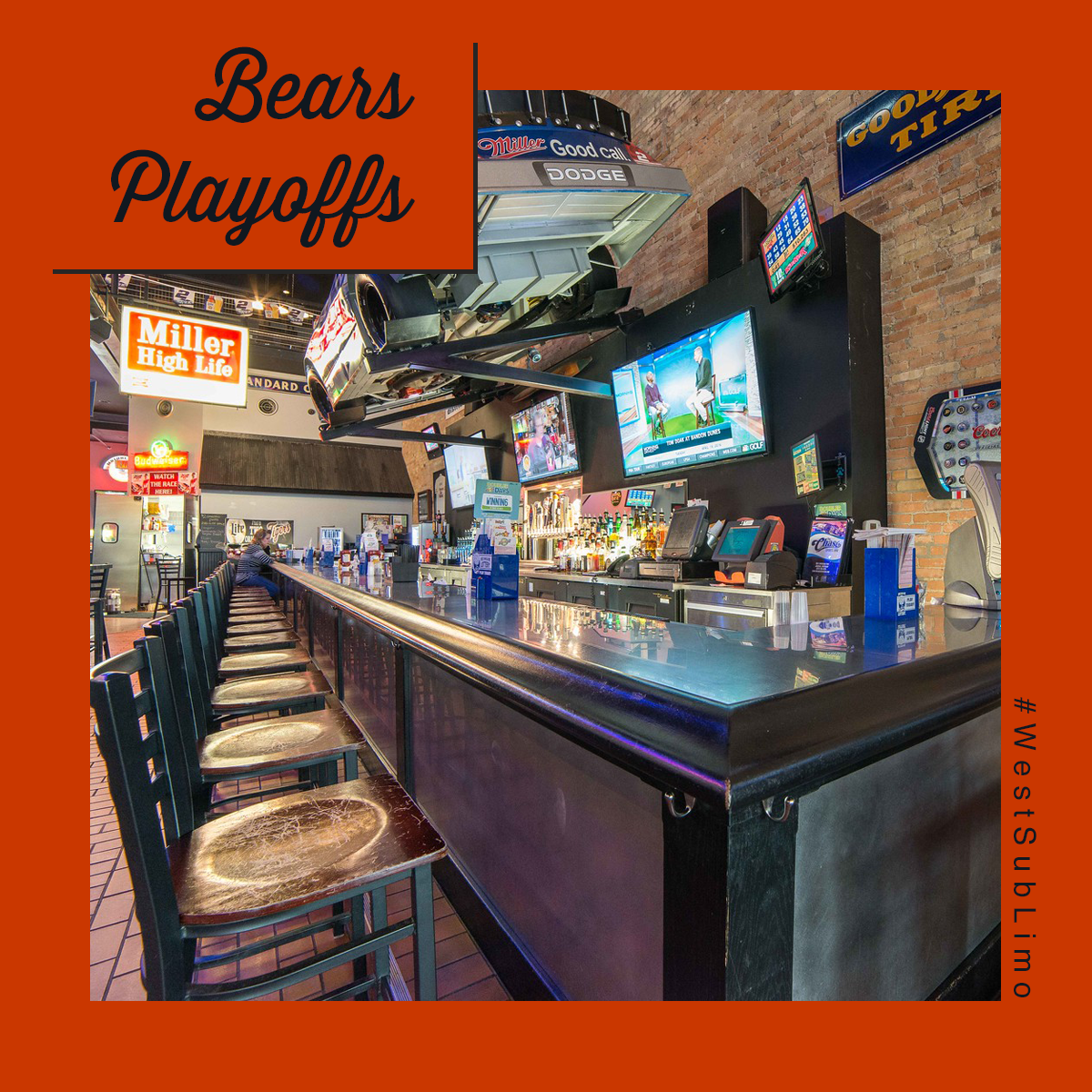 Back in September we predicted, in our "Limo Service to Soldier Field" article, that this season was a great time to get back on the Bear's bandwagon. But, boy did we underestimate the potential of our boys in blue and orange. We assumed the Vikings and Packers would fight it out for the NFC North division title and were excited by the prospect of a wild card berth for the Bears. We've never been so glad to be wrong!
Now that the Bears earned the division title, we look forward to post-season play. Ticket prices for playoff games are likely to be astronomical. As a provider of limo services in the Chicago suburbs, we know lots of great places to stay a bit closer to home and enjoy the play by play, great food and community spirit at one of these great bars/restaurants in the western suburbs:
Aurora – Two Brothers Roundhouse is an historic landmark in the western suburbs. The giant converted rail depot features Two Brothers artisan beers and lots of space to spread out with all your friends. FUN FACT: This historical building was purchased back in 1995 by Chicago Bears legend, Walter Payton!
Bloomingdale – 25 West Brewery is conveniently located in the Stratford Mall, so even if a few of your crew aren't football fans, they can pop out to scour the post-Christmas sales while you enjoy the game.
Elmhurst – Pints has all the right numbers: 17 HDTVs, 20 craft beers on tap and more than 50 other bottled beer choices. No matter where you sit, you're sure to be able to see the game.
Glen Ellyn – Maize + Mash promises an extensive whisky and cocktail list along with a modern bistro menu. The Bend & Snap cocktail looks inviting with a mix of white tequila, Cointreau, raspberry jam, lime and ginger beer. Jam in a cocktail!
Lombard – Miller's Ale House bills itself as the "House of Football" with more than 60 televisions for your viewing pleasure, plus great drink specials and wings.
Naperville – Draft Picks. Burgers. Beer. Pizza. Enough said? Take advantage of their Sunday specials including $1 sliders and half-price chicken sandwiches.
St. Charles – Alley 64 loves the Bears and treats patrons to free chili during every game.
Wheaton – The Burger Social is the place for burgers! Treat your taste buds to hand formed burgers made only from beef sourced from local Midwest farms in Illinois, Iowa and Wisconsin.
Winfield – Caliendo's has a menu jammed-packed with traditional Italian favorites, pizza, burgers and specialty sandwiches. Plus, it's Smirnoff Sunday Funday with $3.50 mixers and $2.50 Bud & Bud Light bottles.
Chicago Suburbs Limo Service for the Bears Playoffs
No matter where you watch the playoff games in the Chicago suburbs, count on WSL for quality limo service to get you safely to and from the watch parties.
When Times Change, WSL Adapts For You
Posted On: 12/26/2018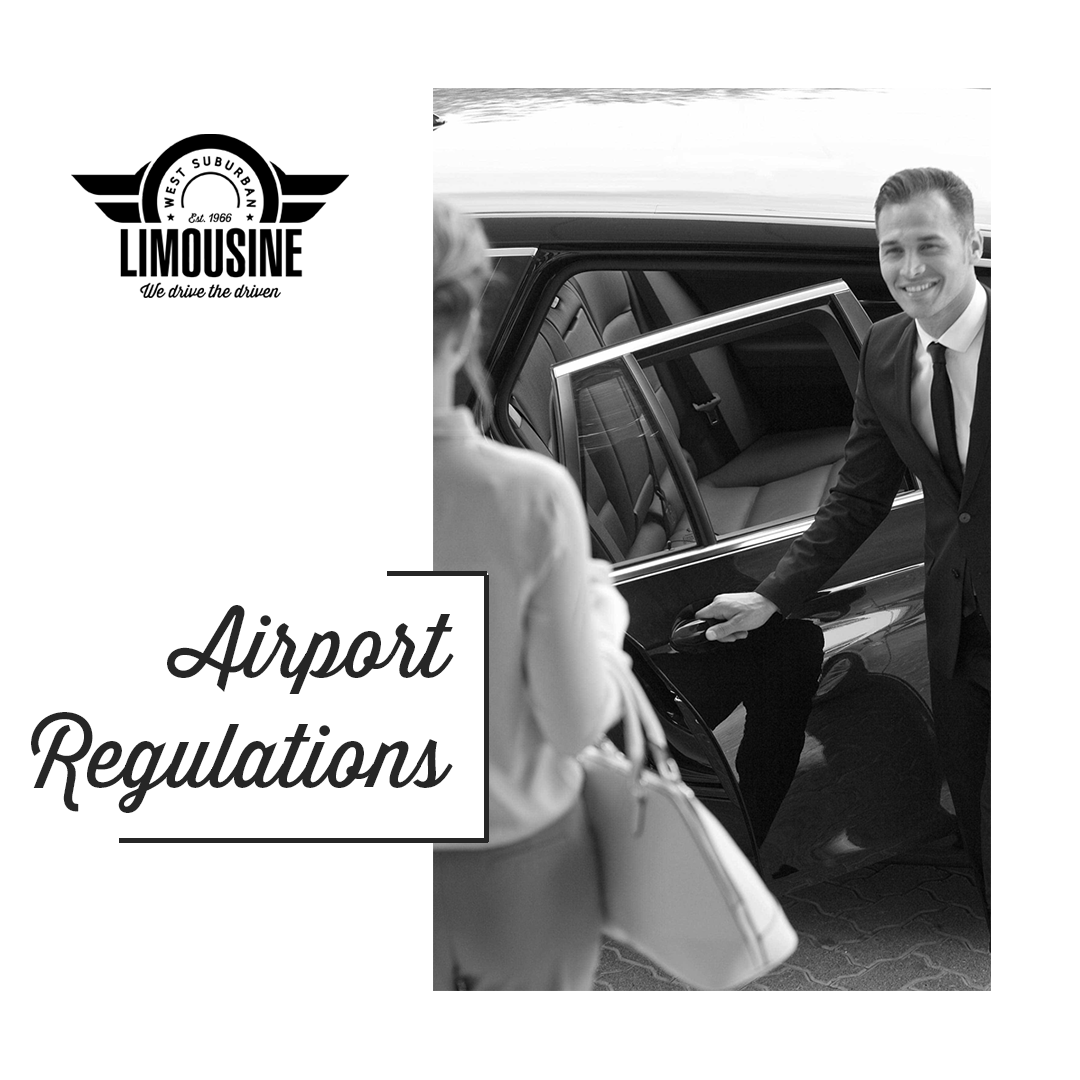 We recently ran across an article in Luxury Coach & Transportation (LCT), the industry publication private transportation, about the ways in which the limousine industry has changed forever. Many entries on the list focused on the changes in the limos themselves and upgrades in technology that make it easier to provide great service to customers such as credit card processing and online booking.
Deep in the list was an item that was surprising: 9/11/01.
Of course, we all remember that horrible day and take time to honor the first responders and victims of the attacks, as well as the service men and women who continue to fight for our freedom.
The article pointed out that since the tightening of airport security, limousines are no longer permitted to wait in front of airport terminals for passengers. Chauffeurs can no longer greet clients at the jet bridge with a signboard in hand. The limitations make sense and WSL is happy to comply.
Changing Rules, Same Stellar Service
We have, however, come up with new ways to provide the same kind of personal service available for which luxury private transportation companies were always known.
WSL works closely with clients to understand their specific needs for transportation to and from airport service in Chicago. Here are a few of the services you can request:
Meet and Greet Service at the Airport – A WSL representative (or a few if needed) is available to meet you or your group in baggage claim at the airport – look for the signcard with your name. While you're waiting for your luggage to arrive, he or she will contact your driver who is waiting in an outlying lot to head to the terminal. Then, the WSL representative helps gather your bags and guides you to waiting WSL limo, SUV, executive bus or sedan. The meet and greet service is especially helpful for international guests, family visiting from out of town and business guests.
Spanish-Speaking Drivers – Do you have family or business guests who would be more comfortable with a driver who speaks Spanish. Let us know and the dispatcher will make sure the driver assigned to your trip is conversant.
Private or Shared Car Service – Many time, customers welcome shared trips with other passengers headed to the same area. Other times, it makes more sense to book a vehicle just for yourself or your party. Just let WSL know your preference. We'll make sure to reserve the type of vehicle and type of service that best meets your needs.
WSL will continue to embrace new technologies and evolve as times change to offer our customers the best service possible.
Chicago Road Construction: What is Your Time Worth?
Posted On: 12/19/2018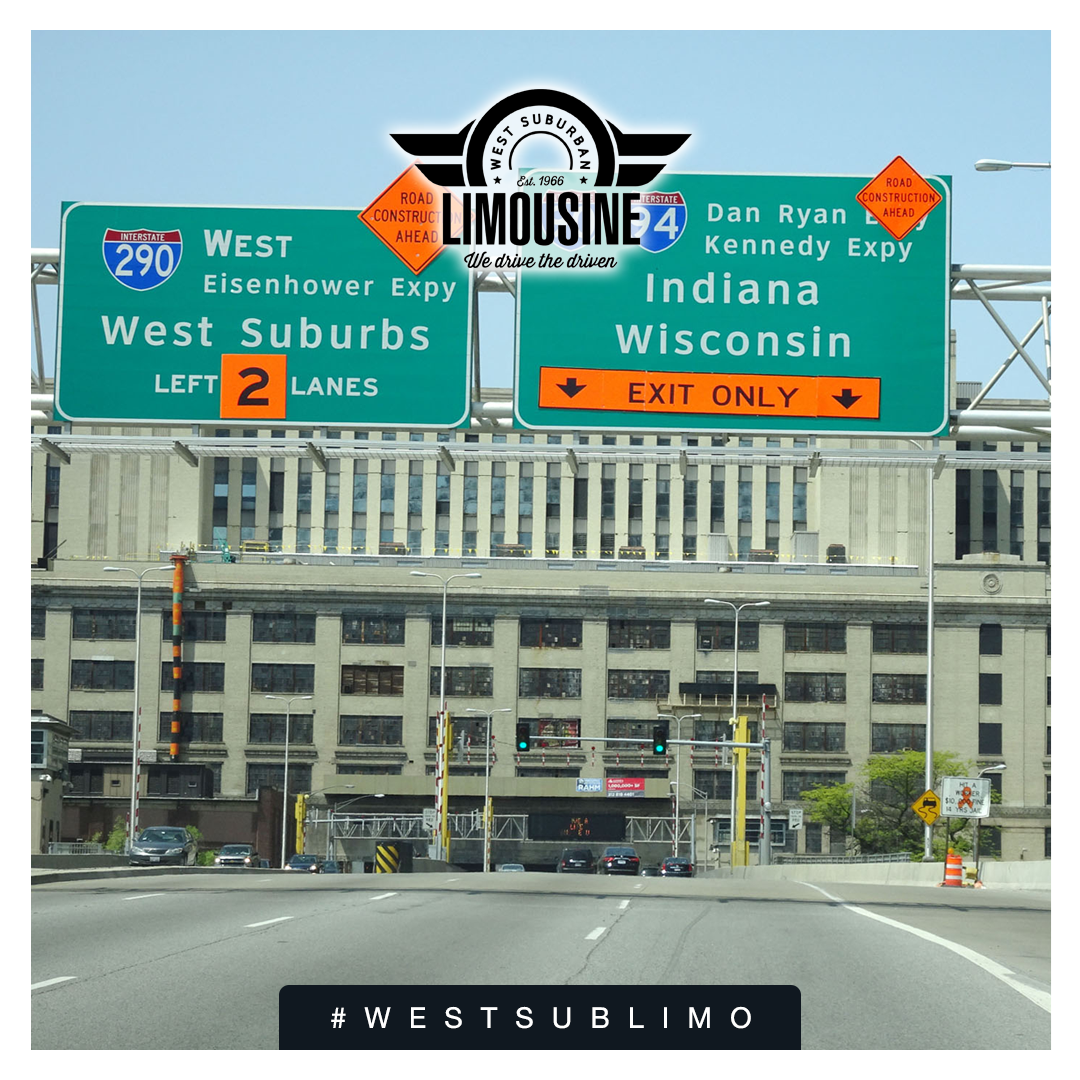 Summer is no longer the exclusive season for road construction in the greater Chicago area. Even now in December, it seems that everywhere you look large-scale construction zones stand in the way of you getting where you want to go.
Take a look at IDOT's Current Road Construction Information website. You can filter the results by county, interstate, highway and lots of other parameters to learn about the projects that impact you. It's not your imagination. Road crews are out in force all over the area.
WSL professional chauffeurs are definitely familiar with Chicago road construction. And that's a good thing for you. Because our drivers are in the same neighborhoods and at O'Hare and Midway airports every day, they know what's going on.
That means they know when to take a detour or let you know you may want to depart a bit earlier for your flight because delays around O'Hare are particularly bad at specific time. Our drivers share info about road construction and driving conditions with dispatchers who in turn share with other WSL drivers. It's a team approach.
We've been monitoring the issues closely for a few months. In October, we posted A STATEMENT ABOUT TRAFFIC CONDITIONS AT O'HARE AIRPORT. We pointed out that "[t]his is not a WSL problem, it's a 'everybody driving to or from the airport' problem. We're all in this together, experiencing the same inconveniences and frustration."
During this time, we're even limiting how many reservations we accept so our customers get the time and attention they need to arrive safely.
Ride sharing services such as Uber and Lyft may actually take advantage of the situation to charge surge pricing because demand is high and drive times are long. Plus, an Uber or Lyft driver is only as good as their GPS. They do not have a team behind them with up-to-the-minute updates on construction slowdowns or accidents.
What is your time worth? A lot. Make sure you trust your critical private transportation needs to the professionals.
Time for New SUVs, What Do You Recommend?
Posted On: 12/17/2018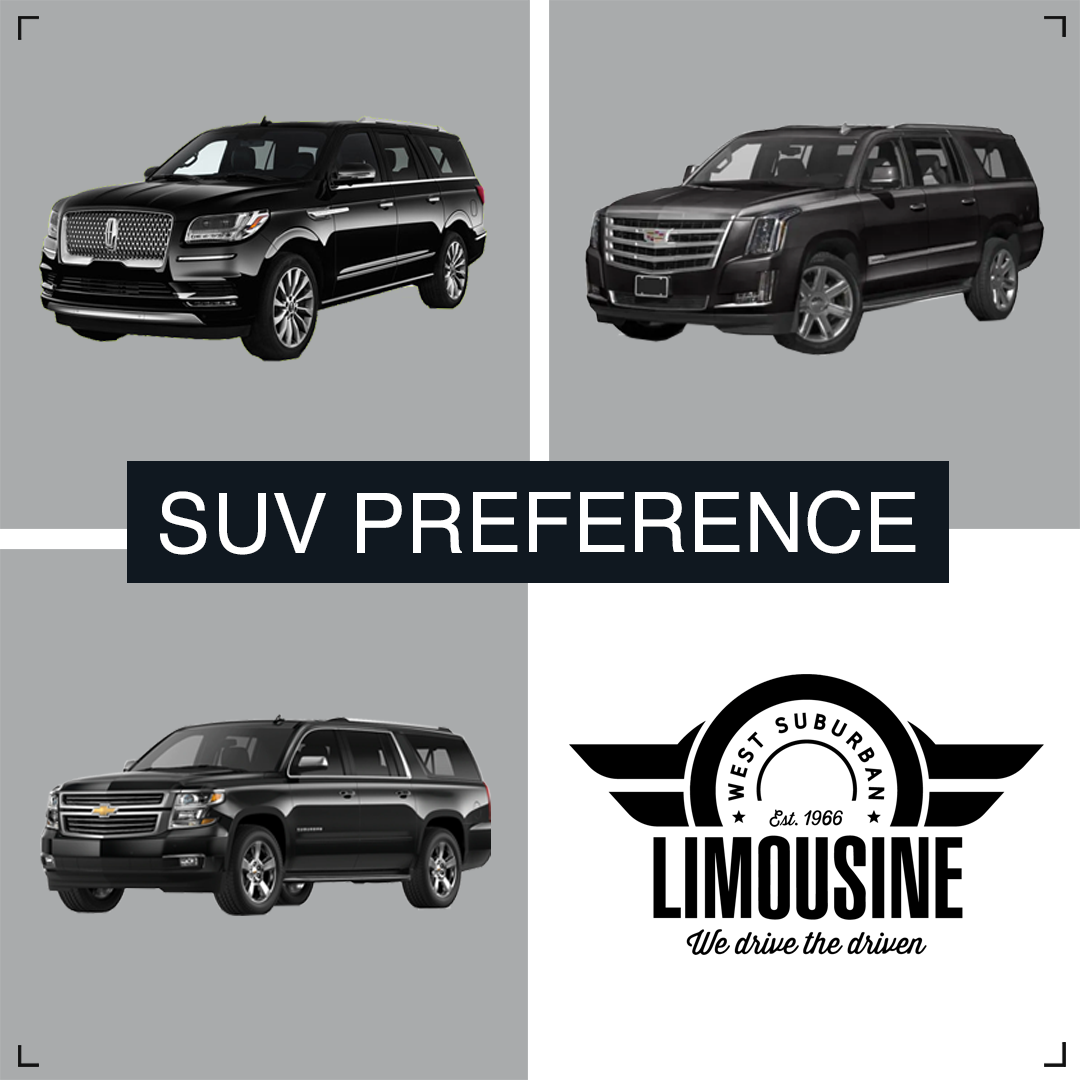 For the past few months, WSL has asked for your input as we make plans to update our fleet in 2019 for our suburban car service when certain vehicles are ready for retirement. You may recall in September we asked for your input on whether you prefer SUVs or sedans. Preferred
We revealed the results of the survey in October for the preferred Chicago sedan service, and SUVs were the big winner (86%) over sedans (14%). Not surprising since personal driving preferences have shifted to SUVs for the past 10 to 15 years.
Now we want to know your preferences for what type of SUV we think we should purchase. Head over the WSL's Facebook page and tell us your SUV preference.
What's important to you? Is it the brand? Perhaps you like a specific crossover style? Are you interested in the ease of getting in and out of the vehicle? We take your input very seriously.
Choose from Three Options
Currently, WSL is reviewing three different SUVs for our Chicago SUV limo service:
Lincoln Navigator – The Lincoln Navigator is a reliable and comfortable SUV. It's popular with executives traveling to and from the airport, as well as for groups of four to six passengers. They typically feature a black leather interior, heated seats, climate controls in the back seat, a premium sound system, and outlets to charge electronic devices.
Cadillac Escalade – The Cadillac Escalade is luxury personified. It's a great option for executive transportation with a spacious interior with all the amenities you'd expect from a Cadillac including a Bose Centerpoint Surround Sound system with 16 speakers and easy auxiliary audio connections for your devices.
Chevy Suburban – The Chevy Suburban has more of a workhorse brand, but don't let the name fool you. This luxury SUV comes with all the bells and whistles including lots of charging outlets, plenty of comfortable seating, a big cargo space and triple-sealed doors to keep outside noises outside.
We'll reveal the results of the survey in January. You'll also be one of the first to know when we make our selections and add new SUVs to our fleet.
The Great Chicago Pizza Battle
Posted On: 12/10/2018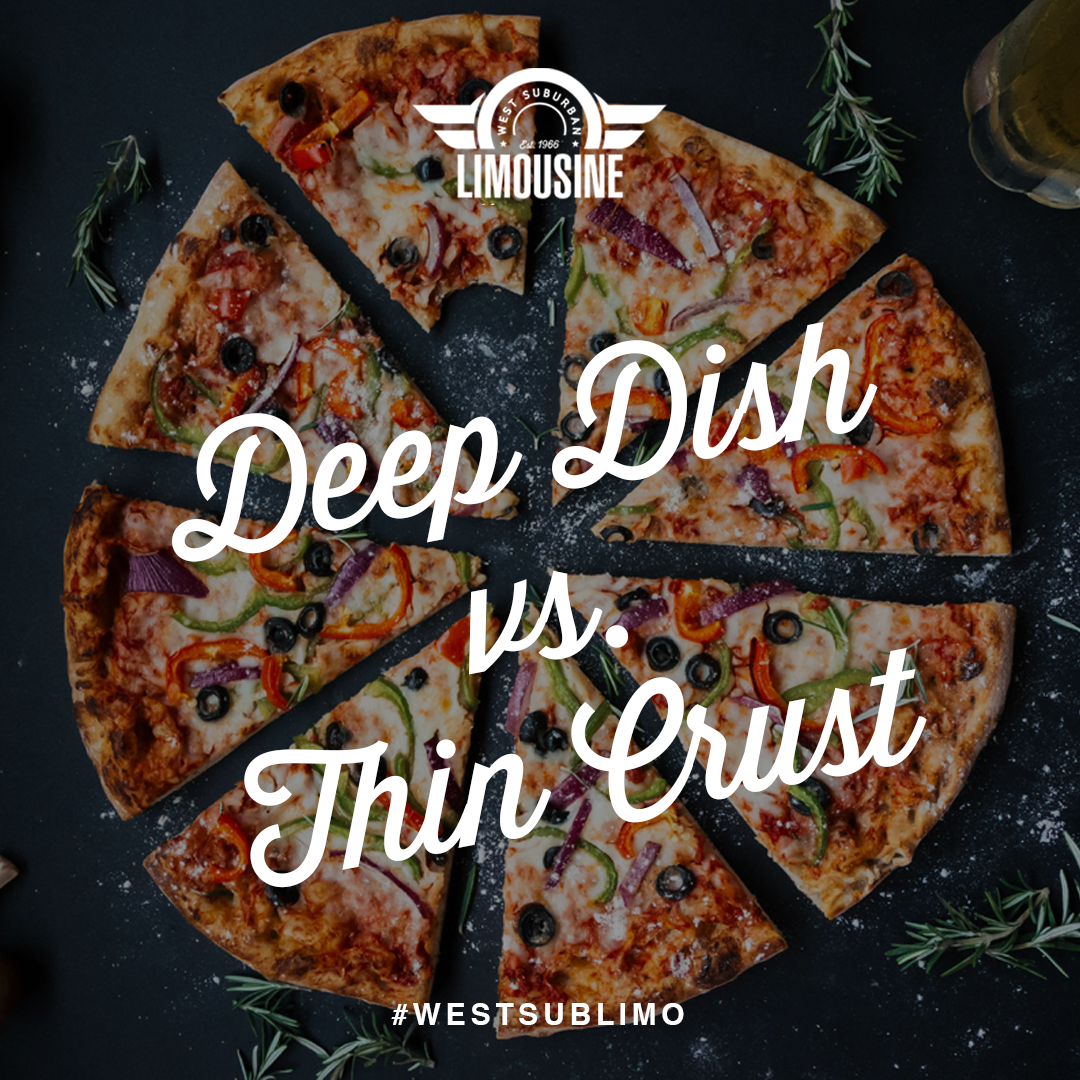 As we transport clients around with Chicagoland limo service, one thing we've learned for sure it that no matter where you're from, everyone has an opinion about Chicago pizza.
Executives in town from overseas or one of the coasts know precisely what kind of 'za they want to try while here for business.
Families visiting area relatives for a holiday are known to have heated discussions about what pizza place is on the itinerary for the week.
Even the locals – especially the locals - we zip to and from O'Hare and Midway every day know exactly what Chicago pizza is the best and why.
Deep Dish, Thick or Thin
The battle has many layers. The first clash is over crust type. Do you prefer the iconic Chicago deep-dish pizza? You definitely need a fork and knife to attack a slice of this pie, and some patience since the baking time is significant. Are you more of a middle-of-the-road crust person with a pan-style pie…not quite deep dish, definitely not thin? Or, is the crust just a means to get the toppings to your mouth, the thinner the better? You want to be able to fold that triangle slice and eat it with one hand.
Pizza Places Everywhere
Chicago really is obsessed with pizza. As we travel around the city and suburbs, there's barely two blocks pass before we run across another pizza restaurant.
Here are a few of WSL's favorites, in no particular order:
Lou Malnati's – The trademark deep-dish buttercrust that is crispy on the bottom and stands up to the weight of all that mozzarella is the pizza ex-Chicagoans dream about (and possibly order frozen and shipped). With about 50 local shops, you're sure to get the fix you need where ever you are in Chicagoland.
Pequod's Pizza – With only two locations (Chicago and Morton Grove), this might be classified as a pizza destination. Technically, the crust isn't deep dish. But who can resist the dough that's fluffier by design with a ring of caramelized cheese on the edges?
Pat's Pizzeria & Ristorante – You like thin crust? Pat's bills itself as the number one thin crust pizza. We tend to agree. This family-owned restaurant has been around since 1950. Might be time to call WSL and book some Chicagoland limo service to get to its one location at 2679 N. Lincoln in Chicago. That way you can belly up to the pie with no worries about a food coma limiting your ability to drive home!
Tell Us What You Think and Win
We can feel your exasperation through the website! How could we have left [insert your favorite pizza place here] off our short, but thoughtful list? Head over the WSL's Facebook page and tell us about your favorite pizza joint and why it's the best.
You'll automatically be entered to win a $20 WSL gift certificate!
An Early Gift: No Rate Hike for 2019
Posted On: 12/04/2018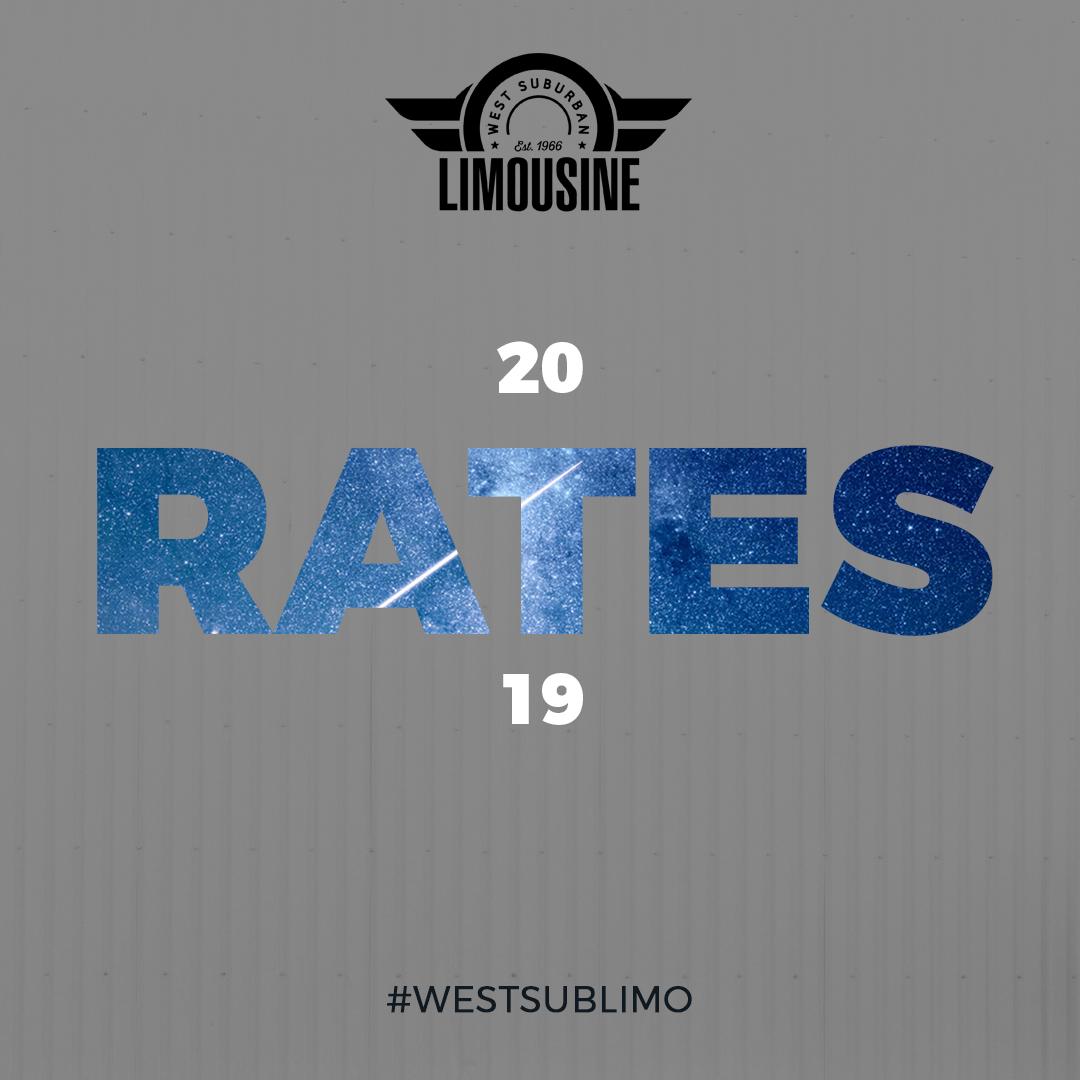 As a matter of habit, Chicago limo rates tend to go up at the beginning of every new year. Not at WSL. Scott Simkus, WSL's vice president of operations, is pleased to announce,
"we're keeping the same price structure in place in 2019 for all residential locations, hotels, and most corporate locations."
Instead of just hiking rates on an annual basis, WSL closely examines operating expenses such as insurance, fuel, maintenance and other costs to determine what is best for customers and fair for WSL.
During the evaluation, Simkus noticed that even though insurance premiums for commercial vehicles continue to rise, gas prices have remained relatively stable for the past two years. WSL is committed to providing top quality service at competitive rates. So, the company will not increase rates in 2019 for most fares.
"The loyalty of West Suburban Limousine travelers is something that can't be replaced, and we are extremely grateful for all our new and longtime clients," said Simkus.

"We've had more customer surveys submitted in 2018 than in any previous year and the feedback–both positive and instructive–is what drives change here at WSL."
In addition, WSL will continue to insure all vehicles in its fleet for $1.5 million Travelers may not realize the minimum level of insurance for commercial vehicles is just $350,000. Taxi cabs and other smaller black car services have insurance levels as low as $350,000 to $500,000. Even international rideshare companies, such as UberX, carry policies with less than half the coverage that WSL holds.
"Safety and security are an extremely important aspect of our business," Simkus added.

"We'll continue to offer clean, late model luxury vehicles, experienced full-time chauffeurs, and top-of-the-line insurance coverage at competitive rates."
Safety Tips for Traveling at Night
Posted On: 11/26/2018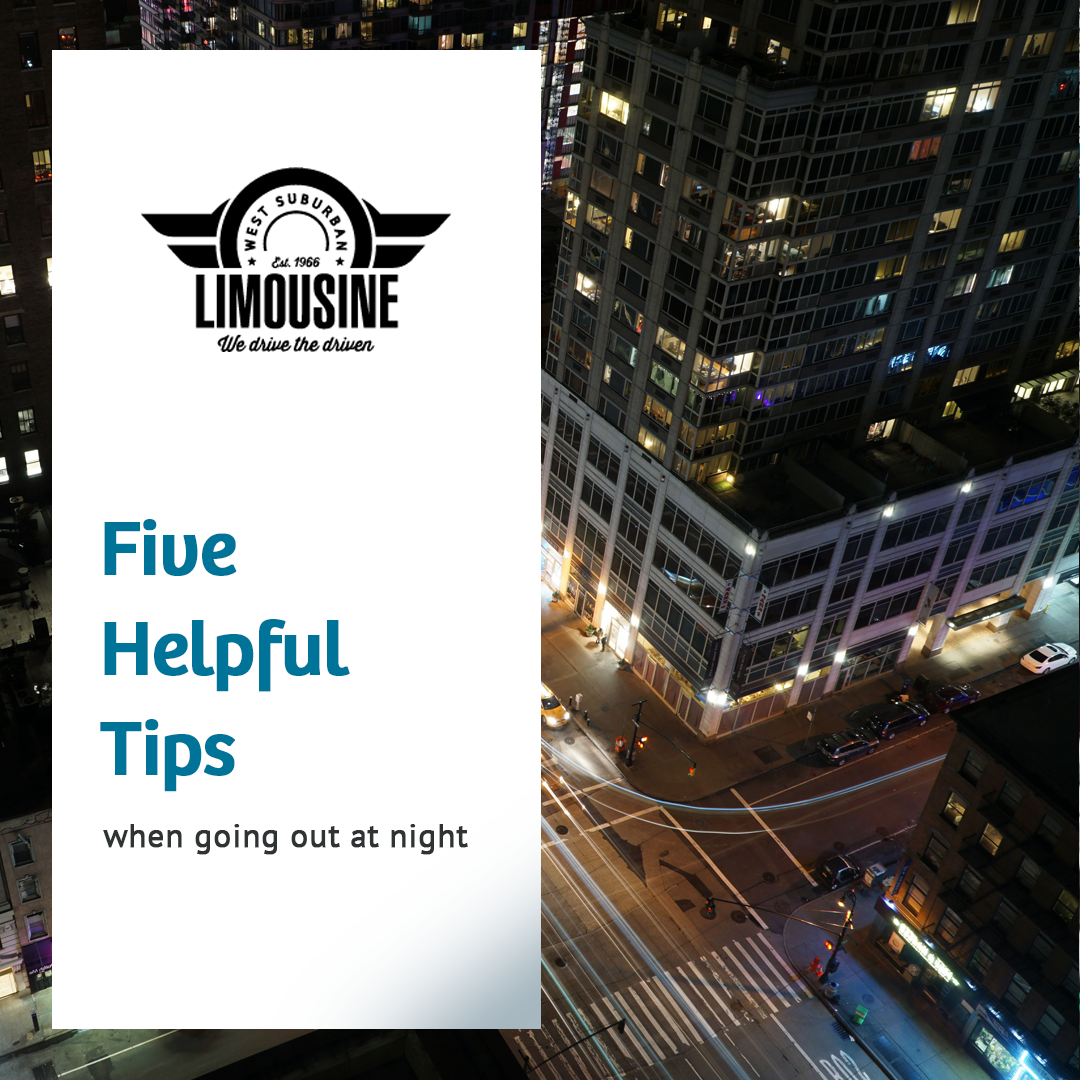 Almost three million people in the United States reported experiencing one or more violent criminal victimizations during the prior six months according to results of the most recent report from the National Crime Victimization Survey (NCVS) fielded by the U.S. Office of Justice Programs. It's important when you're heading out alone at night to take a few extra precautions, so your name isn't added to that list.
Under the cover of darkness, criminals can more easily target their victims and are often on the lookout for people who are distracted or appear unsure about their surroundings.
Take a few extra steps when heading out by yourself to reduce your chance of becoming a target.
Make Sure Your Mobile Device Is Charged
Your phone is one of your best defenses when you're out for the evening. The flashlight function is useful if you get caught somewhere without proper lighting. And, of course, the ability to call 9-1-1 is critical. Make sure your device is fully charged before you leave your house or hotel. It's also a good idea to invest in a quality portable charger so you can refuel your phone battery on the fly.
Communicate Your Plans
Always tell one or two people the who, what, when, where and how of your plans. It's a good idea to text or call during the evening to let them know you arrived and returned home safely.
Walk Confidently
Attackers are looking for easy prey. Something as simple as walking with a confident stride with your head up tells criminals not to mess with you. If you need to look at your phone, stop in a well-lighted area with other people around. Place your back against a wall so you aren't vulnerable from behind. Look up from the screen at regular intervals so you know what's going on around you.
Prepare to Defend Yourself
Hold keys in your hand with one key facing forward between fingers when you walk alone. It's an old trick, but very effective if you suddenly need to defend yourself. For about $15 you can also get a personal alarm that doubles as a keychain. Or, invest in a personal pepper spray available in the traditional format, lipstick container, and even a bracelet.
Safety in Numbers
Even though you are by yourself, try to stay in well-populated areas where assailants are less likely to strike. Don't be afraid to make noise or cause a scene if you feel unsafe so others can jump in to help. If you need to separate from a crowd to walk alone to your car or residence, get your phone out and have 9-1-1 ready to go in case of emergency. You'll only have a few seconds to react.
You Can Always Count on WSL
At WSL, we take safety very seriously. In addition to vehicle maintenance/inspections and safe driving training, our professional drivers will always make sure to see you get home and walk back in the door safely. When our customers need a Chicago car service, they also get some peace of mind for safe, comfortable travel. It's not uncommon after a trip for people to find themselves locked out of their houses because they didn't bring keys with them or the power is out and the garage door won't open. WSL drivers will always stay with you until they are sure you're safely inside.
Sedan or SUV? The Case for Old School Comfort
Posted On: 11/19/2018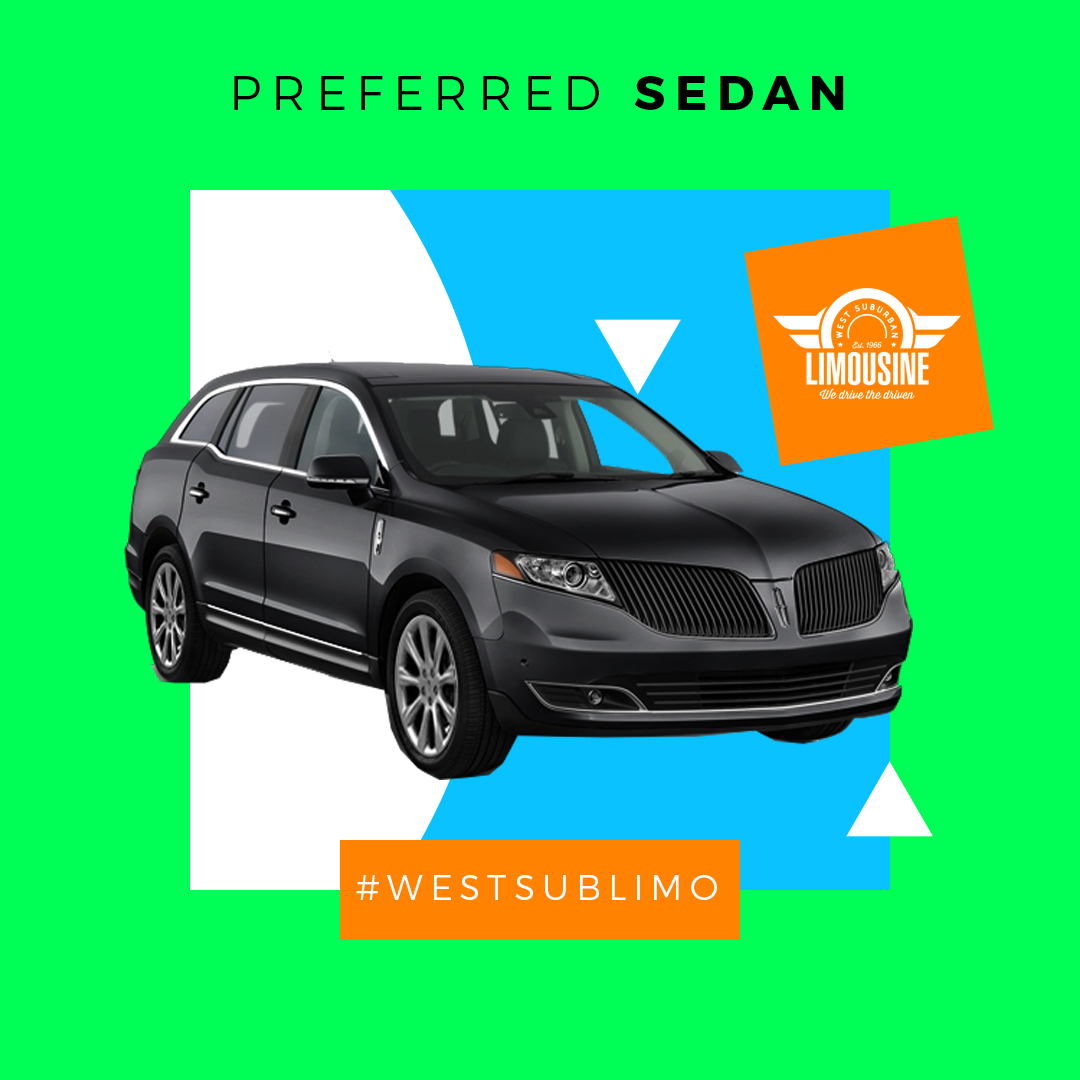 In September, we conducted a poll on Facebook to find out whether readers prefer Sedans or SUVs. WSL is in the process of making some decisions about how to expand and upgrade our fleet and we value input from our customers. We weren't shocked when the vast majority said SUVs are how they roll. We will definitely use this input as we make purchasing decisions in 2019.
But we also know there are still a number of people looking for sedan service in Chicago. Sedans may be a bit more old school, but they are a great way to get where you need to go in style and comfort.
So, we went back to our readers again to find out what sedan models fit their needs with another Facebook survey in October. A whopping 1,506 people responded, and a clear winner emerged:
60% favored the Lincoln MKT
26% favored the Lincoln Continental
14% favored the Cadillac XTS
WSL's current sedan fleet is comprised of 57% Lincoln MKTs, 29% Lincoln MKSs, 7% Lincoln Continentals and 7% Cadillac XTSs. As we begin to remake our fleet going forward, we will definitely listen to our clientele and select the model that travelers prefer.
Expect to See More Lincoln MKTs
The old Lincoln Town Car was the mainstay of the limousine industry from the early 1980s through 2011 when the last model was produced. This is the car most people picture when they imagine a town car. Few sedans match the Lincoln Town Car for leg room, trunk space, and engine reliability. When it was discontinued, more than a few private car services were left wondering what to do next. WSL has been on a constant search for the ideal replacement.
The Lincoln MKT emerged as the favorite for both clients and chauffeurs. While it probably comes up a little bit short of the old Town Car in terms of overall luxury, make no mistake: it's an outstanding vehicle. The good news is it's more fuel efficient and includes a lot more of the bells and whistles, such as USB connections in the back seat to charge electronic devices, that customers have come to expect from luxury vehicles.
The survey results reflect the appreciation of these upgrades. WSL will be sticking with the Lincoln MKT for the foreseeable future, but we are keeping an eye on the automobile industry as new products are announced to the next big thing in sedans.
5 Common Mistakes You're Likely Making at the Airport During the Holidays
Posted On: 11/12/2018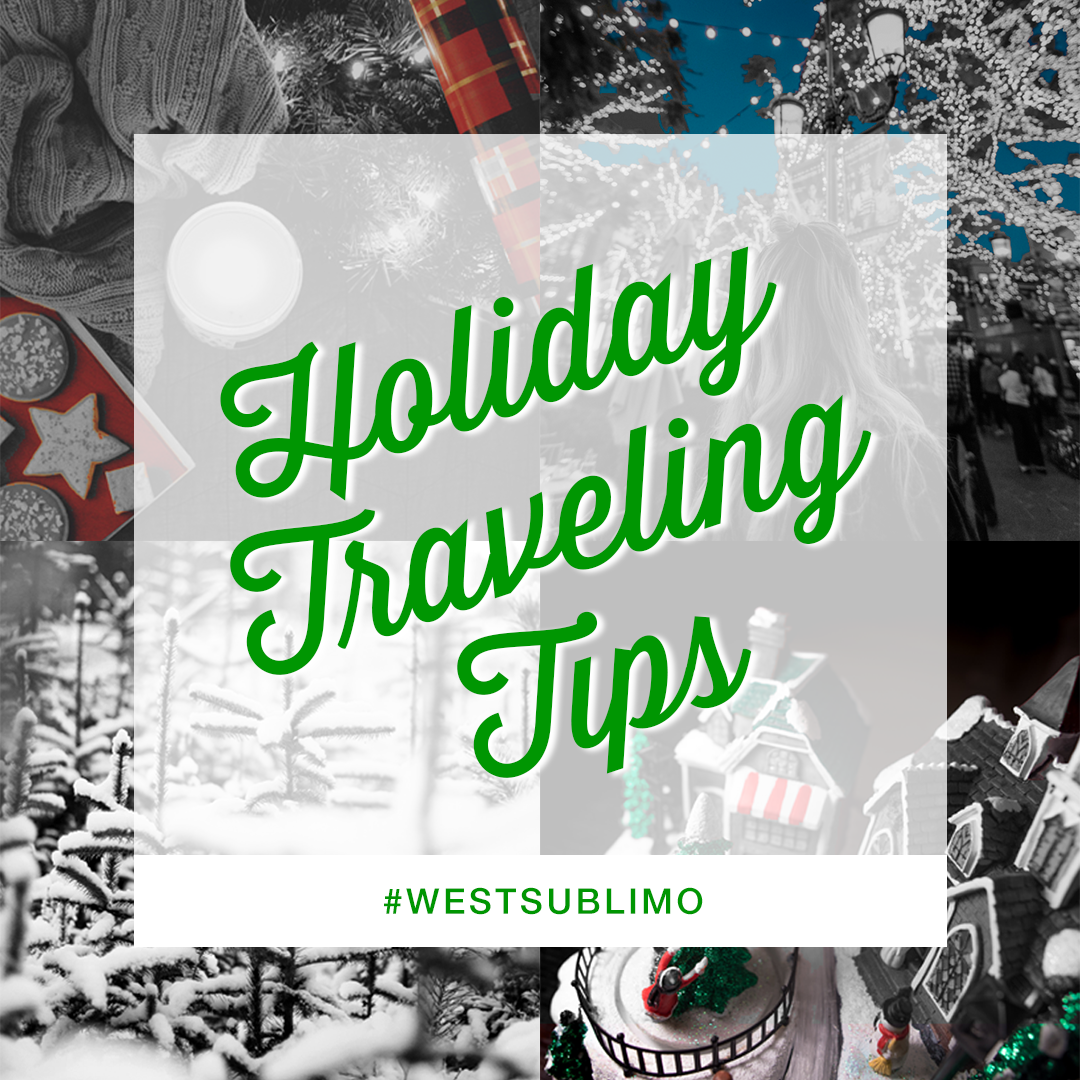 Do you have travel plans booked for the upcoming holidays that involve a trip to O'Hare or Midway? Check out the list below to see if you're making one or more of the five common mistakes that can turn what's supposed to be a joyful trek into a stress-filled slog full of lines, delays and costly expenditures.
Checking-In at the Airport
In the age of digital everything, a surprising number of people still wait until they get to the airport to check-in at an airline's desk or a kiosk, often waiting in line for a turn. Save time and hassle by checking in for your flight from a laptop, tablet or mobile phone. Depending on the airline, you'll likely be able to select or change your seat assignment.
Picking the Wrong Transport to the Airport
No one wants to miss their flight, yet many are risking not getting to the airport on time by selecting the wrong transportation to get them to the airport. Lyft and Uber drivers are not professional chauffeurs and don't always keep up on changes to traffic patterns and construction delays or know the tricks to get around rush hour jams. The better bet is to reserve a private car service that employs drivers who make multiple trips to O'Hare and Midway every day.
Always Using Carry-On luggage
Why lug around a heavy suitcase when some airlines let you check it for free (Southwest lets you check two bags at no cost) or for a small fee (Delta and American charge $25 for the first bag). You'll be able to move more nimbly through security and around the terminal. Checking bags is especially convenient when you need to transfer quickly between connecting flights.
Purchase Snacks at the Airport
The laws of economics are clearly on display at the airport: high demand and a captive audience lead to very high prices. Save money and bring some snacks from home. As long as the snacks aren't liquid, they should be safe to bring through security. Keep snacks separate and accessible because TSA officers may instruct you to pull food item out of your carry on before it goes through the X-ray machine.
Taking a Taxi to Your Final Destination
City cabs are notoriously expensive modes of transportation for transport from the airport. Plus, they are often dirty and, let's be honest, smelly. Instead, skip the line and travel in style and comfort at a set price by planning ahead and reserving a private car service.
Avoid these five mistakes and you'll arrive at your holiday celebration relaxed and fresh.
Friendsgiving in the City
Posted On: 11/05/2018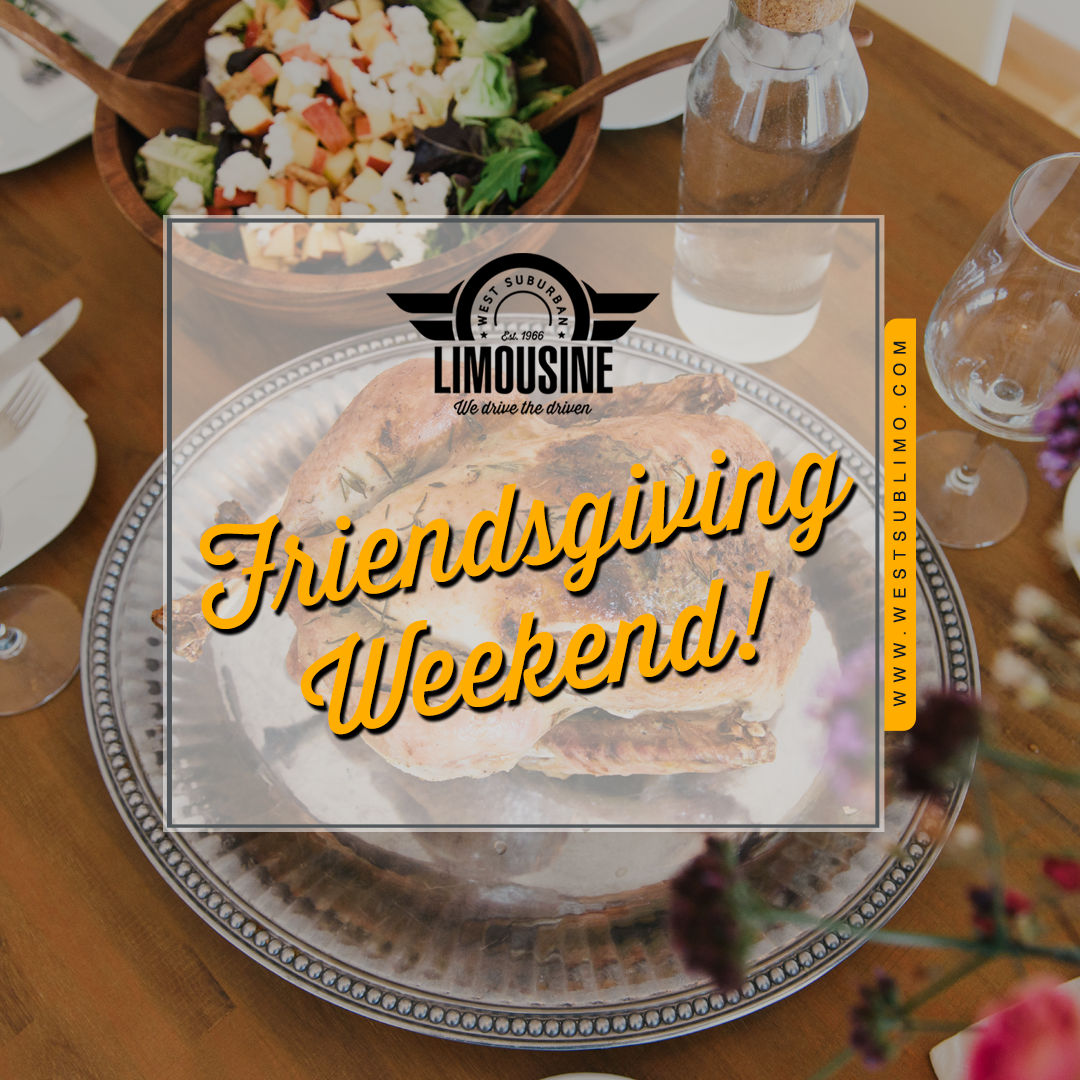 The mashup of "friends" and "Thanksgiving" has taken off in recent years. Whether you're too far away to get together with family on the fourth Thursday in November, or you just want to spend time with your crew, "Friendsgiving" is a great way to celebrate the season.
Instead of battling the lines at the grocery store and messing up your kitchen, WSL recommends exploring one of Chicago's historic neighborhoods. Send an Evite to your friends and lock them down on a date. Then, let someone else do the cooking and spend your extra time exploring the sites and shops in the area. It's a no-stress way to enjoy a great meal and get ahead on your holiday shopping.
Here are a few areas we recommend:
River North
Fire up your Open Table app and make a reservation at The Kitchen at 316 N. Clark located in an old industrial space right on the Chicago River. The restaurant features locally sourced ingredients and a menu that changes to reflect the season. After dinner, burn off a few calories exploring the newly renovated River Walk. Make sure to head west to see "Art on the MART," a spectacular multi-media display on the facade of the Merchandise Mart. Head east to explore the shops on the Magnificent Mile. Amongst all the high-end retailers, you might find some wallet-friendly options at Classic Remix, 706 N. Wells, which features new and vintage décor, accessories, jewelry and gifts you won't find anywhere else.
Andersonville
When you think Andersonville, its Swedish influences come to mind. Why not check out Svea, 5236 N. Clark St., that features lots of Swedish folk art on the walls and hearty food that would fill the belly of even the mightiest Viking. It's cash only so make sure your friends hit the ATM before you go, or you'll be left footing the bill. The neighborhood is filled with charming boutiques and bars. Save some room for an after-dinner hot mug of seasonal glogg at Simon's Tavern, 5210 N. Clark St.
Logan Square
Easily one of Chicago's trendiest neighborhoods, Logan Square is an ever-changing mix of family-friendly restaurants and nightlife. WSL has two words for you to consider when selecting a restaurant: Macanese fusion. Want to know more? Check out Fat Rice, 2957 W. Diversey Avenue. The chefs are preparing the food of Macau, a former Portuguese colony. It's known for its arroz gordo, a tasty mix of sausage, pork, clams and prawns adorning a bed of rice. Then it's time to test your pinball skills at the Logan Arcade, 2410 W. Fullerton Avenue. In addition to a fantastical array of arcade games, there's a fully stocked bar to add to the fun. Blinking light not your thing? Have over to Steel Petal Press, 2312 N. Milwaukee Avenue, to check out the custom letter-press work and shop full of books, stationery, and fun gifts.
Make your Friendsgiving extra special by reserving car service in Chicago. Rely on a professional driver to transport you and your friends from the suburbs and back in a stretch limo or luxury SUV. Our luxurious limo service in Chicago is a tradition you'll want to repeat year after year.
Contest: Special Ride Home for the Holidays for a Lucky Active Duty Military Personnel
Posted On: 11/01/2018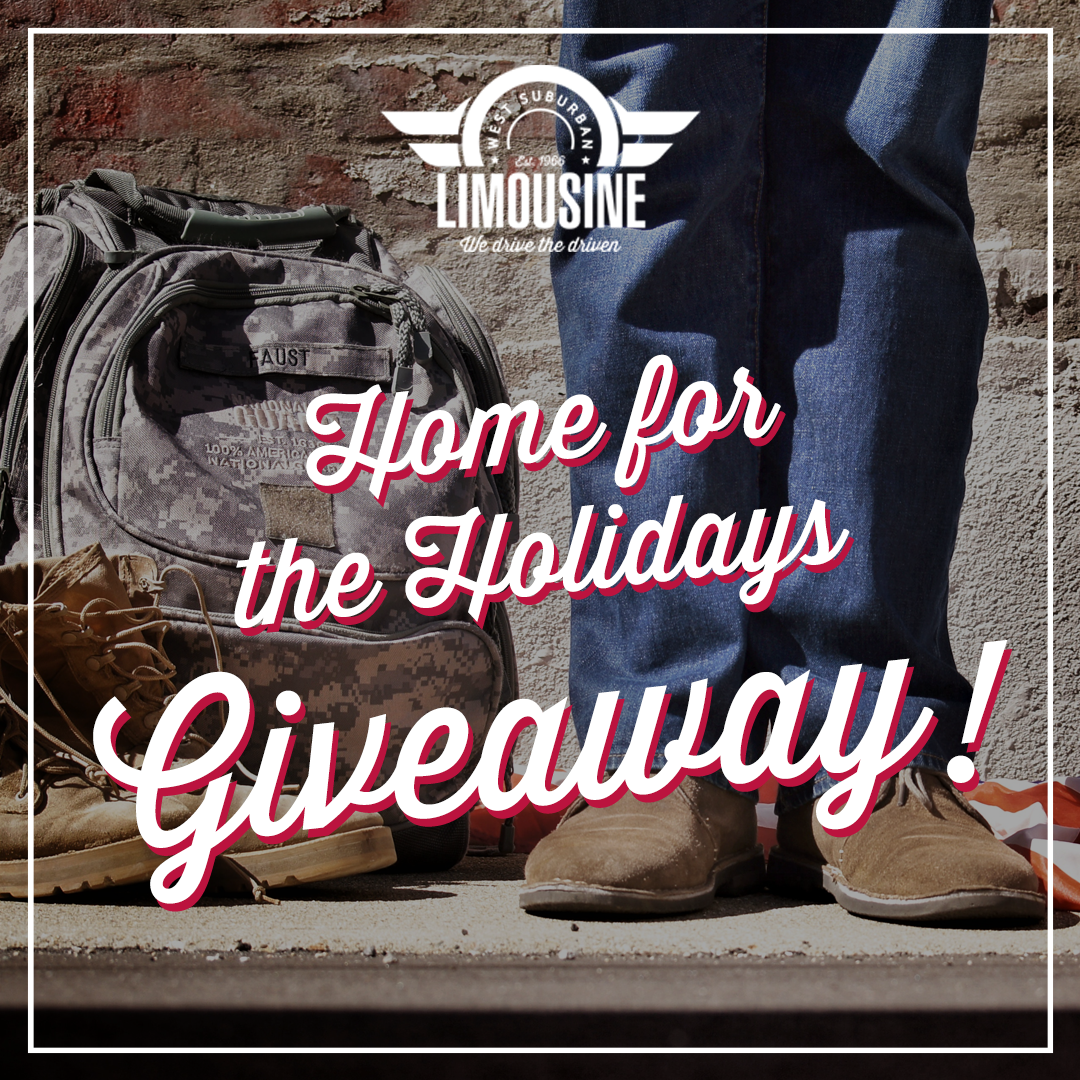 Coming home for the holidays is always a special time, especially when you've been serving your country in the armed services. After being separated from friends and family for an extended period, the prospect of home cooking and your own bed is must seem amazing.
WSL wants to make the trip home even more extraordinary for one active duty service member of the military, but we need your help.
Head over to our Facebook page and nominate yourself, a friend or a relative who currently serves in the armed forces to win a luxury limo ride home from the O'Hare or Midway airports this holiday season.
We'll roll out our best "Red, White and Blue" carpet treatment to honor the winner.
Post your nominee by midnight on Thursday, November 29, 2018. We'll randomly pick a winner from all the entries on Friday, November 30, 2018.
The Lucky Winner Will Receive:
Airport limousine service in a stretch limo for up to seven friends and family to meet the armed services member upon arrival in the baggage claim area. All party members will be picked up from one location.
Transportation in the stretch limo for the original party plus the service member back to the original point of origin.
The airport limousine service must take place by December 31, 2018.
The entire staff at WSL is extremely grateful for those who protect our country in the armed services. Some of us have family members who currently serve, and we know how much of a sacrifice it is to be away from home and potentially in harm's way.
Some Fun Facts You Might Not Know
All military personnel – whatever their rank – get the same amount of annual paid time off. Military members get 30 days of paid leave per year, earned at the rate of 2.5 days per month.
The two-week period around the end-of-year holidays is called the Christmas exodus in armed services.
There are more than 1.3 million people currently serving in the U.S. armed services.
There are more than 800,000 people currently serving in the U.S. armed services reserves.
There are more than 20,000 Illinois citizens currently serving in U.S. armed services.
Proud to be on Team WSL!
Posted On: 10/29/2018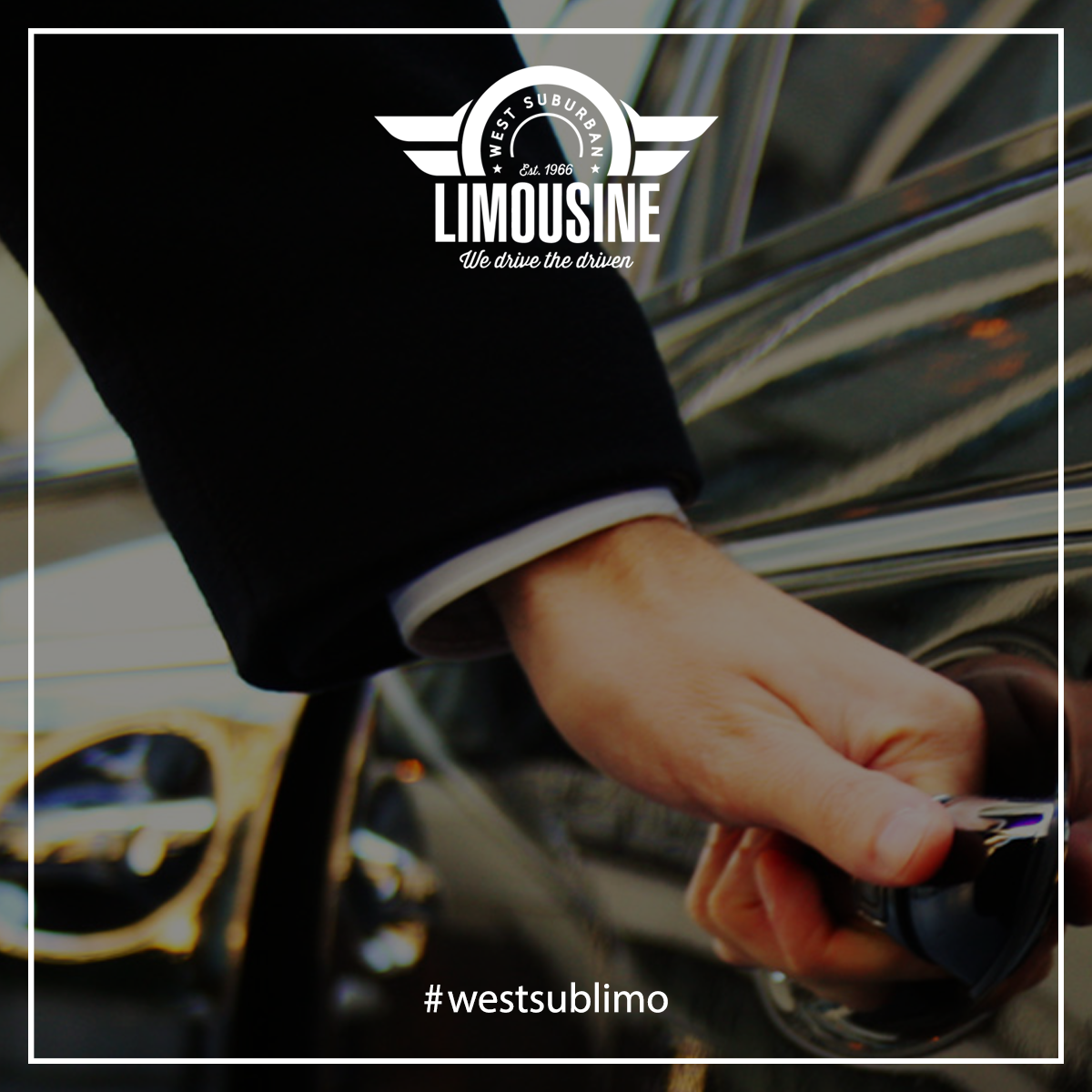 Why do so many people in the Chicago area love to wear shirts, jerseys and hats with the Cubs logo front and center? Win or lose, they feel like they are part of the team and want to show off their loyalty to the Northside Nine (or the Bears, Blackhawks, Bulls and Sox).
WSL recently rolled out a fresh look and feel for our overall brand. You may have seen it emblazoned on our new Mercedes-Benz Sprinter van, social media pages and website.
Now, you can expect to see the WSL logo in motion on the vests we're providing our professional drivers and chauffeurs to wear over their shirts and ties. They are the face of WSL to our clients and we want to show off how proud we they are part of our team.
Company Pride on Display
Over the past few months, we've put the spotlight on some of our team members in a series of blog posts. The common theme that emerges from those interviews is how much WSL means to them:
"[WSL] is like a second family, I love everybody I work for and all my co-workers, all our drivers. More importantly, I have lots of respect for everyone and how they do their jobs." – Jeff Wlezn, Dispatcher
"Everyone at WSL is like family, we all work together to help each other out and solve problems." – Harb Jaber, Executive Chauffeur
"I've worked with a lot of the people at WSL for so many years and we have a great rapport." – Sheryl Lesko, Special Event Coordinator
It makes sense to further that sense of belonging with branded apparel. Not only does it help our folks feel like they are part of the team, it also is a physical representation of what they are focused on every day…providing the best possible service.
Customer Connections
Branding is now such a common part of our everyday lives. Seeing our professional drivers and chauffeurs outfitted with WSL branded apparel may subconsciously provide our customers a sense of comfort that they are being served by "my limo company."
It will be especially helpful when WSL provides on-site dispatching services for corporate clients. With just a quick look, passengers will easily be able to find their dispatcher and get on the road.
We're proud of our team of professional drivers and chauffeurs and dispatchers and how they represent WSL to our clients. Our new branded apparel will make it easy for clients to know who is on Team WSL!
Sedan or SUV? The Results are In!
Posted On: 10/22/2018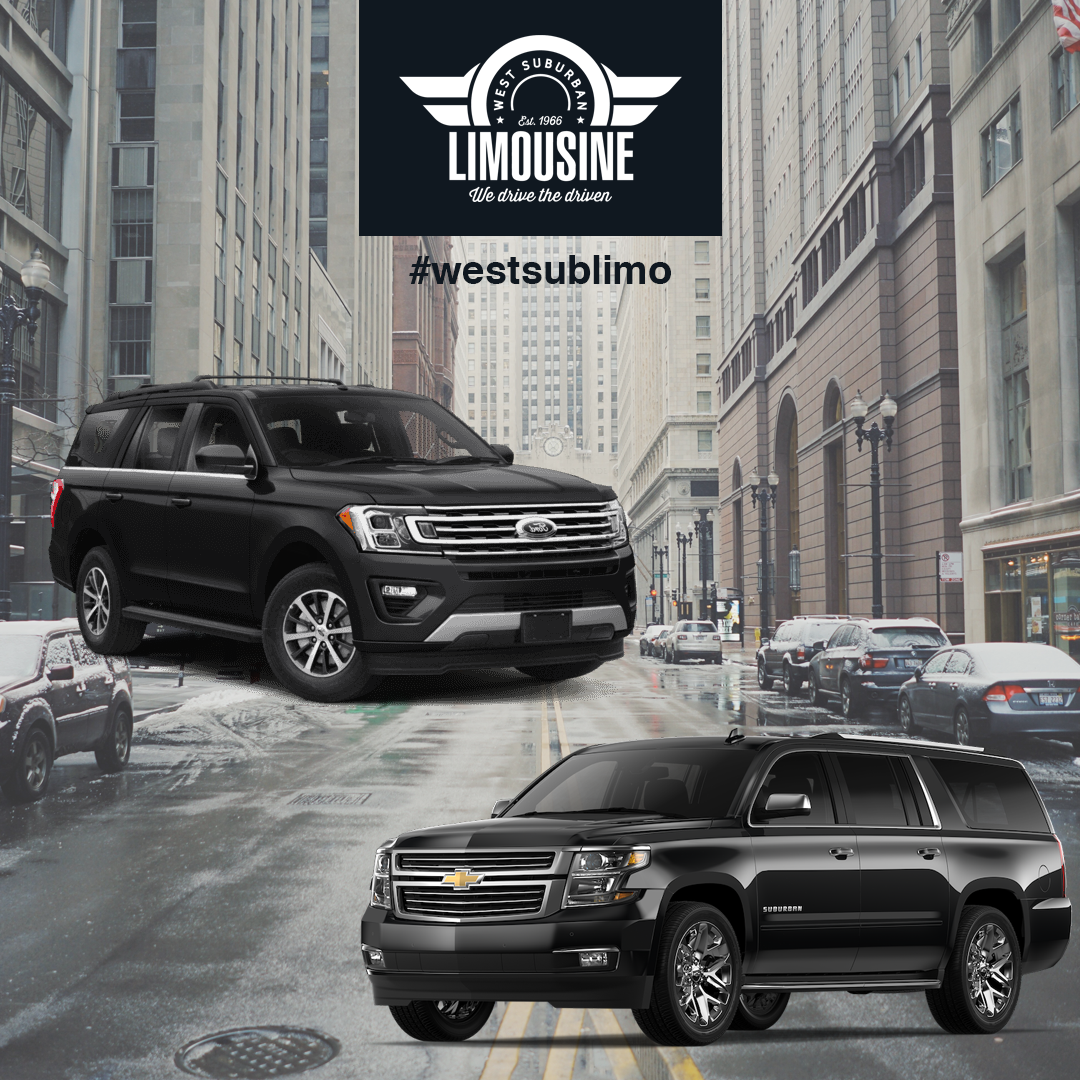 In September, we asked readers to help guide our decisions about how to expand and upgrade our fleet of luxury vehicles in 2019. We wanted to know if you prefer SUVs or sedans. The results of the Facebook poll are in.
Drumroll, please…respondents overwhelmingly picked SUVs (86%) over sedans (14%).
SUVs Take You Higher
We weren't shocked by the results. The preference for SUVs is in line with personal vehicle purchasing trends for the past 10 to 15 years. In general, the most popular choices are SUVs that drive like a car, commonly referred to as crossovers. We know that Ford is eliminating sedans from its portfolio as sales wane. It makes sense that our customers feel the same way.
Maybe it's the influence of the Baby Boomer generation. Michelle Krebs, a senior analyst for Autotrader, an industry research firm, finds that our aging population prefers seats that are higher off the ground. It's just easier to get in and out.
In a Detroit Free Press article, Ford U.S. sales analyst Erich Merkle seems to agree. He says "baby boomers expanded and collapsed whole market segments as they moved through the stages of their life. Millennials will do the same."
As Millennials start to haul kids around, they want style and versatility. SUVs fit the bill. So, why wouldn't they want the same leg and headroom, comfort and cargo space for private car service? That's likely one of the reasons why we see constant demand for SUV limo service.
Drivers agree…mostly
We haven't yet polled our professional drivers about their preferences. But anecdotal evidence points to an agreement with the poll. When you drive in Chicago in the winter, all-wheel drive is useful as you plow through sleet and snow to get around semi-trucks on I-355 or I-90. And, of course, our drivers want passengers to be comfortable, so extra legroom is always a plus.
But don't pound the nails in the coffin for sedans just yet. Drivers know luxury sedans are still a sophisticated mode of transportation, especially for business professionals who appreciate the style and old-school comfort when going from point A to B in the Chicago area. There will always be a market for sedans.
What's Next?
As WSL carefully prepares how we upgrade our fleet of luxury vehicles, we really appreciate input from our customers. Let's take a look at our crystal ball. WSL predicts by 2020 our fleet will be 60% SUVs, 30% sedans, 10% buses and a handful of stretch limos (we just can't quit you).
New Poll Alert
We still need you! Head over to our Facebook page and tell us what SUV tickles your fancy. Then, add a business consultant to your resume. We take your input seriously.
License to Thrill: Developing Chauffeur Skills to Qualify to Drive in Chicago
Posted On: 10/15/2018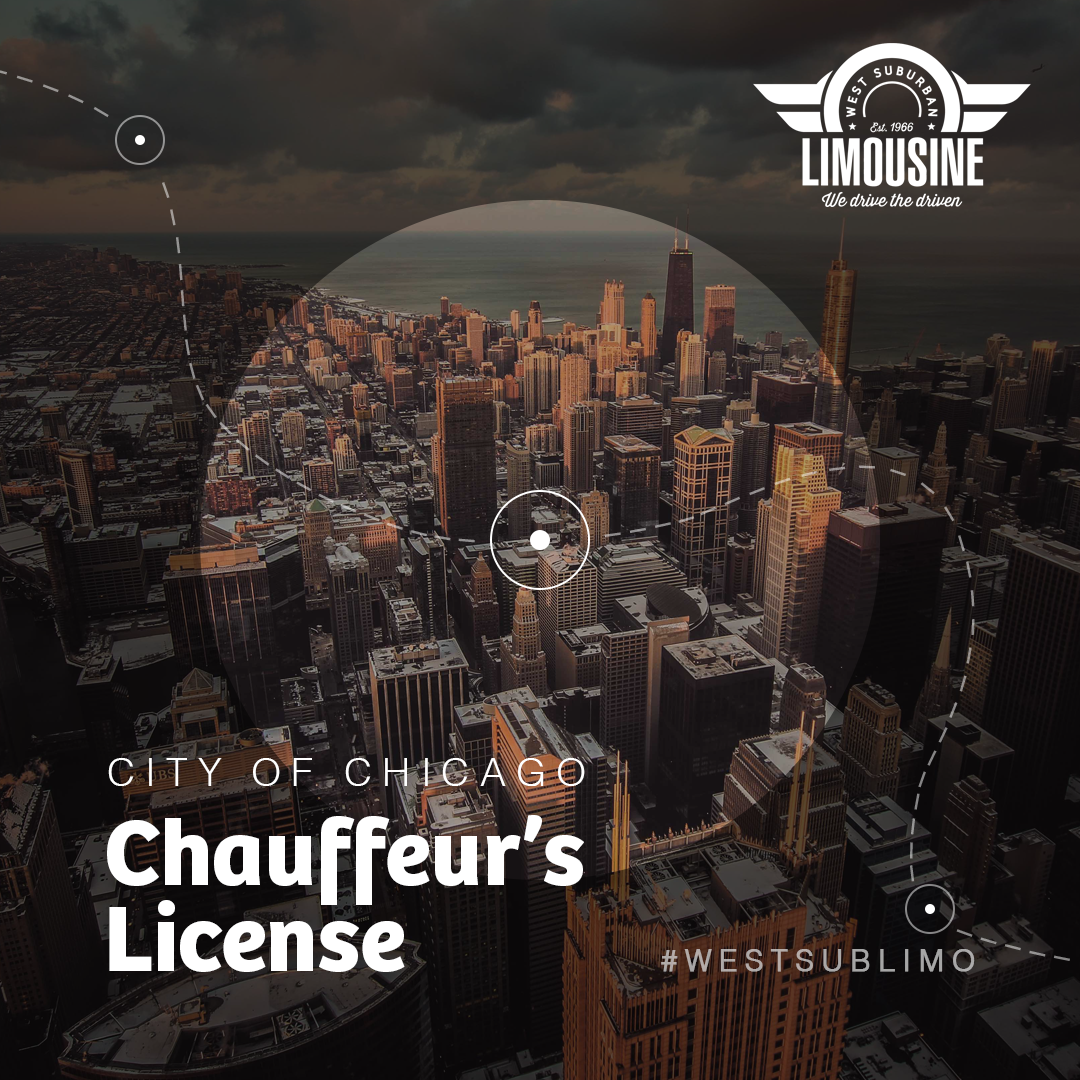 Did you know that to provide chauffeur service in Chicago, drivers must pass a very rigorous test to earn a special public chauffeur's license issued by the City of Chicago Department of Business Affairs and Consumer Protections (BACP)? It's a pretty big deal. Any driver caught soliciting business without a license is subject to impoundment of his or her vehicle and a stiff fine. We've heard stories about enforcement officers checking for licenses at airports and major hotels, looking for scofflaws.
Since WSL provides Chicago chauffeur service to multiple clients on a daily basis, we take the regulation very seriously. We guarantee that every professional WSL chauffeur who provides transport in the city limits has earned the public chauffeur's license.
Opportunity to Recognize Great Drivers
The preparation to take the public chauffeur's license exam is quite extensive. Candidates must take and pass a special public chauffeur class in preparation for the licensing exam. Unlike drivers for ride sharing services like Uber and Lyft who just need a clean personal driving record, professional drivers must earn their certification.
WSL is very supportive of the process. It's a great professional development opportunity for our drivers to improve their skills. We enroll top-notch drivers in the class in recognition of the excellent service they have provided customers in the suburbs. It's an opportunity to advance their driving and leadership skills. Plus, our business in Chicago is growing and it's important to support demand with qualified drivers.
That's why WSL recently sponsored a public chauffer training class in the west suburbs. We even opened up enrollment to other limo companies.
Training for Safety and Service
Much of the course is focused on safety, which is especially important when driving in a crowded urban setting with cars, buses, bikes and pedestrians all striving to quickly get to their destinations.
Drivers in the program are also required to demonstrate their Chicago IQ with knowledge about popular points of interest such as airports, sporting and concert venues, business and hotel locations, as well as popular restaurants. As a passenger, you can expect your WSL professional drivers to know their way around town.
Participants also learn more about a wide range of customer service issues such as what to do if a passenger falls ill, how to handle special requests and best practices for engaging customers in conversation (or how to tell if they would prefer to ride in silence).
In addition to passing the licensing exam, drivers must pass an FBI-level background screening – including fingerprinting – and prove that they have held an Illinois driver's license in good standing for a least one year.
So, the next time you get in a WSL private car for a trip to Chicago, you can be sure your driver has earned his or her place behind the wheel.
Celebrating the Naperville Chamber of Commerce's 20th Anniversary
Posted On: 10/08/2018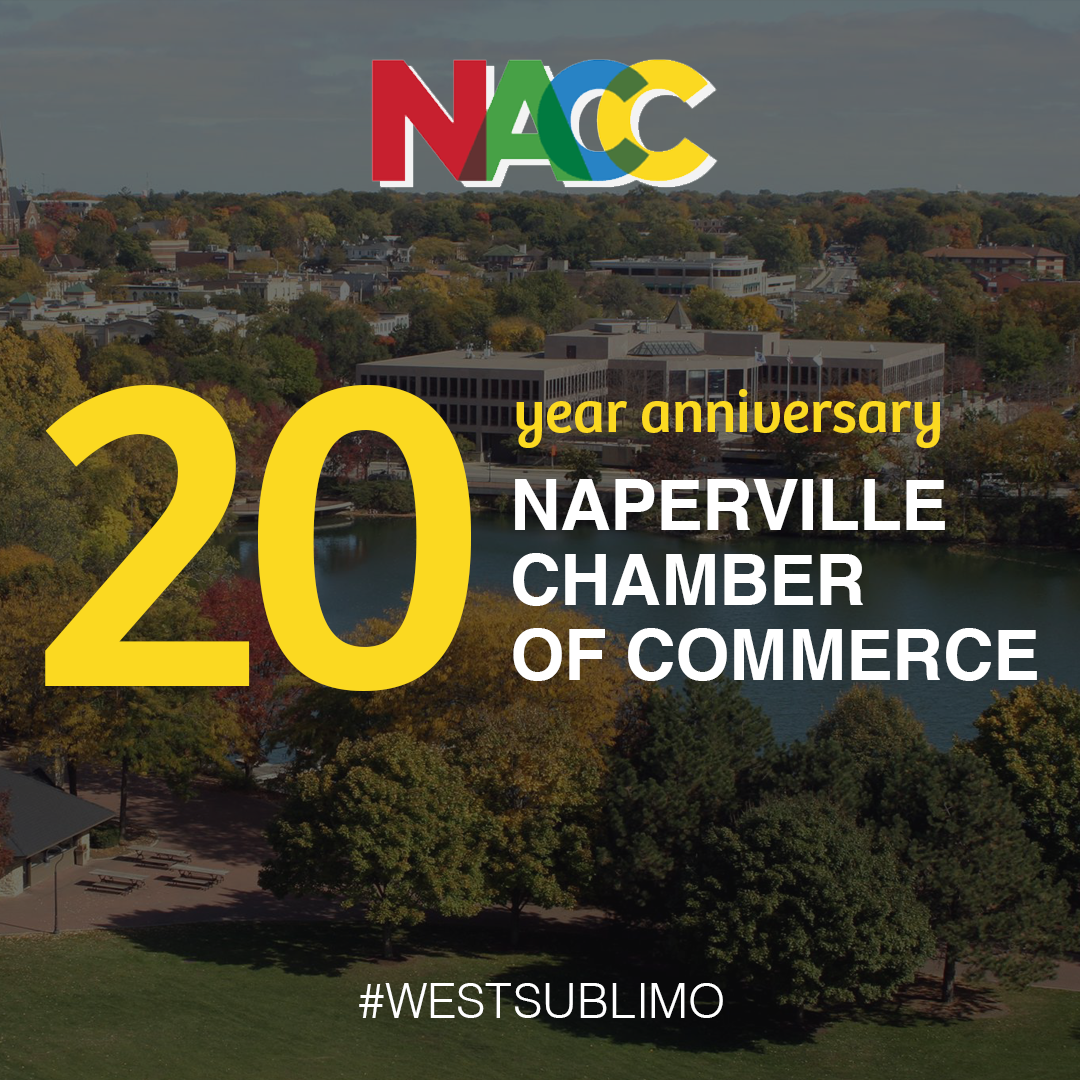 WSL was honored to accept a plaque from the Naperville Area Chamber of Commerce (NACC) on September 24 to celebrate our twentieth anniversary of membership. It's amazing to think about how much the Naperville area has grown during that time as more urbanites move to this beautiful suburb to take advantage of a healthy business climate, thriving restaurant scene and top-notch public schools. We have certainly seen a huge jump in demand for limo service from Naperville to O'Hare and other points of interest.
Naperville is the fourth largest city in Illinois with about 147,000 residents. Add the citizens of surrounding communities like Warrenville, Lisle and Aurora and the number grows to more than 380,000, easily the most populous area in Illinois outside of Chicago. So, it makes sense that the NACC is one of the state's largest coalitions of companies with more than 1,200 members.
Back in March, we featured an interview (Naperville limo service) with Nicki Anderson, NACC's president & CEO for more than five years, about why chambers are important. She says
"[g]one are the days when a chamber of commerce is thought of as a good ol' boys club. At NACC, we focus on how we provide value to our members in relevant ways. That includes offering continuing education opportunities, professional speakers and networking events. One of my favorite things to do is help establish power partnerships between members who otherwise might not have met."
The September meeting was certainly a testament to Anderson's vision. In addition to receiving our recognition, we were inspired to hear from three speakers from TEDxNaperville to learn more about what theme "Business Forward" means to them.
Lynne Franklin shared how after a boy threatened to kill her with a machete, she was motivated to learn everything she could about persuasion, publishing her personal research in a book titled "Getting Others to Do What You Want."
Todd Flaming gave us a designer's perspective on how to think differently about the world around us.
Ian Maksin is a renowned Chicago-based cellist, composer and vocalist who spoke about his passion for taking the cello outside its conventional setting.
WSL values our relationship with NACC and appreciates the organization's drive to help us find ways to give back to the community, connect with other area businesses and on occasion, step back and reflect.
A Grand Slam Summer Outing for the WSL Team!
Posted On: 10/01/2018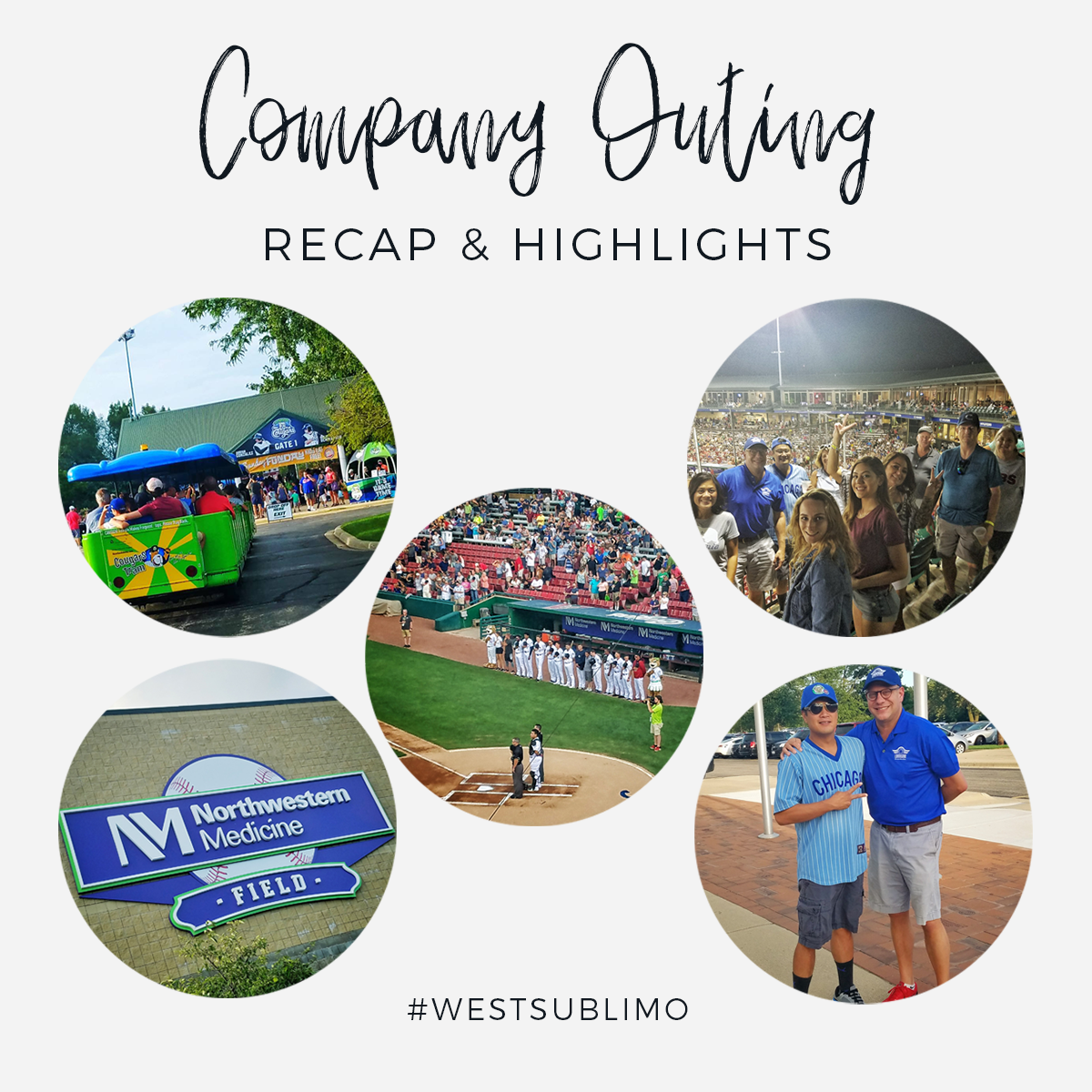 Ah, September! It's the month where it finally hits Chicagoans that summer is coming to an end. As we wind up the season of flip-flops and tank tops, it's easy to feel a sense of melancholy. But WSL decided to relish these last days of summer and have some fun together as a team. What better way to end the summer celebration than planning a get together over Labor Day weekend?!
In what's become an annual tradition, WSL once again hosted a skybox party for our employees and employees' friends at a Kane County Cougars versus the Wisconsin Timber Rattlers game at Northwestern Medicine Field in Geneva. We got to root, root, root for our home team as the Cougars were one game away from clinching a spot in the playoffs. It's a nice way to say thanks for all the hard work everybody does here at the office.
So many of us at WSL love playing and watching baseball. The end of the summer outing included a dinner of hamburgers and deli sandwiches, a birds-eye view of the game near third base from the upper deck skybox, and a relaxing atmosphere to share cold drinks and great conversations.
Game Highlights
Some of our favorite moments from our Sunday Funday company outing included:
Family Time: We got to witness so many families spend quality time together – we're sure that "Sunday Funday Kids Eat Free" promo at Northwestern Medicine Field had a little to do with that. It was fun to see the kiddos running around, cheering on throughout the game and getting involved by asking questions.
Entertainment: In-game entertainment was provided throughout the night by the Cougars' mascot, BirdZerk. All his wacky skits, from dancing on the field with the third baseman on the field to stealing a glove from the opposing team and throwing it over the outfield fence, we got to share plenty of good laughs
Pitching: Pitching dominated the majority of the game, as the score stalled at 1-1 from the third inning all the way into the tenth. Needless to say, it was an unpredictable, "nail biter" worthy game which made it all the more exciting to watch.
The Walk-Off Game Winner: As the bases were loaded in the tenth inning, the Cougars clinched their wild card spot in the playoffs with a walk-off game win.
Fireworks Show: Getting to witness a gorgeous five-minute post-game firework show to celebrate their big win!
Special Thank-You to the Community
What made this gathering extra special is the long-term relationship we have with the Kane County Cougars and the community of Geneva. The Fox Valley area, and Geneva specifically, has been a fertile ground for the growth of WSL. We were voted one of the top limo services earlier this year by the readership of the Kane County Chronicle and feel honored to be viewed as one of the industry leaders by our friends and clients in the region.
We look forward to working with and serving the Geneva community for years to come.
Carol Stream: Chamber President Miriam Irwey Tells Us Why It's A Great Place to Do Business
Posted On: 09/24/2018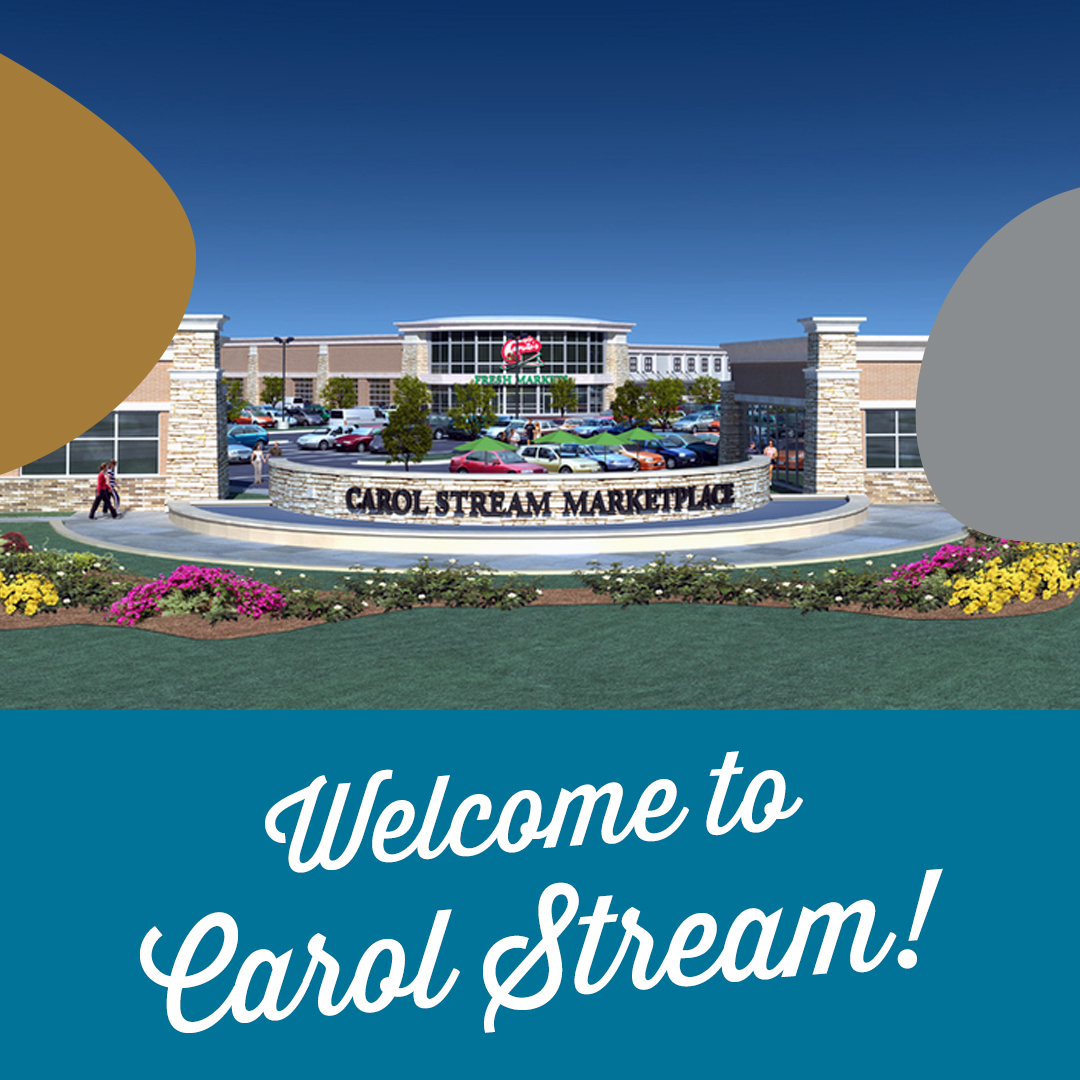 WSL has been in business for more than 50 years making sure clients from all over the western suburbs have reliable transportation for special events, business meetings and limo service to O'Hare and Midway. You'll always find us supporting local events such as the Carol Stream 4th of July parade and the Rotary Club's annual Chili Open golf outing.
Of course, we are also a long-time member of the Carol Stream Chamber of Commerce (CSCC). In June, the organization welcomed Miriam Iwrey as their new chief executive officer. We recently sat down with Miriam to learn more about the chamber's goals and how community members can best support each other. Based on what we heard, we're quite sure the CSCC is in good hands.
WSL: Tell us about your role with the Carol Stream Chamber of Commerce?
Miriam Iwrey: My role is to continue to create a presence in the Carol Stream community with the village, business owners and manufacturers. We work hard to figure out how to best meet members' needs which run quite a gamut.
For example, Carol Stream Chamber events include a manufacturers' roundtable designed to act as a connector between manufacturers, so they discuss challenges, figure out ways they can partner and help each other, and how to keep operations in our community.
We also have our Women's Business Expo coming up on September 21. That group meets on a regular basis to inspire women who run businesses – small and large – in Carol Stream to support each other and develop leadership skills.
The chamber is also working to engage with young professionals. When they look back over the years, we want them to see how the chamber helped them grow their businesses.
WSL: It sounds like a lot of what you do is focused on helping people make connections.
MI: Absolutely. In many ways, we are matchmakers operating in the background. We love to figure out how to get members together to start a conversation. How can they work together or refer each other for business opportunities? It's so much more than just networking and exchanging business cards. It's about connecting on a personal level so that the information on the business card sparks a memory of the person and why you care about what they do. People want to do business with people they like, know and trust.
WSL: You seem to know everyone in Carol Stream. How can chamber members take advantage of your deep connections?
MI: West Suburban Limo is a great example. John (Paraoan, WSL's Assistant Vice-President) reached out to me to learn more about the new WoodSpring Suites that's opening in Carol Stream at the end of September. I introduced John to the operations manager and they discussed ways WSL can help guests find a limo in Carol Stream to get to meetings, the airport or Carol Stream restaurants.
WSL: What advise do you have for people who want to get involved with the chamber for the first time?
MI: Be very open to getting outside of your comfort zone. You need to get out of the networking mind set. We work hard to get people together and make real connections. It's all about the art of having a conversation with two people sitting together over a cup of coffee and really getting to know each other. Business flows from those connections. That's when the magic happens.
WSL: We often provide private transportation for groups looking for fun things to do in the area. Do you have recommendations for how to spend a day in Carol Stream?
MI: We get calls all the time from people looking for recommendations for businesses in Carol Stream. For folks looking to have fun in Carol Stream, I recommend they call or stop by our office and tell us about their group and what they like to do. We can help plan a really special day for them in Carol Stream. It's a really phenomenal community where everyone knows and supports each other. Carol Stream represents the best of small town USA.
Visit the Carol Stream Chamber of Commerce for the latest news and events.
Meet Jeff Wlezen: WSL Dispatcher and Human GPS
Posted On: 09/17/2018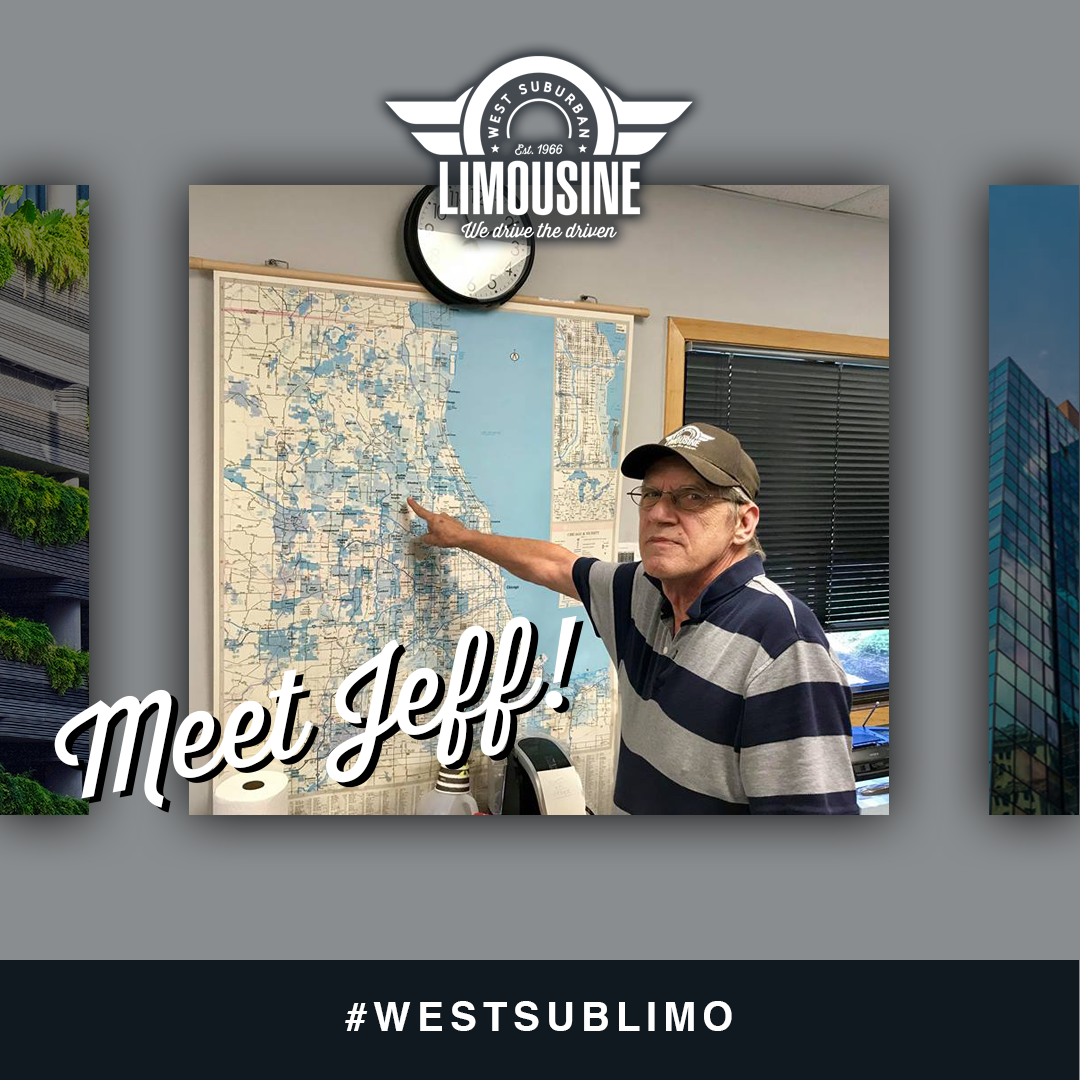 Around the WSL office, Jeff Wlezen has earned a few nicknames: DJ (Dispatch Jesus), Human GPS and Walking Rand McNally. His amazing ability to pinpoint where drivers are and provide directions without looking at a map never ceases to amaze his co-workers.
For almost 30 years Jeff has put his gift to work at WSL, first as a driver and now as a dispatcher.
"I have so much information stored in my brain," said Jeff. "I can tell you what long-time customer is calling just by looking at the phone number on the screen as well as his or her address."
Jeff's photographic memory has served him well as he strives to provide the best possible customer service. He says he's very focused on making sure customers are picked up on time and get to their destinations safely with limo service in Chicago and the northwest suburbs.
"I really believe in the Golden Rule, 'treat others like you would like to be treated,'" said Jeff. "I thrive on customer service."
Technology is great, but sometimes GPS can send a driver in the wrong direction or a new subdivision hasn't made it to mapping software yet. WSL is happy to have Jeff on hand get drivers back on track, especially if time is of the essence when a customer is taking limo service to O'Hare from the northwest suburbs.
WSL Proud
Jeff is one of many WSL employees who have been with the company for more than a quarter century. He attributes his loyalty to the company to the great working environment and people.
"[WSL] is like a second family, I love everybody I work for and all my co-workers, all our drivers," said Jeff. "More importantly, I have lots of respect for everyone and how they do their jobs."
When Jeff's wife was ill last year, he suddenly took on a new role as her caregiver. He says he's very appreciative to WSL for letting him take time off to take care of her for a few months.
"Without [WSL], I'm not sure I would have gotten through it. My work family pitched in with prayers and lots of support."
Family Man
When he's not at WSL, Jeff enjoys spending time with family and doing chores inside and outside the house. He loves getting together with relatives for barbeques and holiday dinners where talk inevitably turn to the old times and memories of playing games in the street as a child in Hillside.
He also has three stepdaughters and is a busy grandpa to their kids.
Jeff says he's fortunate to have seen every Chicago team win a championship, especially his beloved Cubs.
Looking Forward
Jeff has no plans to leave WSL any time soon. He loves the feeling at the end of his shift when he knows he's made every customer happy.
"West Suburban is the best, always is and always will be," he said.
WSL feels the same way about Jeff!
WSL Loves Elburn!
Posted On: 09/13/2018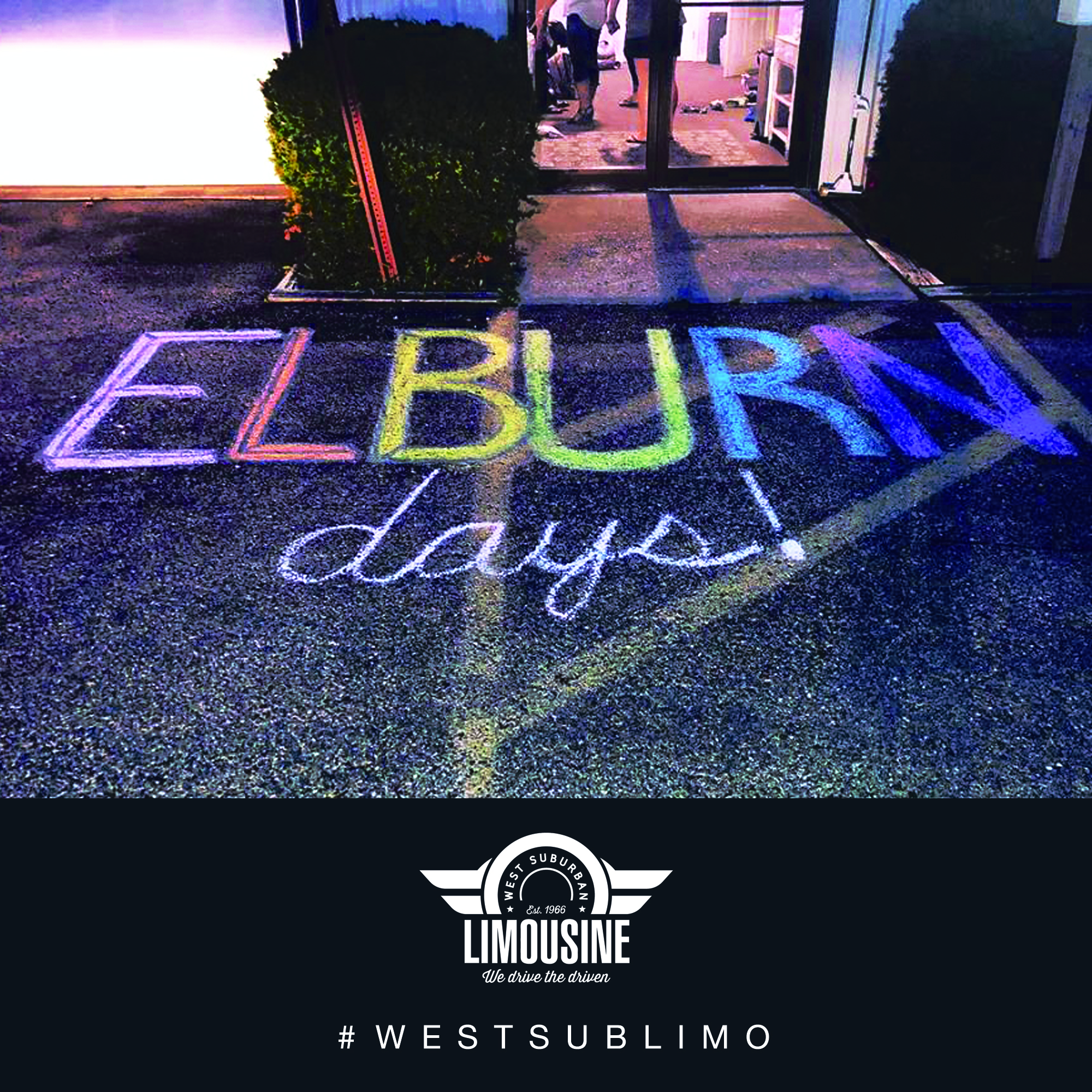 The tradition lives. On the third Friday in August, you can bet that WSL is participating in Elburn Days. This year, we featured two of our luxury vehicles in the parade and handed out enough candy to keep Elburn dentists busy for the next year.
Elburn has a special place in the hearts of many WSL employees who make their homes there, including our company's owner. We also provide limo service to Elburn residents on a regular basis.
We highly recommend checking out Elburn Days for good ol'fashioned small town festival fun. It's a throwback to another era. Mark August 16-18, 2019 on your calendar now so you don't miss it.
The event always kicks off on Friday with a parade through downtown Elburn. We're pretty sure the whole town turns out, along with a lot of people from St. Charles, Geneva and throughout the Fox Valley area.
The rest of the weekend always features county-fair style entertainment events you are unlikely to find anywhere else these days, including a mud volleyball tournament, truck and tractor pulls, bingo, carnival rides, hot dog eating contest, car raffle, craft sale, bags tournament and a pie baking contest. There's also a beer garden and lots of bands performing over the course of the three-day event. You're sure to find a fun activity for everyone in your family, no matter what their ages.
The Elburn Lions Club sponsors Elburn Days. The event is the group's largest fundraiser to support Elburn Lions Park and Elburn Lions Charities. Check out the group's Facebook page for a peek at the happening from this year's event.
Sedan or SUV: Which Do You Prefer?
Posted On: 09/10/2018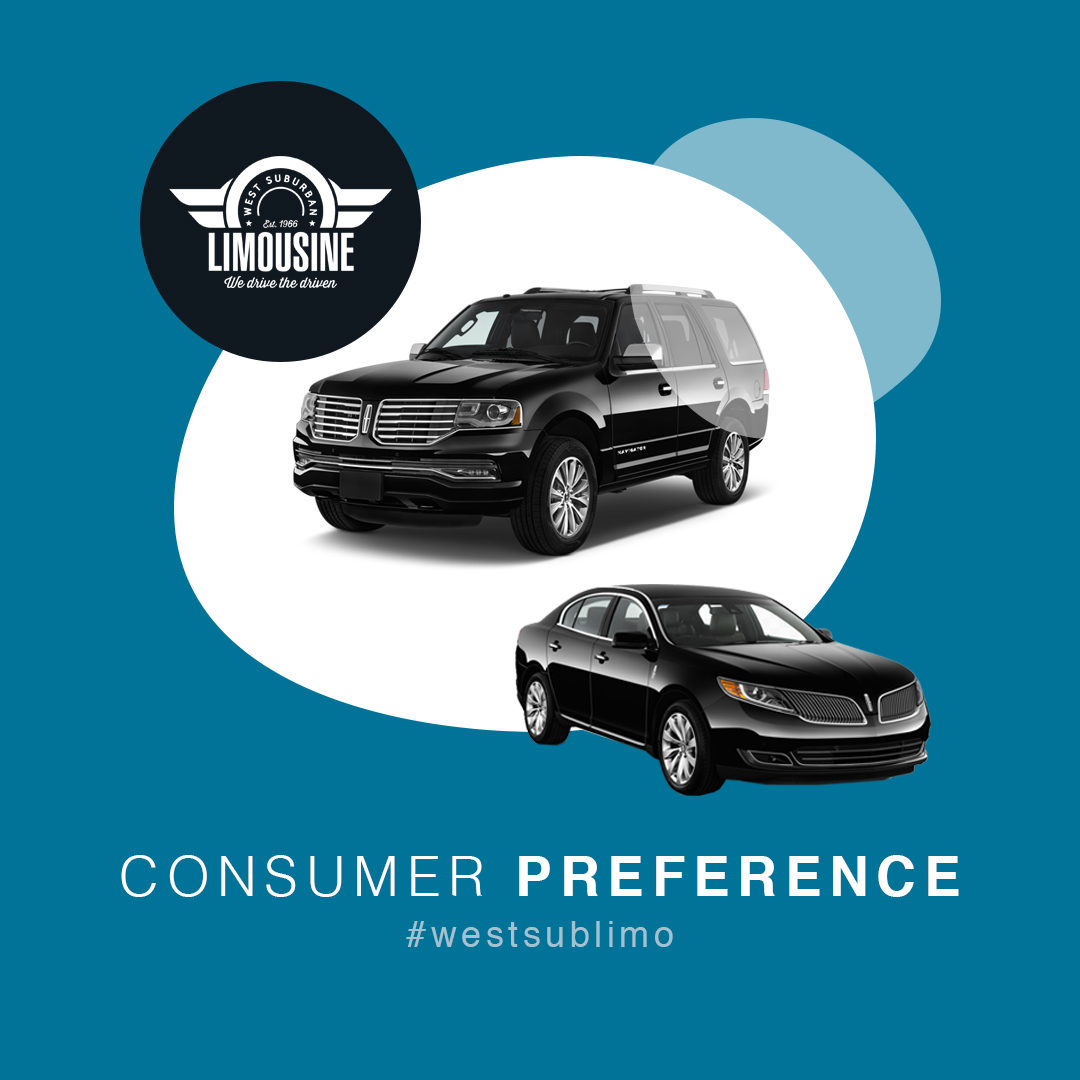 WSL is always looking for ways to remain the best limo service in the Chicago area. In the past year we've added a new app to make it easier for customers to reserve suburban car service and rolled out a new Mercedes-Benz limo sprinter van. Now, we're taking a close look at our fleet with an eye toward adding some new luxury vehicles in 2019. We want your input. Do you prefer SUVs or sedans?
Currently, we have a total of 25 SUVs and 75 sedans in our fleet. Over the course of a year, each vehicle logs about 100,000 miles. That's why we implement a stringent inspection and maintenance program.
A few of the vehicles are ready for retirement. In the past we've purchased Lincoln Continentals, but soon discovered recent models have limited trunk space. Last April, Ford announced it is eliminating some of its most well-known cars, including sedans.
We prefer to buy American-made vehicles because the engines are more durable. Now we need to decide if we should up our suburban SUV service with the addition of more Lincoln Navigators or Cadillac Escalades. Or, should we look at the new Lincoln Aviator sedan that's being introduced next year? Mercedes-Benz and BMW sedans are also an option, but new added tariffs could make them cost prohibitive.
Head over to our Facebook page and tell us what you think. What type of vehicle do you prefer for private suburban car service, SUV or sedan.
3 Reasons Why You Should Get Back on the Bear's Bandwagon this Year
Posted On: 09/05/2018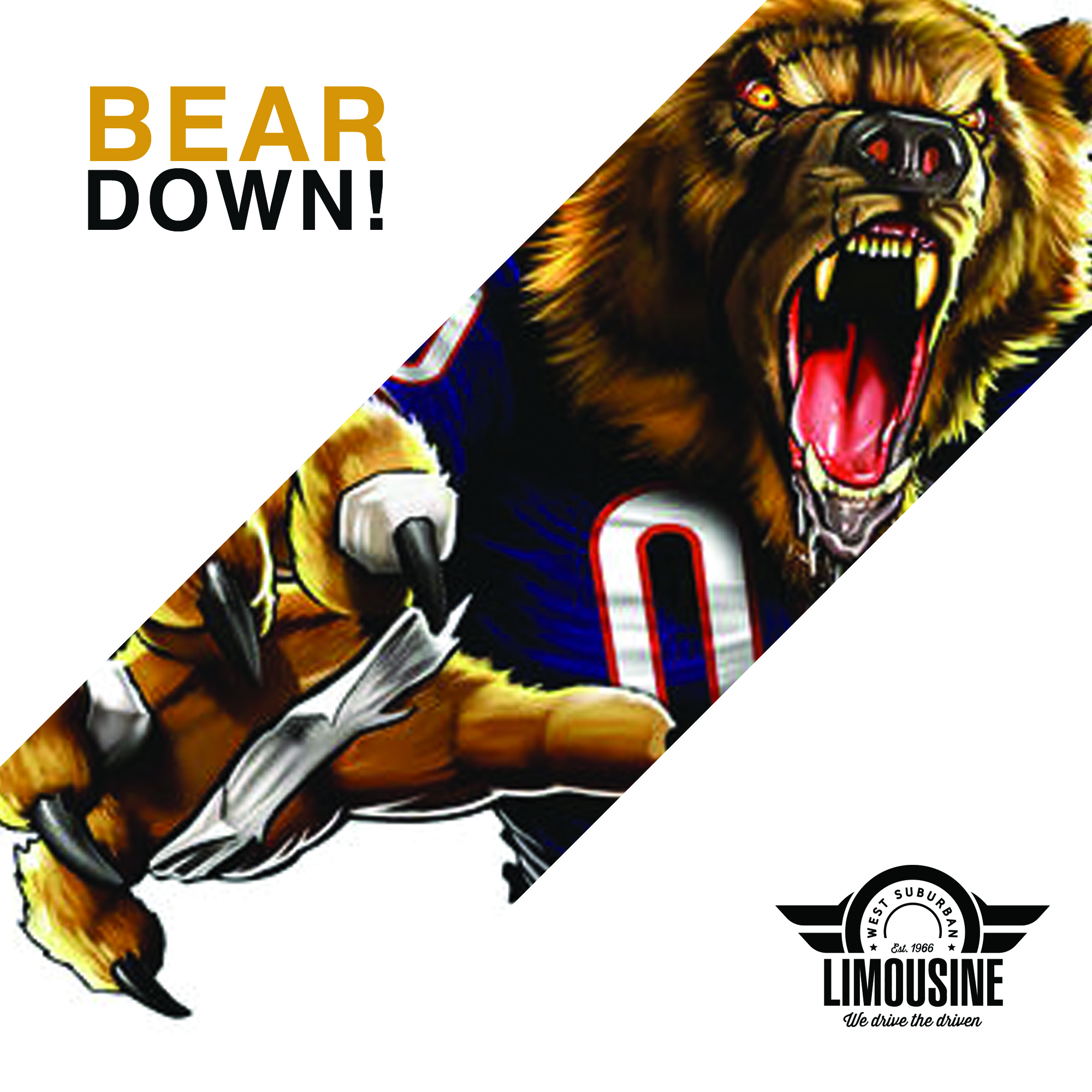 The Chicago Bears will always hold a special place in our hearts. But, let's be honest. The past few seasons have been — how can we say this nicely — challenging to watch.
This year should be different. While we don't expect to see the Bears play in February, changes to the coaching staff and line-up promise to make a push for the playoffs a realistic goal for the 2018 season.
For loyal fans, it's a great year to snag some tickets, and then call WSL to arrange for a car or limo service to Soldier Field. Avoid the hassle of parking and arrive safely and in style. In a few years, you'll be able to say you were there in person when the momentum began.
Offense - Quarterback Mitchell Trubisky's rookie experience is behind him. This is his make-or-break season to prove he's worth the starting spot. He has a good chance to turn the team around with the addition of Allen Robinson, Trey Burton and Taylor Gabriel to the offense.
Defense - Roquan Smith is ready to make his pro debut with the Bears at middle linebacker. The buzz is he will provide leadership to the d-line. Leonard Floyd and Kyle Fuller have already shown what they can do.
Coaching - Matt Nagy, the young new head coach brings fresh energy to the Bears. He's in a great position to move the Bears from a middle-of-the pack team to a playoff bound contender.
The Vikings and Packers will continue to battle for first place in the division. For the Bears, this could be the year all the pieces come together to rise above last place in the NFC North and earn a wildcard spot for the playoffs.
WSL's professional drivers never have a bad season. Rely on their experience to get you to and from Soldier Field on game day. Make your reservation now for car or limo service to Solider Field to cheer on your Chicago Bears.
Safety First: The Time is Not Right for Driverless Car Technology
Posted On: 08/27/2018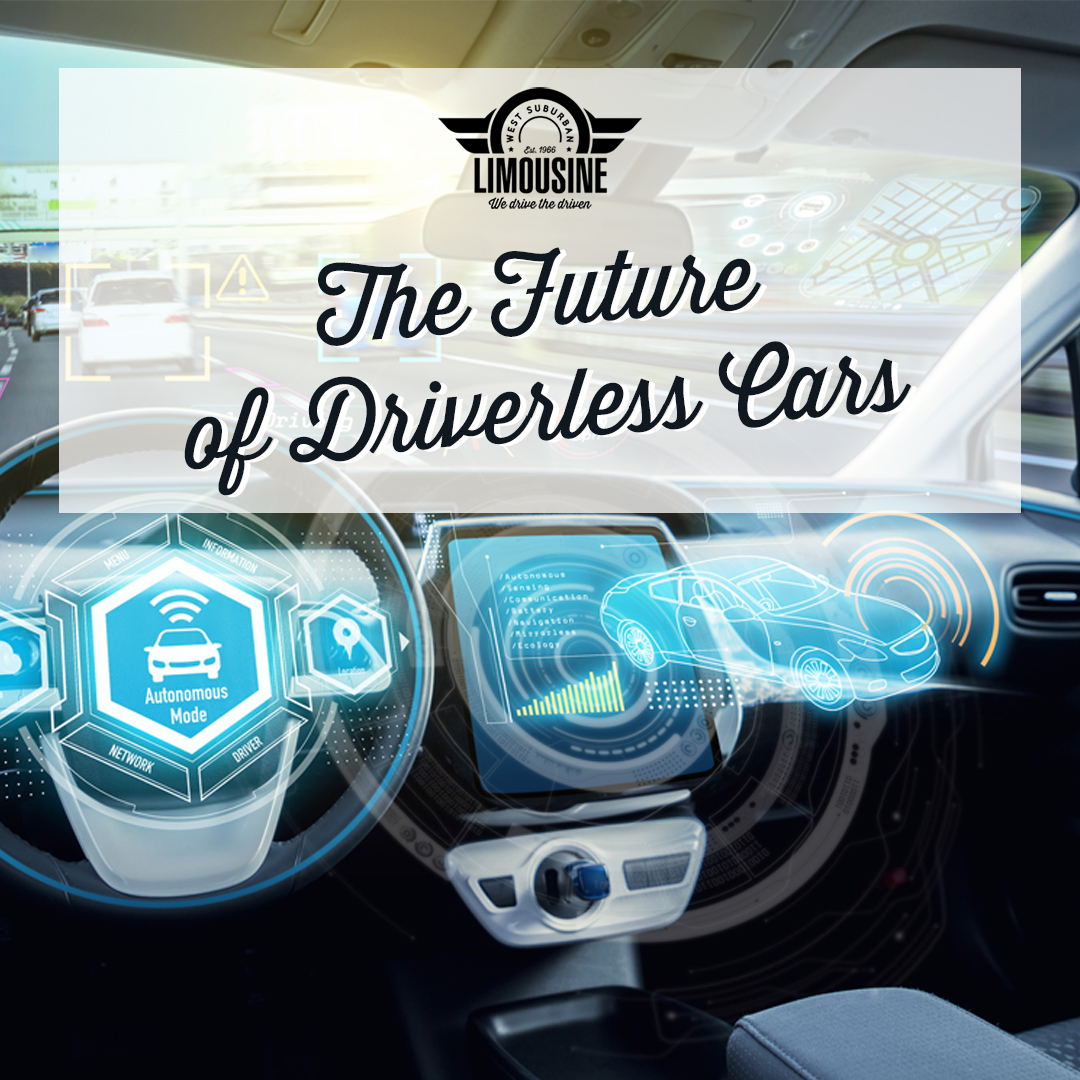 At WSL, we keep an eye on what's happening in the transportation industry to make sure we're offering our clients the innovative services they want. Driverless car technology is especially interesting because it has the potential to disrupt everything we do. Based on recent news, it appears driverless car technology is much further off than anticipated. That's just fine with us.
Last month, Uber announced it is eliminating the jobs for 100 vehicle operators from it Advanced Technologies Group at the company's Pittsburgh hub. The employees had been managing their pilot of self-driving cars on public roads. Safety issues caused Uber to suspend the program to rethink how vehicle operators are trained and rebuild its reputation.
Uber isn't the only company to face issues. At a recent Automated Vehicles Symposium, Wired reports that "engineers, business buffs, urban planners, government officials, and transportation researchers grappled with how to tell the public that its wonder drug of a transportation solution will have its limitations, for a least a few decades to come."
Focused On Safety
While we won't be adding driverless cars to our fleet anytime soon, we will continue to make safety a priority. As the premier private transportation service in Chicagoland, for more than 50 years ago, we have a lot riding on how we train our professional chauffeurs and manage our fleet of late-model, luxury vehicles.
We're very clear what we expect from our drivers. We invest in rigorous training that clearly spells out what they need to do before, during and after a ride. The most important expectation is that our drivers provide safe, courteous rides to and from their destinations.
We also have high expectations for our vehicles. Every sedan, limo, SUV and passenger van in our fleet is checked at least three times per year. We even perform unannounced spot checks of vehicles, often at the airport lot where chauffeurs park while waiting for client's flight to land.
So, while we continually innovate and embrace technology when it makes sense (have you tried out our new mobile app?!), for now we'll keep our focus on making sure our drivers and vehicles provide safe, comfortable service. Driverless car technology will take the back seat for now.
A Baker's Dozen of Apps that Make Traveling a Little Easier
Posted On: 08/20/2018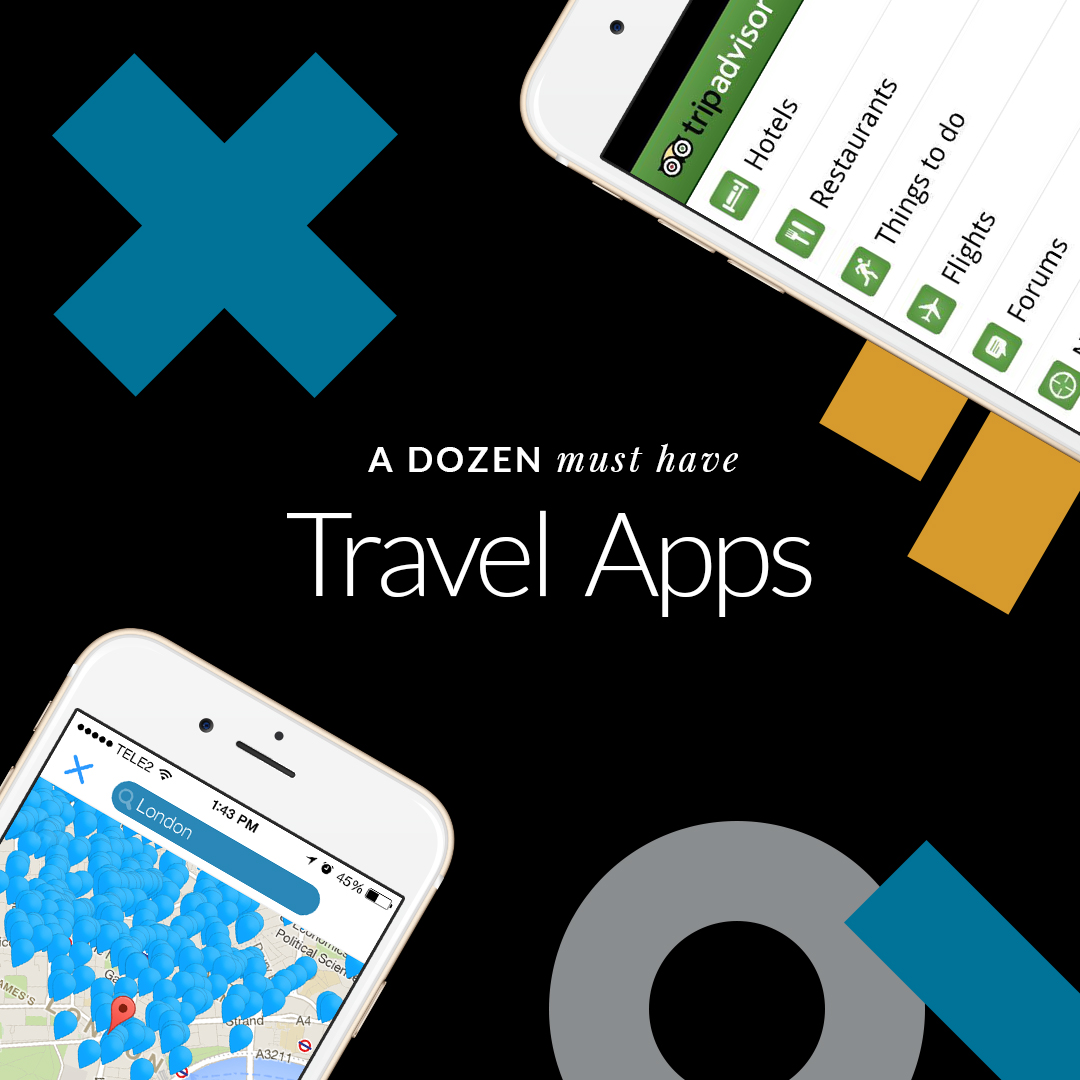 Traveling can be a hassle if you're not prepared. The first step after you lock-down your flight is to book your limo ride to O'Hare or limo ride to Midway so ensure you arrive in plenty of time to check bags and get through security.
We also pulled together baker's dozen list of apps that clients tell us make traveling a little easier. We might be prejudiced, but we like #13 the best!
13. BONUS - West Suburban Limousine App
Download the app to your Android or iPhone and set-up your profile. Then you can easily reserve a private car, SUV or stretch limo well in advance. Or, with about two hours' notice, we can generally provide a private car to your residence, O'Hare or Midway or other public venue. Waiting for your ride but wondering if you have time to respond to one more quick email? Open the app and you'll be able to track the exact location of your private car on a map.
2018 Official State of the Company Annual Message
Posted On: 08/13/2018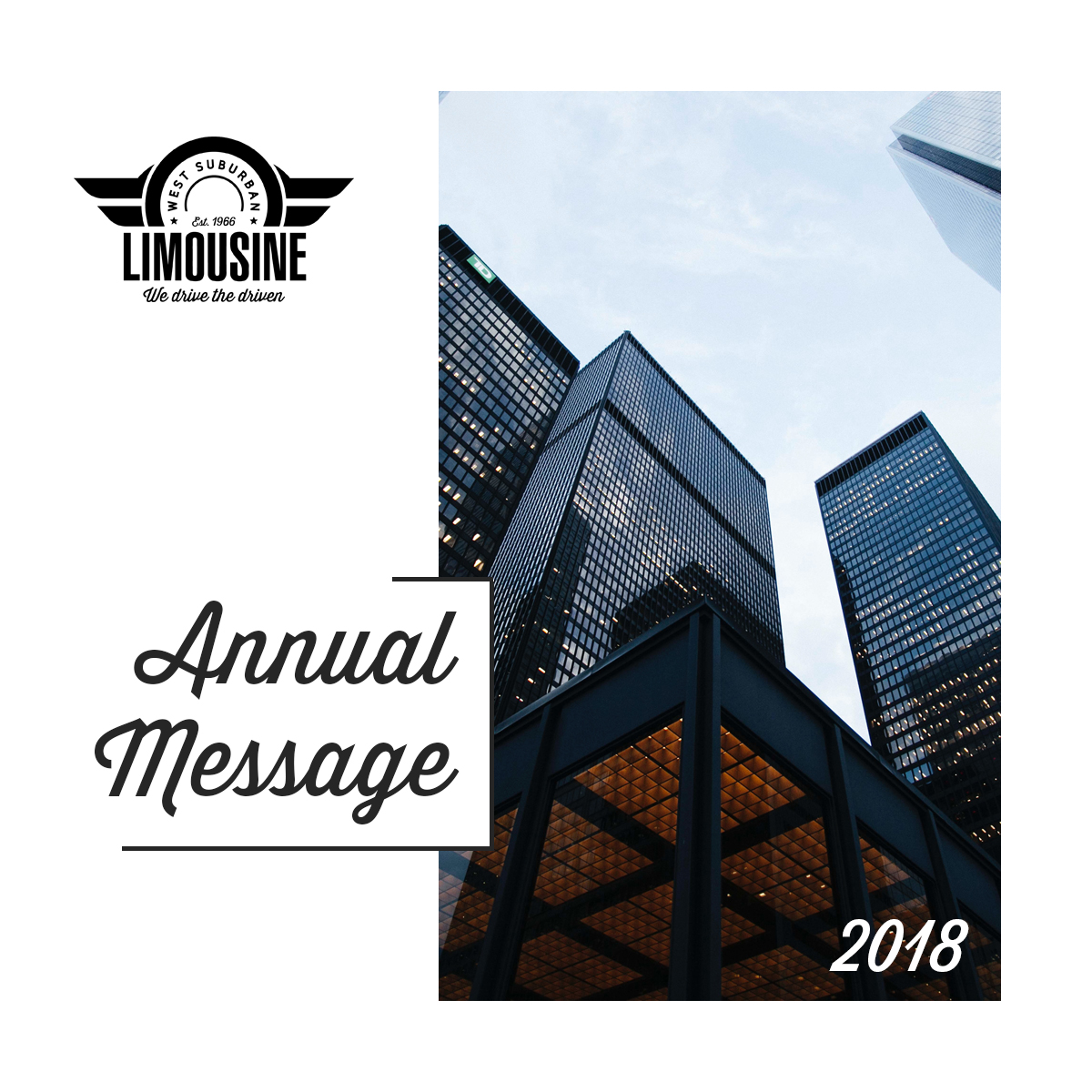 Dear West Suburban Limousine Clients:
This August we celebrate our 52nd year in business, making us one of the longest continually operating limousine companies in the Chicago market. Most family-owned businesses don't last this long, especially in the limousine industry, where there have been many changes and challenges over the years, but still we persevere.
We wouldn't be here without the long-standing loyalty of clients just like you. Over the past year we've demonstrated our appreciation with an extensive coupon and contest program, offered via email blasts, direct mail and on our company facebook page. If you haven't already "liked" and followed our facebook page, please consider doing so. That's where you'll find information about special deals and contests for free limo rides. The response thus far has been fantastic.
What does the future hold? More of the same. We will continually strive to provide top notch service at competitive rates. We're going to be adding larger cars, such as SUVs, stretch limousines, and mini-busses. We're also going to be adding more city-certified chauffeurs, to accommodate the increased demand for Chicago trips, where the regulations are more stringent for traditional black car services such as ours, than they are here in the suburbs. We'll also be upgrading and improving our technology, to stay current with market expectations. The business has changed much over the past five decades, but the core principles of safety, reliability and personal service will never change.
Thanks again for your loyalty! We appreciate your business.
WEST SUBURBAN LIMOUSINE MANAGEMENT
5 Gorgeous Wedding Venues in the Chicago Suburbs
Posted On: 08/06/2018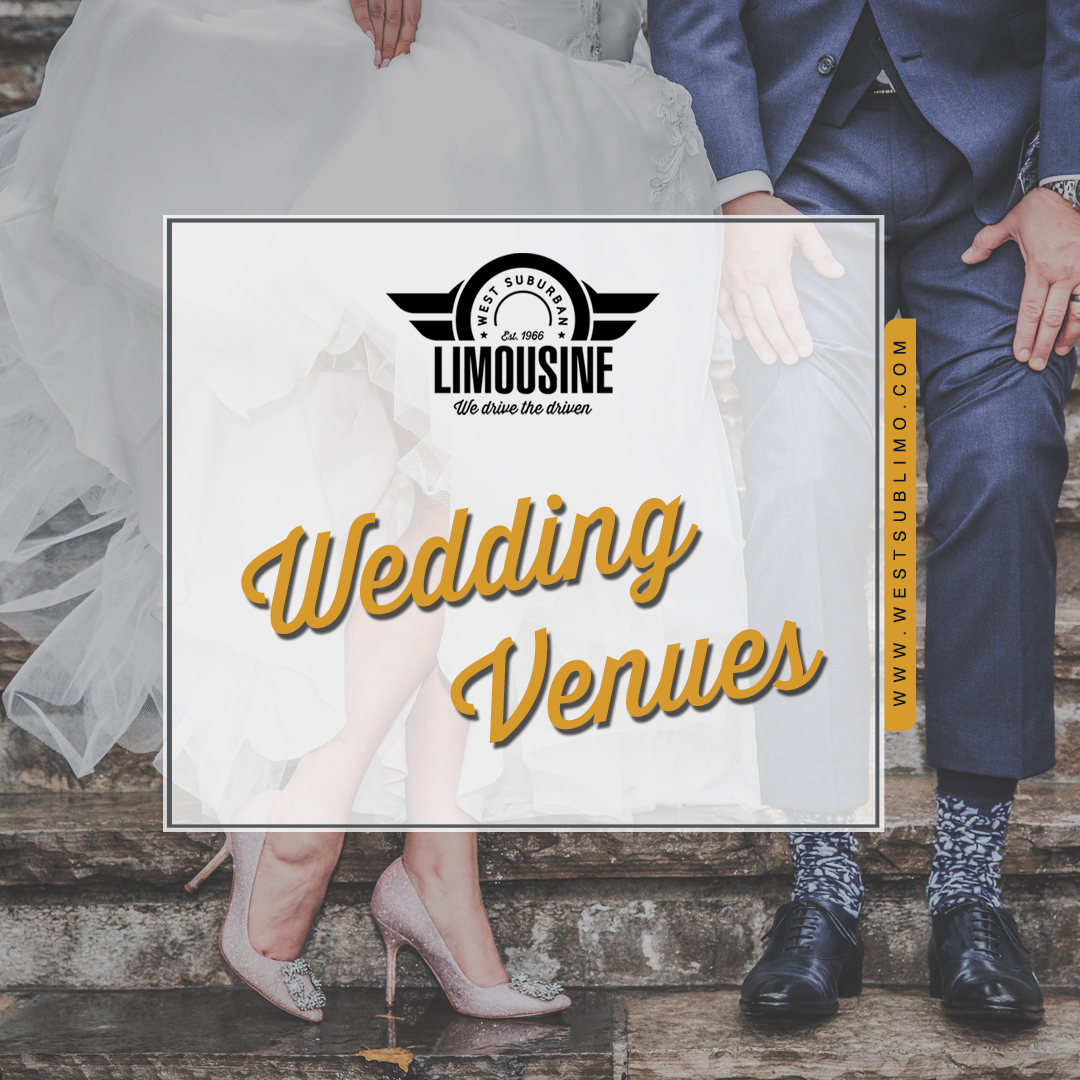 WSL loves weddings! So many brides and grooms trust us for wedding limo service in the Chicago suburbs. We get to see all the interesting places weddings are held in the area. Here's WSL's list of gorgeous wedding venues in the Chicago suburbs that are sure to please any bride-to-be.
1. Fabyan Villa Museum, Geneva
Frank Lloyd Wright enlarged and remodeled the home (now a museum) for Colonel George and Nelle Fabyan in 1907 when they decided to give up their Chicago residence and move to the estate permanently. The site is now on the National Register of Historic Places and is managed by the Preservation Partners of the Fox Valley. The estate features a Japanese garden, fountains and a Dutch-style windmill. It's a beautiful backdrop for the special day.
2. Meson Sabika, Naperville
Enjoy a taste of Spain in this charming restaurant housed in an 1847 mansion that sits on a beautiful four-acre estate near downtown Naperville. The menu boasts a unique mix of cold and hot tapas, sangria, entrees and vintage wines. The venue can accommodate up to 300 seated guests in the Pavilion. The venue promises "...lushly landscaped grounds…fully visible from the towering windows that make up three sides of the venue...an ethereal cloud ceiling in the foyer… 11 cut crystal chandeliers grace the ceiling elegantly dressed with creamy sheer fabric."
3. Emerson Creek Tearoom, Oswego
Looking to add a bit of country to your wedding? The Emerson Creek Tearoom delivers with a remodeled barn and triple peak event tent that are perfect for the big day. A stone patio with two fire pits overlooks farm fields. It's a beautiful mix of country charm and modern-day amenities.
4. The Haight, Elgin
Located smack dab in the heart of Elgin, this converted loft/warehouse maintains architectural elements from the historic 1890 building. It's somehow cozy and expansive at the same time to hold up to 300 guests. There are multiple levels for all the wedding day events, including the ceremony, cocktail hour, getting ready suite and reception.
5. Mayslake Peabody, Oak Brook
This stunning property features Mayslake Hall, a Tudor Revival-style mansion and Portiuncula Chapel, a replica of the original in Assisi, Italy. It's a great venue for an intimate ceremony with seating for 62 in the chapel and up to 120 for a sit-down dinner in the event hall. One Yelp reviewer said, "[t]his venue has great warm feel to it and is very intimate while still providing space for everyone to be comfortable."
While some couples hop on a plane to get married on a Caribbean island beach or exchange vows on the top of a mountain, you can have a destination wedding right here in the Chicago suburbs. Make sure to check out WSL's Chicago suburbs wedding limo service to reserve your stretch limos or the brand-new Mercedes Benz Sprinter bus.
Look for Movie History from the Window of Your Private Car
Posted On: 08/01/2018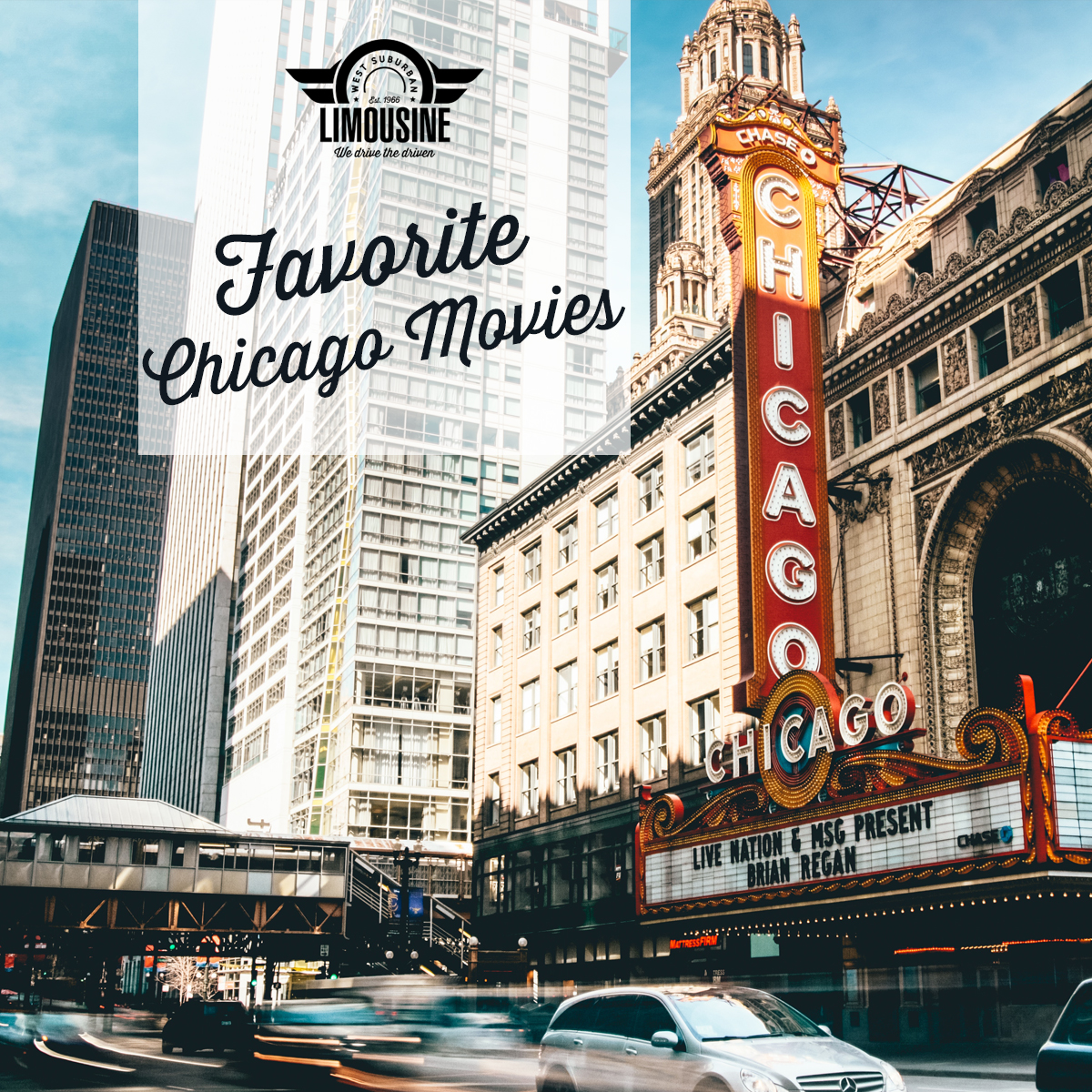 When you're in the back seat of WSL's comfortable limousine service in Chicago, it's easy to get caught up in what's happening on your mobile phone. But, so many movies are filmed in Chicago. Check out this list of famous flicks with local settings so you can spot them on your next limousine service on the Magnificent Mile, Geneva, Lincoln Park and so many other local locations.
Blues Brothers – Our favorite singing lawbreakers start out at the Joliet Correctional Center then head to Chicago for sites such as Chez Paul (actually a swanky home at 66 N. Rush St.), Wrigley Field, South Shore Cultural Center, Daley Plaza, and of course the famous car chase on Lower Wacker Drive.
Road to Perdition – This Tom Hank's period film takes advantage of historical backdrops in Geneva, the University Club of Chicago, and Chicago's Pullman neighborhood.
About Last Night – The original version of the film starring Demi Moore and Rob Lowe features a tour of Chicago including Grant Park, North Avenue Beach and the Lincoln Park neighborhood.
Ferris Bueller's Day Off – Ferris Bueller and his squad make their way around Chicago and the North Shore with stops at the Willis Tower, Chicago Board of Trade, Wrigley Field, Art Institute of Chicago and Glencoe Beach.
My Best Friend's Wedding – Every trek through O'Hare puts you on the site of a key scene from this movie, as well the Fourth Presbyterian Church on E. Chestnut in Chicago, the Chicago Hilton and Towers on S. Michigan Ave., and Union Station.
The Fugitive – Harrison Ford's Dr. Richard Kimble is falsely accused of murdering his wife and leads law enforcement on a chase through Chicago, including the Cook County Hospital and the famous St. Patrick's Day parade on Michigan Avenue.
The Break Up – Vince Vaughn headed to his hometown to produce this film about his rocky relationship with Jennifer Aniston's character. Recognizable Chicago locations include the Magnificent Mile and Wrigley Field.
Untouchables – Chicago looks spectacular in this famous Brian DePalma film about Eliot Ness's pursuit of mobsters features The Rookery Building, Wrigleyville, the Michigan Avenue bridge and the Merchandise Mart all get close-ups.
The Dark Knight – Chicago is the stand-in for Gotham City in this Batman film that features 34 local locations, including the Daley Center, the Chicago Theater, Illinois Center Building and Willis Tower.
The Breakfast Club and Sixteen Candles – These John Hughes movies put the spotlight on the North Shore suburbs including Maine North High School, Niles North High School and the Baker house in Evanston.
The Hunter – Steve McQueen's last movie might not have made a mark with the critics, but who can forget the famous chase scene that includes a car driving off Marina Towers in Chicago?
When Harry Met Sally – The majority of the movie is set in New York City, but Chicago's cityscape looks gorgeous when the title characters inexplicably start in Hyde Park but take Lake Shore Drive from the northern suburbs as they head to the east coast.
This is just a small sampling of movies filmed in the Chicago area. So, next time you book limousine service in Chicago, check your route for sites from the big screen.
What's your favorite Chicago-based film? Let WSL know on our Facebook and Twitter pages!
5 Ways to Swag Your Best WSL Selfie and Win
Posted On: 07/09/2018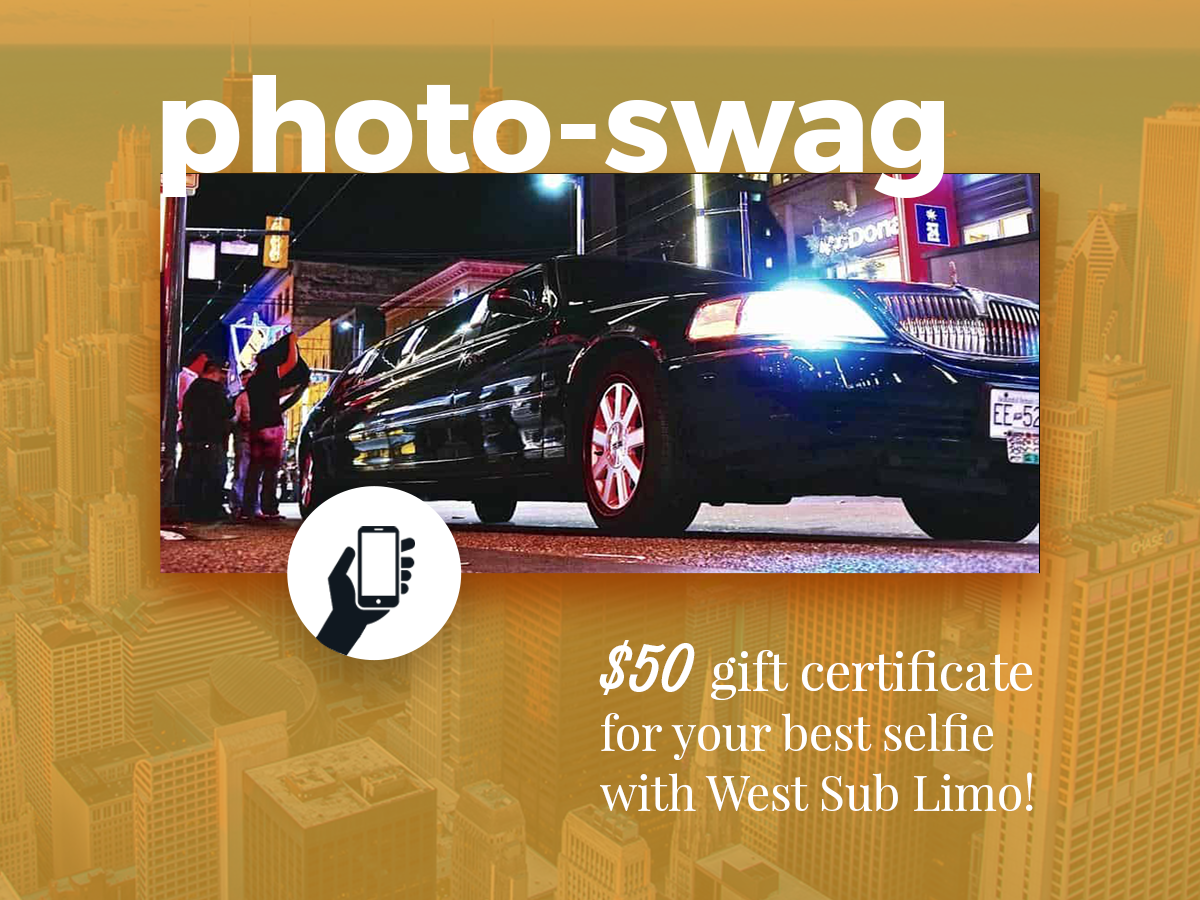 Who doesn't love a good limo selfie?!
There is lots of great reasons to take selfies during your one-of-a-kind luxury chaueffeur service. To remember a fun day with friends. Show everyone you met your favorite celebrity. Or, just a really good hair day.
Add to the list a chance to win a $50 gift certificate from WSL!
On Facebook and Twitter, we are giving away a $50 WSL gift certificate, where you can DOUBLE your chance to win!
Here's how it works:
Book chauffeur service with WSL.
Take a selfie with your chauffeur (if he or she is up for it) or the WSL luxury vehicle…do it right and really show off your swag!
Post the selfie with the tag #WestSubLimo and/or check-in WSL's Facebook or Twitter page to be entered to win
WSL will randomly select two winners to receive a $50 WSL gift certificate
Selfies can be tricky. Here five tips to make sure your selfie game is on point.
SWAG YOUR SELFIES
Check the lighting – Take advantage of natural outside lighting to put your best face, and WSL chauffeured limo, forward. Good lighting can make undereye circles go away.
What's your angle – No one looks good when a photo is taken from under their chin. Make sure to hold the phone so that the bottom is level with your eyes or higher. Try to turn to the side a little bit instead of a straight-on profile shot.
Smile like you mean it – Flash your pearly whites a nano-second before you hit the button to make sure your smile is natural, not forced.
Take a lot of shots – Take at least 10 shots if you really want to get a good one. That way you'll have a few options from which to select to make sure you look good, the shot's in focus and nothing (or no one) crept into the background that doesn't belong.
Use filters wisely – Filters are great for softening the parts of your selfie you don't like, but don't over edit. You should still look like a natural version of yourself, not a plastic doll.
We can't wait to see your selfies. Good luck!
Meet Harb Jaber: Executive Chauffeur for WSL's VIP Clients
Posted On: 07/23/2018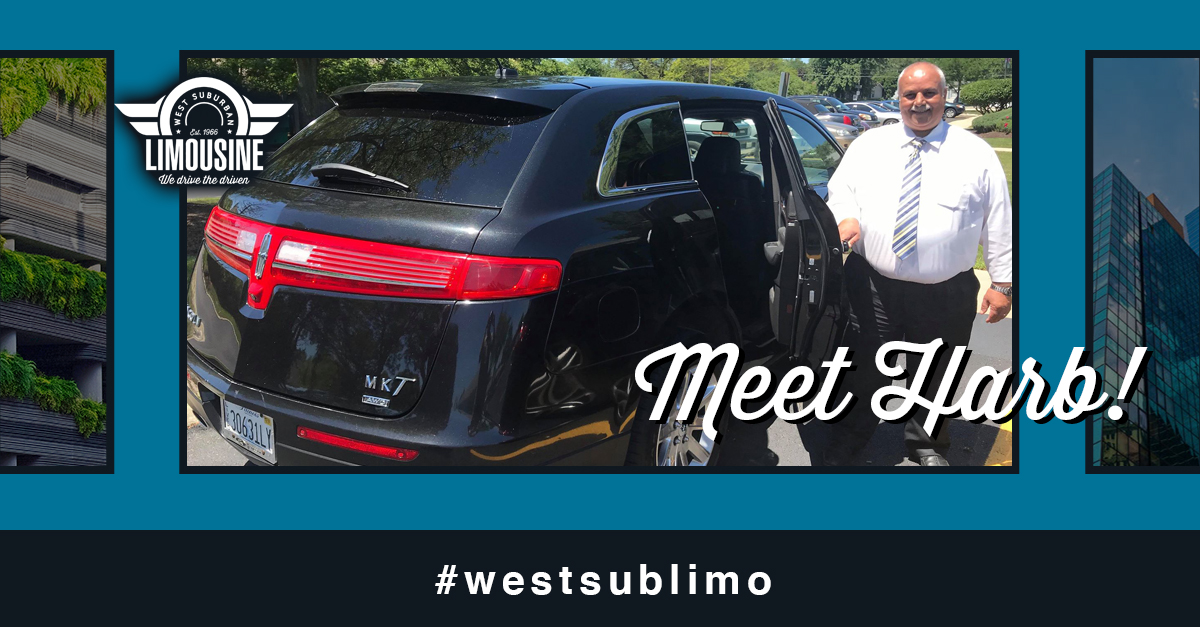 How do you get to be the most requested chauffeur at WSL? Harb Jaber knows.
"My motto when I leave the house in the morning is 'try harder than yesterday,'" said Harb.
Harb has a lot of yesterdays behind him. He's been an executive chauffeur for WSL for more than 20 years driving senior leaders from some of the most well-known companies in the Chicago area including McDonald's, Mutual Trust and Phonak.
Over the years, Harb developed great relationships with the executives who were happy to see a familiar face during their frequent travels. They often have their assistants call WSL to make sure Harb is the assigned driver and ask for him by name for personal trips with their families when they need Chicago chauffeur service.
"I treat everyone the same with my best service, the way I want to be treated," said Harb."
Part of the Family
Harb says he is very loyal to WSL because they are loyal to their drivers. He likes that WSL is proactive about informing clients if there are any issues (such as a vehicle breaking down on the way) and works quickly to solve problems, so clients aren't inconvenienced.
He also appreciates that WSL sets high expectations for drivers for the level of service they provide and condition of their vehicles. Scott Simkus, VP of operations, sits down with drivers every month to share the results of the "Rate My Ride" surveys, a quick five-question survey that clients complete after rides to share what they liked and areas for improvement. Harb is proud to point out all of his feedback is positive.
Harb is also very close with the WSL office staff. He says they are like family and everyone works together to help each other out and solve problems.
Family is very important to Harb. He has a son in his twenties and two teenage daughters and is recently married. He says family is in number one priority.
Change is Good
Harb is a big fan of WSL's new texting feature and mobile app. Not only do his clients love using the technology, but Harb also finds they can reduce waiting times by five to seven minutes.
He's also looking at moving from a Lincoln MKT to a luxury SUV so he can accommodate more people at a time.
One thing will never change. Harb promises you'll never find him driving for any company but WSL.
If you'd like to book Harb for your transportation, contact West Suburban Limousine at 630.668.9600 or online and ask for driver #153. You'll be glad you did!
Meeting on Wheels Combines Business and Fun
Posted On: 07/16/2018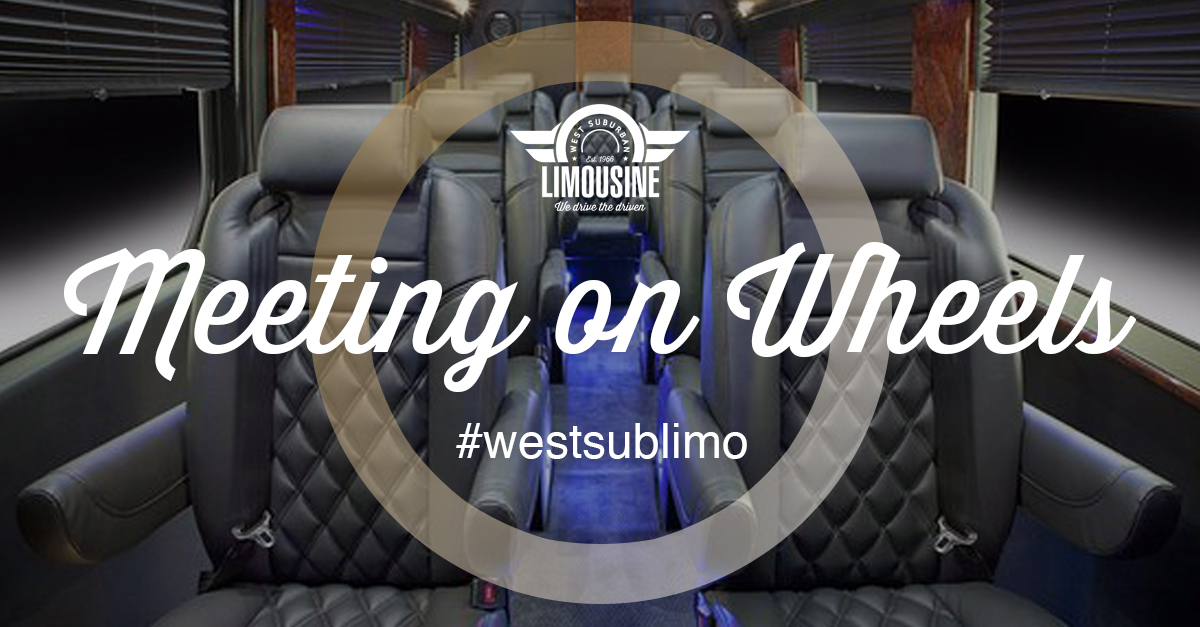 In January, we were excited to introduce WSL's new Mercedes Benz bus / sprinter van. Six months later, we're even more enthusiastic about all the ways people taking advantage of the luxury sprinter van rental.
The Winfield Lions Club recently held a "meeting on wheels" where the group combined business with fun. The local organization is part of Lions Club International, a volunteer service organization focused on giving back to communities. The Lions Club is well known for its commitment to eradicating blindness, but that's just part of their mission to serve through community projects.
Kathy Chorobik, a Lions Club member and dispatcher at WSL, reports everyone was surprised at the luxuriousness of the Sprinter van.
"Most people were expecting an ordinary party bus, but were pleasantly surprised with the upscale interior, comfortable captain's chair seats and smooth ride," said Kathy. "It really set the right tone for mixing business with pleasure."
The group of 12 met at a local tavern in Winfield before boarding the bus. First order of business was to raise a small American flag and say the Pledge of Allegiance, just as they do at the beginning of every meeting.
A member of the International Lions Club joined the group and handled the responsibility of swearing in two new members. The meeting was conducted as usual, except that everyone was able to enjoy a few beverages on the way to a restaurant in Naperville where the fun continued.
Kathy points out the "meeting on wheels" was a nice reward for all the hard work the volunteers do.
"It was a nice to have a break from the usual routine, get on the van, have a couple drinks on the way to a nice dinner, then not have to worry about driving back home," said Kathy.
Luxury sprinter van rentals are perfect for so many group outings.
The Sprinter is often booked for large groups that need to get to the airport because it also has space for lots of luggage.
A group recently booked the van for transport to and from a heavy metal concert. They enjoyed the comfort of the van and of course put its sound system to good use both way to crank their favorite tunes.
The Winfield Lions Club had such a good time they decided to hold "meetings on wheels" two times per year in the Spring and Fall.
St. Charles' Choice for Limo Service
Posted On: 06/28/2018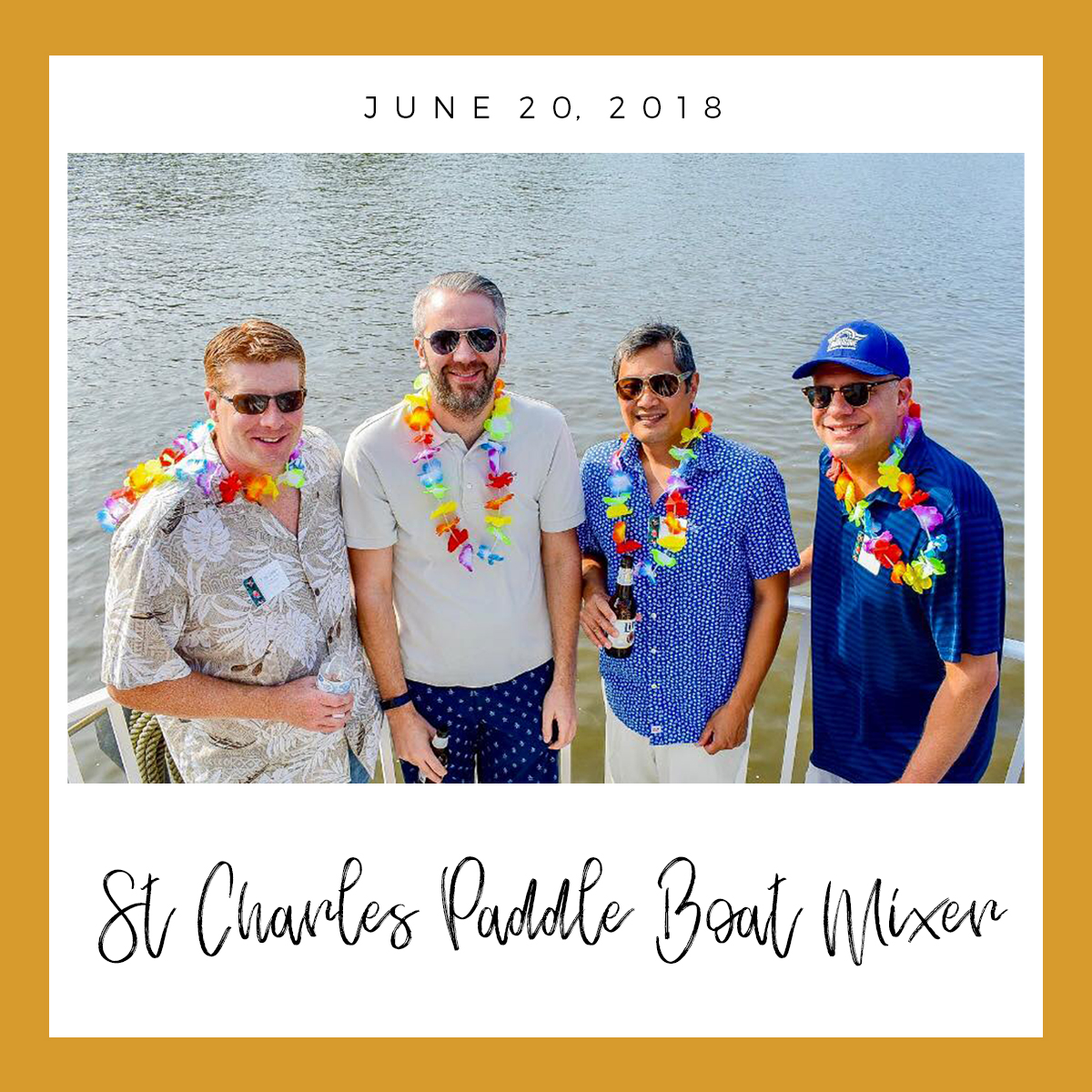 When folks need a limo in St. Charles, IL, they know where to turn: WSL. We've provided stellar private care service to St. Charles and Kane County residents for more than 50 years.
We love to get involved in the communities we serve. We jumped at the chance to once again participate in the Paddle Boat Mixer sponsored by the St. Charles Chamber of Commerce on June 20 at Pottawatomie Park. This year's theme was "Luau." We donned our best Hawaiian garb and cruised up and down the Fox River on paddlewheel boats.
The event is always lots of fun. Even better, we get a chance to spend time with executives from local St. Charles' businesses and learn more about what they're doing. A lot is going on in St. Charles!
We learned that the St. Charles City Council just voted in favor of a new Wahlburgers restaurant that should begin construction this summer at the southwest corner of Route 38 and Randall Road. Wahlburgers is owned by the Wahlberg brothers, actors/singers Donnie and Mark, and Paul who is a chef. Donnie and his wife, actress and radio host Jenny McCarthy, live in St. Charles.
Kane County Loves WSL
We're feeling the love from residents of Kane County. WSL was voted a Top 3 limousine service provider in the recently released "Best of the Fox: Kane County Chronicle Readers' Choice Awards." The Chronicle asked readers to name the "best" in 150 categories through an online survey. They logged more than 56,000 votes. WSL is proud to be recognized for our dedication to service and dependability for limo service in St. Charles IL and throughout Kane County.
We provide private car service to a number of organizations in the area including Fermi Lab and the Kane County Cougars. Give WSL a call at 630-668-9600 or book online to arrange your own ground transportation with a leading Kane County service provider.
You Can Help Celebrate the 4th in Carol Stream
Posted On: 06/28/2018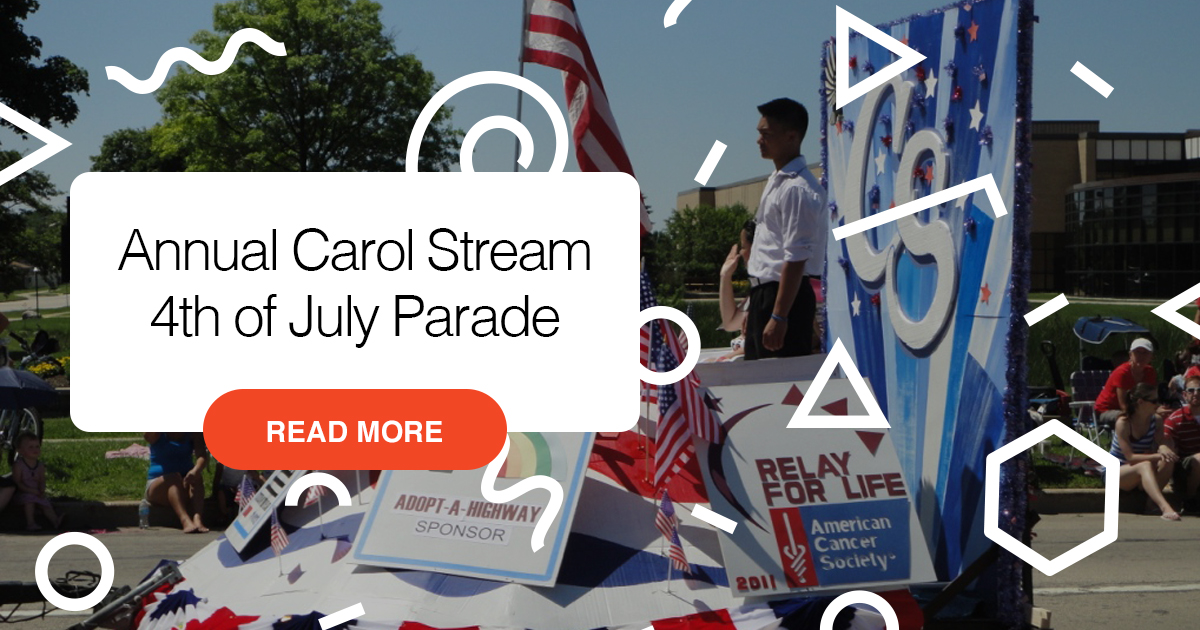 For more than twenty years – from the early 1970s to the 1990s – WSL was based in Carol Stream, IL. We still have strong connections to the community providing limousine services for residents. Many members of our staff grew up in Carol Stream and still call it home. They are proud to provide Carol Stream IL limousine services.
That's why WSL is excited to partner with the Carol Stream Historical Society to participate in this year's Carol Stream 4th of July parade. You'll see one of our SUV Lincoln Navigators in this year's line-up. You can be part of it, too!
This year marks Illinois' bicentennial. To celebrate, the Carol Stream Historical Society is inviting everyone who would like to participate in commemorating our state's heritage to join us in the parade. All you have to do is wear red, white and blue and bring a small flag. Children must be accompanied by an adult.
Interested? Email CarolStreamHistoricalSociety@gmail.com to sign up and get more details.
In addition to providing Carol Stream IL limousine services, WSL's own Scott Simkus, vice president of operations, is a member of the Carol Stream Historical Society and a long-time resident of the town.
Volunteers for the historical society share a passion for preserving and presenting the history of the community to mark the transition from its days as a prairie, to a farming community to the thriving town it is today.
The Carol Stream Historical Society is very active in the community, hosting a variety of activities, including:
- Holding tours by appointment and on special event days
- Giving presentations about community history at local schools
- Sponsoring lectures and exhibits
- Partnering with other organizations that share its goals and concerns
- Archiving and protecting records and personal collections that relate to Carol Stream
Don't miss your chance to make your mark on Carol Stream's history. Sign-up today to be part of the 4th of July parade.
Gettin' Chili for Charity in Carol Stream
Posted On: 06/11/2018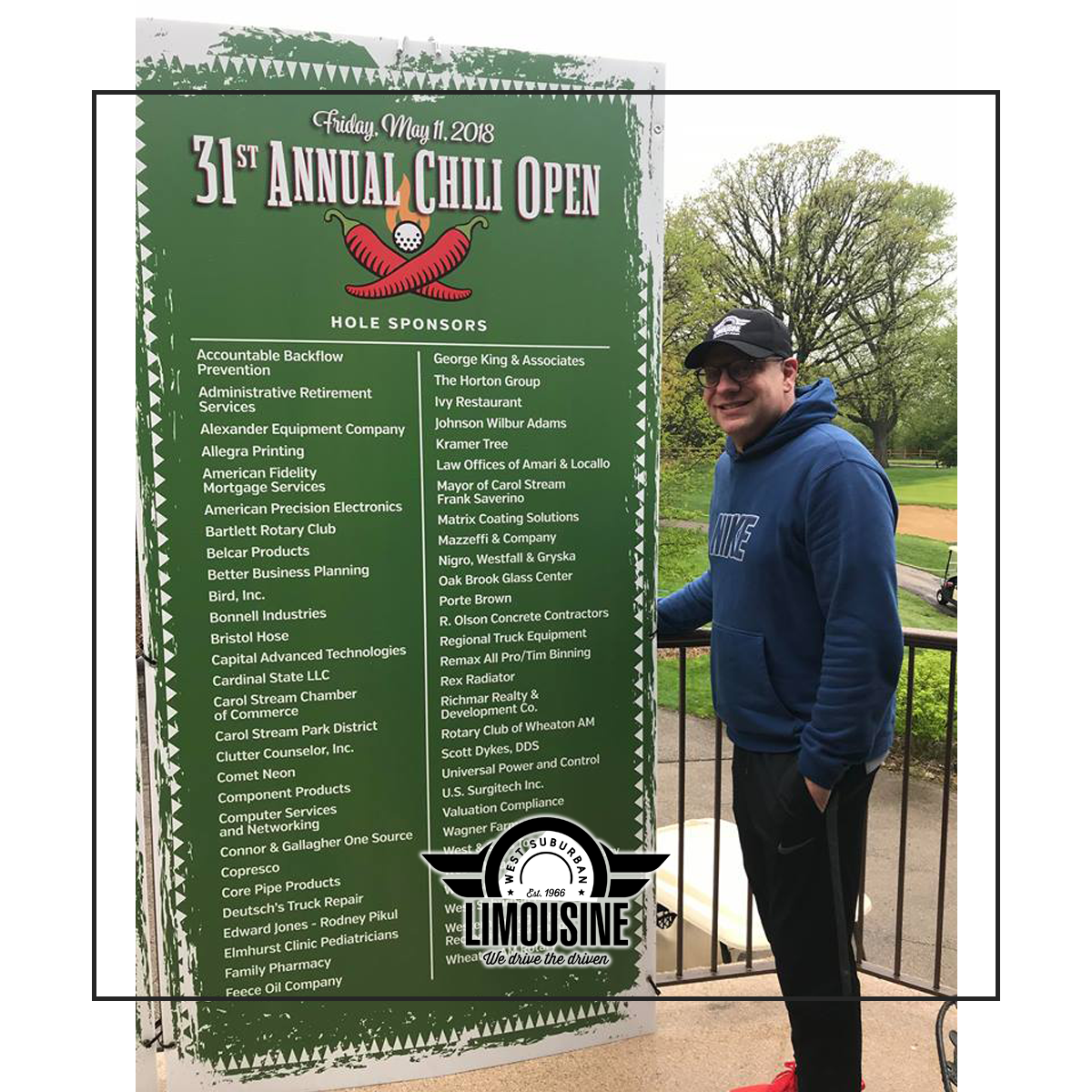 Maybe it was the title of the event, or perhaps it's just the uncertainty of Chicago's weather in May, but the Rotary Club of Carol Stream's 31st annual Chili Open golf outing fundraiser certainly lived up to its name. WSL was thrilled to pull out our umbrellas, don warm jackets and throw on some gloves to support this worthy organization.
Normally, we're driving limos in Carol Stream. It was a fun break to get behind the wheel of a golf cart to help raise funds to fight hunger in northern Illinois. Proceeds from this year 's event will be shared with Educare, Neighborhood Food Pantry, Northern Illinois Food Bank and DuPage PADS to help relieve hunger in our local communities.
In between spurts of rain in 55-degree weather, we played a few holes then found refuge in the clubhouse to sample the traditional chili lunch.
We also found time to mourn the passing of Joe Kramer, a member of the group that founded the event who sadly passed away two days before the fundraiser.
Carol Stream knows WSL for stellar limo service. We're also a member of the Carol Stream Chamber of Commerce. Community involvement in Carol Stream and other nearby communities is important to WSL. We serve these communities with pride and are happy to give back.
The Rotary Club of Carol Stream is part of Rotary, the international service organization focused on tackling some of the world's biggest challenges, locally and globally. For more than 100 years, Rotarians have applied the ideal of service in their personal, business and community life.
The Evolution of Luxury Limos
Posted On: 06/25/2018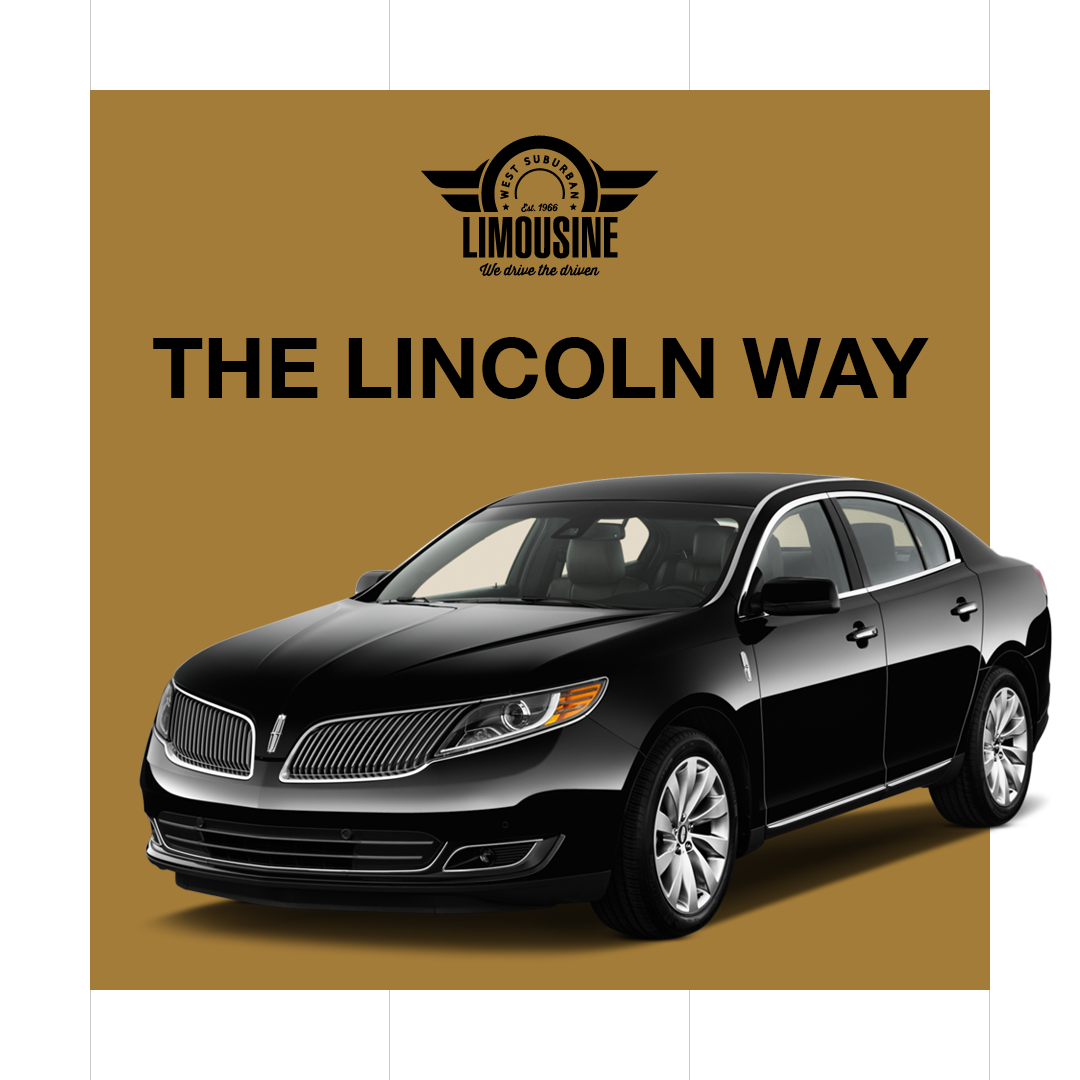 WSL has been providing limo service to O'Hare, Midway and all points in between for more than 50 years. During this time we've witnessed the quite a few changes and upgrades to the luxury vehicles we use to transport our clients in comfort and style. What's on the horizon is like nothing you've seen before.
The first automobile limousines were enclosed vehicles with the driver's seat out in the open (can you imagine driving a limo to O'Hare in winter in that set-up?!). Limousines get their name from the type of cloak worn by shepherds in the Limousin area of France. The covering that extended over the driver in these early vehicles resembled the raised hood on those cloaks.
As cars advanced in functionality and style, so did limousines. When WSL started in the 1950s, Cadillacs were the most popular. The limos were built on Cadillac chassis and oozed sophistication.
Fast forward a few decades to the 1980s when Lincolns raced to the front of the pack with stretch limos and town cars. They continue to be the most luxurious vehicles available to private car services with better electronics and engine durability than Cadillacs. That's why WSL has five late-model Lincoln Continentals in our fleet.
Looking Ahead
In just a few years when you take a limo to O'Hare, your experience may be quite different. From what we've seen at industry events, the future of limos is all about the passenger experience.
While cigarette lighters are a thing of the past, you'll enjoy numerous USB ports to charge your mobile devices, in-vehicle Wi-Fi to stay connected and monitors from which you can watch your favorite content. Expect more comfort, too, with reclining back seats, individual climate and lighting controls and so much more. You may forget you're riding in a limo.
The impetus behind many of these advancements is the move toward the use of driverless cars. There are five levels of autonomous driving which require increasingly advanced technology:
Drive assistance – the vehicle can assist with some function, such as braking when you get to close to another car
Partial automation – some assistance with steering and acceleration
Conditional automation – vehicle controls monitoring of the environment
High automation – the system controls let the driver know when conditions are safe to switch to this mode
Complete automation – the vehicle handles all driving functions with no human attention
While we continue to monitor the progress of autonomous vehicles, we know you'll rely on trained, professional chauffeurs from WSL for many years to come for a limo to O'Hare. But, we'll gladly embrace the luxury the path driverless cars brings to limos today.
Ready for West Sub Limo to Take YOU Out To The Ballgame?
Posted On: 06/04/2018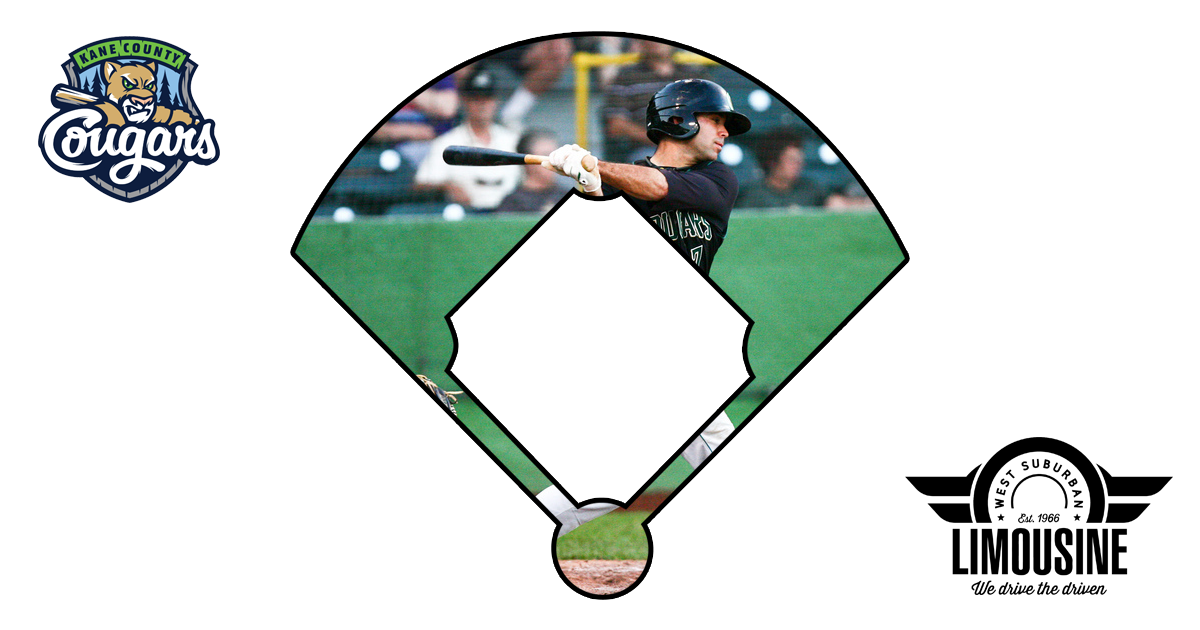 Summer is in the air, and baseball season has swung into full force. Founded in 1991 and currently a national baseball affiliate of the MLB's Arizona Diamonbacks, the Kane County Cougars have become a staple of the Geneva community. Did you know, there are over FIFTY players from the Kane County Cougars who have gone onto play in the Major League?! A few of these notable alumni players include:
- Josh Beckett
- Miguel Cabrera
- Luis Castillo
- Wilson Contreras
- Scott Podsednik
- Kyle Schwarber
- Dontrelle Willis
It's been a pretty cool experience getting to witness these local young up and coming athletes turn into superstars!
Geneva Limo Services for the Kane County Cougars
While it's always fun watching the Cougars on television, there is something extra special about watching them play live at Northwestern Medicine Field with a group of friends. This adventure is made even better when using Geneva limo transportation services to and from Northwestern Medicine Field. Rather than worrying about the traffic and the hassle of parking at the stadium, time can be spent having fun with friends in a luxury vehicle. The group can concentrate on getting ready to root for the Cougars and enjoy the game.
Our professional and luxurious transportation can accommodate both small and large groups, as options are available in a variety of shapes and sizes. Select from our Mercedes Benz party bus, town cars, stretch SUVs, to our classic luxury stretch limousines.
Anyone interested in booking a ride for a Cougars game should contact us here at WSL. Kane County Cougars games are one of the most popular summer events for Geneva limo services, so we anticipate for spots to fill up fast. WSL offers free quotes for transportation services in Geneva for Cougars games and other great special events. We are here to help, so please give us a call if you would like to learn more! (630) 668-9600
Top 10 Favorite Travel Movies To Stir Your Wanderlust
Posted On: 06/18/2018
Have you ever been inspired to travel somewhere after watching a movie? After you read our recommendations, you'll be ready to pack up and get a town car service to the airport! Below we have listed our top ten all-time favorite travel movies. We can watch these films dozens of times, and never get sick of them.
Once we watch any of these films, we get the immediate urge to buy a ticket, pack-up and explore the world! Getting to watch these great travel films through the years, it has become an inspiration to our own bucket list of travel goals.
So are you ready for a little bit of motivation to push you into a traveling adventure of your own?! Sit back, relax, fill up a bowl of popcorn, grab your favorite drink and watch a couple of these fantastic films with a friend.
It's the next best thing to actually traveling!
Just remember, while we all love the thrill from watching a good movie, it can never replicate the amazing experiences of real world travel. When you are ready for your traveling adventure, WSL can even help you out with transportation from our town car service!
The Secret Life of Walter Mitty
This is the perfect movie to motivate someone who is craving for something more out of life. The main character Walter (played by Ben Stiller) plays an anonymous photo editor at LIFE Magazine, where he lives a pretty boring life. When he realizes that his job is in jeopardy, he decides to embark on a journey of a lifetime. One of the most important lessons that you will get from watching this movie is that life is full of surprises and you don't know what happens next. Remember to never stop believing in yourself and all dreams are possible, no matter what challenges you are facing.
Eat Pray Love
Have you ever wanted a complete life-change or reconnect with your true inner-self? If so, you have to watch Eat Pray Love! Liz Gilbert (played by Julia Roberts) takes a yearlong leave from her job, traveling to Italy, India and Bali in hopes of rediscovering herself. What is unique and different about this film is the spirituality approach that it takes. The journey to discovering and connecting with your inner-self is key. In order to understand and explore your own identity, you need to set time aside for yourself, and get away from the everyday distractions.
Into The Wild
Into The Wild is based on a true-story of Christopher McCandless (played by Emile Hirsch), a recent college grad who decides to hitchhike to Alaska. Through this journey, he encounters all kinds of people, each with their own unique stories. When he gets to Alaska, he arrives into the wilderness living on his own. The important message in this movie is that, with any experience in life, there is good and bad. These experiences are what makes each of us who we are, but it is vital to not completely get in over your head (like the main character).
Planes, Trains and Automobiles
A comedy classic starring two of the greats, Steve Martin and John Candy, that is sure to get you laughing! This is the story of an overland road trip from New York City to Chicago. What makes this movie so great, in addition to the comedy, is that it is so relatable. Whether by planes, trains or automobiles we have all gone through similar shenanigans when traveling cross-country. You can relate if you have you ever stayed at cheap motel, almost fell asleep behind the wheel, or sat next to someone that has made you extremely uncomfortable. This is definitely a fun and good heartfelt comedy that is worth watching!
Lost In Translation
A movie based on two travelers, Bob and Charlotte (played by Bill Murray and Scarlett Johansson) that are visiting Tokyo at the same time. They meet each other and form a unique bond and friendship as they experience bewilderment and amusement together in an unfamiliar city. What's amazing about this film is that it looks like nothing is happening throughout the film, yet at the same time everything is happening. It is as if nothing and everything are one in the same. It brings you to one of those "a-ha!" moments, that life is just about opposites, you can't have one without the other. In emptiness we see fulfillment, and in fulfillment there is emptiness.
Thelma and Louise
We couldn't think of a better movie that displays the true definition of a best friend than Thelma and Louise. Played by actresses Geena Davis and Susan Sarandon, Thelma and Louise show the true test of friendship - ride or die! These two friends realized how caged up they were before in their lives, and together they chose to become free and fearless. You will find plenty of action in this movie with some great comedic moments, as these two are on the run protecting and defending each other.
The Bucket List
A great reminder to live your life to the fullest, The Bucket List is one of those films that each of us should watch at some point in our life. Two legendary actors, Jack Nicholson and Morgan Freeman, play the roles of two terminally ill men (Edward and Carter) leaving their deathbeds to complete a to-do list before they die. Touching, emotional, majestic and a little comedic, this film teaches us the most important thing in life – relationships. If you don't already have a bucket list of your own, this film is sure to get you started!
A Map For Saturday
A Map for Saturday is hands-down the best documentary on traveling and backpacking! This film follows Scott Erikson, as he quits his comfortable 9am-5pm job to travel around the world for a year, living just out of his backpack. In this documentary you will get a pretty good picture of what it is like to wander around the world for a long period of time. Witness the excitement, adventure, bliss, fear, and heartbreak of the backpacking life. All of these emotions that travellers feel and share but can't fully show or explain to their loved ones back home. This documentary also shows that anyone can travel inexpensively if they truly want to.
Seven Years in Tibet
Seven Years in Tibet is based on a true story of Heinrich Harrer (played by Brad Pitt) and is set in 1939. This Austrian hiker had a goal to conquer the Himalayan Mountains but ends up getting captured and sent to a prison camp. He ends up escaping the prison camp and finding his way into the sacred Tibetan city of Lhasa. In Tibet, Heinrich ends of befriending the young Dalai Lama as the Chinese attempt to invade the city. Coming from two entirely different worlds, the two men end up learning from each other and becoming great friends. This is a great movie that shows how traveling can transform your life, as the Austrian's outlook on life slowly changes after facing new challenges and experiences.
The Motorcycle Diaries
This film is based on the true story of two medical students fulfilling a five-month motorcycle trip. Through this trip, they set out to use their medical teachings and volunteer for secluded refugees along the Amazon River. This film is based on the personal journals of latin American activist, Che Guevara. The Motorcycle Diaries displays adventure, independence and personal discovery in the traveling experience of the two medical students. This scenic movie about one of the most influential people to have lived is definitely worth watching!
Start Your Journey!
When it comes to traveling, movies will never give the actual experience justice! So we highly recommend for you to give these films a watch, in hopes that it inspires you to explore the world a little more! Remember, WSL will always be there and ready to assist you at the start of your journey with our town car service!
"The world is a book and those who do no travel, read only a page."
Plan Ahead to Party and Avoid a DUI
Posted On: 05/28/2018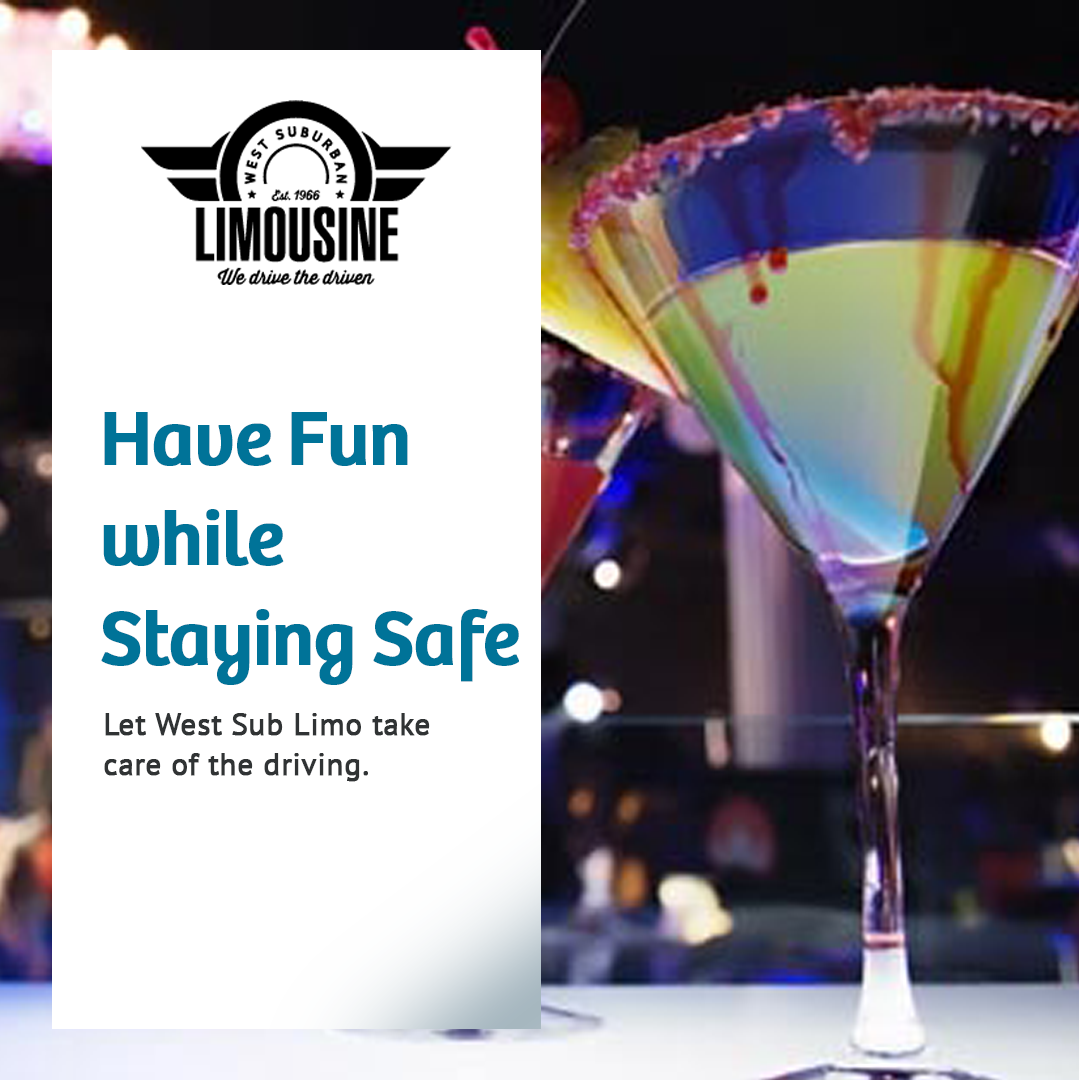 Summer kicks off a fun season of sporting events, festivals, concerts, weddings and parties. Plan ahead now so you can enjoy yourself and get home safely.
The police are on the look-out for impaired drivers as they leave popular events. It's not uncommon for state and local police to set up DUI-screening roadblocks on holiday weekends.
Did you know a first offense driving under the influence (DUI) charge in Illinois entails both criminal penalties and a prolonged license reinstatement process upon conviction? The State of Illinois estimates that the total cost of a first time DUI (including raised insurance rates, temporary loss of income, court costs and other expenses) at $16,000.
When your group is headed out for the day or evening, finding a designated driver can be a hassle. The better choice is to book a WSL sedan, limo, SUV or our new Sprinter Bus for larger groups. There's no better option for Chicago Illinois limos.
WSL professional drivers:
- Have experience navigating drop-off and pick-up at Chicago's most popular venues such as Soldier Field, Wrigley Field, Grant Park as well as downtown restaurants and theaters
- Are trained to handle large and small groups of passengers who have enjoyed themselves at events
- Consistently receive positive feedback and ratings from passengers who booked WSL for special events
Avoid the stress of driving in the city and just have fun. Call or book online now to reserve the best Chicago Illinois limos now for your summer fun.
What Movie Character Would You Pick as Your Limo Chauffeur?
Posted On: 05/21/2018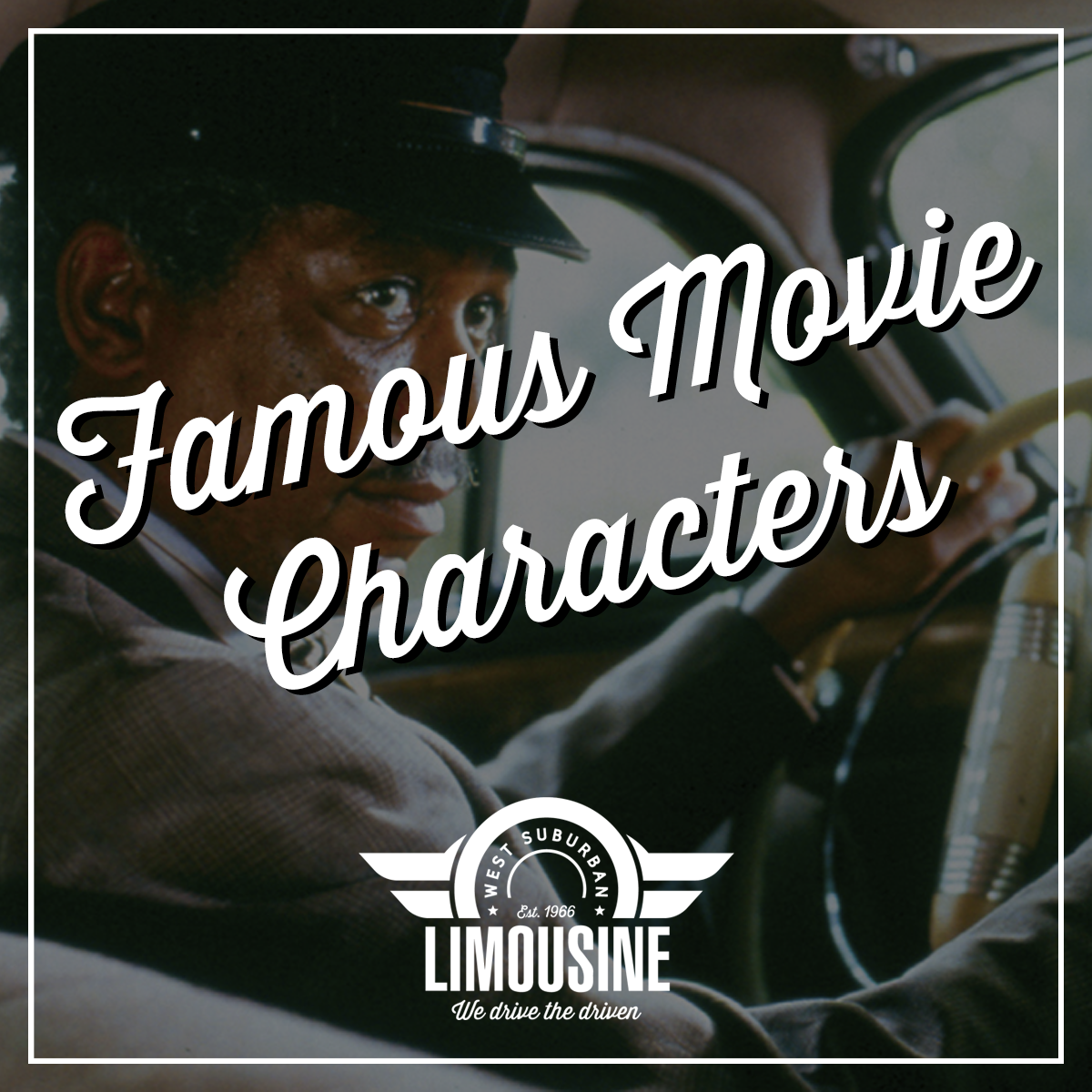 If you could rent a limo for a day driven by a movie character with proven driving skills, whom would you pick? Click here to jump over to WSL's Facebook page to give us your answer and be entered for a chance to win a $20 WSL gift certificate. We'll send one of our highly trained professional drivers to take you safely to and from your destination.
Rent a Limo and Pick the Your Movie Character Driver
Here are a few characters that come to mind when we think of famous drivers from the movie classics.
Bill Murray's John Winger character who drove a taxi in Stripes
Morgan Freeman's Hoke Colburn character who chauffeured in Driving Miss Daisy
Angel Elgort's Baby character who drove the getaway cars in Baby Driver
Angelina Jolie's Sway character who stole cars in Gone in Sixty Seconds
Vin Diesel's Dominic Toretto character who is a street racer in The Fast and the Furious
If we missed a charachter, let us know! Don't miss your chance to win a $20 WSL gift certificate by entering your answer on our Facebook page!
Day Trip: What to Do in Highland Park
Posted On: 05/14/2018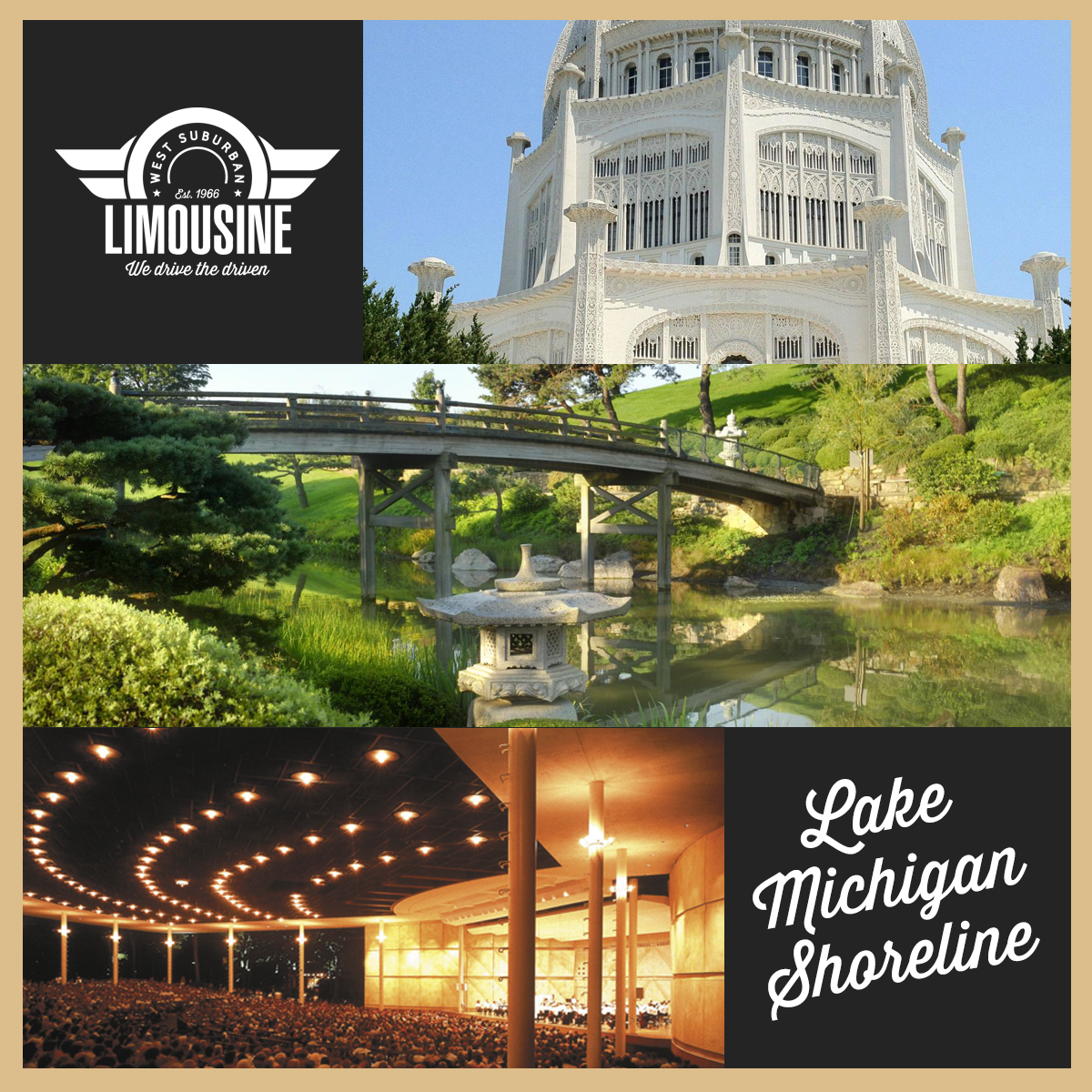 When you're lucky enough to live in one of the greatest cities in the world, it's easy to forget about all the great entertainment options in the towns that surround Chicago. When the summer concert schedule for Ravinia arrived in our mailbox the other day, we wondered what other great things are happening in and around Highland Park. It turns out, it's easy to spend the day and night in this northern suburb while visiting all kinds of fun places.
We suggest leaving the driving to WSL with Highland Park limo services so you can stay focused on fun, not fighting traffic or searching for parking.
Places to Go with our Highland Park Limo Services
Ravinia – When you think about Highland Park, Ravinia is usually the first place that comes to mind. The 2018 concert schedule is chock full of popular artists including Diana Ross, Buddy Guy, Mary J. Blige, Jason Mraz and Sugarland. You can also catch a nice mix of classical performances and kids' artists. Getting in and out of the parking lot can be tough, unless you ride in-style in a WSL limo, SUV or in our Mercedes Benz limo / sprinter bus.
The Bahá'í House of Worship for North America – This beautiful worship site is open for all to spend time considering spirituality or meditating while sitting in the temple or wandering the gardens.
Chicago Botanic Garden – Admission to this collection of 27 gardens and four natural areas is free. By traveling to the area by WSL Highland Park limo service you can skip the $30 parking fee. Enjoy the outdoors by roaming around the 385 acres situated on and around nine islands. There are six miles of shoreline on Lake Michigan.
Model Railroad Garden – Nestled in the Chicago Botanic Garden is the 7,500 square foot Model Railroad Garden that features 18 model G-scale (garden-scale) trains running on 18 tracks that traverse tunnels, bridges and around intricately decorated buildings. Don't miss the working geyser.
Famous Homes – Don't miss the chance to drive by Cameron's house from "Ferris Bueller's Day Off, " Michael Jordon's mansion, and the Home Alone house.
Dining – No day trip is complete without some good food. For a true Highland Park experience, try Walker Bros. The Original Pancake House, Café Central, or Bluegrass.
Whether you have a small group or a crowd, WSL has the right sedan, limo, SUV or executive bus to make your day trip memorable. Give us a call for more information on our Highland Park limo services! (630) 668-9600
Meet Dennis Holte, WSL's Longest-Serving Employee
Posted On: 05/07/2018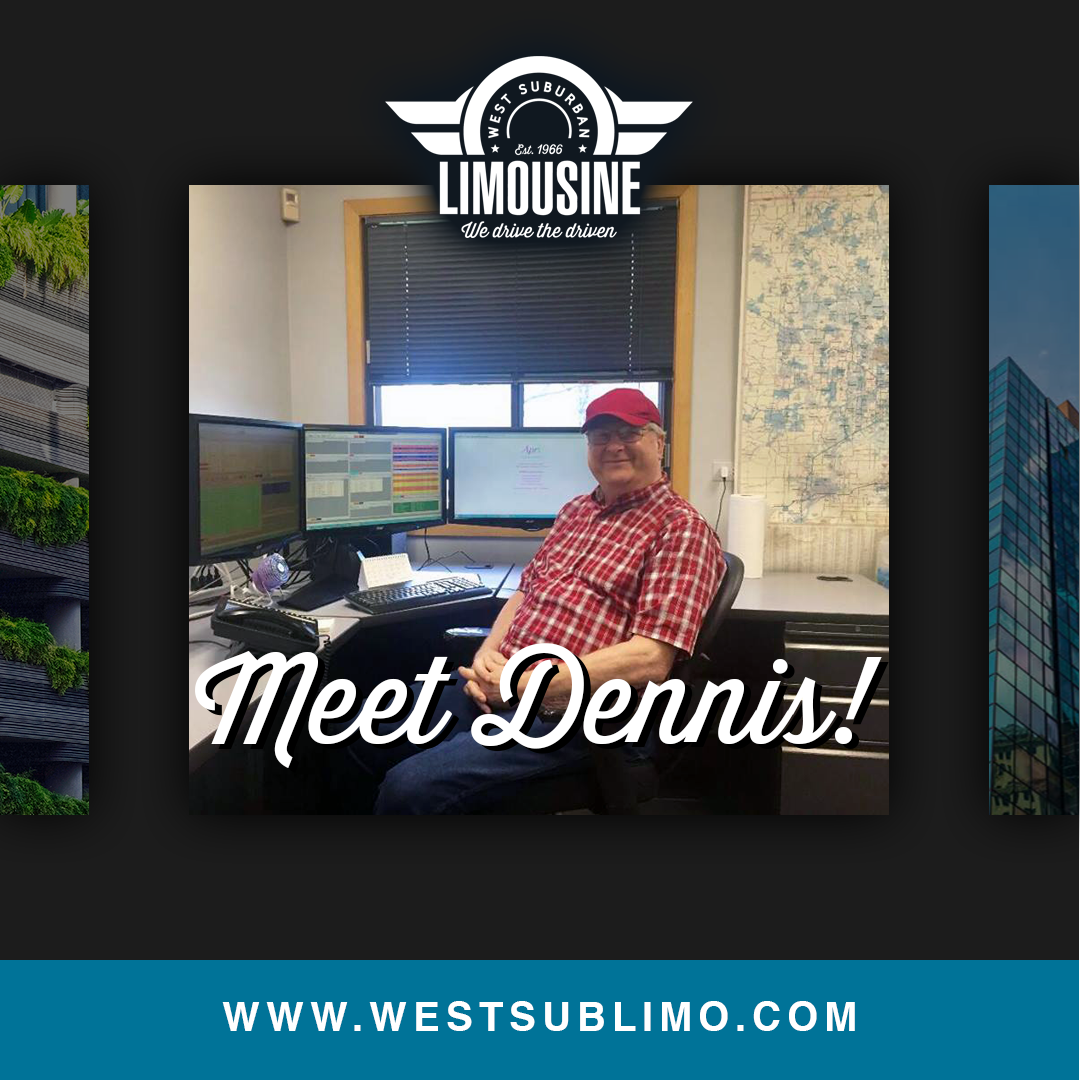 We take for granted how easy it is to book limo service to O'Hare Airport. A few touches on a smartphone, clicks on a computer or call to a dispatcher and a WSL private car, limo, SUV or executive bus is waiting for you.
Dennis Holte, who's worked for WSL since 1979, remembers when getting a limo at O'Hare was like living in the Wild, Wild West, not the gentile western Chicago suburbs.
Before mobile phones hit the market, dispatchers from a dozen competing limo services sat shoulder to shoulder at a booth on the arrivals level of Terminal 2 and 3 at O'Hare. Competition for passengers without reservations could be cutthroat. Holte, who generally worked the busy evening and late-night shift, remembers some scuffles.
"I never got involved, but sometimes if a guy was too aggressive with passengers, the other guys would take him in the hall and rough him up," said Holte.
Holte was more interested in developing a rapport with WSL's loyal customers.
"I got to know our frequent clients well," said Holte. "They'd come around the bend and I'd just shout out the numbers of their cars to them, then runners would come to grab their luggage and take them to their vehicles."
Holte was on a first name basis with the entire Chicago Cubs line-up and met celebrities like Jack Palance and Redd Foxx.
Police were always on hand to try to manage the chaos of the terminal, which often included con artists and prostitutes. Sometimes it didn't matter if you were minding your own business. If it got too crazy, the police would gather up everyone in sight and haul them off in paddy wagons, Holte included.
"It happened to me a few times, but there was no use in arguing with the police," remembers Holte. "It didn't matter if you were involved, or not. They just lined everybody up, escorted us to the paddy wagons and booked us all on prostitution charges at the Gale Street station house."
The police would typically hold the group for four or five hours "until they felt like we'd had enough, then let us go."
If Holte didn't pick up the phone, WSL office staffers quickly figured out what happened and scrambled to find someone else to staff the booth so customers weren't inconvenienced.
In 1985, WSL introduced an 800 number and moved Ohare limo service dispatch services to their office in the western suburbs. By then Holte had already added driving to his list of responsibilities, generally handling morning orders until about 8 a.m., then working dispatch until the late afternoon, followed by one more trip to O'Hare.
"We are so lucky to have Dennis on our team, " said Scott Simkus, WSL's vice president of operations. "So many of our customers know him by name because they appreciate the excellent service he's provided over the years as a driver and dispatcher."
In the nearly 40 years Holte has worked for WSL, he's always appreciated the integrity of the company's management team.
Holte says "I can always depend on our owners be honest and to do what they promise."
In his free time, Holte and his wife Barbara like to go to estate sales and visit antique shops.
"We like to buy and sell antiques, but mostly we just like to buy," said Holte with a laugh.
Challenging Ourselves to Always Do Better
Posted On: 05/02/2018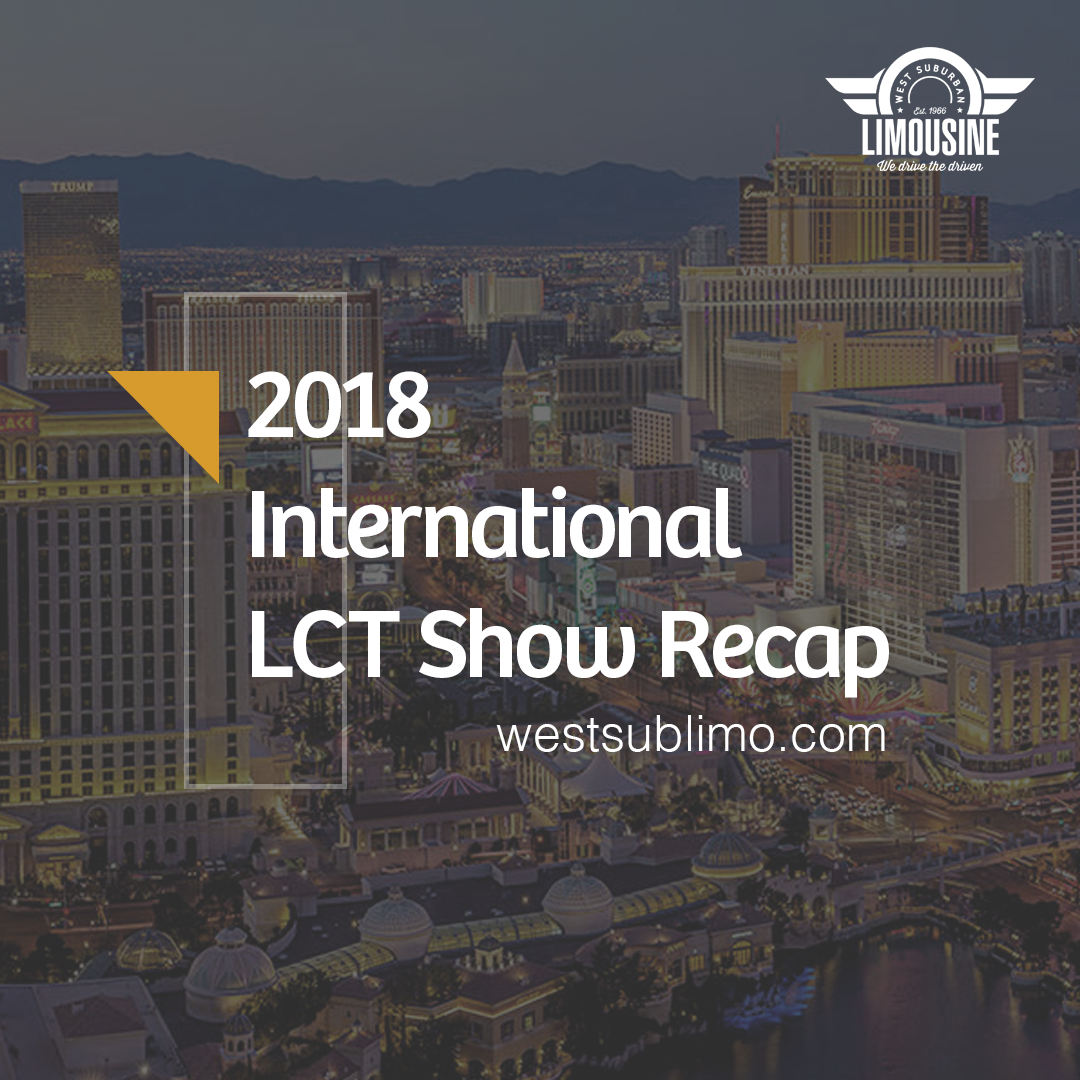 WSL has been around almost 52 years and we are still learning. The industry, and business in general, keeps evolving and it's important to stay on top of the changes in the world.
Recently, a few folks from WSL attended the LCT (Limo, Coach & Transportation) Show in Las Vegas. This was an exciting year as our firm was nominated for "Operator of the Year" in the largest company category, those with 51+ plus vehicles. We didn't win the award, but we were proud to have been considered along with some outstanding companies from around the country like Mosaic Global Transportation and Boston Chauffeur.
One of the reasons WSL is the best limo service in Chicago is that we challenge ourselves to always do better. While it's fun to attend a trade show in a warm location during the final dregs of a Chicago winter, we're there to soak up more than the sun.
A lot of the innovations we've implemented over the past couple years are inspired by presentations and information we gleaned from industry trade shows. In fact, we wouldn't have been nominated for "Operator of the Year" if we hadn't taken to heart some of the key principles we learned at the trade show.
This year, we looked at all the new sedans, stretch limousines and busses coming down the pike from all the major manufacturers and coachbuilders. We also spoke with insurance reps and tech people. Tech stuff is a huge part of the show, as the limo industry embraces apps, GPS and social media as part of its operations and marketing, just like any other business.
The buzz word at the show was "luxury" and the idea that we, as a Chicago limousine company, really need to focus on what separates us from taxi cab and Uber-type operations. We need to let the public know the differences: we have professional, full-time chauffeurs; newer, more luxurious vehicles; robust insurance coverage; excellent safety track records; personal service at the reservations, dispatch and accounting levels. Plus, we also have the technology people crave.
The nicest thing is that when you look at price, we're really not much different than the other car services in terms of cost per trip. But, the value we bring far exceeds the competition.
But, we're not resting on our laurels. We'll continue to look for ways to remain the best limo service in Chicago.
Limo Safety Doesn't Happen by Accident
Posted On: 04/23/2018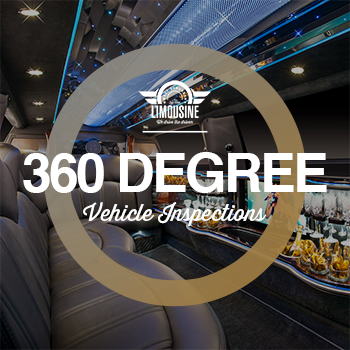 While every IL limo rental company is required by the state to inspect their vehicles annually, that's not good enough for WSL. We know safety is important to our clients, so every sedan, limo, SUV and passenger van in our fleet is checked at least three times per year.
The state inspection on a IL limo rental company focuses primarily on mechanicals such as brakes, lights and tires. Each of these items is critical to the performance of the vehicles. WSL digs even deeper during our internal inspections to make sure our high standards are maintained year-round.
We typically host our inspections in Spring and Fall. Every vehicle must be professionally detailed prior before it is examined by a two-person team against a very specific checklist:
Vehicle performance
- Are maintenance logs up to date?
- Are all mechanical functions operating properly?
- Are the tires in good shape?
- Do all the interior features work properly (radio, lights, charging outlets)?
- Are there straps in the trunk in case it needs to be strapped down due to unanticipated levels of luggage?

Appearance
- Are there scratches and/or dents on the vehicle?
- Is the interior in good shape?
- Does the vehicle smell fresh?
- Are the floor mats clean?
- Are there any chips or cracks in the windshield or side windows?
- Is the trunk clean?

Driver performance
Equally as important vehicle inspections are twenty-minute one-on-one sessions with all chauffeurs.
- What can we learn from client feedback received via online surveys, incoming phone calls and emails?
- Where are drivers excelling?
- What opportunities are there to improve customer service or driving habits?
After meeting with the drivers and going through the cars, we create a "to do" list of repairs and improvements for each vehicle.
Spring Inspections Set for Early May
Our upcoming Spring inspections scheduled for May 1-3 are especially important to assess damage from winter driving. With all the snow and ice during the course of the season, we pay special attention to the inside or the vehicles to make sure leather seats and floor mats are maintained.
Unannounced Spot Checks
WSL professional drivers know their vehicles may be inspected at any time because we also do random spot checks throughout the year. Sometimes we do surprise inspections at the airport in the lot where the chauffeurs park. Whenever a customer brings something to our attention, we immediately call the vehicle/chauffeur into the office for an impromptu investigation.
To remain the best IL limo rental company, we want all WSL vehicles to be safe. We want our customers to enjoy the experience of being inside a luxury vehicle. We want our chauffeurs to excel. Making sure every vehicle and driver is a peak performer is an effective strategy to keep WSL on top for more than 50 years.
I Love Downers Grove! Clients Reveal the Best Things to Do in Their Hometown
Posted On: 04/16/2018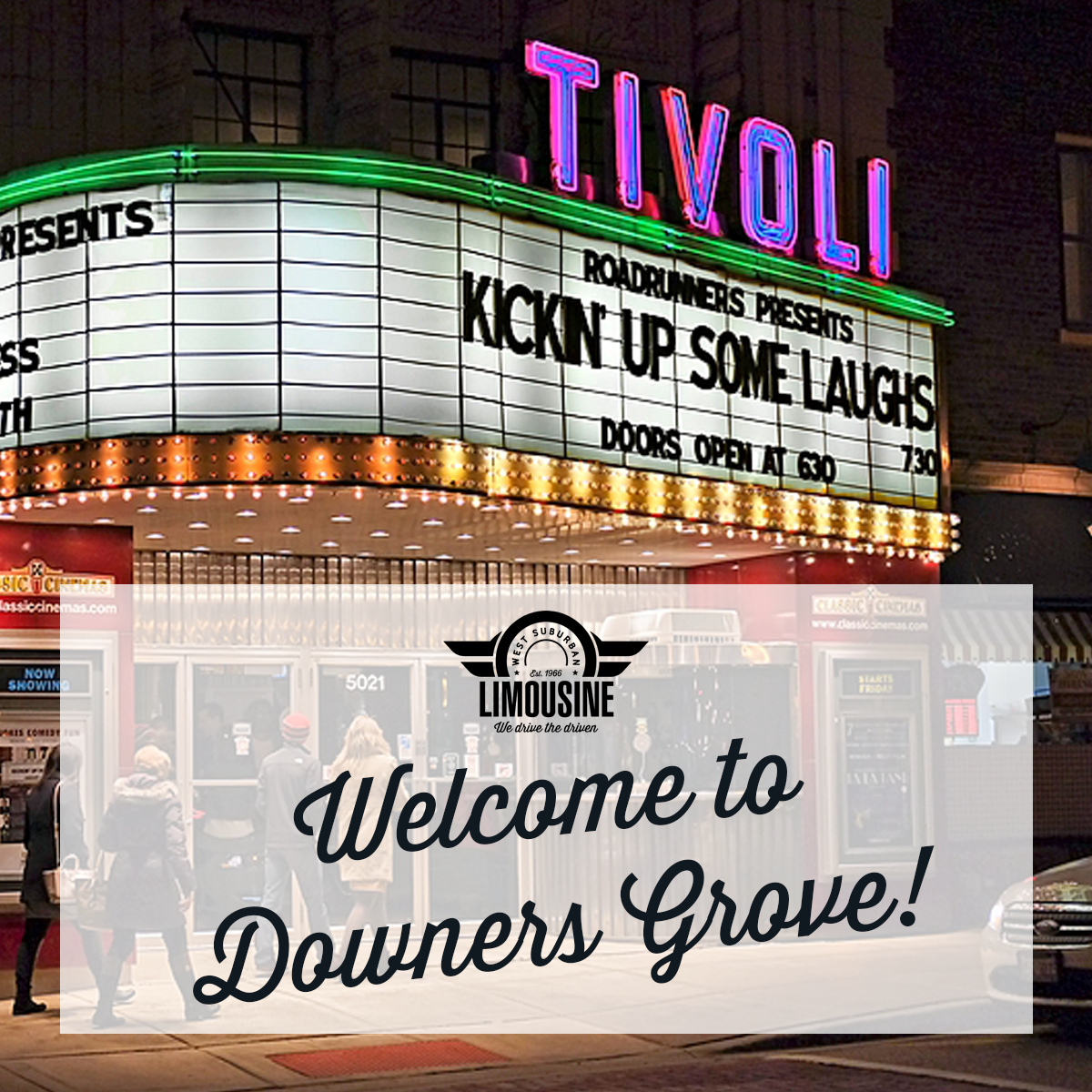 For more than 50 years, WSL has provided Downers Grove limo services to the residents and out of town visitors. While riding in one of our luxury sedans, SUVs or limos, they often share favorite places to go and things to do in their hometown…and our drivers took notes.
Check out this list of fun events, restaurants, shops, theaters and bars in Downers Grove recommended by the people who know best.
- Alter Brewing is in a fun little industrial area by the Belmont train station. TIP: the logo looks the same viewed upside down.
- Berto's Deli & Pasta Shop is a family-owned restaurant. One client, that we previously provided a Downers Grove limo service to, reports that Berto's "has wedding soup just like my grandmother used to make."
- Capri is a favorite on Thursday nights for $5 martinis. We've heard the strawberry basil is a favorite.
- Caribbean Corner is another family run place that locals flock to for awesome island-inspired food in a casual setting.
- Cellar Door is a little wine shop with a wide variety of options that comes up in almost every conversation. You can select any bottle off the shelf and enjoy it right there. They'll even package it to take home if you don't finish the whole bottle.
- Dan's Pizza is highly recommended for the best carry out thin pizza.
- Emmett's Brewing Company has more than just great brews. Check out the inventive burgers and tasty salads.
- Every Day's a Sundae hits the spot when you need an ice cream fix.
- Fishel Park is the site for the annual art show and craft show. Every Tuesday night in the summer it's the setting for a free concert enjoyed while sitting on the lawn.
- Gatto's Restaurant & Bar is an often-mentioned Italian restaurant that is a great place to take the family.
- Friday Night Car Show takes place every Friday night in the summer from Main St. to Maple St.
- The Happy Dog Barkery whips up homemade treats for your pooch including doggie muffins, party cakes or cookies and summer stew with chicken and peaches. One client told us he accidentally ate one of the muffins and it was great!
- Knitche is the crème de la crème of all knitting shops. Learn a new technique, sit down and relax on Thursday knit night and enjoy a beautifully made latte.
- Los Dos is a small, unassuming Mexican restaurant in a strip mall with addictive, fresh-made fare.
- Mia's Cantina is the place to go for upscale Mexican food as imagined by Chef Esteban Aguado who studied with Rick Bayless. Don't miss the tequila bar! The next time you take your Downers Grove limo service, be sure to swing by here!
- Roundheads Pizza is a great place to catch a ball game on multiple screens. The margarita pizza gets a special shout out.
- Tivoli Theatre is the place for $5 movies and free popcorn refills. Every December they screen "It's a Wonderful Life" and the place is packed.
Top 5 Tips to Make Sure You're Prepared for a Morning Flight
Posted On: 04/09/2018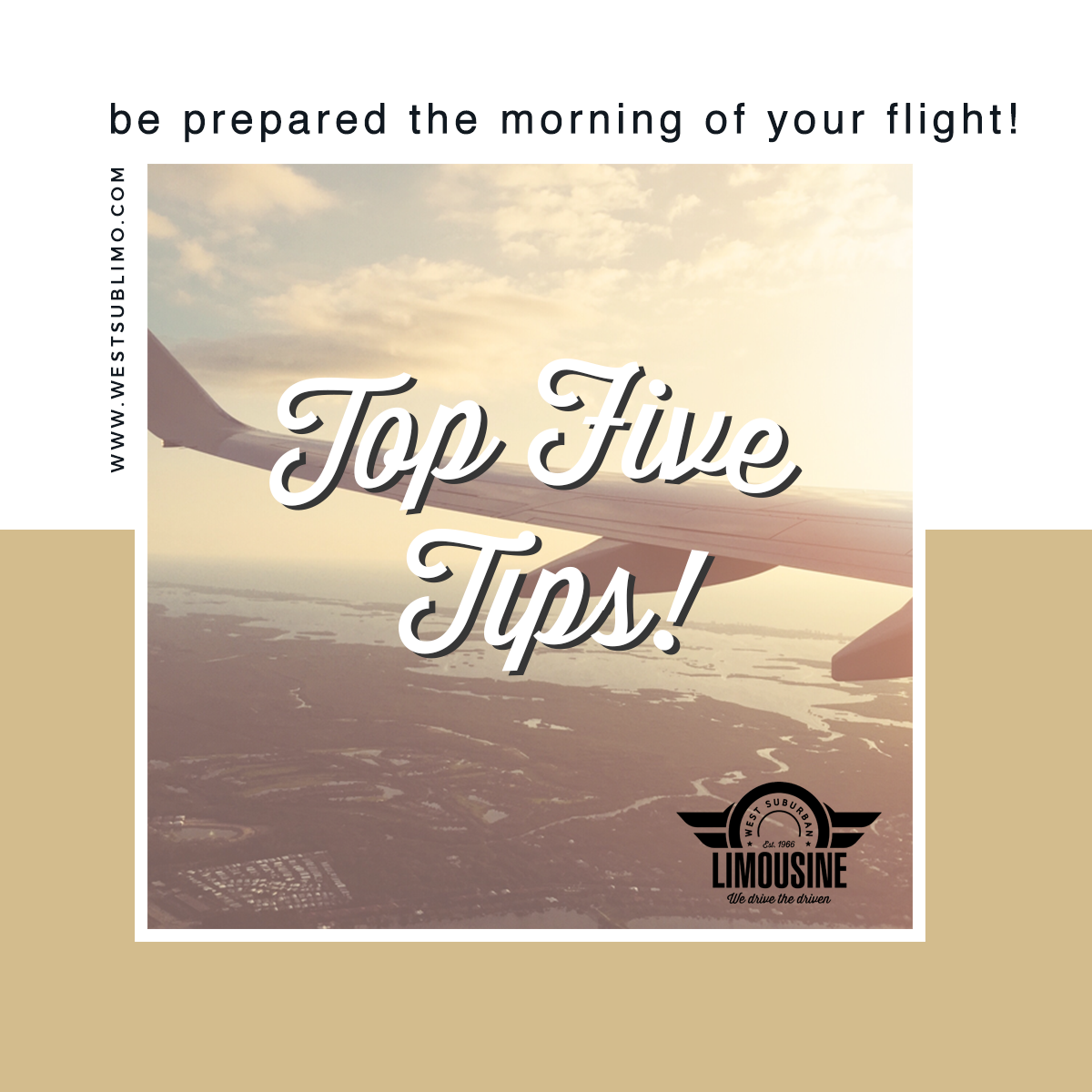 WSL drivers give their best advice learned from thousands of trips to the airport.
When it comes to getting clients to the airport for morning flight times, WSL professional drivers have seen it all. In the scramble to get out the door, lots of crazy things can happen that can eat into the time needed to battle traffic and arrive on schedule at O'Hare or Midway.
Check out WSL drivers' list of top 5 tips to make sure you get to the airport on time in the a.m.:
1. Book Limo Service to the Airport in Advance
As soon as you book your flight, it's also a good idea to reserve your limo. WSL is especially busy in the mornings whisking clients to the airport. We recommend calling or booking online at least 24 hours before you need to leave. The earlier you book the more likely you'll be able to reserve the type of vehicle you want.
2. Set Two Alarms
Nothing gets your day off to a bad start more than waking up to the sound of your limo driver ringing the doorbell at 5 a.m. Unfortunately, it happens all the time. We recommend setting two different types of alarms (clock and mobile phone) to make sure you're able to jolt your body out of its normal schedule so you have plenty of time to get ready.
3. Pack your Bags the Night Before
See #2. If your suitcase is packed the night before except for final items, you're in much better shape if something happens to throw off your schedule.
4. Have a Checklist…and use it.
We often hear riders exclaim halfway to the airport, "shoot, I forgot my [fill in the blank]. We recommend creating a list of items needed while traveling and checking it off before leaving the house. Based on experience, we're certain phone chargers are big sellers at the airport. And even in our digital world, boarding passes and passports often get left behind.
5. Check the Vehicle Before Getting Out.
It's a good idea to look around the vehicle and even swipe the seat with your hand before unloading at the airport. Mobile phones, wallets, keys and other small dark items have a way of slipping out of pockets without their owners' knowledge. Our drivers are trained to scan the vehicle before they depart the drop off zone, but it's best to make sure you have all your belongings before grabbing your suitcase and heading into the terminal.
Morning always arrives before you're ready. Follow these 5 easy tips and you'll get the airport in plenty of time.
Parents of Teens…This Blog Post is for You
Posted On: 04/02/2018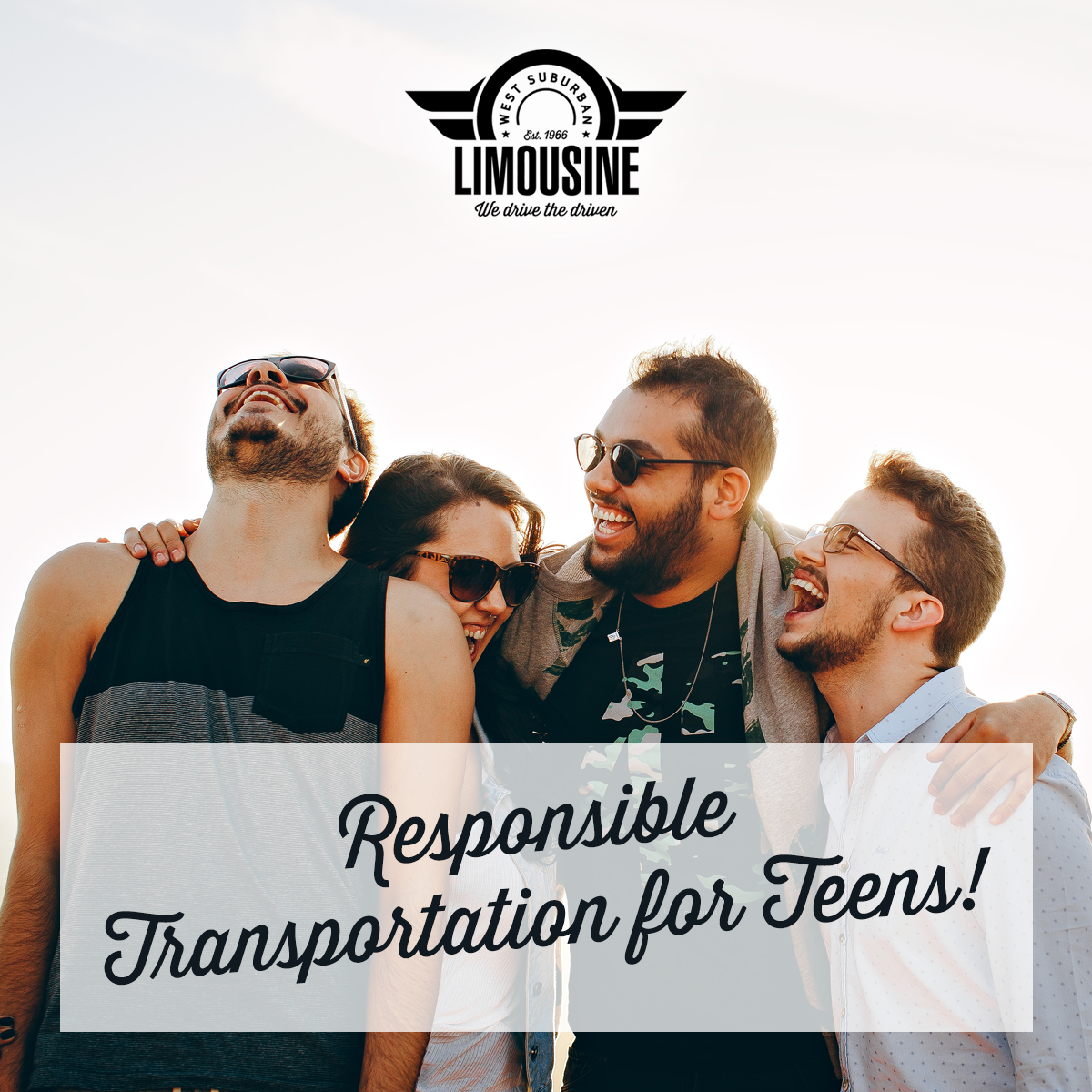 How to get your kids to and from big events without worrying about their safety.
Psst…hey, parents of teens. We have something to tell you. Can you keep it on the DL (that's "down low" for those of you that don't know your kids' Internet acronyms)?
WSL has been a limo service Chicago area provider for more than 50 years. That's quite a few generations of teenagers. While youths' hairstyles, fashion and music have changed dramatically a few times during those decades, one thing stays the same. Teens want to take advantage of all the fun events going on in Chicago and parents worry about their safety.
Let's face it. Teens don't always make the best decisions. They just learned how to drive and getting around and parking in Chicago can be tricky. Taking the train is an option, but your kids still need to get from the station and back in unfamiliar neighborhoods, often late at night. Eliminate the worry and book private transportation instead with the limo service Chicago area by WSL.
No Partying Policy
Unlike what you see in some movies, there is no partying for minors in WSL limos. We're very strict about our policy. No alcohol. No drugs. No deviations.
We require all teens and their parents to sign a waiver that clearly outlines the guidelines. It's a great way to set the rules for kids so everyone knows how to behave. It also gives you a nice peace-of-mind that just because parents aren't around, there's still an adult monitoring what's going on.
Lots of Vehicle Options
Our drivers have lots of experience getting groups to and from Grant Park for Lollapalooza, Huntington Bank Pavilion at Northerly Island for Country LakeShake, and both major league baseball fields. Our drivers have experience with smaller venues like the Aragon, Metro and Ravinia.
We know teens travel in packs for big events. WSL has a late-model luxury vehicle for any size squad. Pick from an SUV, stretch limo or our new Mercedes-Benz Sprinter van.
For teens, arriving in style in a limo at a concert or event can add to the fun. For parents, it's great way let your lets kids branch out a bit while still ensuring you have some control over their transportation. But, they don't need to know that part. We'll keep your secret.
April is here and you know what that means: BASEBALL!
Posted On: 03/28/2018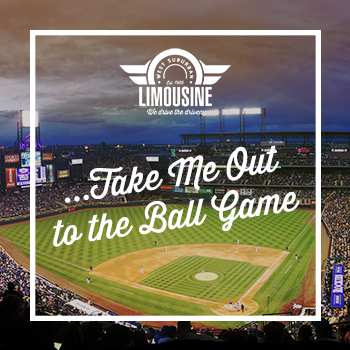 The home openers for our beloved Chicago, IL baseball teams are just days away…April 5 for the White Sox and Kane County Cougars and April 9 for the Cubs. Until then, all teams are undefeated, and anything is possible in the pursuit of the playoffs.
Have you put together your game plan to enjoy a few games? It's a great time to use a car service in Chicago IL to get to and from the ball fields and leave the driving to a professional designated driver.
Car Service in Chicago IL: The Whole Gang Gets to Have Fun
When you ride with WSL, the fun starts the second you get in one of our luxury vehicles. For our car service in Chicago IL, pick from a stretch limo, SUV, sedan or even our new Mercedes Benz limousine bus service for a larger group. Everyone gets to have fun because no one has to deal with traffic, parking or fighting the crowds on the El.
Enjoy the Neighborhoods
You're also free to get the most out of game day by exploring the neighborhoods around the ballparks before and after the game. Just let your driver know when and where you want to be picked up.
Wrigleyville – The home of the Chicago Cubs is one of the most famous neighborhoods in the country. You can't throw a baseball without hitting a sports bar like the Cubby Bear, Murphy's Bleachers or the Goose Island Brewery. Grab some dinner after the game at one of the area restaurants, then dance the night away at the Metro, Smart Bar or Exedus II. Plus, the next phase of renovations to Wrigley Field promises some new concessions and an American Airlines 1914 Club for the 2018 season.
Guaranteed Rate Field – The home of the Chicago White Sox on the famous South Side saw some serious upgrades to its in-park food and beverage offerings. With you car service in Chicago IL to Guaranteed Rate Field, make sure to arrive hungry and thirsty. New menu items include a 16-ince brisket mac & cheese grilled cheese sandwich and a Southside Burger that features two hamburger patties, Italian beef, provolone cheese and giardiniera. Wash it down with a selection of more than 70 craft beers. After the game, enjoy the great bars in Bridgeport like Bernice's Tavern (everyone's favorite dive bar) or Maria's Packaged Goods & Community Bar (where the chandeliers are made from beer bottles). Still hungry? Check out Pleasant House Bakery for their famous individual pies stuffed with savory fillings, or 35th Street Red Hots for beefy Chicago-style dogs and extra-crispy fries.
Geneva, IL – Head west to catch our favorite minor league team – the Kane County Cougars located in beautiful Geneva. Check out All Chocolate Kitchen's Primo for an upscale, yet relaxed dinner. Or head to Galena Cellars in downtown Geneva for a taste of local wines. Or if beer and spirits are more your style, head to the Fox River Distilling Company, the first legal distillery in Kane County since prohibition.
Heading to a baseball game is just the beginning of the fun when you get there in a private car service. Make sure to call WSL, we're all-stars when it comes to private car service in Chicago IL to and from sporting events.
Naperville: What it Means for WSL to be Part of the Community
Posted On: 03/26/2018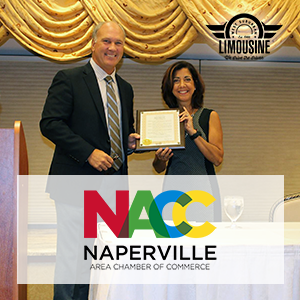 WSL sits down with Nicki Anderson, President & CEO of the Naperville Chamber of Commerce
WSL is a Chicago limo service and has been in business for more than 50 years. We make making sure clients from all over the western suburbs of Chicago have reliable transportation for special events, business events and limo service to O'Hare and Midway. Our Naperville limo service has been a big part of that. We love getting involved in the communities we serve by supporting charitable events and chambers of commerce.
We've been a member of the Naperville Area Chamber of Commerce (NACC) for more than 20 years. For the past five years, it's been our pleasure to work closely with Nicki Anderson, president & CEO of NACC. Like us, Nicki knows what it's like to operate a small business. She previously owned an award-winning personal training studio called Reality Fitness Inc., as well as a thriving career as a freelance writer with a focus on business management and customer service.
We recently sat down with Nicki for a conversation about what role community involvement plays in running a successful small business.
______________________________________________________
WSL: What's one piece of advice you give to all small businesses?
Nicki Anderson: Community is what makes you successful. You need to figure out how to contribute in meaningful ways to improve the lives of the people in your community. It's about building trust through relationships with residents, other businesses and local influencers like the chamber of commerce, philanthropic organizations and city officials. I call it "give to get." WSL is a good example of a company that understands this philosophy. Their management team is always reaching out, getting to know people and figuring out ways to help, not just handing out business cards.
WSL: What role does customer service play in the success of a small business?
NA: You must be passionate about customer service in a genuine way. You can talk about a commitment to customer service, but if you don't follow through with actions, people figure it out pretty quickly. I find that when customer service is infused into the culture of a business, it filters down to everyone on the team, even when the owners aren't around.
WSL: How has the role of chambers of commerce evolved?
NA: Gone are the days when a chamber of commerce is thought of as a good ol' boys club. At NACC, we focus on how we provide value to our members in relevant ways. That includes offering continuing education opportunities, professional speakers and networking events. One of my favorite things to do is help establish power partnerships between members who otherwise might not have met.
WSL: How can small businesses benefit from membership in a chamber of commerce?
NA: I like to make a parallel to my days in health and fitness. It's easy to join a fitness center and pay your dues. But if you don't take advantage of what the fitness center offers, you're not going to see results. The same is true for membership in a chamber of commerce. If you get involved and use the resources we offer to work on your business, that's when the magic happens. We can help you make connections in the community to grow your business and find ways to give back.
WSL: How should members engage with a chamber of commerce?
NA: I appreciate it when members reach out and let us know what's going on with their businesses. Has anything changed? How can we help? What do you need?
If you take time to update me, you'll always be top of mind when other members ask me for referrals. For example, WSL is a huge supporter of NACC and keeps us up-to-date on what's happening. It's a win-win relationship for both of us. Because I trust them and understand their value proposition, I'm happy to share the love and send business their way. I travel frequently and regularly call WSL for private transportation. I'm always pleased with the service I receive and can provide feedback to the WSL management team about my experiences.
For more information about the Naperville Area Chamber of Commerce, click here.
Meet Bruce McDermott, Professional Chauffeur
Posted On: 03/19/2018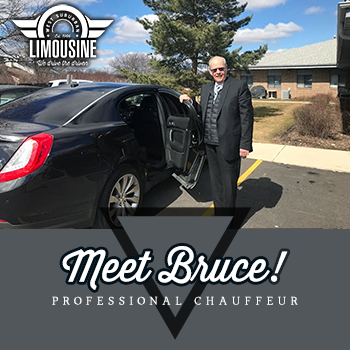 Long-time customer turned valued team member.
In his career, Bruce McDermott has been a corporate recruiter, a field sales rep and a small business owner. But, somewhere in the back of his mind, he had an inkling that what he'd really like to do is drive for a private car service in Chicago. When the time came for him to take the leap of faith and purchase a town car, he chose the company that had been his service of choice for a number of years: WSL. We're so fortunate he did.
For almost 20 years, Bruce has been the go-to driver when senior executives from Fortune 500 companies in the Chicago-area need top-notch transportation. Maybe it's because of Bruce's business experience that he gels so well with folks who know how to get things done.
"I've always been a person who expects and enjoys getting great service whether it's at a restaurant or getting tires changed," says Bruce. "So, I provide the type of service I'd want for everyone that I drive. Whether going on vacation or a business trip, I want your experience to start out and be great so the rest of your day can be great."
For Bruce, that means paying close attention to what clients want. Do they want to chat, look at their phones or take a nap? What will make them most comfortable?
Part of the Team
Bruce especially likes driving for corporate events. He knows that the WSL team are working together and coordinating the arrangements to make sure it's a great experience from beginning to end.
"If you consider it's a circle starting with reservations, then dispatch to drivers and back, as a team we can create such a positive experience for customers," said Bruce.
During his tenure at WSL, Bruce has had a hand in making sure all drivers are living up to his standards as a trainer. He focuses on instilling the policies and procedures WSL expects from its private car service chicago professional drivers. This includes advice based on his experiences as both a client and a chauffeur.
Looking Forward
Bruce is especially excited about the new WSL app that will make it easy to communicate with clients and meet their needs, particularly for early morning pick-ups.
"A lot of executives need to get to O'Hare or Midway for early flights so a pick-up time of 4 a.m. is not uncommon," said Bruce. "The new app will enable me to text clients when I've arrived so I don't need to ring the doorbell and disturb their families. God's not up yet, why should they be?"
The new WSL app enables clients to make a reservation and track where the WSL private car is in its journey. Drivers just hit the "On Location" button to let clients know they are in the driveway.
Punctuality is paramount for Bruce, so clients know to expect him about five minutes before the scheduled pick-up time.
Bruce cites WSL's commitment to doing what's best for the customer as one of the reasons he works for them. He says WSL has earned its excellent reputation by being fair to drivers and treat customers right. He thinks innovating with technology is key to serving customers going forward.
Lessons Learned
Bruce is a native of west suburban Chicago. He lives in Winfield with his wife and attended Elmhurst College. He finds his knowledge of the area beneficial because he knows lots of ways to get to the airports plus all the major geographic points and crossroads which makes getting people home a lot easier.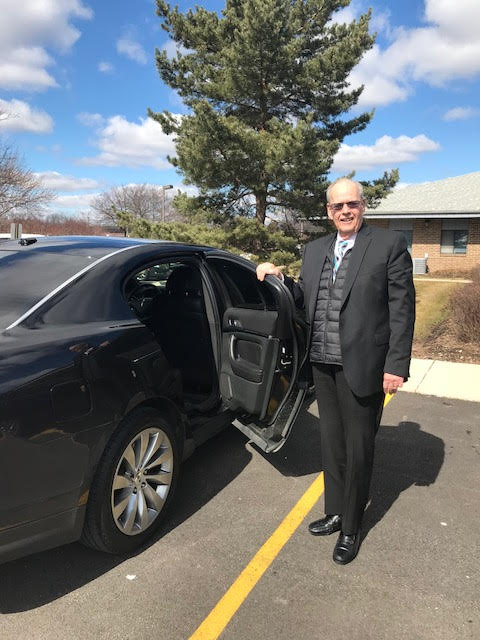 He misses the 1997 Lincoln Continental Towncar he had when he first started at WSL because they were "like a living room on wheels." Over the years he's owned many sedans for which he hired and trained a number of drivers.
Bruce finds if customers do want to talk, conversation often turns to grandchildren, one of his favorite topics. But don't call Bruce "grandpa," he goes by "Abu," the name bestowed on him by his first granddaughter, which was quickly adopted by his three sons and their wives. He now has eight grandchildren and loves that his WSL schedule enables him to spend lots of time with them.
If you'd like to book Bruce for private car service in Chicago, contact us at 630.668.9600 or online and ask for driver #124. You'll be glad you did!
Do You Trust Your Private Car Service?
Posted On: 03/12/2018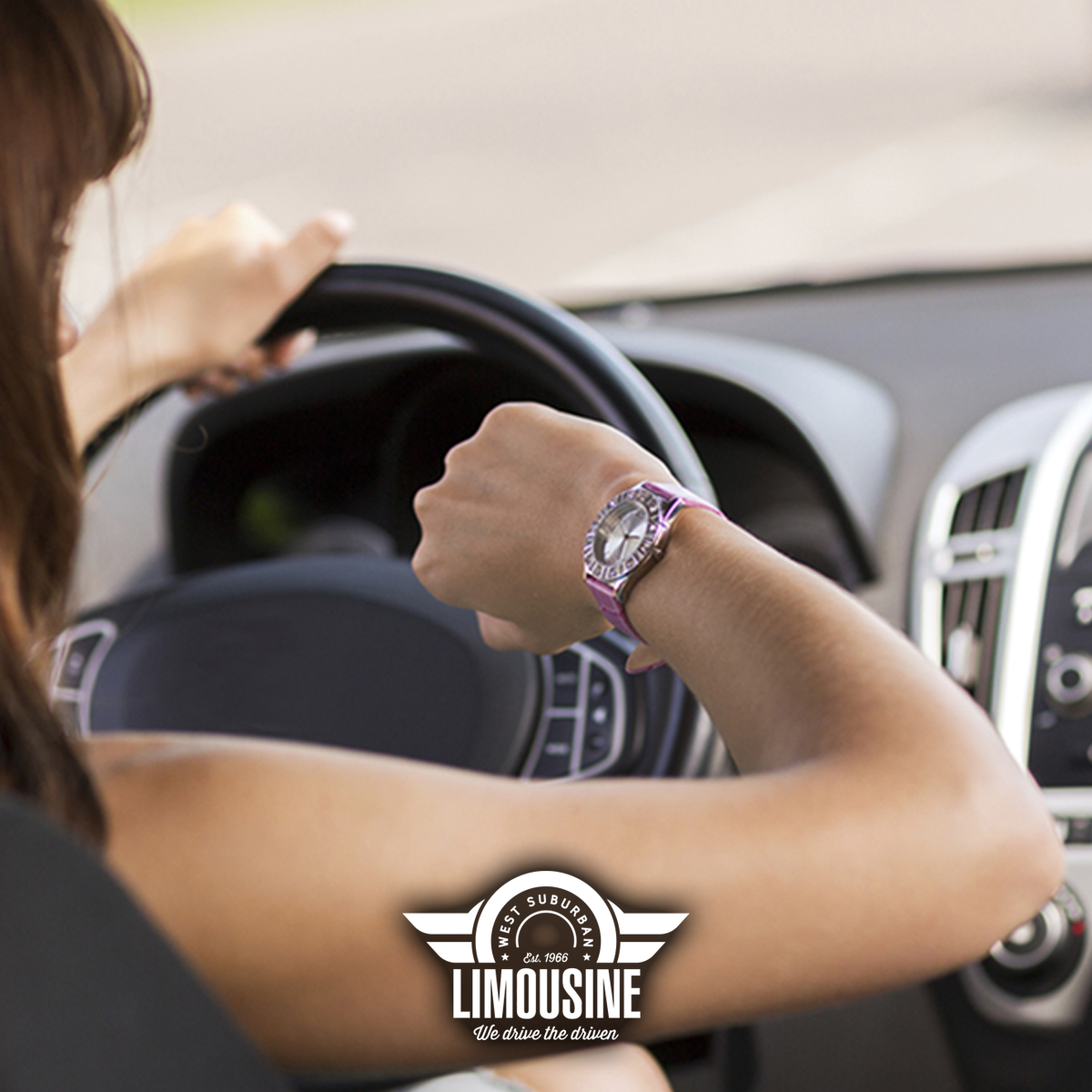 WSL saves the day when teenager forgets ID
If there's a teenager living in your house, this conversation may sound familiar:
Mom: "What do you want to do first when we get to the resort?"
Daughter: "I'm heading to the beach. I don't care if it's late. I want the beach."
Mom: "I hope the flight's not too bumpy. You brought your driver's license, right?'
Daughter: [blank stare]
Mom: "Sarah, you have your ID, right? You need it to get through security."
Daughter: "MOM, no I don't. It's fine. I know what I'm doing."
Mom: "Oh no. Mike, Sarah didn't bring her ID and we're halfway to the airport."
Daughter: "What are you talking about? No one told me. I left it on the dresser in my bedroom. Are we going to miss our flight?"
Dad: "Sarah, I told you a million times to bring your ID. If we miss our flight to Miami, we miss the connecting flight to the island!"
Don't worry. This actual story about a family in transit in a WSL limo to O'Hare from Naperville has a happy ending. Enter a new character, our hero…the WSL professional chauffer and private limo driver.
WSL professional chauffer: "Excuse me, I think I can help. Let me call dispatch and see if we have a driver near your house. If there's a way for him to get in your house, he can grab the ID and meet us at O'Hare."
Long story short; Sarah came home with a sunburn and the family is forever grateful to WSL for the extra effort.
Above and Beyond
Even with the best intentions, something can go astray when you're heading out of town. WSL drivers are trained to ask customers if they have everything they need before departing from their homes and at the airport.
On occasion, phones, chargers, keys, passport and IDs get left behind. That's why it's important to work with a trusted private Chicago chauffeur car. What would Sarah's family have done if they'd taken a taxi or ride-share service? In addition to missing the flight, they'd have wasted a lot of money and time rebooking air travel and making arrangements with the resort for late arrival.
Because they booked with WSL, they trusted us to fix the situation. Our firm has been in business for more than 50 years and takes customer service very seriously. It's in our best interest to do the right thing.
Make sure your special limo to O'Hare or Midway has a happy ending and book with WSL.
No Surge Pricing: You Deserve Better
Posted On: 03/05/2018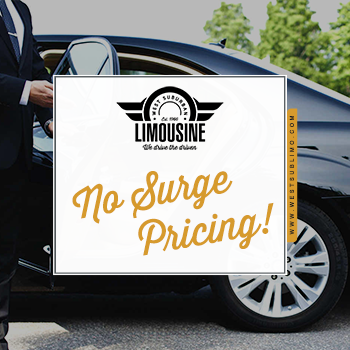 Why WSL doesn't upcharge when demand is high or the weather is bad.
What's the old saying? If you don't like the weather in Chicago wait a couple of hours and it will change. That was certainly the case recently when a dense fog descended over the south side of Chicago in a matter of minutes. Midway Airport was forced to cancel all flights for the rest of the day because visibility was so bad.
So many of WSL's clients rely on us for a reliable Midway Airport car service. When we received the alert about the standstill at the airport, we immediately jumped into action with a well-rehearsed plan.
Our dispatch team quickly informed all of our professional limo service to Miway drivers to stay nearby. We were able to connect with customers who had recently been dropped off and bring them home.
We viewed the situation as an opportunity to serve our customers when they needed us most. Ride-sharing services like Uber and Lyft seized on the bad weather and high demand for rides as a chance to add ridiculous surge charges to their fees, doubling or tripling their base rates. According to an article in Fortune,
"Surge or dynamic pricing are methods Uber and Lyft uses to incentivize more drivers to take to the roads when rides are in high demand—for example, during sporting events, holidays, or inclement weather. Prices are algorithmically determined and can vary by neighborhood or time."
Respect for Customers
WSL has been in business for more than 50 years. We're loyal to our customers, and in return, they always know what to expect from us. That means flat-rate pricing with no hidden fees (for expenses like tolls) or surge pricing when the weather is bad. You know the rates for our limo services before you head to O'Hare or Midway or anywhere in the Chicago area.
That same day, we received a few calls from customers at Midway who were dropped off at the airport by a loved one or other means of transportation. Because all our drivers were already engaged, we gave them a realistic wait time of how long it would be before a car could return to Midway for them – 1 ½ to 2 hours.
Every single customer said OK. Because of our long-standing relationships, they knew we were giving them a realistic estimate and would stick to the pre-established reasonable rate. They were happy to wait a bit longer to be taken home by a professional driver trained to handle a variety of weather situations.
No surprises. Courteous service. Reliable drivers and vehicles. Fair prices. That's what customers deserve and what they get from WSL.
Wait 'Til You Hear What's Happening To Us In Vegas!
Posted On: 03/01/2018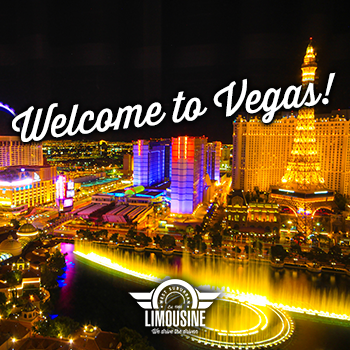 WSL has been nominated for Operator of the Year at the International Luxury, Coach & Transportation Show
Sometimes what happens in Vegas should not stay in Vegas. Especially when WSL is one of only five private transportation companies nominated for Operator of the Year in the 51+ vehicles category by LCT Magazine, the leading trade publication in the industry. It's a big deal! There are more than 12,000 limo companies in the United States alone. We're thrilled to be recognized as a top-tier provider. Plus, we're the only limo service from the Chicago area on the nomination list.
Competition for the award is fierce. Operators need to show dedication and progress in five key categories:
Safety
Community
Customer Service
Training
Technology
For WSL, the nomination is very gratifying. Customer satisfaction is at the heart of every decision we make. We're very focused on continuously improving in each of those five categories. The award nomination recognizes all our hard work to be the best limo service in Chicago and the western suburbs.
The Operator of the Year Awards Celebration award ceremony is Tuesday, March 13 at the International LCT Show 2018. Attendees from around the globe descend on the Mandalay Bay Resort & Casino for this premier industry event.
WSL attendees are looking forward to attending sessions and walking the show floor. We always get great ideas for how to improve customer satisfaction while learning about advancements in technology and the coolest new vehicles. Then we come back to Chicago and incorporate those learnings into the day-to-day operations of WSL. For example, after attending the show in 2017, we added a Mercedes-Benz Sprinter Van to our fleet to better serve the needs of our corporate clients and other large groups.
We can't wait to tell you what big ideas will come our way this year and hopefully bring home some new hardware for our trophy case.
Make Your Spring Break Reservation Now & Save
Posted On: 02/23/2018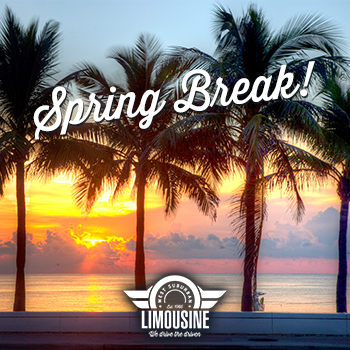 Spring Break is just around the corner. It's a chance to escape the final days of winter for some fun in the sun or on the slopes with family and friends.
While the goal is fun and relaxation, let's face it, planning for Spring Break can be a bit stressful. Most people book their flights, lodging and entertainment packages way in advance to make sure they get what they want. It's just as important to book your transportation to and from the airport or risk getting left out in the cold.
March is always the busiest month for WSL with our usual mix of corporate and private reservations combined with the addition of Spring Break transportation. That's why we recommend booking early to make sure you get the right vehicle for your needs at the time you want.
Heading out of town with the family means lots of people and luggage. Whether you book online or through our reservation line, make sure you tell us what size car you need. We'll make sure your trip – and your luggage – get off to a great start. Unlike a taxi, in a stretch limo service everyone sits comfortably sharing the anticipation of what's to come or recounting the great memories that were made.
WSL manages a fleet of 25 SUVs, 10 stretch limos and a corporate shuttle van. So, no matter how many are in your party or how many bags are making the trip, we have a luxury vehicle in our fleet to accommodate everyone and everything.
Book now and WSL will take $5 off your private ride. Simply use Coupon Code: BL-Spring18.
Leading The Way For More Than 50 Years
Posted On: 02/18/2018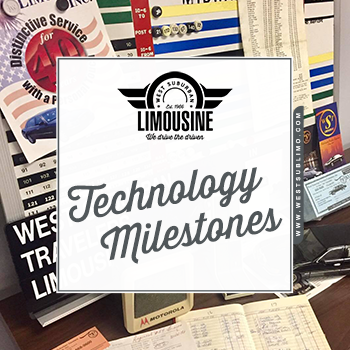 WSL service has been a leading provider of limousine services in the Chicago-area since 1966. Our focus for the last half-century has always been on providing clients with timely and professional service at a fair price. The company began with only four cars, but now manages a fleet of over 100 vehicles including luxury sedans, stretch limousines, SUVs and a Sprinter executive van.
Not only are we a leading limousine service in the Chicago area, we're also recognized as a leader in our field by industry publications such as Luxury Coach & Transportation and associations. In fact, managers of WSL were founding members of the National Limousine Association and Illinois Limousine Association.
As we continue on for the next 50 years, you'll see a continued focus on innovation. We're always striving to take advantage of advances in technology to make it easier for our customers to reserve rides and get great customer service.
Timeline of Major Milestones:
Take a look as we stroll down memory lane from the very beginning with some of our key milestones!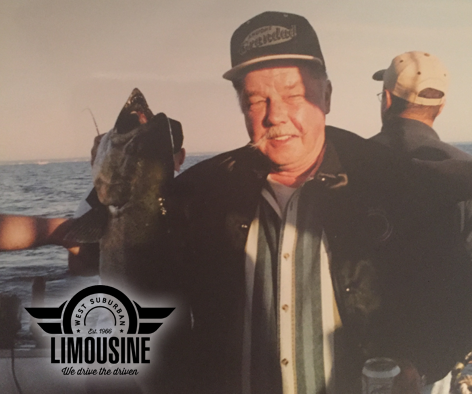 1966 – WSL is founded by Ray Hiltunen and Bert Homan.
(Pictured to the right is owner, Ray Hiltunen)
1981 – WSL began accepting MasterCard and Visa in cars to make it easier for corporate clients to complete their rides. Prior to that, it was cash only.

1983 – Acquired a toll-free number to lower the costs for clients in Illinois to make reservations.
1984 – Remember when 800 numbers didn't have a nationwide reach? Acquired a 1-800 toll-free number for clients based outside of Illinois.
1985 – Purchased the company's first six computers - MIA Basic IV 2000s – and began transitioning from a paper management system.
1987 – Joined the Illinois Limousine Association (which was founded by the owners of WSL) to help shape the direction of the industry in Illinois. One of the managing presidents of the Illinois Limousine Association was also a manager of WSL.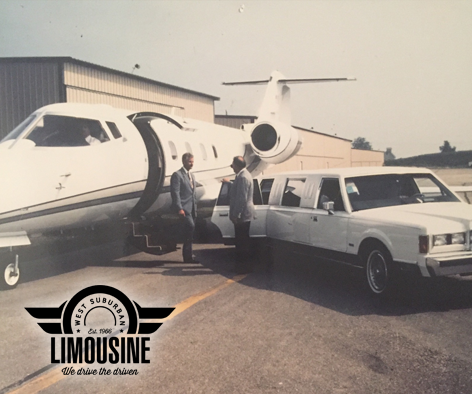 1990 – Moved from Carol Stream to our current location in Winfield to accommodate our needs of our growing staff.
1997 – Launched WSL's first website so our customers can find us online.
2000 – Deployed a second high-speed TI broadband line to support our growing online presence and computing needs.

2012 – Relaunched a new WSL website with a fresh look and ability to make reservations online.
2016 – Introduced the "Rate My Rate" quick five-question survey after every ride. Input from clients tells us what we're doing right and where we have opportunities to improve.
2017 – Rolled out a new texting feature that enables WSL to greet clients when their flights arrive and let them know where to find their private cars.
2018 – Coming soon – we're introducing a new mobile app to make it easier to book reservations, track the location of your car and complete payment.
Meet Sheryl Lesko: WSL's Corporate Limo Transportation and Special Events Coordinator
Posted On: 02/11/2018
"Details, I love details."
If you have a special event coming up and might be needing to arrange corporate limo transportation, you're going to want to talk to Sheryl Lesko. For more than 25 years, she's been the go-to person at WSL who makes sure all the I's are dotted and T's crossed for private transportation arrangements for corporate events, weddings, proms, anniversaries, homecomings, concerts, sporting events and so much more.
Sheryl takes her role as WSL's special event coordinator very seriously. She knows that the services WSL provides play a big role in the memories created on special days.
"My goal is to make customers as happy as possible," said Sheryl, "That's what they want and deserve."
It's not unusual for Sheryl to get calls or emails from happy customers a few days after their special event thanking her for meeting their needs and complimenting the professionalism of their drivers. Here is one happy review of many that Sheryl has received over the years!
"When i called this company to see if it was possible for my entire family to travel together in one vehicle to [a] wedding, they not only agreed to accommodate our plan, they considered all options to find us their best price. We wanted our 3 families to each be picked up at their homes, taken to the wedding, and then at midnight, do the trip in reverse. They advised that booking the limo as two separate rentals was the most economical way to go. They required a credit card to hold the reservation, but no money had to be pre-paid. Within minutes after booking, I had a contract explaining the exact terms of our agreement.

The driver arrived early on the first trip and got us to the wedding with time to spare. He had cold drinks on ice for us. When we got to the venue, he gave us his phone number in case we wanted to be picked up earlier, and it is a good thing he did, because we did end up needing to leave an hour earlier than expected. After we called him, he rushed back to get us, and we were on our way home within 20 minutes after our call.

I would DEFINITELY use them again!"
Weddings, Proms, Anniversaries, Concerts, Sporting Events
Sheryl's first contact with most customers is when they call to get pricing for a ride to and from an event in Chicago, a dance or want information about a stretch limo or a number of cars for a wedding. She knows WSL's packages like the back of her hand, but also works closely with customers to meet their specific requests, something many transportation companies won't do.
Sheryl carefully documents the logistics for the trip or the day, personally books the driver(s) and shares the details with the company's dispatch team in case there are any questions.
One key lesson Sheryl has learned over the years, and shares with customers, is the importance of working with a limo company that maintains a large fleet of luxury vehicles and has earned its reputation for quality customer service.
"I get calls all the time from people who are in a jam because the firm they booked didn't have enough cars to meet demand and just didn't show up," said Sheryl.
Corporate Events
Sheryl also works closely with many major corporations in the Chicago area to make sure they have the transportation needed for their events. She's worked with some event planners for many years. They know they can count on Sheryl to reliably make arrangements for all kinds of corporate limo transportation needs. She handles all kinds of requests, be it transporting a key executive to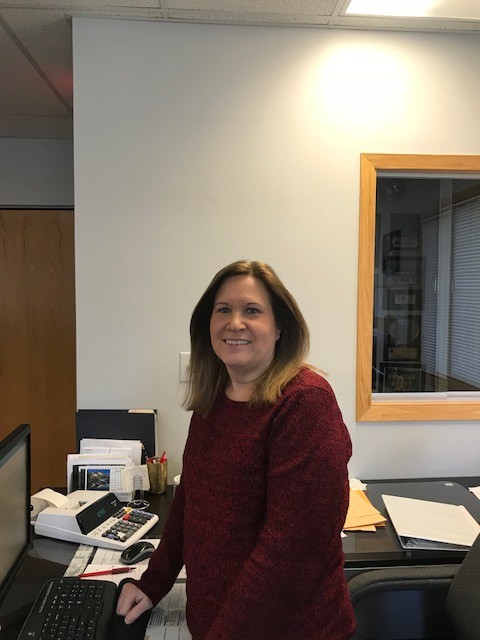 dinner, coordinating cars for a scavenger hunt to shuttling 500 people between the airport, hotels and the meeting venue.
Just like with arrangements for individuals, Sheryl always briefs the drivers to make sure they understand the logistics and fulfill special requests (like having a cold bottle of Dom Perignon waiting!).
She Never Knows What's Next
Sheryl never knows who will be on the other end of a call. But she's always ready to handle what comes her way be it transportation for a celebrity (Brian Urlacher, Serena Williams, John Travolta to name a few), red carpet treatment for a wedding party or corporate limo transportation for a big event.
One thing is always the same. Sheryl makes sure every customer gets what he or she needs, down to the very last detail. Be sure to ask for Sheryl when planning transportation for your next special event or group outing! (630) 668-9600 X 246
The New West Suburban Limousine App is Almost Here
Posted On: 02/04/2018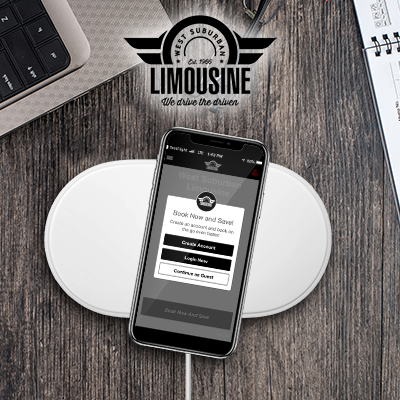 We're almost done teasing. The final stage of beta testing for the new WSL point to point transport app is nearing completion. Make some space on your smartphone's home page for the official launch in Spring.
Just as you'd expect from an executive car chauffeur service, the app is very polished. Check out the some of the app's main screens.
After downloading the app on your Android or iPhone, simply set up your profile. We'll keep your credit card information on file to speed up the drop off process. Reserve the private car, SUV or stretch limo to meet your party's needs well in advance. Or, with about two hours notice, we can generally provide a private car to your residence, O'Hare or Midway or other public venue.
One of the main features requested by clients is text messages. For example, when a WSL executive car chauffeur arrives at your home for pickup, you'll receive a text that it's arrived (which is especially nice early in the morning when you don't want to disturb others). Our driver will still meet you at the door to transport your luggage to the vehicle and assist you as necessary.
Waiting for your ride but wondering if you have time to respond to one more quick email? Open the app and you'll be able to track the exact location of your private car on a map.
Below are some pictures to preview what the WSL executive car chauffeur service mobile app is going to look like!
Follow us on Facebook and Twitter so you know the instant the app is available!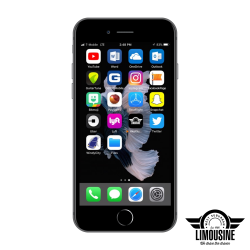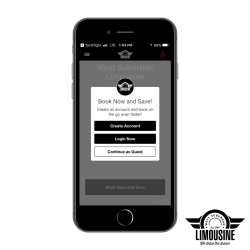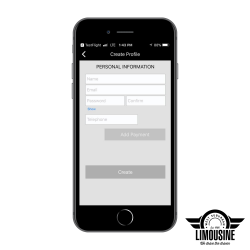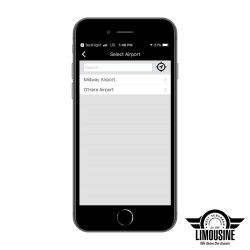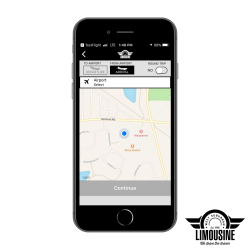 Fun in February with Football and First-class Valentine's Celebrations
Posted On: 01/29/2018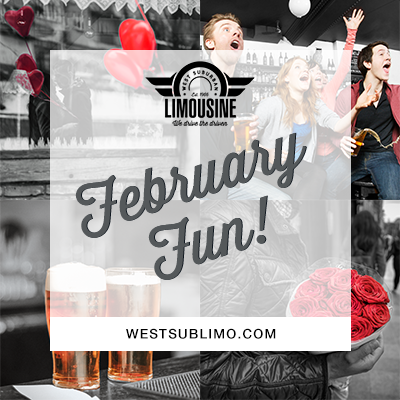 Two of the biggest holidays in the United States fall in February. Are you prepared?
Super Bowl LII – Sunday, February 4, 5:30 p.m. CT
New England Patriots vs. Philadelphia Eagles
Ok, technically the Super Bowl isn't a holiday. But it should be. Or more specifically we should get the day off after the Super Bowl. Even if you don't have a team in the fight this year, it's a great time to get a group of friends together, find a hopping place to grab some drinks and grub and watch the commericals big game.
Book your West Sub Limo private ride now so you can enjoy the fun and not have to worry about getting there and back. We can accomodate any party size with our fifty-plus luxurious fleets - Sedans, SUVs, Stretch Limos and Executive Shuttle Bus. Booking a limo service to Chicago and the Chicago suburbs for your party has never been so easy!
There's lots of great places not too far from home to enjoy the festivities. Here are our top three picks to watch Super Bowl LII:
Chicago – Link's Tap Room, 1559 N. Milwaukee Ave.
Housemade sausages, hand cut fries, 36 American craft beers on tap, 3 cask beers, 5 tap wines, and a large format bottled beer list built for sharing…count us in!
Batavia – River's Edge Bar & Grill, 12 N. River St.
Get cozy in this neighborhood tavern in the heart of historic downtown Batavia featuring more than 100 local and craft beers, a whiskey collection and locally-sourced menu featuring house-made smoked bacon varieties.
Glen Ellyn – North Side Sports Bar and Grill, 499 Pennsylvania Avenue
With 11 televisions, you'll be sure to see every play and replay in this old school sports bar featuring a menu of your favorite bar classics.
St. Valentine's Day, Wednesday, February 14
Whether you're celebrating the weekend before, after or on the actual day, it's time to make reservations for your dinner and book a limo service to Chicago or the surrounding area.
Here are a few of our favorite romantic restaurants to celebrate with a beloved.
Chicago – Booth One, 1301 N. State Parkway
The iconic Gold Coast restaurant Pump Room is reborn at Booth One. It draws inspiration its legendary predecessor at the former Ambassador East Hotel. Nostalgic dishes are set alongside more contemporary interpretations including pristine raw preparations and vegetables that are given the same respect as meat and seafood.
Naperville – Meson Sabika, 1025 Aurora Avenue
Enjoy a taste of Spain in this charming restaurant housed in an 1847 mansion that sits on a beautiful four-acre estate near downtown Naperville. The menu boasts a unique mix of cold and hot tapas, sangria, entrees and vintage wine.
Wheaton – Suzette's Creperie, 211 W. Front St.
Oh la la, what's more romantic than an award winning French wine bar and bistro for a quiet, leisurely dinner at a cozy table?
When The Weather Gets Bad, Count On West Suburban Limousine
Posted On: 01/25/2018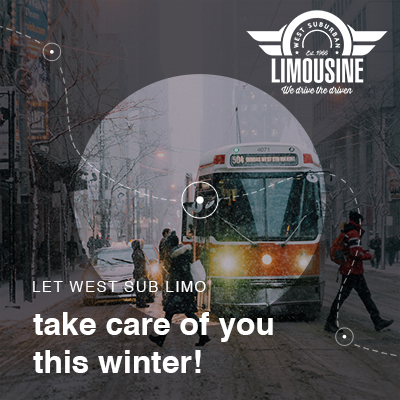 Oh, the weather outside can definitely get frightful as we slog through winter in Chicago. But, the inside of WSL's luxury limousines and vehicles is so delightful. We say, "let it snow, and leave the driving to us."
The year has already shown us what Mother Nature can do. Below zero temperatures and snow can make for a tough time when you have somewhere to go. How much time are you spending warming up your car and scrapping your windshield when you could be traveling in style with WSL.
Safe and Sound
WSL has an amazing safety record. We take safety very seriously. Every member of the our staff (front office, reservations, drivers) focuses on making sure we provide safe, comfortable service.
We invest in training for our professional drivers and continuously monitor their performance. We have very clear expectations about how vehicles are operated including driving at safe, legal speeds, on-the-road etiquette and absolutely no personal phone calls or texts while driving. All drivers are bonded and insured with a commercial livery policy for $1.5 million at all times.
Maintenance is also a big priority. It makes a difference when the weather turns bad. Our luxury limousine fleet receive regular tune-ups, oil changes and checks for proper tire pressure. We also expect our drivers to keep the vehicle clean at all times, inside and out.
Hassle Free
In addition to a safe ride, you leave the hassle behind when you call WSL when the weather is bad. Our professional drivers will pick you up as close to your location as possible, whisk you away in a heated vehicle, then drop you off steps away from your final destination.
There's no need to leave your car at the airport only to find it covered in snow and ice upon your return. Our team of professional drivers navigates O'Hare and Midway every day in all kinds of weather.
When the weather outside is frightful, and you DO have some place to go, make it easy on yourself and call for one of our safe and luxury limousine fleet at WSL.
Meet Luis Duran, Professional Chauffeur
Posted On: 01/22/2018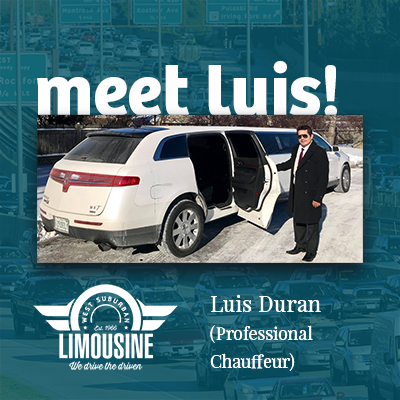 One of Luis Duran's favorite stories from his almost three years as a professional chauffeur and private limo driver for WSL is the time he picked up a family for a special birthday trip to the Sugar Factory for their 14-year-old daughter.
"She cried for the first 15 minutes of the trip, she was so excited to be in a limo," said Luis. "I was so happy to be part of such a great memory for her and her family."
While most of Luis' clients don't get quite that animated at the prospect of riding in his stretch limo, he does work hard to make sure he provides memorable service. He's succeeding. Luis is WSL's most requested driver. And we know why.
"I Want Everyone To Know My Name"
Spend just 15 seconds with Luis and you know you've met someone special. He has a wide smile that never disappears and a way about him that makes you feel instantly comfortable.
"I told my wife that within a year after starting at WSL, I wanted everyone who works there to know my name," recalls Luis. "They should know I always do the best job I can and am easy to work with."
Luis achieved his goal not only internally, but with every client for which he's provided service as well.
Focus on the Client
Luis says he knows he's providing a service as a private limo driver and just wants his clients to feel that's he's there for them, whatever they need. It's starts with a genuine greeting before he checks in with his clients to see if they need to make any additional stops, would like a chilled bottle of water or if there's anything else he can do to make them comfortable.
Clients have responded with glowing reviews in the Rate My Ride survey that we offer each customer the opportunity to compelte after every ride.
"Everything was perfect! Luis was outstanding and could not have been better. The limo was in great condition and was a blast! The students really enjoyed it and we appreciate that we could do just one hour!


"Luis was excellent! Would love to have him drive us again. The limo was very clean and well stocked with beverages."


"Luis is the best driver. Always polite and professional."

"Super job by Luis the chauffeur, the bride and bridesmaids loved it!"
The Road to WSL as a Private Limo Driver
Prior to working for WSL, Luis was a floor manager for a paper company for 11 years. His job required him to lift a lot of heavy containers. Luis worried that the physical tasks were taking a toll on his body.
A friend who works as a private limo driver suggested Luis look into a new career. Based on Luis' personality and clean driving record, the friend suggested he would do well as a professional chauffer, but there were no openings at the company for which he worked.
So Luis did a Google search for private transportation companies in the west suburbs of Chicago and found WSL. He made a cold call on the company and earned an interview with Scott Simkus, vice president of operations.
"I told Scott I would do a great job and I just needed a chance. After two months if it didn't work out, I promised we would part as friends," said Luis.
Training Makes the Difference
Luis eagerly participated in WSL's training program and puts what he learned to work. He's especially focused on presenting himself professionally and keeping his luxury vehicle spotless inside and out.
"We're so lucky Luis found WSL," said Simkus. "He has a high level of professionalism, is self-motivated and always says yes to our dispatchers and customers."
Luis knows he made the right decision to take his career path to WSL. He's says he plans to work for the company as long as possible to support his wife Arlett and their two children.
If you'd like to book Luis as your private limo driver, contact us at 630.668.9600 or online and ask for driver #144. You'll be glad you did!
Ride in Style: First Look at our New Mercedes-Benz Sprinter Van
Posted On: 01/22/2018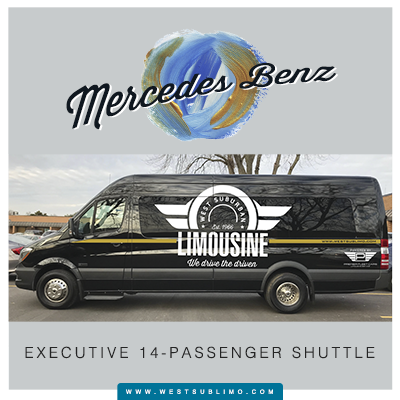 Last month, we were excited to preview the addition of a brand new Mercedes Benz Limo / Sprinter van for our limousine bus services to our fleet of late-model vehicles. Now we can show you what it looks like decked out with WSL's logo. Pretty sweet.
If you think the outside looks great, wait until you see the inside of this limousine bus that enables us to offer high style transport service for up to 14 people. Whether you need group transportation for a corporate event, client entertainment or to get a large group to or from the airport, this is the way to go.
Partnering with the Best
To get the Sprinter van customized to our requirements, we worked with McSweeney Designs, an Alabama-based firm that specializes in what's called "second stage automotive manufacturing." For more than three decades McSweeney says they have
"been dreaming up and bringing to life some of the most innovative and highly sought after custom vehicles on the planet."
As we evaluated vendors for the new limousine bus, we were blown away by McSweeney's capabilities. Their portfolio is amazing. The company has customized more than 100,000 vehicles for clients all over the world.
As expected, they worked closely with us to understand what kind of services we provides our clients. Then they helped us pick the right seats with individual amenities, seat spacing, overhead storage, support for clients' mobile devices, space for luggage and even the right type of door to make it easy to get in and out of the vehicle.
Executive Transportation at its Finest
The Mercedes-Benz limo bus service is sure to be popular for event planners that need to transport executives in style. Every aspect of the van is top notch, designed to provide comfort and safety.
Give us a call to reserve the new Sprinter van for your next event.
(630) 668-9600
WSL Named One of the "Coolest Operators of 2017
Posted On: 01/08/2018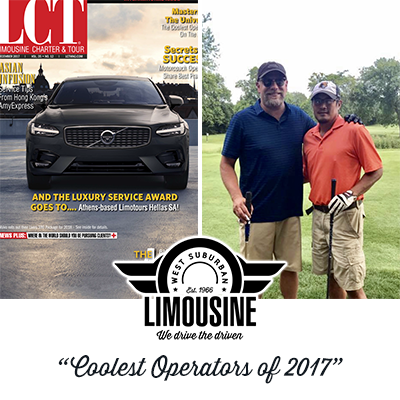 Every industry has a trade publication that keeps tabs on news, innovations and people that make a difference. Luxury Coach & Transportation (LCT) is the number one outlet of choice for companies in our industry that focus on providing quality transportation services. That's why we're so excited they named us in their recent feature article: "Who Are The Coolest Operators Of 2017."
WSL is one of 12 companies highlighted in the article, and the only firm mentioned from the Chicago area. In fact, no other company from Illinois made the list. We're very proud of this recognition. Customer satisfaction is the heart of every decision we make and we're always looking for ways to improve in our five areas of focus: Safety, Community, Customer Services, Training and Technology.
The article accurately notes that,
"[t]his industry isn't an easy one to work in, and those who succeed spend many tireless hours ensuring they provide a service that makes clients come back for more."
That's exactly what WSL focuses on every day with our quality transportation services. We're always planning new ways to make it easier for you to book, track and manage transportation services, as well as make sure our professional drivers provide excellent experiences.
The two members of our management team that lead the charge are featured in the article. Scott Simkus, Vice President of Operations and John Paraoan, Assistant Vice President and Brand Manager, have a passion for figuring out how to improve a company that's been serving the western suburbs of Chicago for more than 50 years.
In 2018, you'll see the fruits of their labor with a new app that will make it very easy to book rides with WSL. It's a key part of the company's focus on innovation and improvement in quality transportation services as a way to boost customer service.
Scott and John also find a little time to fit in some golf, too. Check out the article for the full story.
2017 in Review: Fun, Fundraising and a Fierce New Look
Posted On: 01/03/2018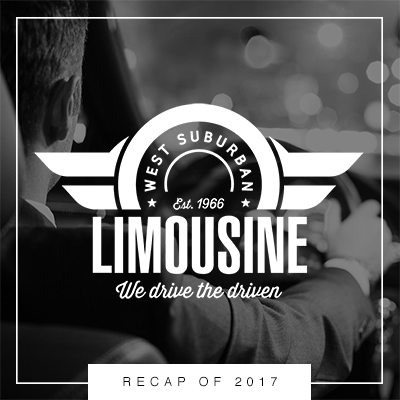 WSL has provided luxury transportation in the Chicago area for more than 50 years. Looking ahead, we're excited about the great things planned for 2018.
But, it's fun to take a look back at all we did last year. So, we took a trip down memory lane by reviewing all our blog posts from 2017. It turns out our most popular posts fall into three categories: fun, fundraising and our fierce new look.
Fun
WSL is very involved in the communities we serve with luxury transportation. Readers took a look at our involvement in the Elburn Days Fest, the Paddle Boat Mixer and a holiday ticket giveaway with the DuPage Symphony Orchestra. Our customers like to have fun, too. The Chicago Summer Event List and tips for Wine & Beer Tasting Adventures in the Western Suburbs were a big hit.
Fundraising
When Hurricane Harvey hit Houston and the Gulf Coast in late August, like most people, we were awestruck by the devastation the Category 4 storm caused. So, we quickly launched a Hurricane Harvey Fundraising campaign and donated all proceeds to the American Red Cross Emergency Disaster Fund. We focus closer to home, too. In 2018, WSL will continue our close relationships and fundraising efforts with the Chambers of Commerce for Carol Stream, St. Charles, Naperville and Glen Ellyn.
Fierce New Look
In 2017, we revealed a new look and feel to our overall branding, including a fresh logo. The new brand identity is a nod to our history while better reflecting where we're headed for the next 50 years. Speaking of history, we were also thrilled to meet Ray Smith who has been a satisfied client of WSL since we opened our doors.
Stay Up-To-Date and Get Social
Stay tuned for upcoming blog posts about all the great things that we are bringing for this coming year.
Want to be the first to hear all of the latest interesting and fun news & events going on in the area?! Be to follow us on Facebook, as we are always posting new and exciting things going on in the area! We also LOVE seeing your posts and tags when you ride with WSL. Be sure to tag us online with #WestSubLimo and let us know about your experience!
We Feel The Love…Thank You!
Posted On: 12/25/2017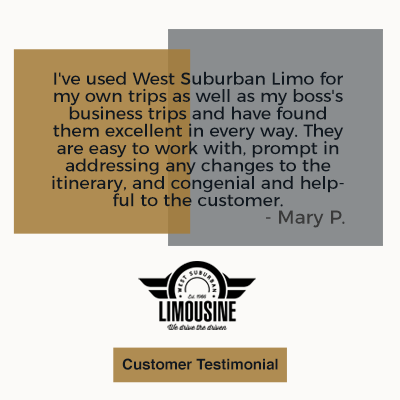 How are we doing? Are we meeting your expectations? Anything you would like to see change?
We are always striving to provide the best possible customer service. In late 2016, we launched a "Book a Limo and Rate My Ride" program to get real-time feedback from clients to find out what we're doing right, and where we can improve.
At the end of each trip, we ask riders to complete a short survey that takes less than a minute. Clients give us reviews for their private transport service in five categories that tell us about the driver, the vehicle, quality of service, whether they would recommend us and an open-ended field to tell us anything.
Our clients' reviews make us better at what we do. We're thrilled when folks are motivated to share their positive experiences on our Facebook page. We currently have a 4.8 of 5 stars rating based on 95 reviews.
Here's a sampling of what people are saying:
Top Notch Service... the driver arrived early and was more than able to deliver us to our destination. He knew the route and even was able to avoid some major traffic areas that would have delayed our arrival. We were right on time! After the show we were done a bit early and when we called we were informed the driver was already minutes away. The car was clean and comfortable and everyone was friendly and professional. I will use again when the need arrives.

Doug H.
I highly recommend WSL, all of their drivers are very professional and courteous. I was traveling every week for 18 months, and the driver was there at 5:00 a.m. every week and even a few minutes early and always was waiting on Friday night to drive me back home. Their cars are very clean and in great condition. I highly recommend them and when we travel, I always call WSL, and all of my family does now. Their prices are very reasonable.

Kathy R.
Have used WSL for both personal and business travel needs. Each time their service has exceeded my expectations. The limos are clean, quiet, comfortable and in good working order. The drivers are very courteous and friendly, conversational or quiet (depending on your needs), and arrive early in position for pickup if in a private location. When airlining back into the Chicago area, they send a text to a link which easily steps you through being pickup up and location. They are my go to source for private car transportation in the Chicago area.

Glen K.
Wishing You a Wonderful Holiday Season and a Happy New Year
Posted On: 12/18/2017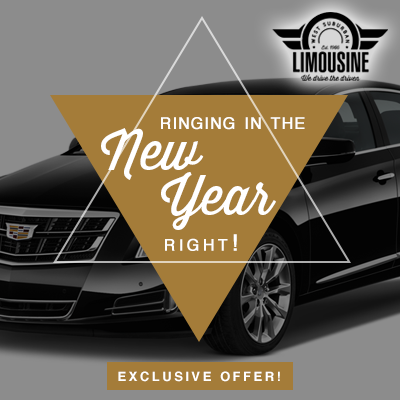 Special January deal for new customers.
This time of year we like to take a step back and reflect on how fortunate we are at WSL. For more than 50 years, we've provided private care transport service to residents in the western suburbs of Chicago. We take great pride in the fact that so many of our customers have been with us for many years. In fact, WSL has been the preferred limo for one special client that has been with us since the beginning!
We're with people when they celebrate some of the happiest times of their lives: weddings, the anticipation of a family vacation on the way to the airport, safe travel to and from special events like concerts, professional sports, wine tastings…you name it.
Our corporate clients rely on WSL to get to meetings on time, navigate the airports for reliable drop off and pick up, and transport large groups for special events.
Kick-Off the New Year Right
If you're new to WSL, or want to recommend our service to friends and family, we have a great promotion in January 2018 for new customers.
Between January 1 to 31, 2018, mention this special code when you call our reservations department to receive $10 off a private car service ride: DecFacebook17. The deal is for new customers only and can only be used once.
It's a great gift to pass on to friends, neighbors, colleagues…anyone who needs safe, reliable private transport service.
Happy Holidays and Happy New Year from everyone at WSL!
Transport Your Group In Style With Our New Mercedes-Benz Sprinter Van
Posted On: 12/11/2017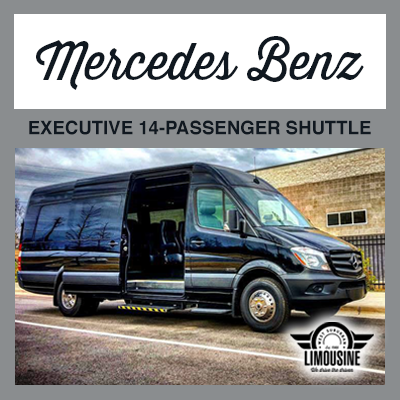 WSL was very good this year so Santa brought us an early delivery. We're excited to add a brand new Mercedes-Benz Sprinter van to our fleet of late-model vehicles. We're geeking out over all the bells and whistles of this luxury ride that's perfect for executive and large group transportation.
This is not a party bus. Rather, it's a high-end Mercedes Benz limo / sedan pumped up on steroids with pampered seating for up to 14 people.
We can't wait to talk to event planners about how this Mercedes limo is perfect for corporate events, group transport to and from the airport for meetings and client entertainment.
We're thinking about how fun it would be to set up a brewery or winery tour (or both) for friends to check out all the fun venues in and around Chicago.
Comfort and Convenience
Heading out on a big family vacation? We'll get everyone to the airport in one trip.
It's all about comfort with this ride:
- High-back reclining captain's chairs covered in soft-touch premium upholstery feature padded armrests, contoured headrests and retractable lap belts.
- The chairs are placed in five rows of stadium seating with a generous aisle for easy in an out. There's no crawling over other passengers to get in a seat.
- Ample overhead racks have secure space passengers' briefcases, coats and other carry-ons so no one has to hold items in their laps.
- Passengers control the digital temperature gauge and fan to get their desired heat or cooling level.
- Every seat has its own individual LED reading light and every row features blue backlit dual USB ports for easily accessible access to power to charge laptops, tablets and mobile devices on the road.
- A sliding door with an automatic power step and that lowers when the door is open, hand rail and step well courtesy lighting make it easy to enter and exit the vehicle, day or night.
- Lots of space for all sizes of luggage.
There are lots of features for our drivers, too, with lots of built-in safety features like a back-up camera, clear-view safety hatch for emergency exits, and a safety package with extinguisher and other must-have items.
Give us a call to reserve the new Sprinter van for your next event!
(630) 668-9600
Congrats to C.A.S.A. for Another Successful Fundraising Event to Support Children
Posted On: 12/04/2017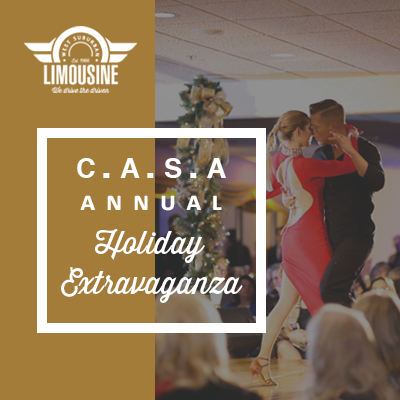 On November 30, C.A.S.A. (Court Appointed Special Advocates) Kane County held their second annual Holiday Extravaganza and WSL was thrilled to lend our support.
CASA Kane County is a nonprofit organization that prevents children from falling through the cracks of the heavily populated court and child welfare system since 1988. The organization recruits, trains and supervises community adult volunteers who are matched with children to support them as they head to court due to abuse, neglect or private guardianship. Its goal is to make sure every child has the chance to be placed in a safe and permanent home. The C.A.S.A. volunteers serve as court-appointed special advocates for the children.
Fundraising events are critical to the success of the organization. Revenue from events like the Holiday Extravaganza compromise about one-third of the agency's entire operating budget.
This year's event was held at Riverside Receptions in Geneva. Beginning at 3 p.m., children and their families were treated to an indoor winter wonderland with sparkling trees, silver bells and lighting that evoked a magical, snowy afternoon. Santa and Mrs. Claus made a special appearance along with Olaf from the popular Frozen movie. Everyone enjoyed snacks, hot chocolate and lots of kid-friendly activities.
The evening's event featured a couture fashion show with seasonal attire from an upscale Geneva boutique. We enjoyed dancing the night away and bidding on silent and live auction items in support of this deserving organization.
Check out C.A.S.A. Kane County's Facebook page for photos from the event.
Fun in Kane County
This is just one of many fun ways to celebrate the holiday season in Kane County. Check out PlanItKane for an events calendar filled with festive things to do, see, eat and drink.
Partnering with DuPage Symphony Orchestra for a Season Filled with Yuletide Joy
Posted On: 12/01/2017
WSL is proud of our involvement in the communities we serve in the west suburbs of Chicago. It's part of our corporate culture give back and make an impact where we live and work.
As we celebrate the holidays, it's especially meaningful for us to promote our partnership with the DuPage Symphony Orchestra. We work closely with the group to make sure their featured talent from around the world arrives in style with private care services from WSL.
On Sunday, December 10, the DuPage Symphony Orchestra is offering two performances (at 2 pm and 4 pm) of its holiday concert: Yuletide Joy. The concerts feature medleys from beloved holiday films such as Miracle on 34th Street and How the Grinch Stole Christmas, as well as the ever-popular Sleigh Ride by Leroy Anderson. This family-friendly event is held at the North Central College's Wentz Concert Hall in Naperville.
Enter here on our Facebook Page to win a pair of tickets to the concert courtesy of WSL. All you need to do is simply "Like" our page along with the post. We will select the winner next Thursday, December 7.
Or, tickets are available here. Don't miss this chance to kick off the holiday season and support local musicians. If you're holiday schedule is already booked, make sure to check out their schedule for 2018, which performances monthly beginning in February.
Getting to know the DuPage Symphony Orchestra
DuPage Symphony Orchestra is a non-profit organization that features more than 100 talented volunteer musicians from DuPage County and beyond. The group has performed at the Wentz Concert Hall at North Central College for five seasons and consistently fills the hall with appreciative fans.
The DuPage Symphony Orchestra depends on support from the community to support its quality music programs. Interested in donating? Click here to donate on their website.
Sneak Peak: 2018 Is Going To Be App-tastic
Posted On: 11/27/2017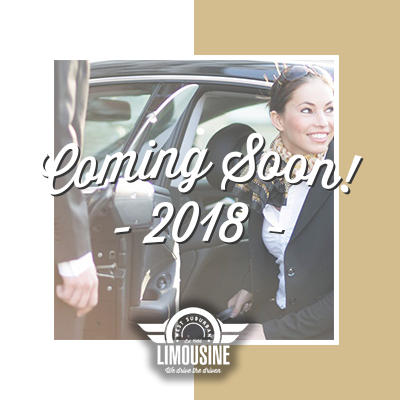 Clients of WSL know we are always looking for ways to improve our customer service. After every ride, we shoot out a quick five question survey to find out how we did and what we can do better. On a regular basis, we ask the people who book services for our corporate clients what would make their lives easier.
Then, we take action.
Coming Soon…
While we can't give you all the details now, we're very excited about a new development that's coming in early 2018. Let's just say your smartphone is about to get a new app that's going to make it very easy for you to book rides with WSL.
It's been a labor of love to produce the best limo app possible. Unlike big ride-sharing companies that employ thousands of people to manage their apps, we're a regional limo service focused on providing professional transportation services in luxury, late-model vehicles. There are no computer programmers or app developers in our office.
So, we partnered with a firm that specializes in building custom apps. They worked closely with us to understand what our customers want (and don't want) from a ride booking app. Then they got to work developing an app that meets our needs and works with our reservation systems.
We're in the final stages of testing the app now and can't wait to roll it out in the new year.
Coming Soon: Easily Book Online to get Anyplace, Anytime from Anywhere
Posted On: 11/20/2017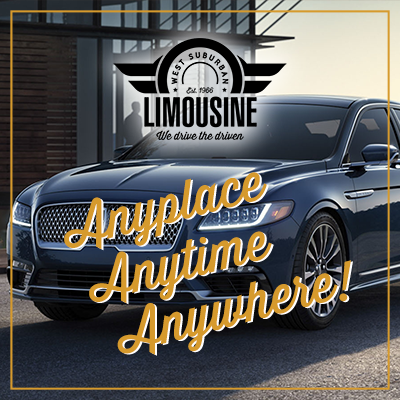 Our clients tell us they love using QuickRes, WSL's online Chicago limo service reservation portal, to book rides to and from the airport. That's why we're so excited about enhancements to the portal that will roll out in 2018.
Soon, in addition to making airport departure and arrival reservations, you'll be able to book Point-to-Point transport to conveniently travel between Chicago area suburbs, or from the suburbs to the city.
It's part of WSL's ongoing commitment to doing more for our clients. We're always looking at ways to improve our customer service and we've heard your requests for simple, online reservation options.
Sneak Peak At How It Works
When the upgrade to the portal is ready, you'll be able to book a ride to get any place, any time from anywhere. Need a ride from Western Springs to an event in Schaumburg? Soon, you'll be able to log-in to QuickRes and schedule your ride via our Point-to-Point transport reservation option.
We're also rolling out zone rates so you'll know the fare before your jump in one of our luxury, late-model vehicles. Plus, there's no surge pricing just because you want to travel at a busy time.
Unlike ride sharing services, WSL only employs professional drivers. Before getting behind the wheel of a WSL vehicle, our drivers are carefully screened and trained. Every year, our drivers are required to undergo background checks, take regular drug tests and pass medical screenings.
We'll be sure to let you know when the portal upgrade is live. If you want to be one of the first to know, follow us on Facebook.
Give Yourself the Gift of Safety During the Holiday Season
Posted On: 11/13/2017
The turn of the calendar to November is the official kick-off of the holiday season. We look forward to Thanksgiving, Hanukkah, Christmas, Kwanzaa and New Year's Eve. Some shopping fans may even add Black Friday to the list of days to celebrate.
This festive time includes lots of parties with friends, family and co-workers. It's a time to indulge and enjoy special holiday treats, mouth-watering buffets and a few celebratory cocktails.
Plan Ahead for Safety
The best gift you can give yourself during the holidays is safe transportation. Count on WSL to make the rides to and from your celebrations enjoyable and safe.
It's easy. Just give us a call and let us know how many people are in your party. We'll help you select the right town late-model luxury vehicle to transport your group safely, be it a town car, SUV, limo or party bus.
When you book your holiday transportation with WSL, getting to and from the event is half the fun because all your friends can ride together and no one has to be the designated driver.
Plus, our professional drivers know how to get you around the suburbs and the city with ease.
Book Early
Don't wait until the last minute. We recommend making your holiday transportation reservations as early as possible. It's a busy time of year and our fleet of 100 vehicles is in constant motion.
Check out our Black Friday Giveaway
Posted On: 11/03/2017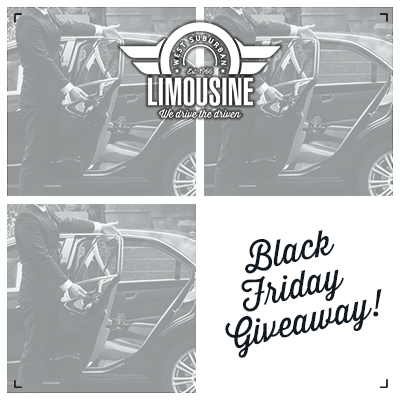 How Would You Like A $100 Gift Certificate?
Black Friday is all about getting the best deals on gifts for friends and loved ones. WSL thinks you deserve a treat, too. So we've come up with a giveaway that everyone will want.
Check out our Facebook page for a chance to win a $100 gift certificate from WSL. Simply "like" our page, then "share" the post and you're entered to win. We'll throw all the names in a hat and pick one lucky winner. Watch for the announcement on our Facebook page the day before Thanksgiving…Wednesday, November 22.
So Many Options
How would you use the $100 gift certificate? There are so many times it makes sense to leave your car behind and let a professional driver deliver you to your destination in a late model, luxury vehicle:
- Arrive in style at your company's holiday party
- Take a trip to the Mag Mile for some holiday shopping amongst the beautiful decorations and leave parking worries behind
- Cheer on the Chicago Blackhawks at the United Center without the parking fees
- Book airport transportation to O'Hare or Midway for your family getaway
- Schedule a night on the town for you and a few friends
Make sure to follow WSL on Facebook and like the page to be one of the first to know about all our promotions and giveaways.
Driven to Give Back: Hurricane Harvey
Posted On: 11/01/2017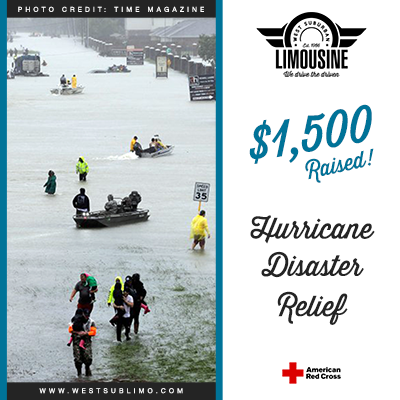 Giving back to our local communities is part of our culture at WSL. You'll often find members of our team participating in local fundraising events or see our corporate logo amongst the list of sponsors.
When Hurricane Harvey hit Houston and the Gulf Coast in late August, like most people, we were awestruck by the devastation the Category 4 storm caused. More than 27 trillion gallons of rain was dumped on Texas and Louisiana in three separate landfalls over a six-day period. More than 700,000 people have registered for assistance with the Federal Emergency Management Agency (FEMA).
So we decided to pitch in and help.
Making a Difference One Trip at a Time
Between September 18 and 24, WSL donated $1 to the American Red Cross for every booked trip.
We chose the American Red Cross for hurricane disaster relief because of their focus on providing food, shelter and comfort for those affected by the storm. The organization also launched a Hurricane Harvey Immediate Assistance Program that provided financial help to more than 477,000 households. The purpose of the immediate assistance is to provide funds so people could make decisions about how to meet some of their immediate needs. The group continues to provide long-term services as well.
During the chosen fundraising week, WSL had a typically busy schedule transporting our clients to and from the airports, getting them to meetings and helping make memories at weddings.
We recently sent the American Red Cross a check for $1,500.
Client Reaction
A big thank you to all our clients who rode with WSL that week. Because of you, we are able to make a significant donation in response to the natural disaster.
Quite a few people let us know they "liked" the fundraising effort on our Facebook page. That post received the most feedback on anything we've ever talked about on social media. Clients let us know they were "Glad to be a part of your effort" and to "Keep up the good work."
We will.
"It's Always Felt Like Family Here"
Posted On: 10/25/2017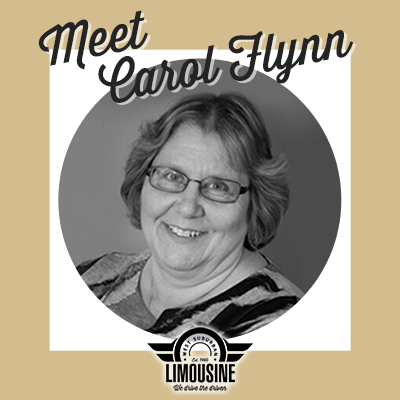 Ronald Reagan was in the first year of his presidency. Nintendo had just released the Donkey King arcade game. Carol Flynn started at WSL as a part-time reservationist on the night shift.
Thirty-six years later, we've since elected five more presidents. Kids play games on their smartphones. And Carol Flynn is still in integral part of the WSL team in the role of office manager.
Family First
Not many people can say they've worked at one place for most of their adult lives. Carol Flynn, who will celebrate her 36th work anniversary at WSL on November 1, feels lucky to fall into that category.
"My big thing is family," said Carol who has ten siblings. "It's always felt like a family here. Burt and Ray [original owners] treated everyone like family, and as they moved on the new managers have always done the same thing."
Carol started at WSL working part-time at nights taking reservations. It was a great way for her to supplement her family's income when her husband was able to be at home and take care of their children.
Carol says her motto has remained the same the entire time she's worked at WSL.
"My goal is to treat them the way I want to be treated."
Looking Out For Each Other
That motto seems to be part of the culture at WSL. About twenty years ago, Carol's son Jim was in a near fatal auto accident.
"He really shouldn't have lived," said Carol. "WSL gave me as much time as I needed to care for my son. I've never forgotten how wonderful they were to me and my entire family. They took care of us. I never had to pick between my job and my son."
That family feel is one of the big reasons Carol has never wanted to work anywhere else.
"We all look out for each other," said Carol. "If one of us gets sick, we all feel it."
Some Things Stay The Same
During Carol's time at WSL, she's seen a lot of changes including the introduction of computers, a move to a new location and an evolution of how drivers are screened and trained.
"When I started, everything was pen and paper, and our phones had different lines for specific clients," said Carol. "There was no putting anyone on hold back then with music on the line, we just answered the phones as quick as we could."
Carol emphasizes that some things have never changed in her three decades at the company.
"We've always maintained focus on treating customers right with reliable on-time service and clean cars."
A Lifelong Career
Carol did have thoughts of quitting when her youngest child was born. But, WSL kept calling her back to fill in as needed. When her daughter was a toddler, she switched to days and job shared with a friend. While one was at WSL, the other watched the kids.
When that arrangement ended, Carol stayed on the day shift and added bookkeeping to her responsibilities. She eventually became the back-up to the office manager, filling in when she was out of the office.
When that person retired after more than 30 years at the company, Carol was promoted to office manager.
But she's not quite ready to give up contact with clients yet. She still handles some reservations for clients she's worked with for years until she feels the new reservationist is "fully trained."
"Our work with clients is less of a transaction, more of a relationship," said Carol. "The personal touch is what we go for."
Not The Only Long Timer
A large percentage of the WSL staff has been with the company for many years.
"It's a testament to the work environment," said Carol. "I learned my work ethic from all the people around me."
When Carol's not at WSL, you'll likely find her spending time with her large extended family, including her three kids, eight grandkids, parents, brothers and sisters.
She also spends her energy and creativity as a Girl Scouts leader, Toys for Tots and Marianjoy Rehabilitation Hospital.
In a few years, Carol may retire. But for now, you'll find her making things happen at WSL.
Self-Driving Cars: Yea or Nay?
Posted On: 10/23/2017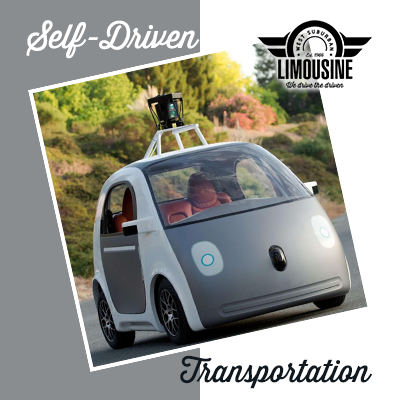 We get asked a lot at WSL what we think about the future of self-driving cars. The concept itself is pretty exciting, but we're not big fans of the idea…but probably not for the reasons you think.
It's our business to get people to and from their destinations safely and in style. Assuming self-driving cars ever reach a development state where they are both reliable and secure, they could be a big disrupter to our business model.
Lots of tech companies are betting parts of their futures on this market. But, there are lots of hurdles in their way.
- The technology is complex and there are so many variables that need to be figured out before self-driving cars can safely navigate roads.
- Regulatory issues are still being developed to address this nascent technology and will likely be very strict. A recent bill in the U.S. House of Representatives seeks to make the federal government the arbiter of self-driving cars, taking controls away from states.
"Under the bill, manufacturers seeking exemptions must demonstrate self-driving cars are at least as safe as existing vehicles. States could still set rules on registration, licensing, liability, insurance and safety inspections, but not performance standards."

- The adoption curve will be steep before consumers feel comfortable giving up the wheel.
Google and Apple both recently scaled back their self-driving car initiatives.
The Real Issue
Many are considering what's next for professional car services in an age of self-driving cars. When we ponder the reality of a driverless car showing up at someone's doorstep, what really bothers us is not what these future modes of transportation can do. Rather, it's what they can't do.
Without a professional driver at the helm, driverless cars can't:
- Greet you by name and genuinely ask you how your day is going.
- Pet your dog who's come to say goodbye.
- Hoist your luggage into the trunk.
- Give you advice about local eateries.
- Plan an alternate route in advance because there's a parade on your route that doesn't show up in mapping programs.
- Slow down on the way home from an event so you can see the full moon.
- Make sure there's a cold bottle of water waiting for you on a hot day.
- Deliver your suitcases to your front door.
You get the idea. The thing that is missing from self-driving cars is the driver. And for WSL, that makes all the difference.
Ride-Sharing Versus Professional Car Service
Posted On: 10/16/2017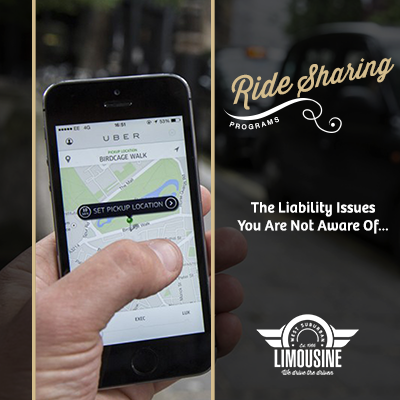 Differences in Liability Coverage
Recently, a client was in Boston and booked an UberX. She had a lot of questions for WSL after the conversation she had with her driver about Uber's insurance requirements for their drivers, and what it means for riders.
The conversation was spurred by a near accident after a pedestrian ran in front of the UberX. Our client asked her driver about his insurance requirements.
He told her he spends $14,000 annually on a commercial policy to cover his private car, which he occasionally uses to drive for Uber (the rest of the time he books directly with riders). The driver mentioned his case is quite rare and that most Uber drivers only have private auto insurance, which they likely don't know won't cover an accident if they are driving for the ride-sharing company when it happens.
She was unnerved by the revelation and wanted to know what WSL provides.
Professional Drivers Backed by WSL
Uber, Lyft and other ride-sharing companies are actually technology companies that license their apps to drivers who pay a large portion of the fare to the companies for access to riders. They can claim, rightly or not, that they are just facilitating a business arrangement between the third-party drivers and users so they aren't liable for much.
Uber and Lyft both say they provider coverage up to $1 million per accident, but only when the rider is in the car.
Unlike ride-sharing services where your driver may have filled your deli order earlier in the day and is now moonlighting as a driver, WSL employs professional chauffeurs.
We invest in training and continuously monitor their performance. All drivers are bonded and insured with a commercial livery policy for $1.5 million at all times whether they have a rider or not.
Not from the Chicago Area?
Posted On: 10/02/2017

Find a Place to Watch your Team Play
Are you ready for some football?
Watching the game at home is fun. Sharing the excitement of an unbelievable play at a bar or restaurant with a group of your new best friends is better. That's especially true if your alma mater or NFL team isn't from this part of the woods.
Check out these links that have done all the research on must-go places to see Saturdays' and Sundays' big games.
College
Love the Wisconsin Badgers or the Iowa Hawkeyes? Notre Dame your team? Relocated to the Chicago area after a stint cheering for Colorado in Boulder?
We like to find a great listing of Chicago bars that love your team as much as you do! Just a few great place from that this includes, Finley Dunn's Tavern off of Lincoln Ave. supporting Ole Miss, The Pony off of Belmont Ave for Texas A&M, and WestEnd off of Madison St. for Michigan. Whichever bar you select, you know there will be plenty of fun and commraderie to be enjoyed!
NFL
Are you, gasp, a Packers' fan. Find your fellow cheeseheads in this helpful link that also includes a list of bars and restaurants that have the Chicago Sunday Ticket so you can see our beloved Bears in action. It's their year, right?!
Closer To Home
Don't want to make the trek to Chicago? Scroll down on this link to find a great list of sports bars a bit closer to home in cities like Downers Grove, Naperville, Schaumburg, St. Charles, Elgin, Lombard and Glen Ellyn.
Have Fun, Get Home Safely
Let WSL get you to and from your outing safely and in style. Give us a call and tell us how many are in your party. We'll pick a car, limousine, SUV or even a party bus to transport you and your friends as a group to the viewing venue. Everyone gets to have fun. No one has to be the designated driver. It's an affordable way to enjoy the day.
Fall Is In The Air: Wine and Beer Tasting Season
Posted On: 09/29/2017

Maybe it's the chill in the air. Lots of wineries and breweries in Illinois find October a great time to participate in local wine and beer festivals. Some even host their own events.
Check below for a listing of fun events happening in the Chicago area throughout the month. Click on the links for all the details about each festival including what wines and beers are featured, tickets, addresses and more.
One thing you don't need to worry about is how to get to and from the festivals. Count on WSL to make the adventure enjoyable and safe.
When you book a car with WSL, transportation to and from the event is half the fun because all your friends can ride together and now one has to be the designated driver.
Our professional drivers know how to get your around the suburbs and the city with ease. Plus you'll arrive safely and in style. WSL uses only late-model, luxury vehicles. Just tell us how many people are in your party, and we'll pick the car, limo or mini-bus that ensures your group is comfortable.
Make your festival reservations now, then call WSL to book your ride.
Chicago-Area Wine Festivals
Sunday, October 1, 1:00 to 5:00 p.m. - Naperville
Peterson's 15 Year Anniversary Tent Tasting and Sale
Thursday, October 5, 6:00 to 9:00 p.m. - Chicago
Lincoln Park Uncorked 2017: A Lincoln Avenue Wine Stroll
Thursday, October 12, 6:00 to 9:00 p.m. - Lisle
Lynfred Winery Winemaker Dinner Allgauer's Lisle
Friday, October 13, 7:00 to 11:00 p.m. - Chicago
Wine Riot - Chicago
Wednesday, October 18, 6:00 to 9:00 p.m. - Chicago
Lynfred Winery Winemaker Dinner at the Walnut Room
Saturday, October 21, 1:00 to 4:00 p.m. - Plainfield
The Seven Noble Grapes
Monday, October 23, 2:00 to 6:00 p.m. - Chicago
Simply Italian Great Wines U.S. Tour
Monday, October 23, 6:30 to 8:45 p.m. - Chicago
Wildfire Wine Dinner with Ferrari-Carano
Wednesday, October 25, 6:00 to 8:00 p.m. - Roselle
Riedel Wine Tasting
Chicago-Area Beer Tastings
Friday, October 6, 2:30 p.m. – Chicago
Sin & Suds Beer Tour in the Loop & South Loop
Friday, October 6, 5:00 to 8:00 p.m. - Chicago
5th Annual Harvest HopDown Beer Fest
Saturday, October 7 – Berwyn
Berwyn Brew Fest
Saturday, October 7, noon to 4:00 p.m. – Aurora
Cock-A-Doodle Brew Fest
October 8 to 10 – Chicago
Rocktober Beerfest 2017
Saturday, October 14, 7:00 p.m. – The Field Museum, Chicago
Rare and Wild Beer Fest
Saturday, October 14 - Chicago
Chicago Beer Festival
Fridays at 5 p.m. and Saturdays at 11:30 a.m. – Galena
Galena Brewing Company
West Sub Limo as the Preferred Transportation Company for Ray Smith
Posted On: 09/25/2017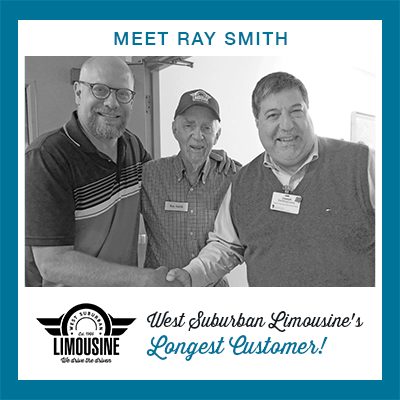 Last year WSL celebrated its 50th anniversary, having been acquired by the current ownership back in 1966. What many people don't realize is the corporation can actually trace its roots back to 1958. One man who understands this history better than anybody is Ray Smith of Carol Stream.
Ray Smith, 85 years young, has been using WSL since the very beginning, making him our company's most loyal client. After 60 years, Mr. Smith still uses the service today, for personal trips.
"At the very beginning, I was working for Hitchcock Publishing out of Wheaton and a number of us began using West Suburban Limousine for business travel," explained Smith.

"In all the years I've used West Suburban, I've never once missed a flight due to a limousine issue. I'm the best testimonial your company could ever have."
The limousine company was originally founded by two brothers who had moved to the Chicago area from Galveston, Texas. After nearly eight years in the business, they sold the company to Ray Hiltunen and a partner, before returning to Texas to help with their family's shrimp business. The Hiltunen family still owns and operates WSL today.
Ray Smith has been married 60 years to his wife Lillian. The couple has two adult children. The son of missionaries, Mr. Smith was born in China, grew up in Hawaii, served in the Navy, and graduated from Wheaton College. He's literally been around the world and WSL is proud to have been a small part of it, getting him to and from the airport in between his adventures.
Pictured above from left to right is Scott Simkus (Vice President of Operations) of WSL, Ray Smith and Joe Xanthopolous (Interim Executive Director) of Windsor Park Manor in Carol Stream, where Ray currently resides.
As a former writer and editor, Ray couldn't resist the temptation to dabble in his former craft and asked Scott some questions about WSL. We are honored and excited to be a part of Windsor Park Manor's quarterly publication, "The Echo." We will be featured in their fall edition of this year. Thank-you, Ray, for the interview while also sharing your personal experiences with WSL!
Is Technology Ruining Customer Service?
Posted On: 09/18/2017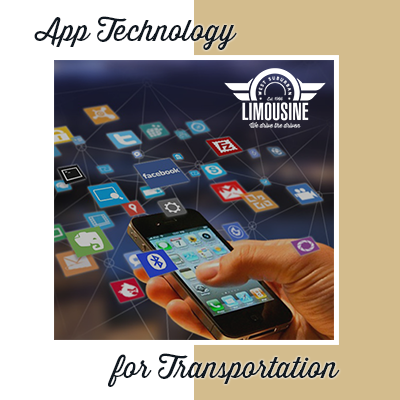 At WSL, we love technology and our smartphones as much as anyone. Who can resist immediate access to the Internet to answer even the most inconsequential of questions? A few us have been known to play a pretty mean game of "Words with Friends." And of course, much of our business relies on ever-changing computer programs for our reservation system, accounting, operations and marketing efforts.
There's one area where we haven't turned to technology and don't expect to anytime in the near future: customer service.
Conventional Wisdom
The business publications we read often feature stories with headlines like "How to Use Technology to Improve Customer Service." We're always looking for ways to better our business, so we read the articles with great interest. But, for the most part the suggestions don't resonate with what our customers tell us they want.
According to an Inc. magazine article,
"[t]he goal of your business in term of its customer interactions is to generate loyalty."
We couldn't agree more. But for us the suggestions to add multiple layers of "technology touches" to our customer service process to "engender relationships" and "help customers solve their own problems" just doesn't make sense. No app for transportation can provide what we need.
The Human Touch
We absolutely make it easy for people to reserve a car on our website. We also communicate with travelers at Midway and O'Hare via text as soon as they land so they are reassured their cars on waiting. We're even exploring an app to book a driver (more on that soon).
We also know that when our clients have a question or an issue, they generally just want to talk to someone. Fortunately, we have a lot of experienced "someones" available as needed who answer the phones, make reservations, locate lost items, handle arrangements for a large group, and generally make life easier for the person on the other end of the phone.
Our customer service staff has names like Carol and John who have worked for WSL for many years. They live in the communities we serve, know all the drivers and cars, and have long-standing relationships with many of our clients.
Technology is great, but it will never replace the ease and convenience of working directly with someone to handle your request.
Making Sure Your Travel and Transportation is Stress Free
Posted On: 09/13/2017
Top 6 Tips for Booking Private Transportation
Booking private transportation means there's some travel in your near future. Here's WSL's top 6 tips when reserving a car service to make sure the travel and transportation for your trip is carefree and safe.
1. Plan Ahead – Have a special event coming up? Book well in advance so you get the reservation time and car that you want. Do you have stops you want to make a long the way? Let the service know in advance when making your reservation so they can accommodate your request.
2. Assess Your Luggage – Private transportation services generally have a fleet of cars that include different models. Trunk space can vary significantly. If you know you're going to bring a lot of suitcases, it's best to call ahead and make sure you reserve a car that can hold all your passengers and luggage. For example, stretch limos are great for transporting lots of people, but have limited trunk space. For safety reasons, luggage can't be placed in the passenger area of a limo.
3. Safety First – Before your book, make sure the service you've selected has proper licenses and insurance. If they can't prove their credentials, it's time to move on for your own safety.
4. Flight Delays – Find out if the service you're booking can track your flight number for delays. That way, they can make adjustments to your
reservation if needed so you know a car will be waiting for you when you land.
5. Payment Options – Find out what payment options are accepted before you finalize the reservation. You don't want to run into an issue at the end of the ride.
6. Car Seats – Traveling with a small child? It's important to know if the car service can safely accommodate your car seat before departing.
Save-the-Date with West Sub Limo for all your Wedding Transportation Needs
Posted On: 09/11/2017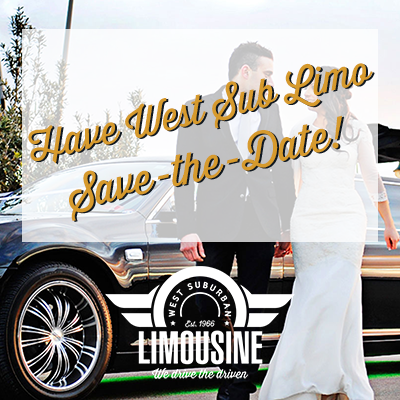 Check Out Fall Wedding Packages with a Special Treat for the Honeymoon
Fall is such a beautiful time to get married. The changing colors provide a magical background for the festivities. The western suburbs of Chicago are especially lovely during this season with their canopies of tall trees, manicured parkways and stunning wedding venues.
WSL is always honored when we're selected to provide the wedding transportation for a bridal party. We know it eases some of the logistics of the day and definitely adds to the fun.
That's why we're pleased to offer special Fall Wedding Packages that keep the special treatment going for the honeymoon, too.
Call our Special Events Coordinator
Sheryl, our special event coordinator, is happy to help you reserve the Fall Wedding Package that works best for your big day. Please contact Sheryl at (630) 668-9600 ext. 246 or email her at specialevents@westsublimo.com. Her hours are Monday through Thursday, 8:00 a.m. until 2:00 p.m.
Special Offer: Mention that you read about the Fall Wedding Packages on our blog and Sheryl will be happy to offer you $10 off your transportation to and from your trip to the airport for your honeymoon destination. That's $20 total for a round-trip reservation.
Why WSL?
WSL has been serving the western suburbs for more than 50 years. We've driven hundreds of bridal parties who appreciate our fleet of Lincoln limousines that are all less than five years of age and are privately owned by the drivers who maintain them. Choose from black or white stretch limousines.
Fall Wedding Packages
All our Fall Wedding Packages include complimentary champagne and simple decorations (if the weather permits).
You can also add our special Red Carpet Treatment. After the wedding ceremony, we roll out a red carpet leading to the limo accented by a champagne holder with bubbly on ice. It makes for a great photo opportunity as the bride and groom toast their nuptials for the first time next to the limo.
Choose from Lincoln or Navigator stretch limos in black or white, or executive buses for larger parties up to 56 passengers.
Our rates begin at the designated pick up time and finish at the last drop off location. Depending on locations involved, additional charges may occur. Entrance and parking fees are not included in the pricing.
Tip for a Comfortable Outing
We suggest that cars are not filled to capacity for weddings. The bride will need extra room for her dress and passenger size should be considered. We suggest 5 to 7 passengers in our eight passenger limousines and 7 to 8 passengers in our 10 passenger limousines.
Homecoming Memories Made Sweeter and Safer
Posted On: 09/04/2017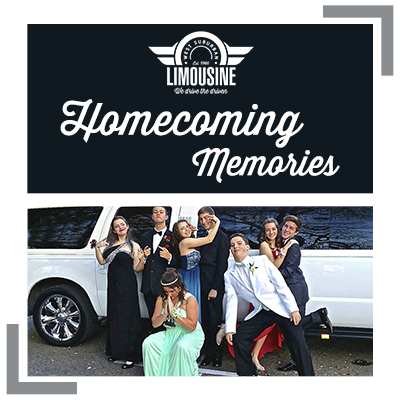 There's just a hint of crispness in the air which means Homecoming season is upon us. We have fond memories of Homecoming festivities: attending the big game, showing our school spirit, getting dressed up and dancing the night away at the school-sponsored party.
We also know it's a night when parents worry about their kids' safety. That's why WSL offers special packages for Homecoming. We want kids to arrive in style…safely.
Many Moving Parts
A big part of the dance is what happens before and after. Your high school student's gang definitely wants to get together in advance of the event and take group photos (not to mention the thousand selfies that will be taken that night). It can take quite a bit of planning to get everyone together in the same place at the same time.
Then it's on to the dance, where a bunch of newly licensed drivers descends on the venue in their parents' cars. After the dance, the kids leave party en mass to their next locations.
WSL has a better way.
Worry Free Transportation
Let WSL's professional drivers get your child and his/her friends to and from the event safely. The entire group can focus on having fun, and you can spend the evening free from worry.
Our drivers transport groups in our vehicles every day. They know how to navigate crowded drop-offs and manage the need of multiple passengers. They are also on high alert when driving minors to watch for signs of trouble and nip it in the bud.
Homecoming Limo Packages
WSL makes it easy for you to make Homecoming memories special with special 2 hour and 4 hour Homecoming packages that you can customize to meet the needs of your kid's special day. Package rates include all taxes, tolls, gas fees, stops and gratuity.
Contact Sheryl Today
Our special events consultant, Sheryl, can walk you through the Homecoming packages and tailor the reservation to meet your specific needs. Best of all; each of our chauffeur service for homecoming consultations are completely free!
Please call Sheryl at (630) 668-9600 ext. 5, or email her at specialevents@westsublimo.com. Her hours are Monday through Thursday between 8 am and 2 pm.
Tip for a Comfortable Outing
For comfort, we suggest no more than 8 or 9 passengers in a 10 passenger stretch limo, and 12 to 14 passengers in the 14 passenger SUV. You're welcome to fill the vehicle to capacity, must we have found that riders often feel overcrowded.
2 Hour Package
You may divide your hours by using:
1 hour before the dance and 1 hour after the dance
2 hours before the dance only
2 hours after the dance only.
Select from a 10 Passenger stretch Lincoln or a 14 passenger SUV.
4 Hour Package
You may divide your hours by using:
1 hour before the dance and 3 hours after
2 hours before the dance and 2 hours after
3 hours before the dance and 1 hour after
Select from a variety of sedan, stretch or SUV limos.
West Sub Limo's Feature in the Kane County Chronicle
Posted On: 08/28/2017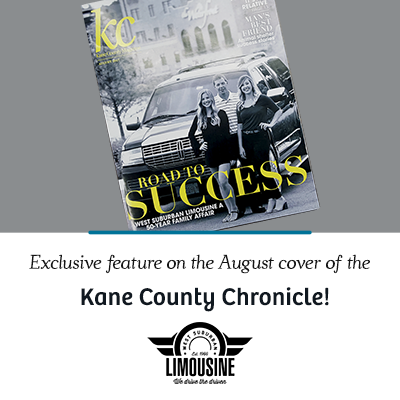 It's a Family Affair
A recent profile in the Kane County Chronicle hits at the heart of what has – and continues – to make WSL successful for more than 50 years. It's all about the family feel amongst the team that makes sure our clients get from point A to point B in style and safety.
The Kane County Chronicle interviewed the company's vice president, Danielle Slamans, who is the stepdaughter of Jeff Hiltunen, the owner of WSL.
Danielle captures how the family approach benefits clients.
"We're still thriving because we take care of our clients," says Slamans. "You're never going to call us and get an automated response form a computer. We're always going to work directly with you to fix your problem and get a solution."
Part of the Community
When WSL celebrated it 50th anniversary last year, it had a big party with staff and their families as well as members of the community that have supported the business.
The Kane County Chronicle article highlights the company's commitment to the communities it serves.
"After decades in the area, the company has become an integral part of the community. They partner with local police and fire departments' charitable groups, sponsor youth sports teams and participate in several annual chamber of commerce events. The company also regularly devotes both time and money to the American Cancer Society, Make-A-Wish Foundation, and Misericordia – which is home to children and adults with developmental and physical disabilities."
A big thank you to the Kane County Chronicle for telling our story.
Tell Us How We Did: Short Survey Equals Big Feedback
Posted On: 08/21/2017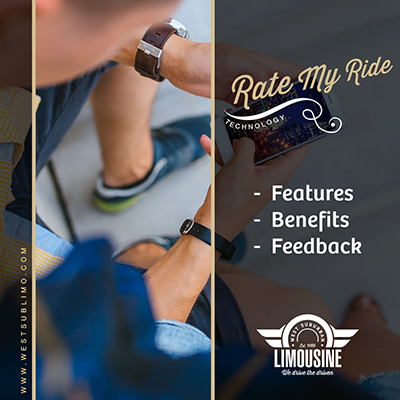 Is WSL meeting customer expectations when they book a limo? We figured the best way to find out is to ask.
At the end of 2016 we launched our new 'Rate My Ride' feature. With eight months of data in the books, we know that decision is a game changer. Now, on a daily basis we get real-time feedback from clients which confirms what we're doing right (which happens to be a lot—we're pretty good at what we do!). More importantly, we also find out immediately where we've come up short. We use that information to immediately address issues.
How Does It Work?
At the end of each trip, we email our clients a short survey, which can be filled out in less than a minute. Clients rate the ride in five categories that help us evaluate all aspects of the service.
Clients are asked for feedback on the quality and condition of the vehicle, the performance of the chauffeur, and their impression of the overall reservation experience with a grade from 1 to 5, with 5 being the most satisfied.
The fourth question is yes/no: would you personally recommend WSL to someone?
The fifth category is simply an opportunity to share additional comments and feedback in an open-ended response.
All of it, both pro and con, has been extremely valuable to help us make WSL the premier private transportation service in Chicagoland.
Here are some samples of positive feedback, which always make our day here at the office:
"Driver arrived a few minutes before pick up time, which is always comforting. The vehicle was comfortable and in good condition. Driver was pleasant and professional."

"Thank you for a continued professional experience. When faced with problematic air travel, it's nice to know I can count on WSL to get me home with a smile."

"Our driver was VERY prompt (although we were running a bit behind in the house). He was friendly and in good spirits for our 3:15am pick up. I will be using WSL in the future."

"Five out of Five Stars!"
Fun at Elburn Days
Posted On: 08/14/2017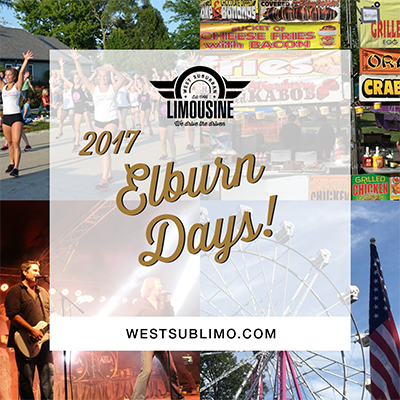 Elburn Days: Supporting Our Communities
If it's the third Friday in August, you know where WSL will be: Elburn Days. It's a long-standing tradition for us to support the big events in the communities we serve. Elburn Days is extra special because it's in the hometown of our company's owner.
Jeff Hiltunen is the president of WSL. When he returned to Illinois in 2005 to run his father's limousine company, he purchased a home in Elburn. His family quickly fell in love with the community.
Hiltunen is originally from Glen Ellyn, but spent much of his childhood in the Upper Peninsula of Michigan. In Elburn, the Hiltunens found the best of both worlds with an irresistible combination of small town charm and suburban convenience. Jeff and his wife Jonna have three daughters; all attended Kaneland High School.
It was natural for WSL to get involved in the community. We've sponsored the Elburn Days festival for many years and participate in the annual hometown parade.
"It's always been a fun event and we really enjoy being a part of it," explained Hiltunen.
Sponsored by the Elburn Lions Club, Elburn Days is a great community event that raises funds for Elburn Lions Park and Elburn Lions Charities, which include glaucoma screening, guide dogs, programs aiding the visually and hearing impaired, juvenile diabetes research and other programs to aid the local community.
In addition to Elburn Days, the Hiltunens and WSL has donated their time, money (and free limousine rides!) to local charities, churches and various civic events over the years.
West Suburban Limousine Recognized as Market Leader by Leading Industry Publication
Posted On: 08/07/2017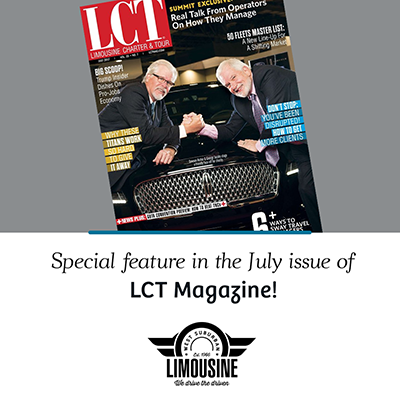 We know how hard we work every day at WSL to be the premier transportation service for the Chicagoland area. It's really nice when the leading publication for our industry, Limousine, Charter & Tour, gets it, too.
In the July 2017 issue, the magazine interviewed leaders from top operators about how their management style contributes to the overall success of their companies.
Our very own John Paraoan, Vice President and Brand Manager of WSL, was asked to share his philosophy about how to motivate employees to want to do their best.
It's All About TRIP
John uses a handy acronym – TRIP – to explain the leadership style that guides WSL: Teamwork, Responsibility, Integrity and Professionalism.
According to John,
"[n]one of us can do it all by ourselves, so my leadership style is to be approachable to our team as well as our customers. There's no question or issues too big or small they can't come to us with."
John also outlines his goals for daily operations in the article. He wants WSL to
"foster a 'never say no' attitude among employees." That translates into empowering drivers and office staff to think in terms of "let's find out how we can do it. Maybe it's a no now, but it might be yes in the future."
Open Door, Open Discussions
In addition to an open door policy for employees to talk to him, John also encourages WSL employees to
"[discuss] issues with one another and [act] as a team to maintain prestige."
John's philosophy is a big part of how we achieve our overall company goal: to be the premier private transportation service for Chicagoland.
Make the Most of Summer in Chicago
Posted On: 08/01/2017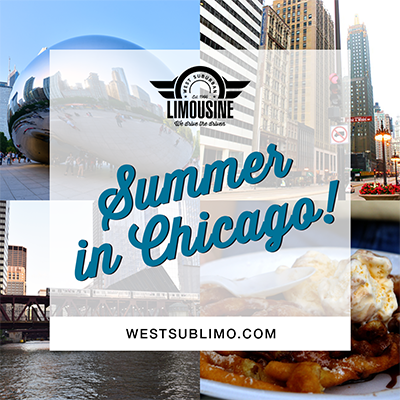 The end of summer in Chicago is when so many of the big events take place. While you never know what the weather is going to bring, you can always count on having a good time, especially if you book WSL for your transportation to and from the event.
Driving yourself and your posse to Chicago from the suburbs when there's so much going on can be a drag. The Hillside Strangler is likely in beast mode and the parking fees at big summer events in Chicago are over-the-top expensive.
Even if you just want to enjoy some alfresco dining at one Chicago's famed eateries, the hassle of driving and parking can put a damper on the evening.
Be a Tourist in Your Own City
Don't let the congested roadways stop you from taking advantage of all Chicago has to offer. Treat yourself to a ride with WSL service. Our drivers go to Chicago's hot spots all the time. They know the best places to drop you off and pick you up to safely whisk you home.
Plus, you'll arrive in style. WSL uses only late-model, luxury vehicles. Just tell us how many people are in your party, and we'll pick the car, limo or mini-bus that ensures your group is comfortable.
So, get your tickets, make your dinner reservations, book the tour…then call WSL. We'll make sure your memories of your summer events in Chicago are great!
Summer Events in Chicago for August & September
Listed below are several of the extraordinary events taking place in Chicago, from food events, music festival, parades or more! Time to start planning your city getaway!
Through August 29: Millennium Park Summer Music & Film Series
Through September 11: Chicago SummerDance
August 3 – 6: Lollapalooza
August 4 – 6: Jeff Fest
August 5 – 6: Edge Fest
August 11 – 13: Chicago Hot Dog Fest
August 11 – 13: Ginza Festival Chicago
August 11 – 13: Retro on Roscoe
August 12: Bud Billiken Parade
August 13 – 14: Northalsted Market Days
August 17: Clark After Dark
August 18 – 20: Festa Italiana
August 18 – 20: Edison Park Fest
August 18 - 20: Glenwood Avenue Arts Fest
August 19: Windy City Carnival
August 19: Oak Park Microbrew Review
August 19 – 20: Chicago Air & Water Show
August 25 – 27: Taste of Greektown Paste
August 25 – 27: Logan Square Food Truck Social
August 26 – 27: Randolph Street Market Festival
August 27: Transamerica Chicago Triathlon
August 20 – September 10: Chicago Fringe Festival
August 31 – September 3: Chicago Jazz Festival
Through September 10: Chicago Fringe Festival
September 1 – 3: Great American Lobster Fest
September 1 – 3: North Coast Music Festival
September 1 – 4: African Festival of the Arts
September 1 – 4: Taste of Polonia
September 8 – 9: Windy City Wine Festival
September 8 – 10: Throwback Music Festival
September 8 – 10: Fiestas Patrias (aka Little Village Fest)
September 9 – 10: Chicago Bourbon & Barbeque Fest
September 8 – 24: World Music Festival Chicago
September 13 – 17: EXPO Chicago
September 14: Race Judicata
September 15 – 17: Riot Fest & Carnival
September 16 – 17: Ravenswood ArtWalk
September 16 – 17: West Loop Art Fest
September 16 – 17: Sam Adams' Lakeview Taco Fest
September 17 – 18: City Made Fest
September 19 – 24: Chicago Gourmet
September 23 – 24: AAHH! Fest by Common
September 23 – 24: Randolph Street Market Festival
September 29 – October 1: Oktoberfest Chicago at St. Alphonsus
September 29 – October 1: Fulton Market Harvest Fest
Nothing Beats Private Car Transportation
Posted On: 07/24/2017
Treat Yourself to Comfort and Reliability
Car sharing services have been in the news a lot lately, but not for positive reasons. From trouble with senior management to less than ideal ride experiences, the stories spotlight the risks associated with choosing untrained drivers to get you from point A to point B. You never know what you're going to get.
By choosing WSL for private car service, you know exactly what you're getting:
Bonded and insured professional drivers – our drivers are trained and work hard to cater to your needs. Not in the mood to chat? No problem. Want some information about the Chicago area? They have the details you want. Limo drivers are required to undergo annual background checks, take regular drug tests and pass medical screenings.

Latest models, luxury vehicles – you'll arrive in style in a sleek, clean car, SUV or limo depending on the size of your party.

Fair fees – there's no surge pricing just because demand for service is high. We honor your reservation with standard pricing for all rides.
No surprises – in a car share, it's quite possible there was a load of groceries or supplies from the hardware story occupying your seat just a few hours earlier. That will never happen with WSL. We only transport people.
A Little Private Time
The best part about a ride in a WSL might be a little time to yourself. Instead of sharing a cramped Prius with people you don't know, sit back and enjoy the comfort of a clean high-end vehicle driven by a chauffeur who's only job is to get you safely to your destination. You're worth it!
Airport Pick-Up Services with Texting
Posted On: 07/17/2017
Let Us Know When You're Ready to Go
Arriving at O'Hare or Midway Airport means you're almost home or headed to the comfort of a hotel room. All you want to do is collect your luggage and hit the road.
Flying can be stressful. That's why a private car chauffeur from WSL greets you with a text as soon as your flight has landed. We make sure you know that your car service to the airport has arrived and is ready to whisk you away. It's one less thing to worry about as you navigate your way through the terminal.
When you're ready to go, all you have to do is click the link in the text. Your private car chauffeur from WSL will respond with a text that lists the license plate number and description of your vehicle, what door to exit and the estimated time of arrival.
Our customers love this feature. With other services, it's more a matter of luck that the car is ready to go. Passengers have to figure out which way to go after deplaning and work their way through the crowds. The entire time, they're hoping that they find a private car chauffeur holding a placard with their names on it waiting for them at the entrance to baggage claim. If no one's there, it can be very nerve-wracking. Now they have to locate their luggage and figure out what's going on with their pre-arranged ride.
That's why we have a long-list of loyal customers who book private cars from WSL. They know it's the easy way summon their car, then sit back and enjoy the luxury of being driven by a professional chauffeur.
Convenient Transportation to Sporting Events
Posted On: 07/10/2017
Take Me Out to the Ball Game, and the Concert and the Festival, and the…
Did you know WSL is the official limo company for the Kane County Cougars, the minor league baseball team based in Geneva? It's a great way for us to support a local team while having some fun.
It's also fitting because we love to take people to the big events downtown with our limo service Chicago area services. When they need transportation to Soldier Field for a Bear's game or chart-topping band, fans know WSL is the best choice.
Parking at ball games, concerts, festivals and other popular events is expensive and you often spend a good part of the evening just getting out of the parking lot.
When you book with us, your transportation needs are taken care of from pick-up, drop-off and safe transport back home.
Because our drivers go to Chicago venues all the time, they know the best place to let you out and pick you up. You can focus on having fun and not have to worry about parking, traffic or picking a designated driver.
Plus, you'll arrive in style. At WSL, we use only the latest model, luxury vehicles. Just tell us how many people are in your party, and we'll pick the car, limo or mini-bus that ensures your group is comfortable.
You'll also get there and back safely. Our career drivers have years of experience and their sole focus is your comfort and well being.
There are so many events coming up in the second half of 2017. Get your tickets, then give WSL a call to reserve your car and driver.
Chicago Cubs – there's still lots of baseball to be played, hopefully well into October.
Concerts at Wrigley – there's an act that's sure to please every musical taste, including James Taylor, Florida Georgia Line, Green Day, Lady Gaga and the Zac Brown Band.
Festivals – music, food, and neighborhood celebrations are just some of the reasons to head out to Chicago-area festivals.
Chicago Bears – the Monsters of the Midway kick off the new season with a new quarterback against the Denver Broncos on August 10.
Premier Limousine Service with a New Look
Posted On: 07/03/2017
New Look, Same Great Service
A little more than 50 years ago, WSL began serving the Chicagoland area as the premier limousine service for airport transport, special occasions, executive travel, concerts and sporting events.
We've always been known for our high standards, modern and clean cars, and professional drivers. Our customers count on us to get them where they want to go in style. As we continue to grow our fleet of high-end cars and offer more services such as text alerts to let you know your car is waiting when your flight lands, we also freshened our look to better reflect where we're headed for the next 50 years.
First, you'll notice our new logo. We made sure our new brand identity really tells the WSL story:
Retro – we've earned our stellar reputation as the private car and premier limousine service of choice for the western suburbs of Chicago, all the way back to 1966.

Classy – when you ride with WSL, you've made an informed choice to ride in a late-model luxury vehicle and arrive in style.

Reliable – we employ only the most qualified drivers who have chosen to be chauffeurs as their careers and are completely focused on providing you safe, dependable services.
It's been fun to roll-out the new look-and-feel on our website, business cards, ads and see it featured in our sponsorship of community events.
What's Next?
We have so many new features in development to enhance your transportation experience. What fun would it be if we spilled the beans now? Stay tuned!
2017 Paddle Boat Mixer Recap
Posted On: 06/27/2017
We Love St. Charles
As a company, we have served the counties of DuPage and Kane for more than 50 years. We always love the chance to spend time with executives from local businesses and support community events.
Check out the great time we had at the St. Charles Chamber of Commerce's 25th Annual Paddleboat Mixer.
It was an amazing evening on the Fox River. We enjoyed the perfect weather conditions and lively conversation on the boats with our friends from the area.
WSL has a strong presence in the Fox River Valley. A few of the many dozen corporate and goverment clientele that we provide limo service to in St. Charles, Geneva and Batavia include the Kane County Cougars, FermiLab, Clarke Mosquito and SkyJack.
Is your company looking for a dependable ground transportation partner? Give us a call at 630-668-9600 and learn more about our professional services and extremely competitive rates.
More Than Business
Do you have a wedding or special event coming up at the Herrington Inn in Geneva or the Baker Hotel in St. Charles? Or do you need a luxury vehicle for an exclusive event at the Geneva Golf Club, Mill Creek, or the St. Charles Country Club?
WSL will take you there in style. We love to add to the excitement of special events by taking care of your transportation needs. Give us a call and all your needs are taken care of from pick-up, drop-off and safe transport back home.
NEW WEB SITE! WIN TICKETS!
Posted On: 03/03/2017
West Suburban Limousine is proud to unveil our new web site, which not only looks slick, but is user friendly! By simply bookmarking our site on your mobile device, you can now book pre-arranged rides to and from the airport from your phone. Some more good news: we just received a certificate from the Better Business Bureau acknowleding yet another "Complaint Free" year with the BBB in 2016!
In celebration of our new web site and complaint free 2016 (during our 50th year in business), we are GIVING AWAY two (2) tickets to the upcoming Chicago Blackhawks game versus the Anaheim Ducks on March 9. And best of all: A COMPLIMENTARY STRETCH LIMOUSINE TO AND FROM THE GAME! To enter, simply go to our Facebook page, hit the LIKE button, share the contest post, and put a comment about visiting our new site and blog.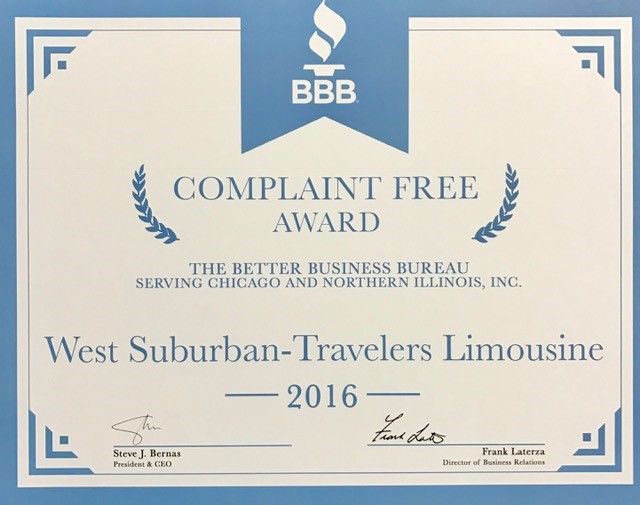 Win Tickets!
Father's Day: Give Dad a Break from Driving
Posted On: 06/01/2018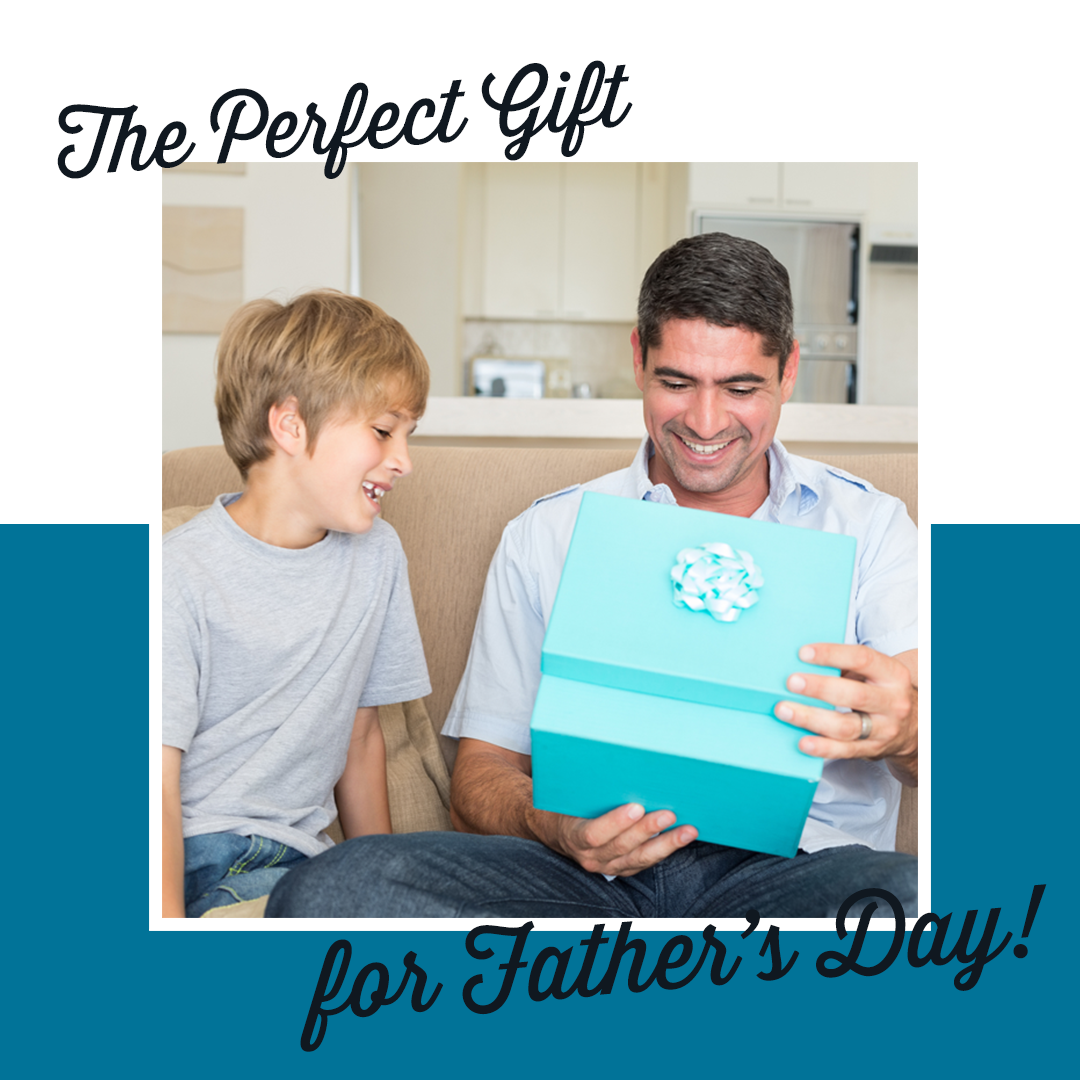 It's customary in lots of families for Dad to do most of the driving, whether he wants to or not. This year, Father's Day is on Sunday, June 17. Give your Dad the gift of a break from driving by reserving a personal car service for his next outing.
There's lots of fun ways to leave the driving to a personal car service. Here's three ways to make Dad's day:
Reserve a town car for an evening on the town with his better half or friends. Add reservations at a happening restaurant in Chicago without the stress of finding parking. Dad can enjoy himself then sit back and take in the sites on the way home.

Go big with a stretch limo. Nothing says "I appreciate you Dad" like an evening with 10 of his closest friends (or family if you want to get in on the fun) for a bar crawl or brewery tour. Dad gets the night of from driving to let his hair down (if he still has any!).

Go really big with an executive/party bus. Send Dad and his posse to a Cubs game or concert in our new Mercedes-Benz Limousine Bus. It's a high-end Mercedes sedan with pampered seating for up to 14 people. Dad will enjoy reclining in a high-back captain's chair as he anticipates the fun that awaits. Then, leave the drive back home to a professional chauffeur who has lots of experience shuttling large groups after a day or night of fun.
Give Yourself a Price Break
Do you follow WSL on Facebook? Check out the page for special giveaway offers only for WSL's friends on social media. You might win a few bucks off your next personal car service reservation. Don't worry, we won't tell your Dad you got a deal!