Limo Safety Doesn't Happen by Accident
Posted On: 04/23/2018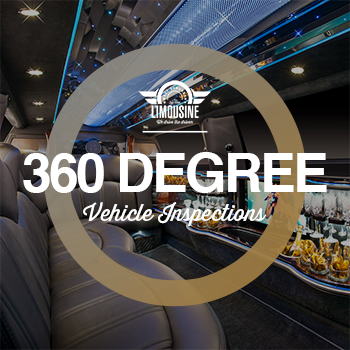 While every IL limo rental company is required by the state to inspect their vehicles annually, that's not good enough for WSL. We know safety is important to our clients, so every sedan, limo, SUV and passenger van in our fleet is checked at least three times per year.
The state inspection on a IL limo rental company focuses primarily on mechanicals such as brakes, lights and tires. Each of these items is critical to the performance of the vehicles. WSL digs even deeper during our internal inspections to make sure our high standards are maintained year-round.
We typically host our inspections in Spring and Fall. Every vehicle must be professionally detailed prior before it is examined by a two-person team against a very specific checklist:
Vehicle performance
- Are maintenance logs up to date?
- Are all mechanical functions operating properly?
- Are the tires in good shape?
- Do all the interior features work properly (radio, lights, charging outlets)?
- Are there straps in the trunk in case it needs to be strapped down due to unanticipated levels of luggage?

Appearance
- Are there scratches and/or dents on the vehicle?
- Is the interior in good shape?
- Does the vehicle smell fresh?
- Are the floor mats clean?
- Are there any chips or cracks in the windshield or side windows?
- Is the trunk clean?

Driver performance
Equally as important vehicle inspections are twenty-minute one-on-one sessions with all chauffeurs.
- What can we learn from client feedback received via online surveys, incoming phone calls and emails?
- Where are drivers excelling?
- What opportunities are there to improve customer service or driving habits?
After meeting with the drivers and going through the cars, we create a "to do" list of repairs and improvements for each vehicle.
Spring Inspections Set for Early May
Our upcoming Spring inspections scheduled for May 1-3 are especially important to assess damage from winter driving. With all the snow and ice during the course of the season, we pay special attention to the inside or the vehicles to make sure leather seats and floor mats are maintained.
Unannounced Spot Checks
WSL professional drivers know their vehicles may be inspected at any time because we also do random spot checks throughout the year. Sometimes we do surprise inspections at the airport in the lot where the chauffeurs park. Whenever a customer brings something to our attention, we immediately call the vehicle/chauffeur into the office for an impromptu investigation.
To remain the best IL limo rental company, we want all WSL vehicles to be safe. We want our customers to enjoy the experience of being inside a luxury vehicle. We want our chauffeurs to excel. Making sure every vehicle and driver is a peak performer is an effective strategy to keep WSL on top for more than 50 years.