Meet Luis Duran, Professional Chauffeur
Posted On: 01/22/2018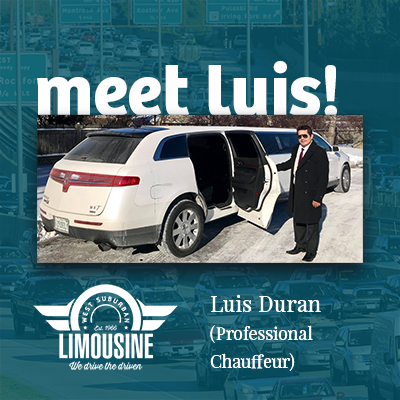 One of Luis Duran's favorite stories from his almost three years as a professional chauffeur and private limo driver for WSL is the time he picked up a family for a special birthday trip to the Sugar Factory for their 14-year-old daughter.
"She cried for the first 15 minutes of the trip, she was so excited to be in a limo," said Luis. "I was so happy to be part of such a great memory for her and her family."
While most of Luis' clients don't get quite that animated at the prospect of riding in his stretch limo, he does work hard to make sure he provides memorable service. He's succeeding. Luis is WSL's most requested driver. And we know why.
"I Want Everyone To Know My Name"
Spend just 15 seconds with Luis and you know you've met someone special. He has a wide smile that never disappears and a way about him that makes you feel instantly comfortable.
"I told my wife that within a year after starting at WSL, I wanted everyone who works there to know my name," recalls Luis. "They should know I always do the best job I can and am easy to work with."
Luis achieved his goal not only internally, but with every client for which he's provided service as well.
Focus on the Client
Luis says he knows he's providing a service as a private limo driver and just wants his clients to feel that's he's there for them, whatever they need. It's starts with a genuine greeting before he checks in with his clients to see if they need to make any additional stops, would like a chilled bottle of water or if there's anything else he can do to make them comfortable.
Clients have responded with glowing reviews in the Rate My Ride survey that we offer each customer the opportunity to compelte after every ride.
"Everything was perfect! Luis was outstanding and could not have been better. The limo was in great condition and was a blast! The students really enjoyed it and we appreciate that we could do just one hour!


"Luis was excellent! Would love to have him drive us again. The limo was very clean and well stocked with beverages."


"Luis is the best driver. Always polite and professional."

"Super job by Luis the chauffeur, the bride and bridesmaids loved it!"
The Road to WSL as a Private Limo Driver
Prior to working for WSL, Luis was a floor manager for a paper company for 11 years. His job required him to lift a lot of heavy containers. Luis worried that the physical tasks were taking a toll on his body.
A friend who works as a private limo driver suggested Luis look into a new career. Based on Luis' personality and clean driving record, the friend suggested he would do well as a professional chauffer, but there were no openings at the company for which he worked.
So Luis did a Google search for private transportation companies in the west suburbs of Chicago and found WSL. He made a cold call on the company and earned an interview with Scott Simkus, vice president of operations.
"I told Scott I would do a great job and I just needed a chance. After two months if it didn't work out, I promised we would part as friends," said Luis.
Training Makes the Difference
Luis eagerly participated in WSL's training program and puts what he learned to work. He's especially focused on presenting himself professionally and keeping his luxury vehicle spotless inside and out.
"We're so lucky Luis found WSL," said Simkus. "He has a high level of professionalism, is self-motivated and always says yes to our dispatchers and customers."
Luis knows he made the right decision to take his career path to WSL. He's says he plans to work for the company as long as possible to support his wife Arlett and their two children.
If you'd like to book Luis as your private limo driver, contact us at 630.668.9600 or online and ask for driver #144. You'll be glad you did!