Naperville: What it Means for WSL to be Part of the Community
Posted On: 03/26/2018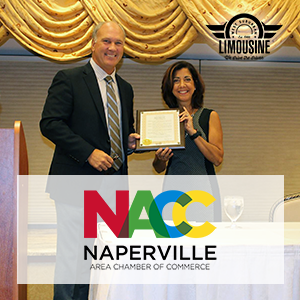 WSL sits down with Nicki Anderson, President & CEO of the Naperville Chamber of Commerce
WSL is a Chicago limo service and has been in business for more than 50 years. We make making sure clients from all over the western suburbs of Chicago have reliable transportation for special events, business events and limo service to O'Hare and Midway. Our Naperville limo service has been a big part of that. We love getting involved in the communities we serve by supporting charitable events and chambers of commerce.
We've been a member of the Naperville Area Chamber of Commerce (NACC) for more than 20 years. For the past five years, it's been our pleasure to work closely with Nicki Anderson, president & CEO of NACC. Like us, Nicki knows what it's like to operate a small business. She previously owned an award-winning personal training studio called Reality Fitness Inc., as well as a thriving career as a freelance writer with a focus on business management and customer service.
We recently sat down with Nicki for a conversation about what role community involvement plays in running a successful small business.
______________________________________________________
WSL: What's one piece of advice you give to all small businesses?
Nicki Anderson: Community is what makes you successful. You need to figure out how to contribute in meaningful ways to improve the lives of the people in your community. It's about building trust through relationships with residents, other businesses and local influencers like the chamber of commerce, philanthropic organizations and city officials. I call it "give to get." WSL is a good example of a company that understands this philosophy. Their management team is always reaching out, getting to know people and figuring out ways to help, not just handing out business cards.
WSL: What role does customer service play in the success of a small business?
NA: You must be passionate about customer service in a genuine way. You can talk about a commitment to customer service, but if you don't follow through with actions, people figure it out pretty quickly. I find that when customer service is infused into the culture of a business, it filters down to everyone on the team, even when the owners aren't around.
WSL: How has the role of chambers of commerce evolved?
NA: Gone are the days when a chamber of commerce is thought of as a good ol' boys club. At NACC, we focus on how we provide value to our members in relevant ways. That includes offering continuing education opportunities, professional speakers and networking events. One of my favorite things to do is help establish power partnerships between members who otherwise might not have met.
WSL: How can small businesses benefit from membership in a chamber of commerce?
NA: I like to make a parallel to my days in health and fitness. It's easy to join a fitness center and pay your dues. But if you don't take advantage of what the fitness center offers, you're not going to see results. The same is true for membership in a chamber of commerce. If you get involved and use the resources we offer to work on your business, that's when the magic happens. We can help you make connections in the community to grow your business and find ways to give back.
WSL: How should members engage with a chamber of commerce?
NA: I appreciate it when members reach out and let us know what's going on with their businesses. Has anything changed? How can we help? What do you need?
If you take time to update me, you'll always be top of mind when other members ask me for referrals. For example, WSL is a huge supporter of NACC and keeps us up-to-date on what's happening. It's a win-win relationship for both of us. Because I trust them and understand their value proposition, I'm happy to share the love and send business their way. I travel frequently and regularly call WSL for private transportation. I'm always pleased with the service I receive and can provide feedback to the WSL management team about my experiences.
For more information about the Naperville Area Chamber of Commerce, click here.