Transport Your Group In Style With Our New Mercedes-Benz Sprinter Van
Posted On: 12/11/2017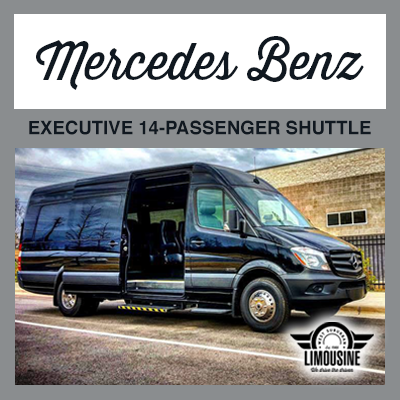 WSL was very good this year so Santa brought us an early delivery. We're excited to add a brand new Mercedes-Benz Sprinter van to our fleet of late-model vehicles. We're geeking out over all the bells and whistles of this luxury ride that's perfect for executive and large group transportation.
This is not a party bus. Rather, it's a high-end Mercedes Benz limo / sedan pumped up on steroids with pampered seating for up to 14 people.
We can't wait to talk to event planners about how this Mercedes limo is perfect for corporate events, group transport to and from the airport for meetings and client entertainment.
We're thinking about how fun it would be to set up a brewery or winery tour (or both) for friends to check out all the fun venues in and around Chicago.
Comfort and Convenience
Heading out on a big family vacation? We'll get everyone to the airport in one trip.
It's all about comfort with this limousine bus service:
- High-back reclining captain's chairs covered in soft-touch premium upholstery feature padded armrests, contoured headrests and retractable lap belts.
- The chairs are placed in five rows of stadium seating with a generous aisle for easy in an out. There's no crawling over other passengers to get in a seat.
- Ample overhead racks have secure space passengers' briefcases, coats and other carry-ons so no one has to hold items in their laps.
- Passengers control the digital temperature gauge and fan to get their desired heat or cooling level.
- Every seat has its own individual LED reading light and every row features blue backlit dual USB ports for easily accessible access to power to charge laptops, tablets and mobile devices on the road.
- A sliding door with an automatic power step and that lowers when the door is open, hand rail and step well courtesy lighting make it easy to enter and exit the vehicle, day or night.
- Lots of space for all sizes of luggage.
There are lots of features for our drivers, too, with lots of built-in safety features like a back-up camera, clear-view safety hatch for emergency exits, and a safety package with extinguisher and other must-have items.
Give us a call to reserve the new Sprinter van for your next event!
(630) 668-9600