Homecoming Memories Made Sweeter and Safer
Posted On: 09/04/2017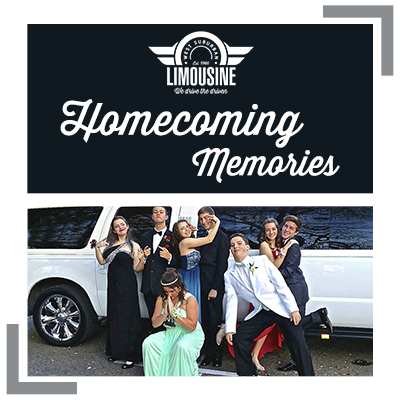 There's just a hint of crispness in the air which means Homecoming season is upon us. We have fond memories of Homecoming festivities: attending the big game, showing our school spirit, getting dressed up and dancing the night away at the school-sponsored party.
We also know it's a night when parents worry about their kids' safety. That's why WSL offers special packages for Homecoming. We want kids to arrive in style…safely.
Many Moving Parts
A big part of the dance is what happens before and after. Your high school student's gang definitely wants to get together in advance of the event and take group photos (not to mention the thousand selfies that will be taken that night). It can take quite a bit of planning to get everyone together in the same place at the same time.
Then it's on to the dance, where a bunch of newly licensed drivers descends on the venue in their parents' cars. After the dance, the kids leave party en mass to their next locations.
WSL has a better way.
Worry Free Transportation
Let WSL's professional drivers get your child and his/her friends to and from the event safely. The entire group can focus on having fun, and you can spend the evening free from worry.
Our drivers transport groups in our vehicles every day. They know how to navigate crowded drop-offs and manage the need of multiple passengers. They are also on high alert when driving minors to watch for signs of trouble and nip it in the bud.
Homecoming Limo Packages
WSL makes it easy for you to make Homecoming memories special with special 2 hour and 4 hour Homecoming packages that you can customize to meet the needs of your kid's special day. Package rates include all taxes, tolls, gas fees, stops and gratuity.
Contact Sheryl Today
Our special events consultant, Sheryl, can walk you through the Homecoming packages and tailor the reservation to meet your specific needs. Best of all; each of our chauffeur service for homecoming consultations are completely free!
Please call Sheryl at (630) 668-9600 ext. 5, or email her at specialevents@westsublimo.com. Her hours are Monday through Thursday between 8 am and 2 pm.
Tip for a Comfortable Outing
For comfort, we suggest no more than 8 or 9 passengers in a 10 passenger stretch limo, and 12 to 14 passengers in the 14 passenger SUV. You're welcome to fill the vehicle to capacity, must we have found that riders often feel overcrowded.
2 Hour Package
You may divide your hours by using:
1 hour before the dance and 1 hour after the dance
2 hours before the dance only
2 hours after the dance only.
Select from a 10 Passenger stretch Lincoln or a 14 passenger SUV.
4 Hour Package
You may divide your hours by using:
1 hour before the dance and 3 hours after
2 hours before the dance and 2 hours after
3 hours before the dance and 1 hour after
Select from a variety of sedan, stretch or SUV limos.