Fun at Elburn Days
Posted On: 08/14/2017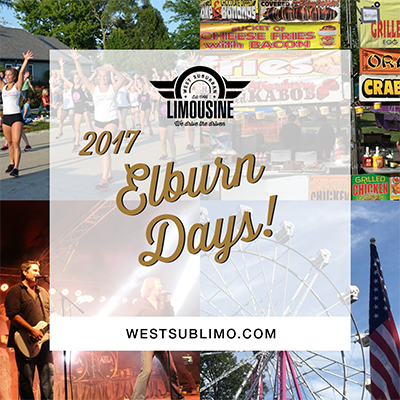 Elburn Days: Supporting Our Communities
If it's the third Friday in August, you know where WSL will be: Elburn Days. It's a long-standing tradition for us to support the big events in the communities we serve. Elburn Days is extra special because it's in the hometown of our company's owner.
Jeff Hiltunen is the president of WSL. When he returned to Illinois in 2005 to run his father's limousine company, he purchased a home in Elburn. His family quickly fell in love with the community.
Hiltunen is originally from Glen Ellyn, but spent much of his childhood in the Upper Peninsula of Michigan. In Elburn, the Hiltunens found the best of both worlds with an irresistible combination of small town charm and suburban convenience. Jeff and his wife Jonna have three daughters; all attended Kaneland High School.
It was natural for WSL to get involved in the community. We've sponsored the Elburn Days festival for many years and participate in the annual hometown parade.
"It's always been a fun event and we really enjoy being a part of it," explained Hiltunen.
Sponsored by the Elburn Lions Club, Elburn Days is a great community event that raises funds for Elburn Lions Park and Elburn Lions Charities, which include glaucoma screening, guide dogs, programs aiding the visually and hearing impaired, juvenile diabetes research and other programs to aid the local community.
In addition to Elburn Days, the Hiltunens and WSL has donated their time, money (and free limousine rides!) to local charities, churches and various civic events over the years.