Driven to Give Back: Hurricane Harvey
Posted On: 11/01/2017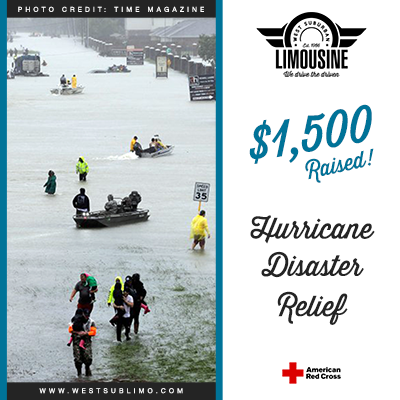 Giving back to our local communities is part of our culture at WSL. You'll often find members of our team participating in local fundraising events or see our corporate logo amongst the list of sponsors.
When Hurricane Harvey hit Houston and the Gulf Coast in late August, like most people, we were awestruck by the devastation the Category 4 storm caused. More than 27 trillion gallons of rain was dumped on Texas and Louisiana in three separate landfalls over a six-day period. More than 700,000 people have registered for assistance with the Federal Emergency Management Agency (FEMA).
So we decided to pitch in and help.
Making a Difference One Trip at a Time
Between September 18 and 24, WSL donated $1 to the American Red Cross for every booked trip.
We chose the American Red Cross for hurricane disaster relief because of their focus on providing food, shelter and comfort for those affected by the storm. The organization also launched a Hurricane Harvey Immediate Assistance Program that provided financial help to more than 477,000 households. The purpose of the immediate assistance is to provide funds so people could make decisions about how to meet some of their immediate needs. The group continues to provide long-term services as well.
During the chosen fundraising week, WSL had a typically busy schedule transporting our clients to and from the airports, getting them to meetings and helping make memories at weddings.
We recently sent the American Red Cross a check for $1,500.
Client Reaction
A big thank you to all our clients who rode with WSL that week. Because of you, we are able to make a significant donation in response to the natural disaster.
Quite a few people let us know they "liked" the fundraising effort on our Facebook page. That post received the most feedback on anything we've ever talked about on social media. Clients let us know they were "Glad to be a part of your effort" and to "Keep up the good work."
We will.