West Sub Limo as the Preferred Transportation Company for Ray Smith
Posted On: 09/25/2017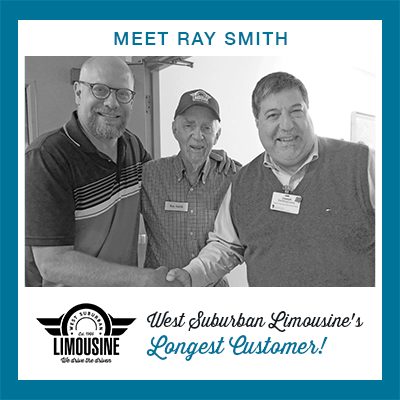 Last year WSL celebrated its 50th anniversary, having been acquired by the current ownership back in 1966. What many people don't realize is the corporation can actually trace its roots back to 1958. One man who understands this history better than anybody is Ray Smith of Carol Stream.
Ray Smith, 85 years young, has been using WSL since the very beginning, making him our company's most loyal client. After 60 years, Mr. Smith still uses the service today, for personal trips.
"At the very beginning, I was working for Hitchcock Publishing out of Wheaton and a number of us began using West Suburban Limousine for business travel," explained Smith.

"In all the years I've used West Suburban, I've never once missed a flight due to a limousine issue. I'm the best testimonial your company could ever have."
The limousine company was originally founded by two brothers who had moved to the Chicago area from Galveston, Texas. After nearly eight years in the business, they sold the company to Ray Hiltunen and a partner, before returning to Texas to help with their family's shrimp business. The Hiltunen family still owns and operates WSL today.
Ray Smith has been married 60 years to his wife Lillian. The couple has two adult children. The son of missionaries, Mr. Smith was born in China, grew up in Hawaii, served in the Navy, and graduated from Wheaton College. He's literally been around the world and WSL is proud to have been a small part of it, getting him to and from the airport in between his adventures.
Pictured above from left to right is Scott Simkus (Vice President of Operations) of WSL, Ray Smith and Joe Xanthopolous (Interim Executive Director) of Windsor Park Manor in Carol Stream, where Ray currently resides.
As a former writer and editor, Ray couldn't resist the temptation to dabble in his former craft and asked Scott some questions about WSL. We are honored and excited to be a part of Windsor Park Manor's quarterly publication, "The Echo." We will be featured in their fall edition of this year. Thank-you, Ray, for the interview while also sharing your personal experiences with WSL!