Make Your Spring Break Reservation Now & Save
Posted On: 02/23/2018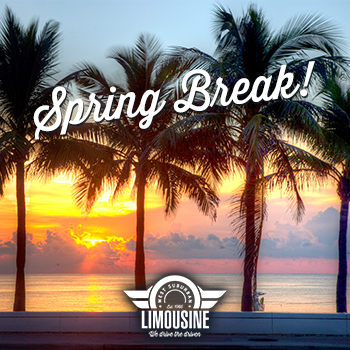 Spring Break is just around the corner. It's a chance to escape the final days of winter for some fun in the sun or on the slopes with family and friends.
While the goal is fun and relaxation, let's face it, planning for Spring Break can be a bit stressful. Most people book their flights, lodging and entertainment packages way in advance to make sure they get what they want. It's just as important to book your transportation to and from the airport or risk getting left out in the cold.
March is always the busiest month for WSL with our usual mix of corporate and private reservations combined with the addition of Spring Break transportation. That's why we recommend booking early to make sure you get the right vehicle for your needs at the time you want.
Heading out of town with the family means lots of people and luggage. Whether you book online or through our reservation line, make sure you tell us what size car you need. We'll make sure your trip – and your luggage – get off to a great start. Unlike a taxi, in a stretch limo service everyone sits comfortably sharing the anticipation of what's to come or recounting the great memories that were made.
WSL manages a fleet of 25 SUVs, 10 stretch limos and a corporate shuttle van. So, no matter how many are in your party or how many bags are making the trip, we have a luxury vehicle in our fleet to accommodate everyone and everything.
Book now and WSL will take $5 off your private ride. Simply use Coupon Code: BL-Spring18.