Celebrating the Naperville Chamber of Commerce's 20th Anniversary
Posted On: 10/08/2018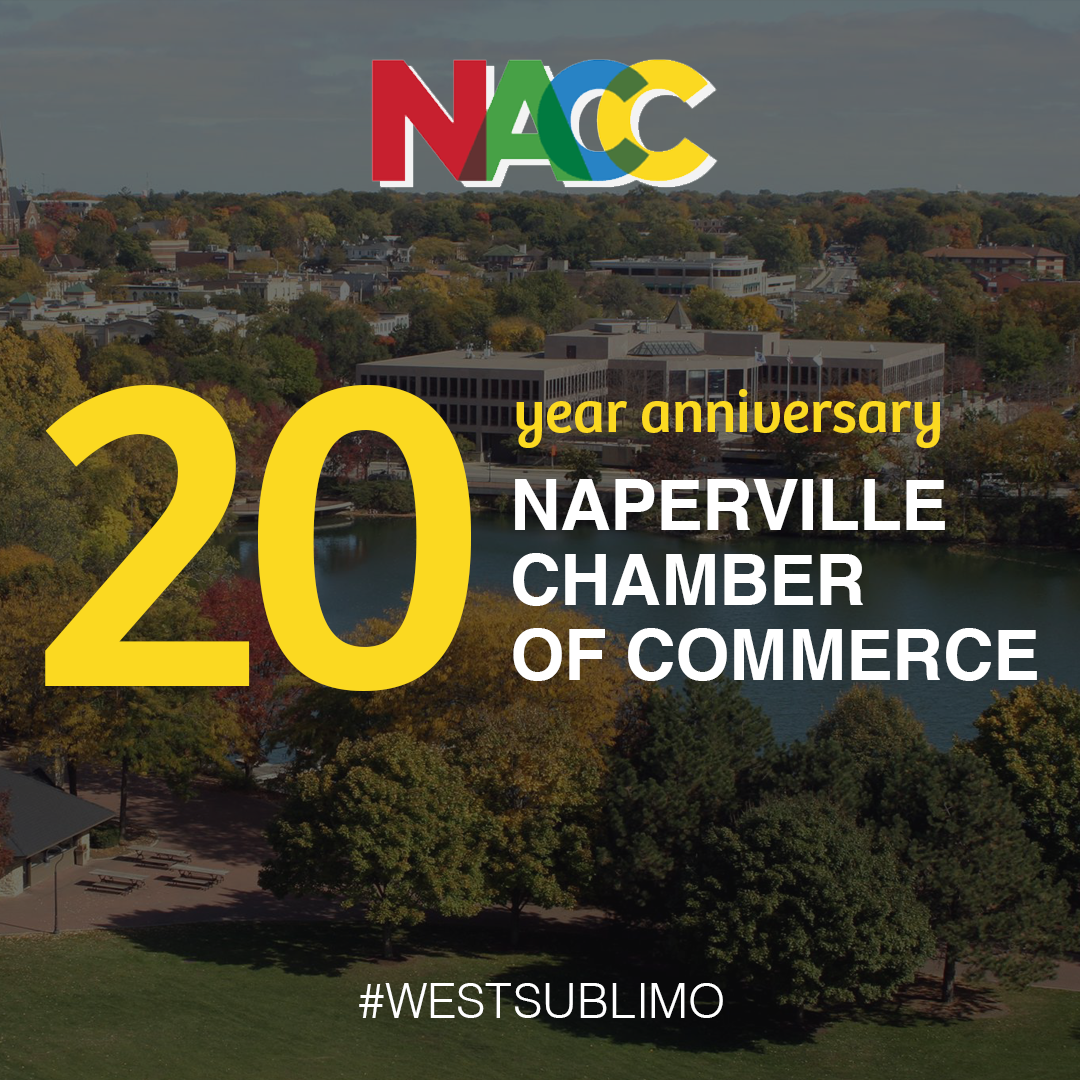 WSL was honored to accept a plaque from the Naperville Area Chamber of Commerce (NACC) on September 24 to celebrate our twentieth anniversary of membership. It's amazing to think about how much the Naperville area has grown during that time as more urbanites move to this beautiful suburb to take advantage of a healthy business climate, thriving restaurant scene and top-notch public schools. We have certainly seen a huge jump in demand for limo service from Naperville to O'Hare and other points of interest.
Naperville is the fourth largest city in Illinois with about 147,000 residents. Add the citizens of surrounding communities like Warrenville, Lisle and Aurora and the number grows to more than 380,000, easily the most populous area in Illinois outside of Chicago. So, it makes sense that the NACC is one of the state's largest coalitions of companies with more than 1,200 members.
Back in March, we featured an interview (Naperville limo service) with Nicki Anderson, NACC's president & CEO for more than five years, about why chambers are important. She says
"[g]one are the days when a chamber of commerce is thought of as a good ol' boys club. At NACC, we focus on how we provide value to our members in relevant ways. That includes offering continuing education opportunities, professional speakers and networking events. One of my favorite things to do is help establish power partnerships between members who otherwise might not have met."
The September meeting was certainly a testament to Anderson's vision. In addition to receiving our recognition, we were inspired to hear from three speakers from TEDxNaperville to learn more about what theme "Business Forward" means to them.
Lynne Franklin shared how after a boy threatened to kill her with a machete, she was motivated to learn everything she could about persuasion, publishing her personal research in a book titled "Getting Others to Do What You Want."
Todd Flaming gave us a designer's perspective on how to think differently about the world around us.
Ian Maksin is a renowned Chicago-based cellist, composer and vocalist who spoke about his passion for taking the cello outside its conventional setting.
WSL values our relationship with NACC and appreciates the organization's drive to help us find ways to give back to the community, connect with other area businesses and on occasion, step back and reflect.