9 Great Places to Watch the Bears in the Playoffs in the Western Suburbs
Posted On: 01/01/2019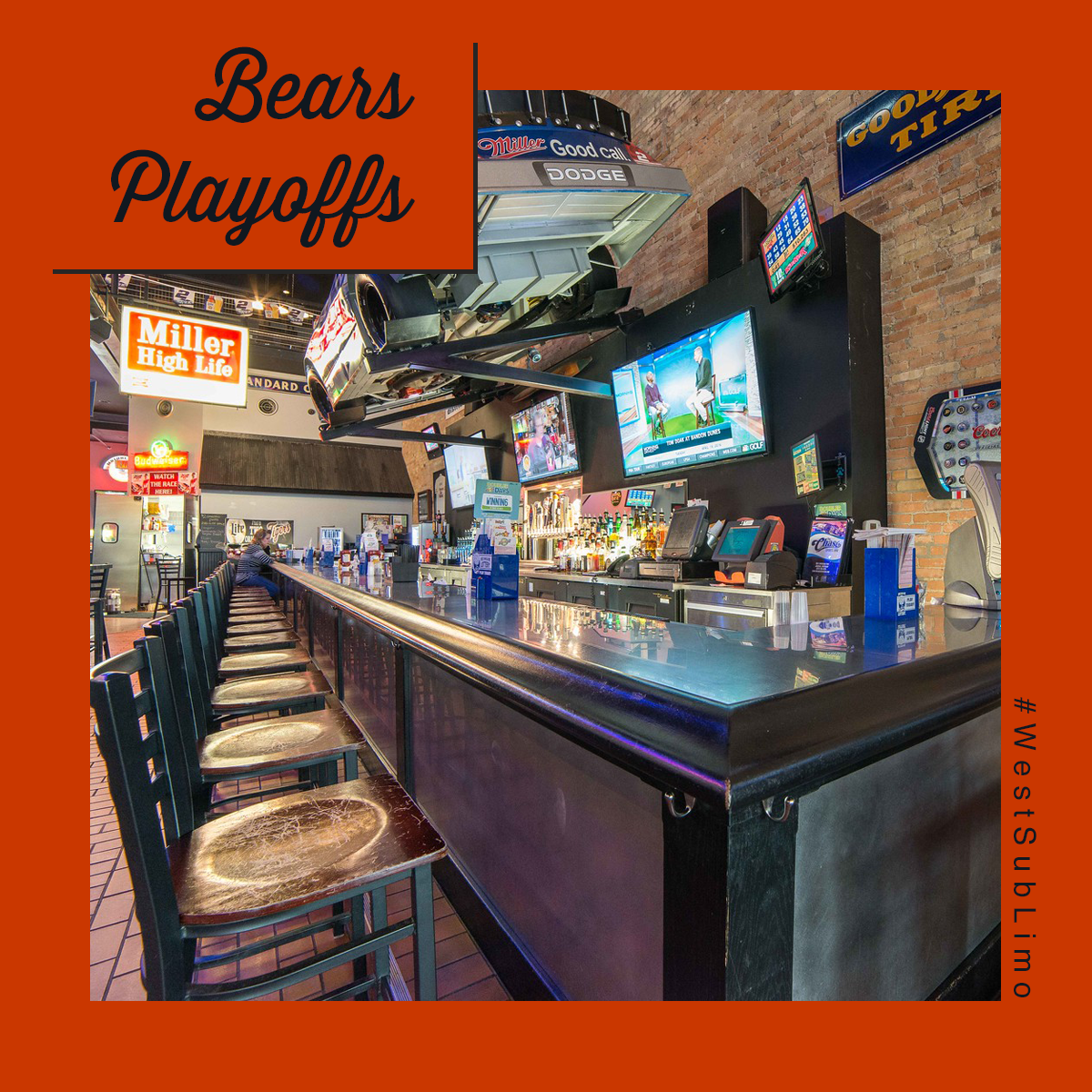 Back in September we predicted, in our "Limo Service to Soldier Field" article, that this season was a great time to get back on the Bear's bandwagon. But, boy did we underestimate the potential of our boys in blue and orange. We assumed the Vikings and Packers would fight it out for the NFC North division title and were excited by the prospect of a wild card berth for the Bears. We've never been so glad to be wrong!
Now that the Bears earned the division title, we look forward to post-season play. Ticket prices for playoff games are likely to be astronomical. As a provider of limo services in the Chicago suburbs, we know lots of great places to stay a bit closer to home and enjoy the play by play, great food and community spirit at one of these great bars/restaurants in the western suburbs:
Aurora – Two Brothers Roundhouse is an historic landmark in the western suburbs. The giant converted rail depot features Two Brothers artisan beers and lots of space to spread out with all your friends. FUN FACT: This historical building was purchased back in 1995 by Chicago Bears legend, Walter Payton!
Bloomingdale – 25 West Brewery is conveniently located in the Stratford Mall, so even if a few of your crew aren't football fans, they can pop out to scour the post-Christmas sales while you enjoy the game.
Elmhurst – Pints has all the right numbers: 17 HDTVs, 20 craft beers on tap and more than 50 other bottled beer choices. No matter where you sit, you're sure to be able to see the game.
Glen Ellyn – Maize + Mash promises an extensive whisky and cocktail list along with a modern bistro menu. The Bend & Snap cocktail looks inviting with a mix of white tequila, Cointreau, raspberry jam, lime and ginger beer. Jam in a cocktail!
Lombard – Miller's Ale House bills itself as the "House of Football" with more than 60 televisions for your viewing pleasure, plus great drink specials and wings.
Naperville – Draft Picks. Burgers. Beer. Pizza. Enough said? Take advantage of their Sunday specials including $1 sliders and half-price chicken sandwiches.
St. Charles – Alley 64 loves the Bears and treats patrons to free chili during every game.
Wheaton – The Burger Social is the place for burgers! Treat your taste buds to hand formed burgers made only from beef sourced from local Midwest farms in Illinois, Iowa and Wisconsin.
Winfield – Caliendo's has a menu jammed-packed with traditional Italian favorites, pizza, burgers and specialty sandwiches. Plus, it's Smirnoff Sunday Funday with $3.50 mixers and $2.50 Bud & Bud Light bottles.
Chicago Suburbs Limo Service for the Bears Playoffs
No matter where you watch the playoff games in the Chicago suburbs, count on WSL for quality limo service to get you safely to and from the watch parties.