We Feel The Love…Thank You!
Posted On: 12/25/2017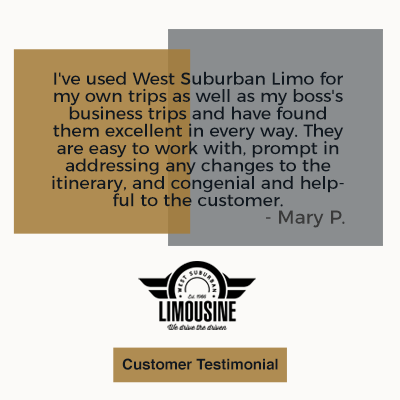 How are we doing? Are we meeting your expectations? Anything you would like to see change?
We are always striving to provide the best possible customer service. In late 2016, we launched a "Book a Limo and Rate My Ride" program to get real-time feedback from clients to find out what we're doing right, and where we can improve.
At the end of each trip, we ask riders to complete a short survey that takes less than a minute. Clients give us reviews for their private transport service in five categories that tell us about the driver, the vehicle, quality of service, whether they would recommend us and an open-ended field to tell us anything.
Our clients' reviews make us better at what we do. We're thrilled when folks are motivated to share their positive experiences on our Facebook page. We currently have a 4.8 of 5 stars rating based on 95 reviews.
Here's a sampling of what people are saying:
Top Notch Service... the driver arrived early and was more than able to deliver us to our destination. He knew the route and even was able to avoid some major traffic areas that would have delayed our arrival. We were right on time! After the show we were done a bit early and when we called we were informed the driver was already minutes away. The car was clean and comfortable and everyone was friendly and professional. I will use again when the need arrives.

Doug H.
I highly recommend WSL, all of their drivers are very professional and courteous. I was traveling every week for 18 months, and the driver was there at 5:00 a.m. every week and even a few minutes early and always was waiting on Friday night to drive me back home. Their cars are very clean and in great condition. I highly recommend them and when we travel, I always call WSL, and all of my family does now. Their prices are very reasonable.

Kathy R.
Have used WSL for both personal and business travel needs. Each time their service has exceeded my expectations. The limos are clean, quiet, comfortable and in good working order. The drivers are very courteous and friendly, conversational or quiet (depending on your needs), and arrive early in position for pickup if in a private location. When airlining back into the Chicago area, they send a text to a link which easily steps you through being pickup up and location. They are my go to source for private car transportation in the Chicago area.

Glen K.